By Debbie Adams
Vinton Town Manager Barry Thompson officially retires on December 31, 2020 after 30 years of service in local government. Vinton Town Council honored him for his years of service as Town Manager and prior to that as Finance Director/Treasurer, at their meeting on December 15.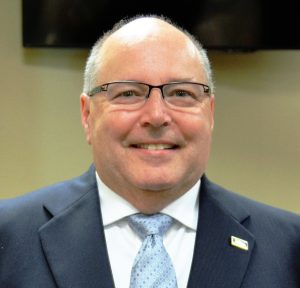 "Barry Thompson was a wonderful Town Manager for the Town of Vinton because he is truly a great man," said Vinton Mayor Brad Grose. "Barry's firm faith is evident in everything he does as a strong family man and as an accomplished public servant."
"Of course, we all knew he came to the job of Town Manager with great qualifications," Grose said. "Barry had served in local government long enough to understand the commitment that was required to deliver excellent service for the citizens of Vinton. He managed some exceedingly difficult personnel situations and helped us navigate the detailed negotiations of the new Service Agreement with Roanoke County."
"Barry's extensive training and experience in financial matters proved to be a powerful asset for him and the Town of Vinton. The improvements he made in our Finance Department were obvious to most of our citizens. However, many of his important and lasting accomplishments may not be quite so apparent to everyone. Upon appointment as Town Manager, he immediately promoted a true 'team concept' within our staff. The approach allowed qualified individuals to flourish and produced some awesome achievements for our Town. Barry's greatest legacy is the powerful staff he helped establish."
"Barry was instrumental in helping our staff and our Town prepare for the challenges that will surely come our way," Grose commented. "He made an extremely positive impact upon our Town and it was truly a privilege to serve alongside of him here in Vinton. Thank you, Barry, for all you have done for the citizens of the Town of Vinton! May God bless you!"
"I appreciate all that Mr. Thompson has done for the Town of Vinton," said Vice Mayor Sabrina McCarty. "During his employment, he wore many hats and excelled in all areas.  He truly has a passion for the success of Vinton.  I hope that he and his wife Margarete enjoy their retirement to the fullest."
Councilman Mike Stovall remarked, "I would like to say, 'Thank You' to Barry Thompson for a job well done in public service. Barry always had the Town of Vinton's interests at heart. He is leaving a legacy of fine work that he did with the town. I view him as the Most Valuable Player and a member of the Hall of Fame among town managers. He always accepted ownership of his position. Godspeed to him."
Councilman Keith Liles emphasized Thompson's positive attitude which boosted morale among town council and staff, especially in challenging times.
Current Finance Director/Treasurer Anne Cantrell, who took over when Thompson moved up to Town Manager, said, "Barry Thompson has left a legacy not just in the Town Manager's Office, but also during his time as Treasurer/Finance Director. Many may not realize that Barry was the first to setup credit card payments in the Treasurer's Office for the utility system, and he also setup the online payment option for taxes. His vision to move the office forward, improve efficiency, and prioritize customer service inspires us today and will continue to motivate us for years to come."
"I always appreciate Barry's support not only for me but for my whole department," said Anita McMillan, Director of Planning and Zoning. "He allowed me to pursue grants for greenway and transportation related projects and participated in the annual Arbor Day event celebrations for the past four years, which were very much appreciated. I am going to miss the Leadership Team Christmas luncheon; we had so much fun with the Dirty Santa game and Barry picked up the tab."
"I have learned a great deal working with Barry Thompson over the past five years; in particular, I enjoyed and appreciated how attentive he was to the residents of Vinton and how he responded to their requests or concerns," newly appointed Town Manager Pete Peters said recently. "Barry also possessed a calm mastery of the Town's finances and always provided steady guidance during challenging budget discussions. Barry cares a great deal for Vinton, and it showed in how he managed. He has been incredibly supportive of my selection as the next Manager and I am very thankful for the opportunity to have gotten to know Barry both personally and professionally. I wish him the best in his retirement."
Thompson was named as Town Manager on June 7, 2016. Prior to being appointed to that position, he served as Interim Town Manager from January 2016 and as Finance Director/Treasurer from December 2004.
In its Proclamation recognizing Thompson for his years of dedicated service, Mayor Grose, town council, and the citizens of Vinton honored him for serving "with professionalism and dedication and working on behalf of all the citizens of the town."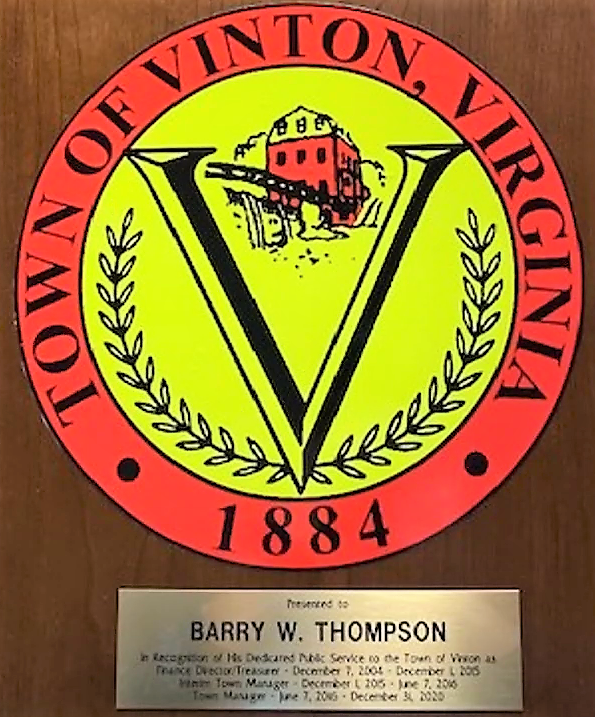 Thompson began his career in local government with the City of Bedford where he served as Assistant City Manager, Assistant to the City Manager, and Director of Finance for 14 years. He then worked as a consultant in governmental accounting and as a director of financial support for a governmental accounting software company before coming to Vinton.
As Finance Director/Treasurer, Thompson introduced on-line bill payment options and made many changes to the Treasurer's Office relating to billing practices, accounting and reporting procedures for the financial records of the Town. Each year the Town received the Government Finance Officers Association (GFOA) award for its Comprehensive Annual Financial Report (CAFR).
During his tenure as Town Manager, many noteworthy achievements took place: completion of the Downtown Revitalization Project which brought continued growth to the Vinton community; redevelopment projects turning Roland E. Cook Elementary School into the Roland E. Cook Loft Apartments, the former Vinton library into Macado's Restaurant, and the former William Byrd High School into the Billy Byrd Apartments, all in partnership with Roanoke County.
On his watch, Rosie's Gaming Emporium opened; a Memorandum of Understanding was negotiated to replace the Gain Sharing Agreement with Roanoke County; and the Town received its first Government Finance Officers Association (GFOA) Distinguished Budget Presentation award for Fiscal Year 2016-2017. The Town's Solid Waste Program was enhanced to provide refuse carts to all residents and businesses, and renovations began at the former Vinton Motors which will open soon as Vinyard Station.
As Town Manager, Thompson served on the four Council Committees–Finance, Public Works, Public Safety, and Economic Development. He represented Vinton on the Roanoke Regional Partnership, the Roanoke Valley-Alleghany Regional Commission Executive Committee, the Roanoke Center for Animal Care & Protection (RCACP) and the Western Virginia Regional Industrial Facility Authority. He was appointed to the Virginia Local Government Finance Corporation and the Virginia Recreation Facilities Authority.
Upon hearing the proclamation read, Thompson responded, "The staff did all that, not me. I was blessed to work with such great people. We have accomplished a lot working together."
"I am proud of Town Council and the staff and their vision of the future," he added. "Much is yet to happen."
Thompson praised newly appointed Town Manager Pete Peters as "highly qualified. I am very pleased that you appointed him. I have enjoyed working with him for five years."
"I'm excited for the town and the direction it is going," Thompson continued. "There is a season for everything and it's my time to retire. Life is sweet right now."