By Debbie Adams
The Vinton Town Council agenda for July 21 was dominated by special recognitions and awards. Sabrina McCarty was sworn in by Town Clerk Susan Johnson for a two-year term as Vinton's vice mayor as her husband Chris held the Bible for the ceremony. She thanked council for placing confidence in her and to her family for their support.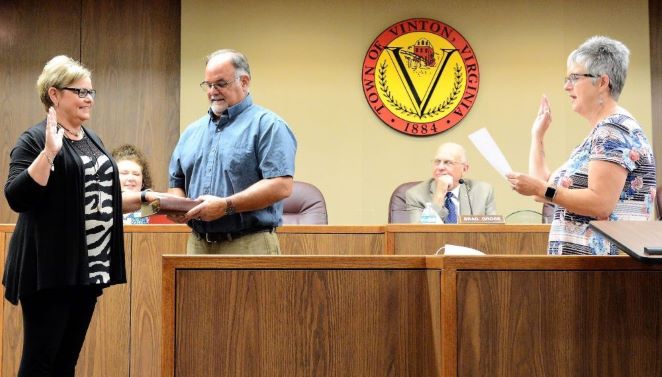 McCarty was first elected to Town Council in 2014 and re-elected in 2018. She is Office Leader at Pinnacle Financial Partners in Vinton.
Councilman Mike Stovall noted that "Sabrina loves the Town of Vinton." Before joining council, she served on the Town of Vinton Board of Zoning Appeals as a certified member and volunteered for many other boards and committees. She was a member of the Executive Board of the Vinton Area Chamber of Commerce for 10 years, three of those as president of the Chamber.
Johnson next presented election certificates to Mayor Brad Grose, Councilman Keith Liles, and Councilwoman Laurie Mullins who took their oaths of office on July 7.
Vinton Police Captain Fabricio Drumond was sworn in as interim police chief, replacing Chief Tom Foster who has retired to accept the position of U.S. Marshal for the Western District of Virginia. Foster was nominated by President Donald Trump, recently confirmed by the United States Senate, and sworn into office on July 20.
Foster was honored with a proclamation from council celebrating his career in law enforcement, which began in 1986 as a deputy sheriff with the City of Salem Sheriff's Office. He joined the Virginia State Police in 1989 and then served as deputy chief of police at Virginia Tech. He served as an area commander and assistant special agent in charge with the Virginia State Police and was then appointed chief of police in Vinton in 2016.
"Chief Foster is professional, ethical, compassionate, considerate, trustworthy, and from the time of his arrival at the Vinton Police Department has been 'all about the officers and administrative staff,'" the proclamation stated. "He is a remarkable man who never took for granted what people do to make the Vinton Police Department function as a smooth unit and was always generous in his praise, time, and support."
While serving as chief, Foster initiated several community policing outreach programs including the Mobile Community Services Unit and Project McGruff and Scruff. He saw the department through its fifth reaccreditation process with the Virginia Law Enforcement Professional Standards Commission.
In 2017, he was named Vinton Employee of the Year— an honor given to employees "who serve the town and its citizens in an exceptional manner by exemplifying outstanding service, while exhibiting a positive and supportive attitude."
Foster is a member of the FBI National Academy Association, the International Association of Police Chiefs, and Virginia Association of Police Chiefs, and served as vice president of the Blue Ridge Chiefs of Police. He also served as an adjunct professor in the Administrative Justice programs at Virginia Western Community College, Emory and Henry College, and Radford University.
Foster is revered throughout the Vinton community. He has brought many talented police officers to the Vinton Police force and focused on the philosophy of community policing.
Mayor Grose said that when Foster was hired, "he was considered quite a catch for the Town of Vinton. He took charge of a good police department and made it better."
Councilman Mike Stovall described him as "the best police chief Vinton has ever had." Foster received a standing ovation from those attending the council meeting. Humble, as always, Foster thanked council for the "amazing opportunity to serve as chief of police in Vinton. God blessed me when I came to work here."
Interim Chief Drumond introduced two new Vinton police officers, William C. Holland Jr. and Jaymie Turner.
Holland graduated from William Fleming High School in 1996 and attended Virginia Western Community College, studying Criminal Justice. He served as sergeant and special conservator of the peace with Lewis-Gale Regional Health Medical Center before pursuing a career opportunity with the Liberty University Police Department. He has been married to his wife Melissa for 18 years and has three "amazing" children, William III, Olivia, and Lauren.
"I am honored by this opportunity and I'm ready to serve," said Holland.
Officer Turner was born and raised in the Madison Heights area. She attended the Criminal Justice Academy where she received her Law Enforcement Certification. She has served the Lynchburg community for eight and a half years. She specializes in RAD (self-defense for women) and gangs. She says she is excited to continue her career in the Town of Vinton.
She has two children and enjoys spending time with family on her days off.
The final recognition of the evening was the presentation of the Virginia Risk Sharing Association (VRSA) 2020 Margaret A. Nichols Risk Management Leadership Award to the town.
Vinton Human Resources Director Donna Collins accepted the award along with the town's Safety Committee, made up of Vinton employees William "Bo" Herndon, Chasity Barbour, Nathan McClung, Amanda Payne, Brandon Gann, Fabricio Drumond, Andrew Critchard, Billy Robb, and Mandie Baker.
The prestigious award is presented each year to one VRSA member that "demonstrates strong support for risk management from top leaders, employee involvement, innovative solutions to safety challenges, injury and illness rates lower than average for comparable entities, comprehensive training programs, evidence that prevention of incidents is the cornerstone of the safety process, communication about the value of safety, and ways to substantiate the benefits of the safety process."
Over the last few years, the town has implemented a workplace violence deterrence and notification system for the safety of employees. Town Council appropriated $100,000 in emergency funding for upgrades which included installation of bulletproof glass in areas of the Municipal Building with customer interactions, key fob-only access to specific areas of the town facilities, security cameras, and ceiling lighting with employee-controlled panic buttons which connect directly to the police department to alert others when they should lock down or evacuate. Town Manager Barry Thompson noted that not only did these measures improve security for staff and customers, they "put the town far ahead when COVID-19 hit."
Collins also briefed council on the new Town of Vinton Employees Handbook, last revised in 2008.
Council was briefed on the Limited Service Hotel Market Study by Assistant Town Manager Pete Peters and Christian Abbate of DPC Hospitality for property located at the corner of South Pollard Street, 1st Street, and Cedar Avenue.
Council authorized the town manager to file an application for allocation of funding from the Virginia Department of Housing and Community Development (DHCD) Industrial Revitalization Fund (IRF) for the Gish Mill Redevelopment Project in the amount of $600,000. The intent of the IRF funding program is to fund "shovel-ready projects" that will act as a catalyst to spark additional private investment and job creation in distressed areas.
On April 7, 2020, council adopted a resolution for the conveyance of approximately 1.154 acres of property located on Gus Nicks Boulevard, known as Gish Mill, to Gish Mill Davii LLC. The IRF funding will help revitalize this important historic structure into a hub of both economic and social activity.
The town earlier applied for $250,000 from the Virginia Department of Historic Resources (DHR) Emergency Supplemental Historic Preservation Fund (ESHPF) for repair and stabilization of the site after flood damage from past hurricanes.
A minimum of $900,000 has been committed by Gish Mill Davii LLC, for the redevelopment project as well, resulting in a total project investment of approximately $2 million.
Council adopted a resolution authorizing an agreement with Roanoke County to accept $706,693 in CARES Act funding from the county's allocation of $8.2 million from the Coronavirus Relief Fund. The money will be used for improvements to town buildings for the safety of employees and the general public and for the Small Business Recovery Loans program.