By Debbie Adams
The Virginia Risk Sharing Association (VRSA) has presented their 2020 Margaret A. Nichols Risk Management Leadership Award to the Town of Vinton.
Vinton Human Resources Director Donna Collins accepted the award at the Vinton Town Council meeting on July 21, along with the town's Safety Committee, made up of Vinton employees William "Bo" Herndon, Chasity Barbour, Nathan McClung, Amanda Payne, Brandon Gann, Chief Fabricio Drumond, Andrew Critchard, Billy Robb, and Mandie Baker.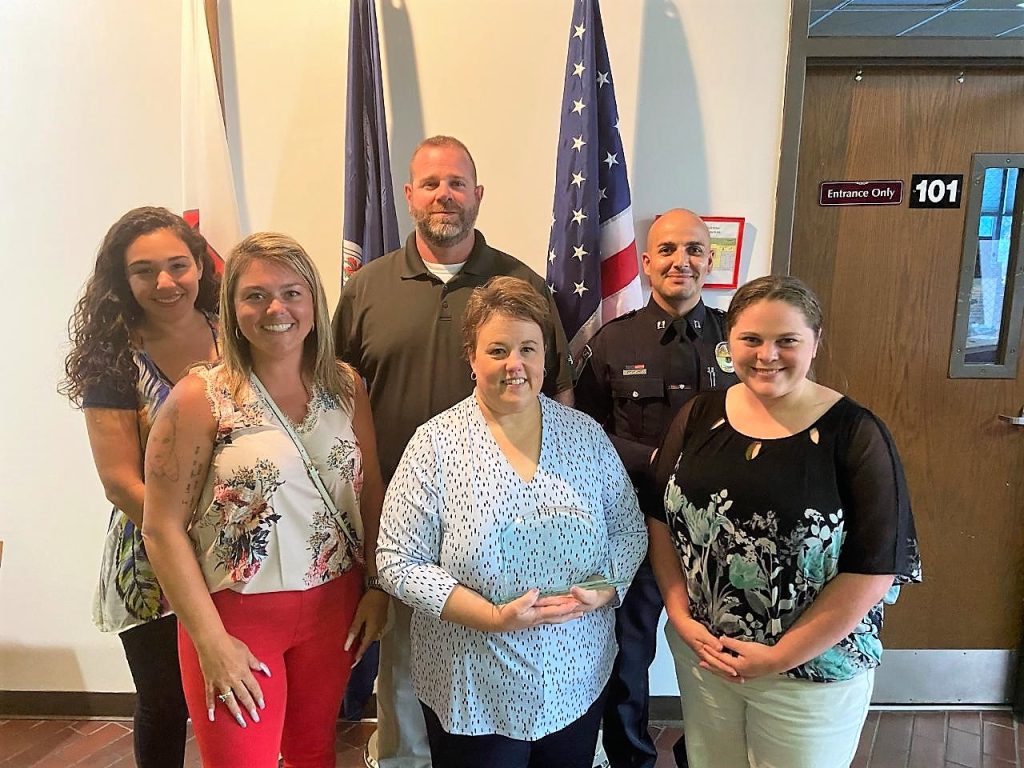 The prestigious award is presented each year to one VRSA member that "demonstrates strong support for risk management from top leaders, employee involvement, innovative solutions to safety challenges, injury and illness rates lower than average for comparable entities, comprehensive training programs, evidence that prevention of incidents is the cornerstone of the safety process, communication about the value of safety, and ways to substantiate the benefits of the safety process."
Vinton has worked hard to meet all those criteria.
Over the past few years, the town has implemented a workplace violence deterrence and notification system for the safety of employees. The process was led by Human Resources Director Donna Collins, who requested a physical site assessment from VRSA. VRSA Public Safety Specialist Gary Dillon and VRSA Senior Safety Consultant Edward Shelton conducted the assessment and provided recommendations on strengthening the town's security and employee protection plans.
In August 2019, Town Council appropriated $100,000 in emergency funding for security upgrades which included installation of bulletproof glass in areas of the Municipal Building with customer interactions (the Treasurer's Office and Planning and Zoning), key fob-only access to specific areas of the town facilities, security cameras, and ceiling lighting with employee-controlled panic buttons which connect directly to the police department to alert others when they should lock down or evacuate.
"These efforts support a safer working environment for the town's staff and the citizens who visit the building," said Steve Craig, Managing Director of VRSA. "VRSA is proud to highlight the leadership and hard work put forth on this risk management effort with the rest of our membership. For all your efforts to better protect the town and citizens of Vinton, we applaud you."
Town Manager Barry Thompson noted that not only did these measures improve security for staff and customers, they "put the town far ahead when COVID-19 hit." For example, because of the bulletproof glass and partitioning in the Treasurer's Office, the town elections in May were able to be held in that office, rather than in the traditional precincts at the Charles R. Hill Community Center and Vinton Baptist Church. Under the system developed by the town and county in this emergency situation, three people would be able to vote at once in the Treasurer's øffice, while practicing social distancing.
Municipal buildings, even in the calmest communities like Vinton, can pose security challenges since they are open to the public and a wide array of visitors, and often have more than one entry point.
Cognizant of workplace violence incidents in the state and across the nation, Vinton enhanced security measures at the Vinton Municipal Building, the Public Works facility, and the Vinton War Memorial.
"The security enhancements were for the security of the employees and citizens in general," said Collins. "In today's climate of violence, we felt we needed to be proactive."
"These measures were not installed as a barrier between, or protection from, the average citizen, employee or customer," said Assistant Town Manager Pete Peters at the time. "These measures were implemented as a deterrent to hopefully prevent and to protect our employees and visitors in cases of extreme violence, such as the unfortunate incident in Virginia Beach, the Texas Church shooting or a number of other attacks that have taken place in common or public spaces. It's obviously very difficult to predict when, where, or from whom an attack might occur, so these recently installed security measures were implemented for areas that would have been the most vulnerable should an extreme situation arise."
As for security measures at other public buildings in Vinton, Public Works now also uses a video entry station where visitors must be buzzed in. The War Memorial has added many more surveillance cameras to its system.
Funding for the improved security was made possible by pari-mutuel tax revenue from Rosie's Gaming Emporium.
Security improvements to the Municipal Building were made employing the concept of "Crime Prevention through Environmental Design," a method based on the fundamental idea that the proper design and management of the physical environment can deter crime in a specific area. Just like buildings and properties can be designed to prevent damage from the elements and natural disasters, they can be designed to prevent crime," is the stated CPTED principle.
The principle is based on anticipating the thought processes of a potential offender and creating an environment that discourages follow-through. CPTED has the added advantage of creating a sense of security and well-being among employees.
Research has demonstrated that criminal activity tends to be reduced:
when perpetrators perceive a risk of being observed (natural surveillance)
when design strategies increase the effort required to approach a target –channeling visitors into a defined area (natural access control)
when clear definitions of boundaries separate public spaces from private spaces and establish a sense of ownership (territorial reinforcement)
and when property is managed to eliminate the "broken window" fact in the environment (maintenance)

Ballistic glass installed in the Treasurer's office at the Municipal Building enabled the office to be used as the Vinton precinct voting poll in the May 2020 Town Elections during COVID-19. Shown is Roanoke County Director of Elections and General Registrar Anna Cloeter.