By Debbie Adams
Vinton Police Chief Fabricio Drumond, along with Executive Assistant to the Chief Mandie Baker, Lt. Scott Hurt, Records Manager Ginny Rhodes, Community Resource Officer William Holland, and Det. Justin Baker, presented the Vinton Police Department's annual report for 2022 to Vinton Town Council at its meeting on April 18.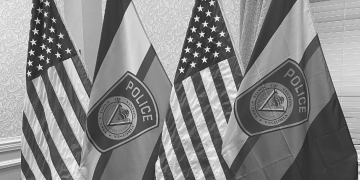 Chief Drumond started off by discussing the administration of the VPD and its all-important accreditation. The department must be reaccredited every four years and passed with flying colors during their last evaluation in 2022. There are certain standards each department must comply with to attain that status.
The VPD was first accredited by the Virginia Law Enforcement Accreditation Coalition in 2002 and has been reaccredited in 2006, 2010, 2014, 2018, and 2022. In the latest evaluation, 191 files were reviewed. The VPD was found compliant in 187 of those files. Waivers had been granted for the four others, which mainly concern jails (Vinton does not have a jail.).
Mandie Baker updated council on the department's increasing use of social media (Facebook, Instagram, and Twitter) to boost outreach. She reported that the most popular posts involve animals and officer recognition.
Baker next talked about Grants Management and the department's 100% approval rate on grants they have applied for. Grants have enabled the VPD to purchase six new bullet-proof vests and replace two others through the Bulletproof Vest Partnership.
Local Law Block Grants have allowed the department to purchase Streamlight Stinger Flashlights, Riot Cabinets, police bikes, CID equipment, and made available funds for health and wellness equipment for officers.
Coronavirus Emergency Supplemental Funding has supplied funds for overtime reimbursement.
A DMV Selective Enforcement grant has provided funds for Radar Eagle 3 units. A Body Worn Camera Grant has been received for nearly $100,000. The dept. is awaiting approval of a Law Enforcement ARPA Equipment Grant which aims to reduce violent crime and gun violence in a region. The VPD portion is $158,000 which they plan to use for TruNarc narcotics analyzers, riot gear, lights for firearms, and more.
Records Manager Ginny Rhodes next explained the duties of her division: to process all warrants and protective orders, responsibility for all Virginia Criminal Investigation Network (VCIN)  entries/activities during regular business hours, completing and submitting the VCIN Validation Monthly Report, processing all traffic citations, handling all Freedom of Information Act requests, receiving and processing Concealed Handgun Permits, receiving and processing officer subpoenas for court, reviewing all officer reports on a daily basis, completing monthly Officer Statistics and Crime Analysis Reports, and submitting monthly State Incident Based Reports.
She reported that in 2022, 860 warrants were issued by the VPD; 201 VCIN files were validated; 1733 traffic citations were issued (606 moving, 1127 others); 339 FOIA requests were completed; 119 Concealed Handgun requests were completed; and 339 officer subpoenas were processed.
Also in 2022, 965 Incident Based Reports (IBR) were written and 1,792 merged. Police reports are written when citizens report a crime; when an officer initiates a criminal case; when there are custodial arrests, and for reportable vehicle accidents. Information included in the reports includes the involved people, vehicles, and property, the offenses that occurred during the incident, and the officer's narrative detailing the incident and/or investigation.
In 2022 these are some of the dispatches reported in Vinton:
2598 traffic stops, 1698 traffic summons issued, 449 accidents, 0 fatalities, 77 with personal injury, 273 with property damage, 3 hit and run with personal injury, 96 hit and run with property damage; 31 abandoned vehicles, 44 auto thefts/unauthorized use, 113 disabled vehicles, 109 improper parking, 117 keys locked in vehicles, 45 larcenies from vehicles, 13 larceny of tags, 110 other larcenies; 4 littering, 90 loud music/party noise, 12 missing persons, 173 reckless driving, 55 roads blocked
484 animal control calls—93 involving animal ordinances, 8 attacking other animals, 17 attacking a person, 24 for barking, 2 bears, 102 for Code Enforcement, 51 cruelty, 7 dead animals in the road, 87 dogs at large, 32 injured or sick animals, 6 involving livestock, 3 snakes, 38 strays, and 14 wildlife calls,
268 hang-up calls to 911; 17 annoying communications
No bank robberies or bomb threats, 7 brandishing a firearm, 16 discharging a firearm, 384 disturbances with weapons, 23 fights with weapons, 0 homicides, 116 frauds and forgeries, 10 personal assaults, 3 prowlers,
5 break-ins at businesses, 33 break-ins at residences, 131 burglar alarms at businesses, 32 burglar alarms at residences, 50 shoplifting, 2 stalking, 12 suicide attempts, 1207 instances of suspicious activity, 50 threats, 93 trespassing,
7 children locked in vehicles, 177 domestic calls, 63 juvenile problems, 15 runaways, 6 screams for help, 492 well-being checks,
27 drug overdoses, 39 drug possessions, 39 drunk drivers, 43 drunk subjects, 32 indecent exposures,
141 fire and EMS calls
1,580 security checks
Of those incidents, reports were written for 965 with 333 arrests made (custodial or non-custodial).
Lt. Scott Hurt reviewed the activities of the Patrol Division for 2022. He reported the Total Calls for Service at 12,593, security checks at 1,580, Suspicious activity 1207, Civil Advice at 596, and disturbances at 384. He also reported 372 community policing opportunities, which the police sponsored or participated in, in 2022.
Det. Justin Baker reported on the Criminal Investigations Division (CID) and the circumstances in which the CID takes the lead in an investigation, rather than the Patrol or Community Services Divisions. The CID is on call 24/7/365. At times, due to the seriousness of an incident, detectives respond to the initial scene to investigate. Investigators are also available to assist with major accidents and shift coverage. Generally, CID cases involve felony cases that require substantial follow-up for investigations such as robbery and major breaking and entering.
Detectives conduct interviews with victims, witnesses, and suspects; coordinate with the Commonwealth Attorney's Office and neighboring agencies; and document investigations with detailed reports, photographs, photo line-ups, and lab results.
In 2022, the CID received 33 referrals; five remain active; eight are closed; five arrests were made, and 15 are inactive. Nine cases involved personal assault; seven, grand larceny; and five, fraud.
In the final presentation of the annual report, Officer William Holland talked about Community Services– as an Animal Control Officer, a supplemental resource for Code Enforcement, and the division dealing with disabled, inoperable, or abandoned vehicles. He works with local veterinary hospitals and organizations such as the Southwest Virginia Wildlife Center and the Virginia Department of Wildlife Resources.
Holland wears many hats, also serving as the liaison between the chief of police and citizens and between churches, schools, and the police department. He facilitates and coordinates special projects, briefings, and partnerships. He is the Crime Prevention Outreach Officer and the Community Events Liaison Officer. He coordinates National Night Out, local school events, Drug Take-Back days, and community outreach events such as Coffee with a Cop, Pancakes with the Police, Downtown Vinton Trick or Treat, Hot Chocolate with a Cop, Shop with a Cop, the Bedford L.E. Car Show, the Little Feet Meet, and many more.
In his position, Officer Holland works as a supplement to Roanoke County Resource Officers at W. E. Cundiff and Herman L. Horn Elementary Schools. He deals with school safety, building security, staff acclimatization, and traffic safety. In 2022, he completed 217 school security checks, up from 74 in 2021.
He is also serving as the Roanoke County Program Coordinator for TRIAD for the Virginia Attorney General's Association. TRIAD is a cooperative effort of law enforcement agencies (police/fire/sheriffs), senior citizens, and senior organizations, focused on reducing crimes against seniors, "empowering them and teaching them not to be victims."
Mayor Grose commended the VPD for their efforts saying, "We are very proud of our police department; they are very professional and it shows every day."