By Debbie Adams
The Vinton History Museum has welcomed two college students as interns for the summer—Grace Johnson and Ben Tate. In fact, they began volunteering at the museum back in April for the Dogwood Festival Open House.
Johnson has lived in Vinton since the seventh grade. She graduated from William Byrd High School with honors in the Class of 2018. While at WBHS, she was a member of the Cheer Team, president of the FCCLA, and a member of numerous clubs.
She is now a rising senior at Roanoke College, majoring in history, with a minor in secondary education. Her plan at this point is to become a high school history teacher. She will be doing her student teaching this fall at James Madison Middle School in Roanoke City. She is considering working toward her master's degree, and eventually would like to teach history at William Byrd High School.
Johnson says history has "always clicked" with her. "It was always easy for me; it told a story, but the story could change with new discoveries and research."
She elected to do an internship since the 120 hours earned count as one class, giving her one less class to take while completing her student teaching. She chose interning at the Vinton History Museum because of its proximity to her home and its flexible hours.
After emailing museum Executive Director Judy Cunningham, Johnson concluded that interning with the Vinton History Museum was a perfect match for her. Even though she has lived here since middle school, she says she didn't know a lot about Vinton, and she has enjoyed her time at the museum so far "finding out about the town."
Her duties at the museum have included giving tours of the museum to visitors, helping with research, and reorganizing old clippings about William Byrd sports from as far back as the 1950s. She has worked with Ben Tate, the other intern, on creating displays for the museum—so far one paying tribute to William Byrd High School graduates in May and another on local June weddings.
Johnson is accumulating her internship hours during regular museum hours. She expects to have completed the required hours by August, in time for the beginning of fall semester at Roanoke College.
Johnson will also be completing a presentation on her internship experience to be presented to her supervising professor Dr. Samantha Rosenthal, Associate Professor of History at Roanoke College.
She says her other interests aside from history include reading most anything– she just started a book about the Bedford Boys of World War II. She enjoys spending time with her family and her dog– a Labrador/Pitt mix. Back in the days when she had more time, she coached gymnastics.
Johnson says she has enjoyed her internship at the Vinton History Museum a great deal so far, especially working with children and catching their "looks of shock and amazement" as she introduces them to old televisions, radios, typewriters, record players and telephones, and explains how they work. She has also enjoyed helping guests in their research.
"It's great here," said Johnson. "There is something new every day and you just roll with the punches. Judy (Cunningham) has been very helpful and understanding."
Ben Tate is from Boones Mill. He has been a homeschooler and is now a rising senior at Roanoke College, majoring in history. One of his favorite time periods is the first half of the 20th century.
"I always had a passion for history," said Tate. "I love learning about past events and how they have formed society today."
He is as of yet undecided about his future plans once he graduates. He, too, was interested in completing an internship with the history museum and having it count as a class credit. He needed flexible hours, and Johnson suggested doing the internship at the museum.
He talked with Cunningham and thought spending the summer at the museum would fit perfectly with his summer schedule. He had wanted to get some museum experience during his college years and working at the history museum was the "perfect opportunity."
He has spent most of his time so far doing research and helping with projects at the museum—the graduation and wedding displays namely. He and Johnson are considering a display on military history next. Creating displays is a special interest. Tate says he collects World War II memorabilia and has mannequins at home which could be used in the graduation and wedding displays for the museum. He has some new ideas for how to "spruce up" the museum.
Tate will also be completing 120 hours at the museum, finishing up sometime in August, working the regular museum hours.
In addition to his passion for history, Tate is an award-winning swimmer for Roanoke College. The team won the ODAC title in the 2020-21 season. He was named Most Valuable Player by his coach and an ODAC Athlete of the Week. He has broken some team records and won several individual ODAC races in his time at Roanoke College. He was named to the 2020-2021 VaSID College Division All-State Men's Swimming Awards First Team in Distance Freestyle, Butterfly, and a host of Medley and Freestyle Relays.
In high school, he swam for the Marlins and Gators. He says one of his hobbies is powerlifting and he is interested in the field of exercise science.
Tate says he has enjoyed his time at the Vinton History Museum very much and is amazed at the extent of the collection housed there.
Cunningham is delighted with Johnson and Tate, their enthusiasm, their creativity, and their dependability, and the contributions to the museum they have already made, only a few weeks into their internships.
Guests may view their historic wedding display this month during regular museum hours from 10 a.m. to 2 p.m. Mondays, Wednesdays, and Fridays and the first Saturday of each month. The museum is located at 210 East Jackson Avenue in downtown Vinton, just across the street from the Vinton Library.
The display features the Kasey sisters, Doris and Helen, who were married in a double wedding ceremony at Vinton Baptist Church on July 19, 1958. They served as each other's maid of honor and also shared bridesmaids. One was escorted down the aisle by their father, the other by an uncle. Both were given in marriage by their dad. Doris wore a long flowing bouffant skirt of off-white silk bombazine with rose point lace, as did her sister Helen, featuring long sleeves and an illusion (very fine netting) veil. The display includes clippings about the wedding and the 50th anniversaries the couples celebrated in 2008.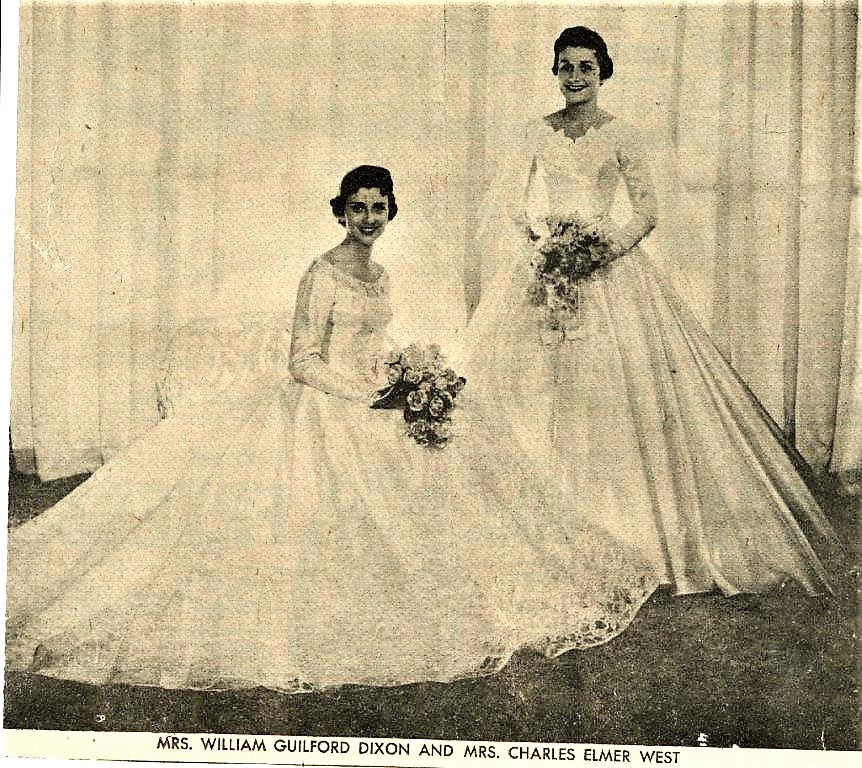 The Vinton History Museum just held one of their first in-person events since the pandemic—an ice cream social on June 5. A dulcimer concert is coming up on August 7, and the big yard sale is scheduled for September 11.
More information is available on the Vinton History Museum and Vinton Memories and History Facebook pages.