By Mary Beth Layman
Enjoy an item of history by viewing and participating in the Vinton History Museum "Historic CHAIR-ity" fundraising event.
Since April of this year, 11 local artists have been using their skills to creatively paint chairs that were part of the school furniture used at the old and iconic William Byrd High School on Highland Road in Vinton.
The unique chairs will be sold through an online auction site and are available for viewing at www.32auctions.com/artchairity2020 beginning October 3 and concluding on October 27.
The chairs will be on display at the Vinton History Museum on October 3 during the Vinton Fall Festival and at various downtown Vinton business storefronts October 6 through October 23.  All proceeds will be used for sustaining the museum and its associated programs and acquisitions.
Participating artists include Debbie Arthur Adler, Carolyn Hodges Campbell, Angie Chewning, Brittany Cole, Patsy Crowder, Mary Beth Layman, Darlene Crowder Marshall, Rebecca McKeever, Donna Adam Phillips, Kelly Willis, and Janet Wimmer.
Mary Beth Layman, program chairperson for the Vinton Historical Society, contacted the artists by phone and email during March and April. All enthusiastically said they would like to participate in the project for a great cause.
The artists shared their thoughts and inspiration about painting the antique chairs.
Adler created "Sunflower and a Small Friend." She is a Vinton artist who graduated from William Byrd High School in 1980. Her love of art and creation is long held; she studied art in high school and at Virginia Western Community College. With watercolor as her chosen medium for the majority of her work, she says that her inspiration for the natural setting of her chair comes from a day where she was looking out her window and found herself transfixed by a lone sunflower blooming outside.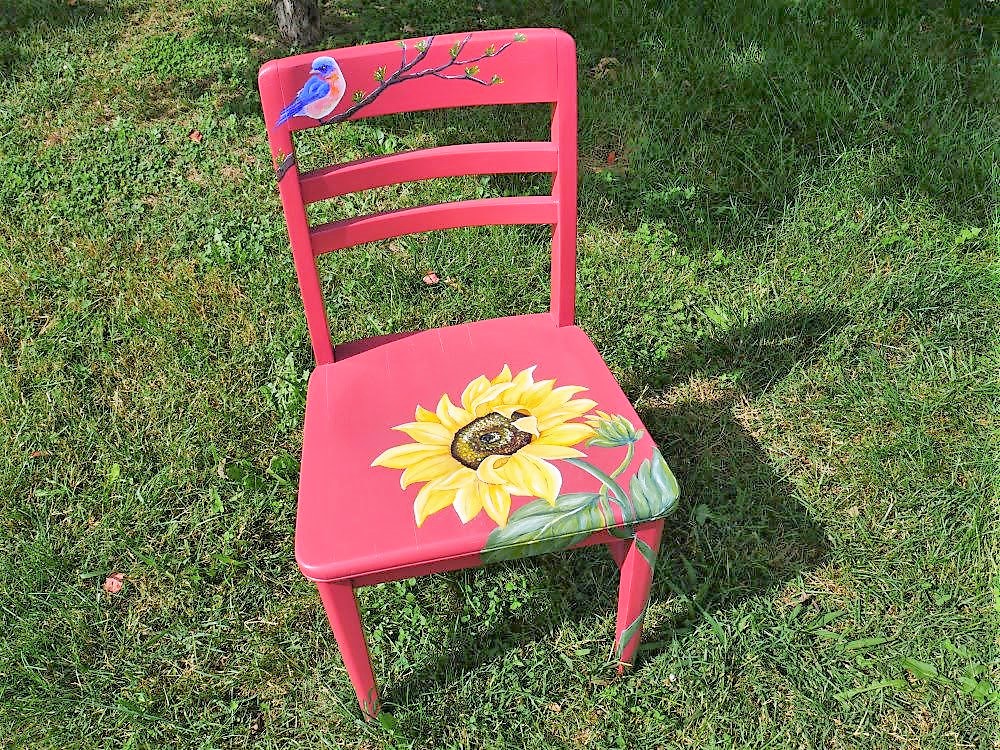 Campbell created "Sunflower with A Twist." "What fun it was painting a chair from the old William Byrd High School where I graduated in 1961. The chair was in amazingly good shape and with my husband's help we were able to save and restore the original brass fittings on the front chair legs. When I decided I wanted to paint the chair pale yellow, of course, it needed a sunflower on the seat. I am not formally trained; however, I inherited the love of art from both parents. My father, Curtis Hodges, painted and made furniture; my mother, Flossie Hodges, designed and sewed homemade clothing. My favorite things to paint are usually landscapes or flowers. I am so honored that I was asked to paint one of these antique 'treasures.' They are priceless."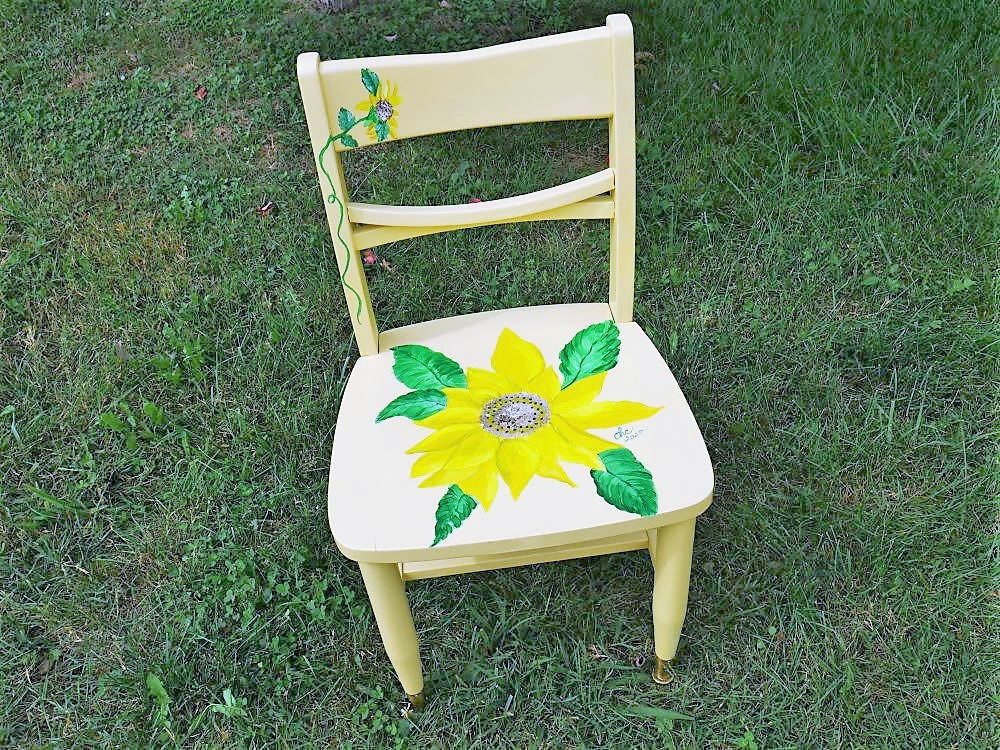 Chewning, executive director of the Vinton Area Chamber of Commerce, said, "This opportunity was so exciting to me because I could help an important part of my community and make something fun for someone else to enjoy. My love for creating and painting has evolved into a (small) business, Angie's Wooden It Be Lovely. I paint with many different mediums. My involvement in my community gives me much joy. Being involved and helping businesses and hosting events to help bring people to Vinton fills me with great pride." Chewning created "Great Places" utilizing a Dr. Seuss theme.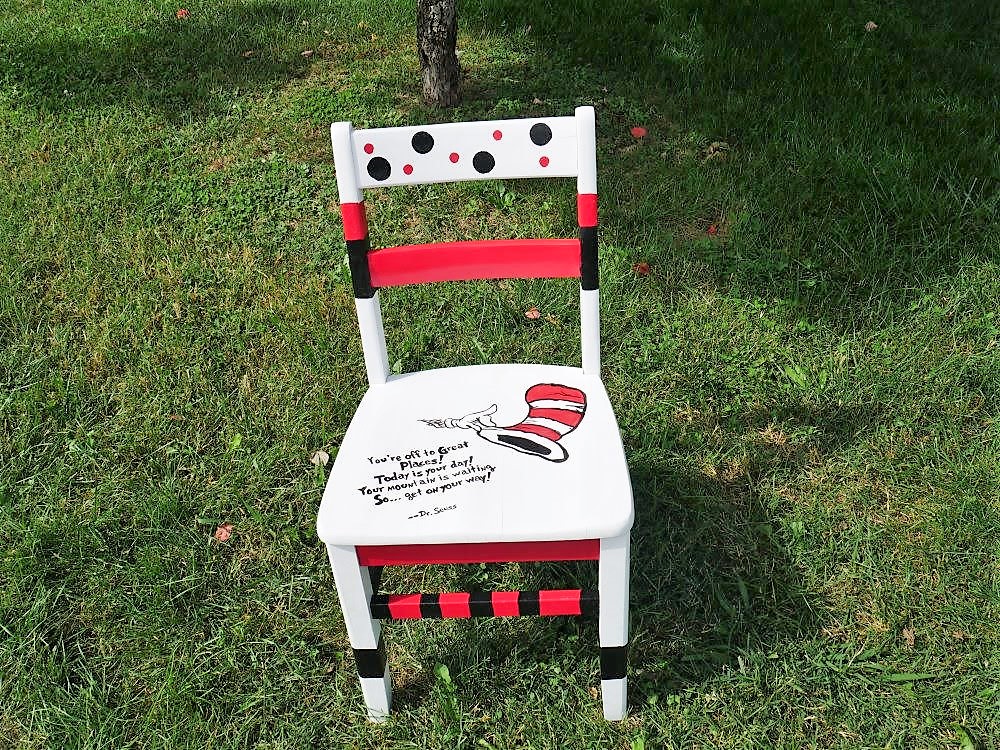 Cole created "Harmony."She graduated from a small college in West Virginia where she minored in art. "In college, I was able to experience many different art forms and really found my niche in ceramics. However, I have always liked to craft or create pretty much anything. I chose this design for my chair because I really like the symmetry and geometry behind Mandala art," which symbolizes harmony, balance and the universe.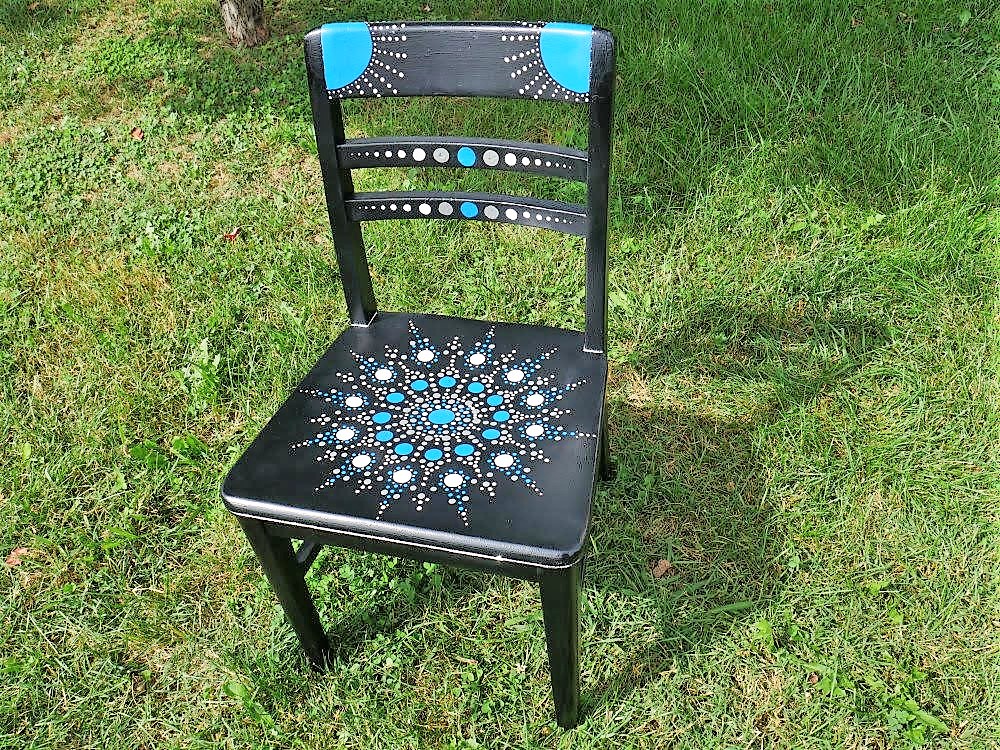 Crowder created "Dragonflies with Energy, Grace and Joy." "I've always loved art. I am self-taught. It is very calming to your mind and the focus is only on your subject. I picked dragonflies for my chair because they mean energy, gracefulness, and joy. I also feel they also represent good luck. My daughter was very sick. I was going to see her and when I stopped the car a dragonfly landed on my windshield. I said a prayer and shortly thereafter my daughter was seeing some good changes in her health. Dragonflies reflect light – to shine our light and energy for others. I love a little bling, so my dragonflies have a shimmer of 'bling on their wings.'"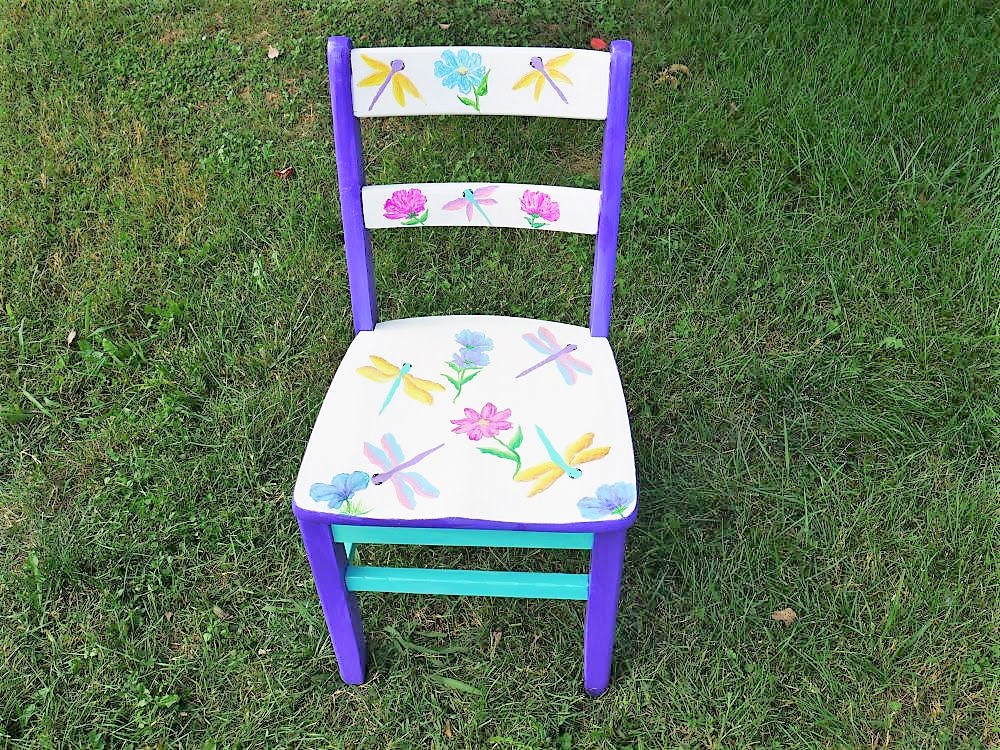 Layman created "Beyond the Parkway Bridge." She retired almost two years ago from her long-time career as Special Programs Director for Vinton. "One of my goals in retirement is to return to the skills I developed in secondary school and during my college major in art. The mountains and the landscape of the Blue Ridge region continue to fascinate and inspire me. The bridge featured on the chair is the Blue Ridge Parkway stone bridge heading west on Route 24 towards Vinton. Several aspects of the scenery proved to be a learning experience. Layman worked with Rebecca McKeever and Becky Cregger on the "HOPE" sign at Thrasher Memorial United Methodist Church.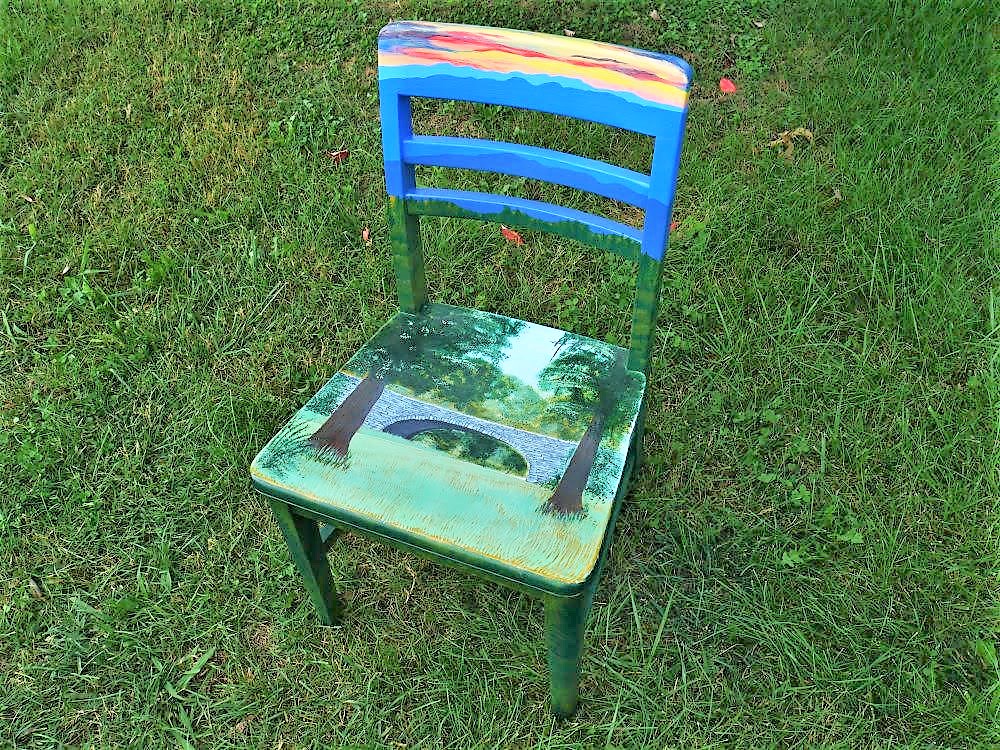 Marshall created "Ode to Mondrian." "Mondrian's iconic motif of bold geometric lines and primary colors have been used in fashion, architecture, and even furniture. So, why not use it for a chair for 'CHAIR-ity' for the Vinton History Museum?" Her Vinton roots are strong. At William Byrd High School, she served as Vinton's Junior Miss and as 1979 Dogwood Princess and Hostess. Marshall is a retired City of Salem elementary school teacher. She is now an art appreciation educator. Darlene founded the summer Salem Art Camp in 1995 and teaches preschool art at the FUMC Wesleyan Preschool.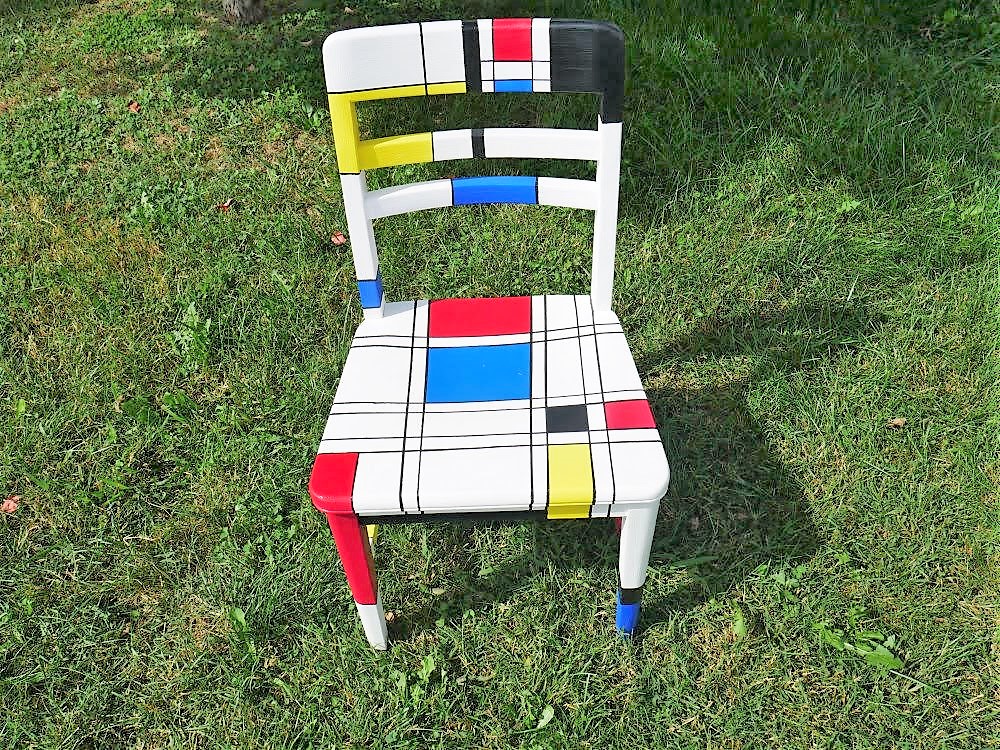 McKeever created the "Not a COWch – A Chair. "I was already thinking of painting an animal when I received the chair and saw the shelf underneath. I love cows. I have drawn them, painted them, and even sculpted them. The whole chair is painted in cow spots. I added a canvas cover to be able to paint the head, front and back. I have an associate degree in commercial art and a bachelor's degree in fine ert, majoring in pottery, with a minor in elementary art education.  I taught elementary art in Roanoke City Schools for 25 years. I retired from teaching to open my own pottery studio seven years ago."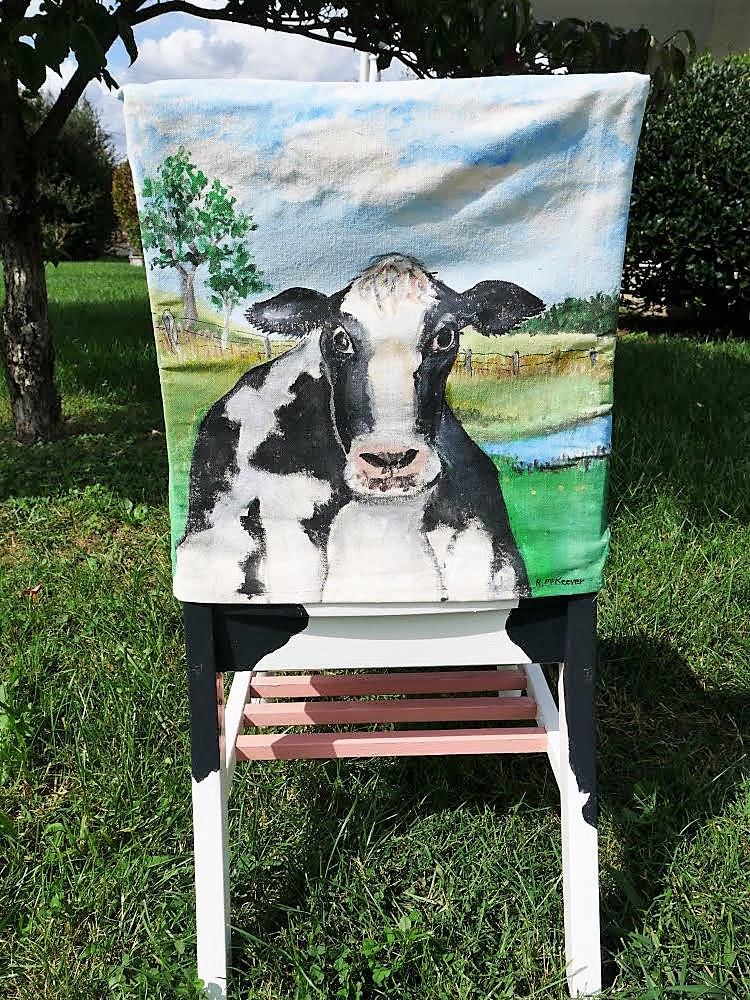 Phillips created "Tapestry." "I grew up in Vinton and will always consider myself a Vintonite, even though I now live in Roanoke County. I love to paint and be creative. I'm fascinated by bold colors and how they blend together. The inspiration for my chair was a vintage '80s type sweater with lots of details and color."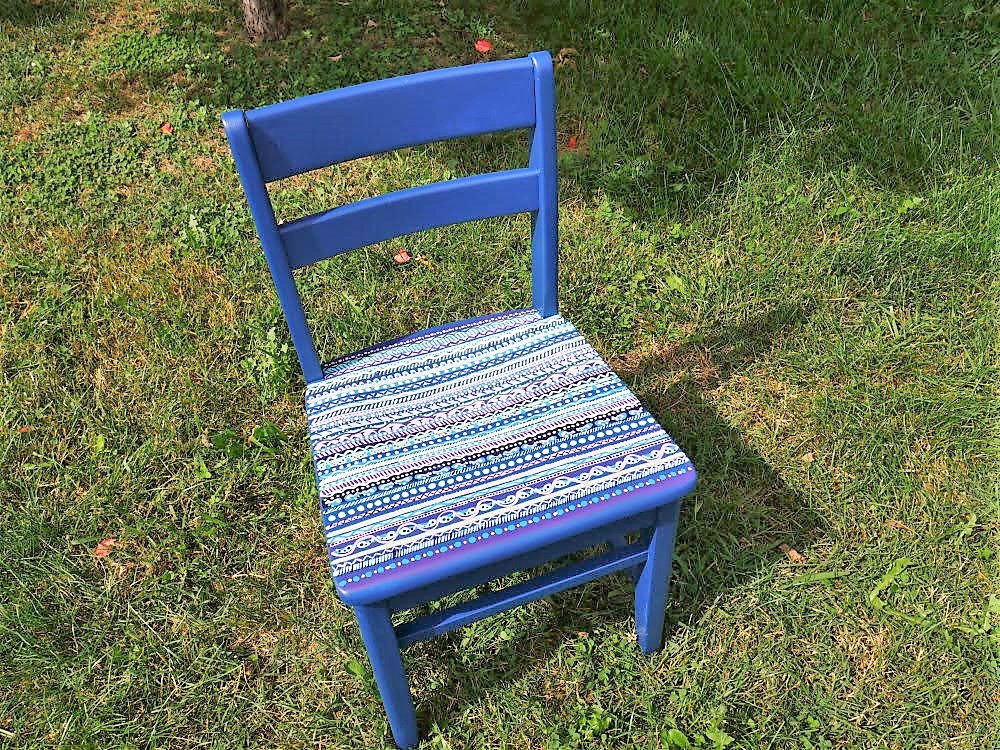 Willis created "The Birch." "The Hemp Mill's Founder and CEO Debbie Custer asked me to create a piece representing the year of her small new business in 2020 (amidst the new start up challenges in the industry and effects of COVID-19). The ladies at the mill are lovingly represented as the white birch, historically known as a symbol of new beginnings, regeneration, hope, new dawns and the promise of what is to come. The tree carries ancient wisdom yet appears forever young, weathering the elements of every season, firmly rooted, supporting each other and showcasing beauty amidst so much uncertainty." Willis is a faux painter, decorator and "trash to treasure Gypsy."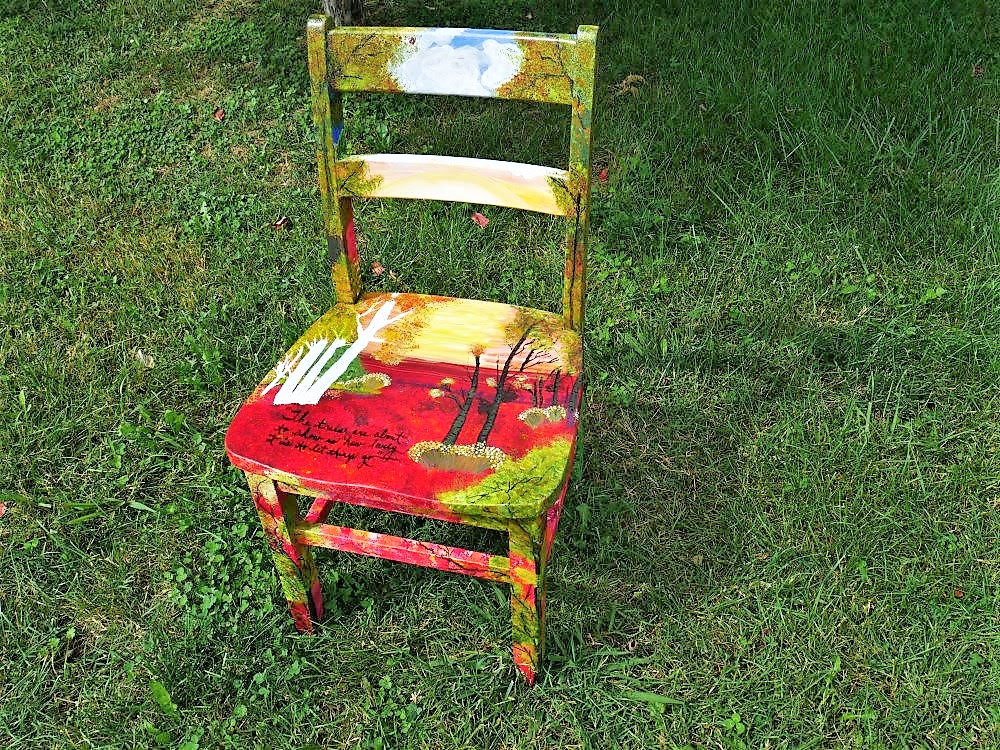 Wimmer created "Stars at Night in the Style of Van Gogh." As a landscape oil painter, she is producing a series of Blue Ridge Parkway paintings.  Over the past year, she has painted and posted online (janetwimmer.blogspot.com) over 370 Parkway paintings.  "My goal of becoming an accomplished landscape artist is coupled with a desire for seriousness in working at this profession every day and showing my deep love for the Parkway. After reaching a goal in September 2010 of painting a Parkway painting a day for a year, I was neither burned out, nor bored with the subject matter. My plan is to continue painting the Parkway until I feel that the series is finished; from milepost 0 to milepost 469 – which may be a life-long undertaking!" Retired from teaching art (kindergarten through college), she now paints and teaches from her home studio in Blue Ridge.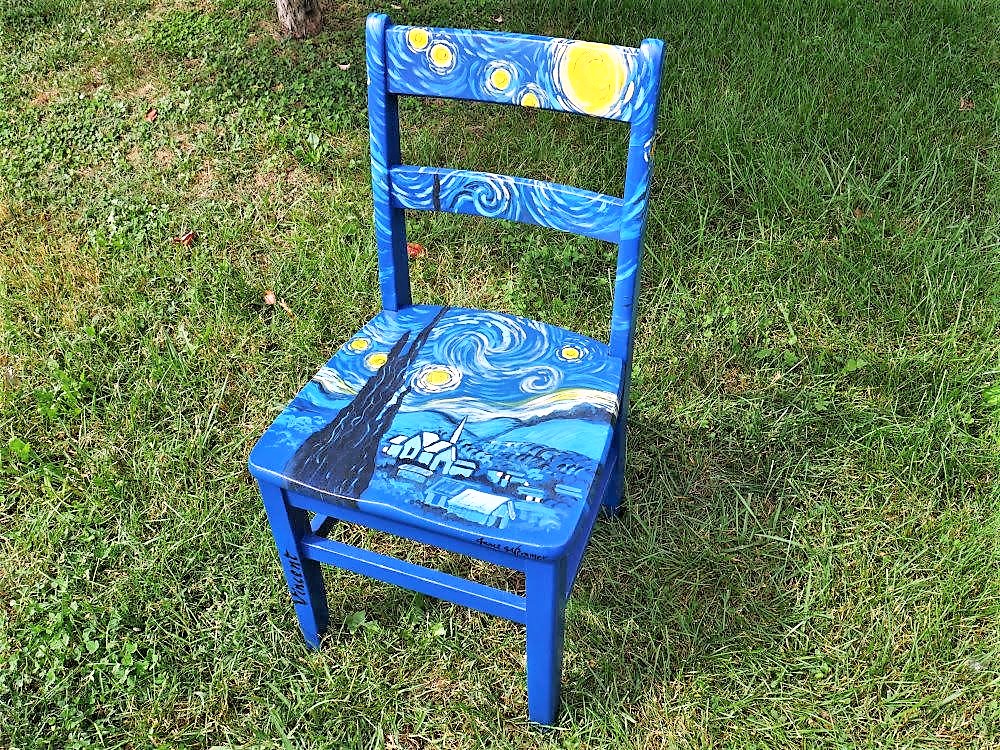 Layman developed and coordinated the idea of painting the antique chairs for a fundraiser for the Vinton History Museum. She and husband Randy, president of the Vinton Historical Society, handled delivery of the chairs, primer, and paint and enjoyed picking up the finished chairs or making the arrangements for receiving the finished art pieces.
The board of directors of the museum appreciate the vast amount of time the artists contributed to make the project a success thus far, she said.
For additional information contact the Vinton History Museum at 342-8634 or email at info@vintonhistorymuseum.org.
The Vinton History Museum, located at 210 E. Jackson Avenue, is open Monday, Wednesday, Friday, and the first Saturday of each month from 10 a.m. to 2 p.m. In compliance with COVID-19 state guidelines, masks are required in the museum.