By Debbie Adams
The Vinton First Aid Crew (VFAC) held their annual Christmas Dinner and Installation of Officers at the Vinton War Memorial on Dec. 7. VFAC President Jason Peters noted that this year marks the 83rd anniversary of the First Aid Crew in Vinton. He thanked members of the crew who continued serving the community during the past years of the pandemic, which brought many changes to the organization.
"We had to be fluid," Peters said. "Officers and members were put to the test more in the past two years than in the all the previous years."
Peters and Rescue Chief Chris Sayre introduced the new officers for 2023 and presented several special awards prior to their installation.
Trace Poindexter was named "Rookie of the Year" for 2022. Logan Klepal was named "Member of the Year" for 2022. Aaron Albertson was named 2022 "Officer of the Year." The awards are especially meaningful as recipients are chosen by the entire crew.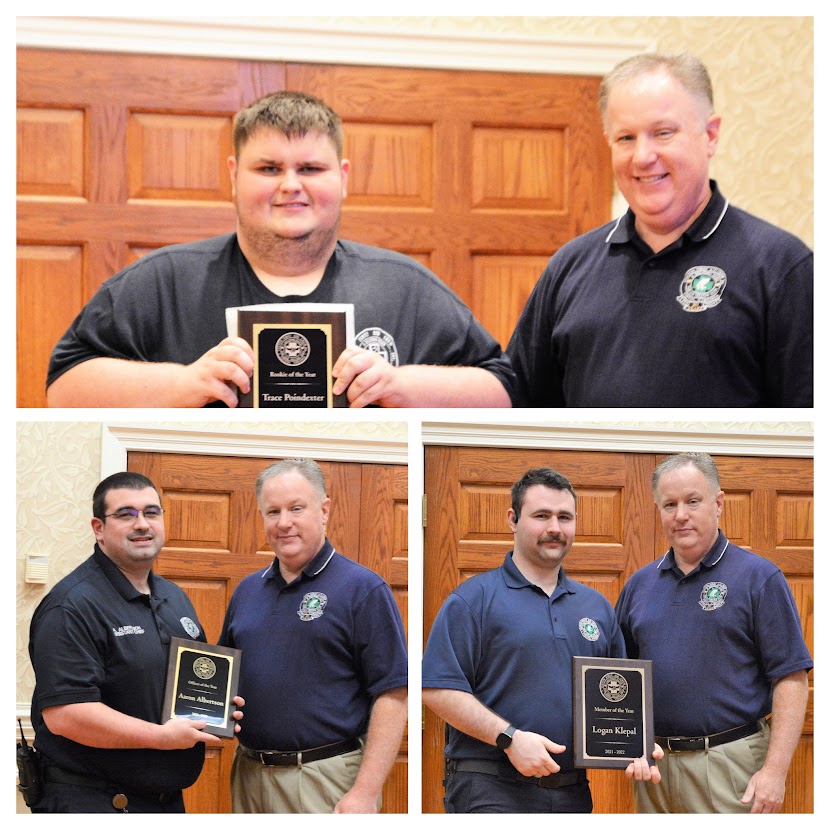 Vinton Mayor Brad Grose installed the VFAC officers for 2023, thanking them for their devotion to their jobs which are so vital to the community.
Officers include:
Rescue Chief: Chris Sayre
Assistant Chief: Aaron Albertson
Captain: Brandan Arthur
1st Lieutenant: Matt Gilfus
2nd Lieutenant: Logan Klepal
Sergeant: Nicole Vincent
Treasurer: Mitch Vaughan
Assistant to the Treasurer: Jason Peters
Secretary: Sandy Sayre
Chaplain: Tom Philpott
Public Information Officer: Margo Karkenny
Jason Peters will continue to serve as the President of the Board of Directors with Steve Thrasher as Vice President. Other Board members include Mitch Vaughan, Tom Philpott, Chris Sayre, Aaron Albertson, Sandy Sayre, Jimmy Poindexter, Nicole Vincent, Greg Meinel, Albin Hammond, Galen Conner, Chris McCarty, Paul St. Clair, Brandon Bushnell, Craig Sheets, and Chris Stull.
Service awards were also presented during the ceremony on Dec. 7. Mitch Vaughan has commendably served on the Vinton First Aid Crew for 49 years. Greg Meinel has served for 31 years; Jason Peters for 30 years. Steve Thrasher has been a member of the VFAC for 23 years; Megan Sayre for 13 years; Sandy Sayre for 11 years. Brandan Arthur and Matt Gilfus for 10 years, and Taylor Ralph for five years.
After the installation ceremony, the children of members were delighted with a visit from Santa (some more delighted than others) and a gift.
The Vinton First Aid Crew was founded in 1939. The volunteers assist with all types of calls ranging from providing emergency medical services, to assisting the Fire Department with house fires, to natural disasters, car wrecks, or assisting someone who has fallen or needs their vitals checked. The Vinton First Aid Crew assists with standbys at William Byrd Football games and special events in the town. They provide public education opportunities to help citizens be more informed.
The Vinton First Aid Crew welcomes new volunteers into what becomes a "family," with the opportunity to serve a deeply meaningful life for their community.
For more information visit their website at https://vintonems.org/ or their Facebook page at https://www.facebook.com/vintonems.