By Debbie Adams
The Vinton First Aid Crew (VFAC) was established in 1939. This year members are celebrating
the 84th anniversary of dedicated service to the Town of Vinton and outlying Roanoke, Bedford,
Franklin, and Botetourt counties.
The VFAC was founded as the result of an incident at Vinton Baptist Church in 1939 when
someone fainted during the worship service, and the congregation rushed to give aid.
According to "Roanoke County Fire and Rescue: A Reflection of 150 years," on October 5,
1939, 17 men with a strong desire to help their friends and neighbors in need met in the
basement of Vinton Baptist and officially established the Vinton First Aid Crew, Inc. It was one
of the first 10 volunteer first aid organizations in Virginia.
Their stated goals were "to save life, administer first aid, and teach safety."
The minutes from their first meeting indicate that "members of the Advanced First Aid Class of
Vinton, under the direction of O.P. Schilling, took the examination to complete requirements for
the Advanced Certificate. All members satisfactorily passed the examination. Discussion was
held concerning the formation of a First Aid Crew in Vinton and was favorably considered."
Officers elected were H.L. Horn, president, C.G. Burrows, vice president, G.C. Crockett, legal
advisor, and Dr. N.A Beeton, medical advisor. Guy Gearhart volunteered to serve as chief.
According to the Fire and Rescue history, "Their beginnings were humble. Members relied on
their personal vehicles and a 1934 panel truck, a donated first aid kit, and a few pieces of
homemade equipment."
Their equipment initially consisted of two life jackets, one stretcher, three hot water bottles, two
blankets, and two lanterns.
The crew received its first "real" piece of equipment on December 2, 1939 – an H&H inhalator
donated by Sam Oakey of Oakey's Funeral Service. A year later the crew acquired a V-8 Ford
panel delivery truck which allowed them to answer calls and carry more equipment.
Members had to pass the standard Red Cross First Aid tests, be able to swim, and preferably be
qualified as Senior Red Cross Life Savers.
Aubrey Vaughan of Vinton joined the crew in 1954. He is now a Lifetime VFAC member. At
age 92, he and fellow member Sydney Myers are the elders of the organization.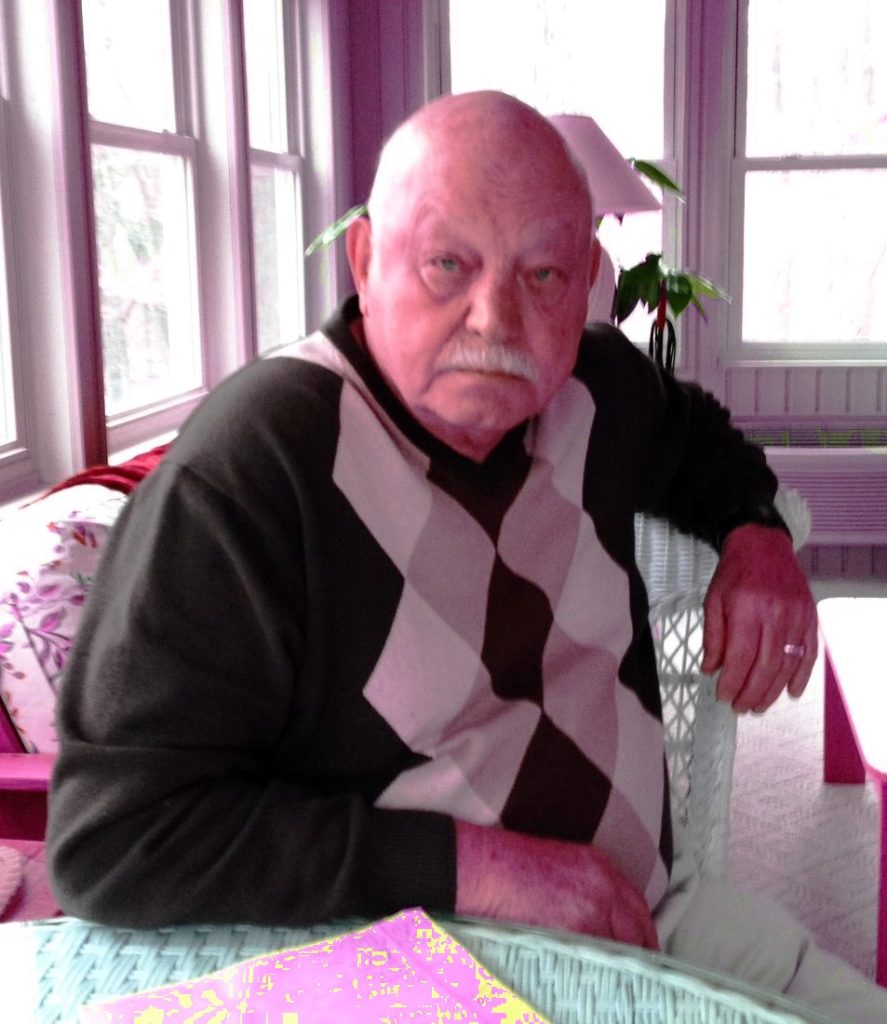 Over the years, several members of Vaughan's family have served as well – his son Mitch and
Mitch's late wife, Cindy; his granddaughter Anna and her husband Brandan; and Cindy's late
father, Jim Perdue. Vaughan's wife Elsie was a lifetime member of the Ladies Auxiliary of the
Vinton First Aid Crew.
Vaughan says that he was 23 years old when he joined the crew. His son, Mitch, joined when he
was just 15 so that he could run with his dad. His granddaughter Anna "grew up at the crew
building from the age of two." There are several other families like them in the VFAC, which
has become a family itself, spanning the generations.
He became interested in joining the crew when he worked part-time at Oakey's Funeral Home in
the summers, where his father was employed. In the early years, the First Aid Crew would report
to the scenes of accidents, illness, or disasters in their own vehicles (or the panel truck) and tend
to the patients but could not transport them for further care – that was up to the funeral homes
and their ambulances.
Vaughan grew up in Vinton, graduated from William Byrd High School in 1949, earned his
degree in education from the University of Memphis in 1954, and then his master's degree from
the University of Virginia.
Like all of the crew members, he had a day job. He not only served the community on the First
Aid Crew, he also taught geography to ninth graders, driver's education, and physical education
at William Byrd High School, and was the head coach for basketball and track, and assistant
coach for the football team.
Later, he was employed as principal at William Byrd Junior High School, and principal of two
elementary schools in North County. He went on to work as Roanoke County Public Schools
assistant superintendent with Dr. Bayes Wilson, superintendent.
He and his late wife have been lifetime members at Thrasher Memorial United Methodist
Church.
Vaughan recently talked about his years on the VFAC and how things have changed over time.
He has served in almost every position with the VFAC over time, including as captain for two
years.
The training for crew members when he was an active member included use of the Red Cross
Training Manual, practicing at fir crew meetings, and lots of on-the-job training. All of the crew
members had their own personal first aid supplies and drove their own vehicles – at least to the
Municipal Building when they heard the siren activated there.
One long blast meant that there was a rescue call to respond to; three short blasts indicated a fire
call.
Most all of the crew members lived in Vinton, many downtown, and could hear the siren from
their homes and "took off running for the First Aid Crew building." They were on call 24 hours a
day.
Eventually the organization was able to add Plectron emergency radio receivers for those who
lived in outlying areas, such as Chestnut Mountain or Lindenwood, and couldn't hear the siren
from downtown. The Plectrons were a blessing which allowed those members to respond directly
to the scene, saving a lot of time and lives. All members eventually received the Plectrons.
Vaughan says the calls the crew answered generally involved accidents at home or on the job,
heart attacks, or basic first aid. Crew members performed basic CPR. Dr. Yost and Dr. Hurt were
available to assist in the years Vaughan was active on the crew.
Vehicles improved over time as well. The crew got a station wagon from Vinton Motors that
could hold a cot so they could transport patients themselves, but could still call on the funeral
homes (Oakey's and Lotz). At one time, Vinton Motors and Diamond Chevrolet in Roanoke
(now Berglund) alternated years in providing station wagons to the VFAC.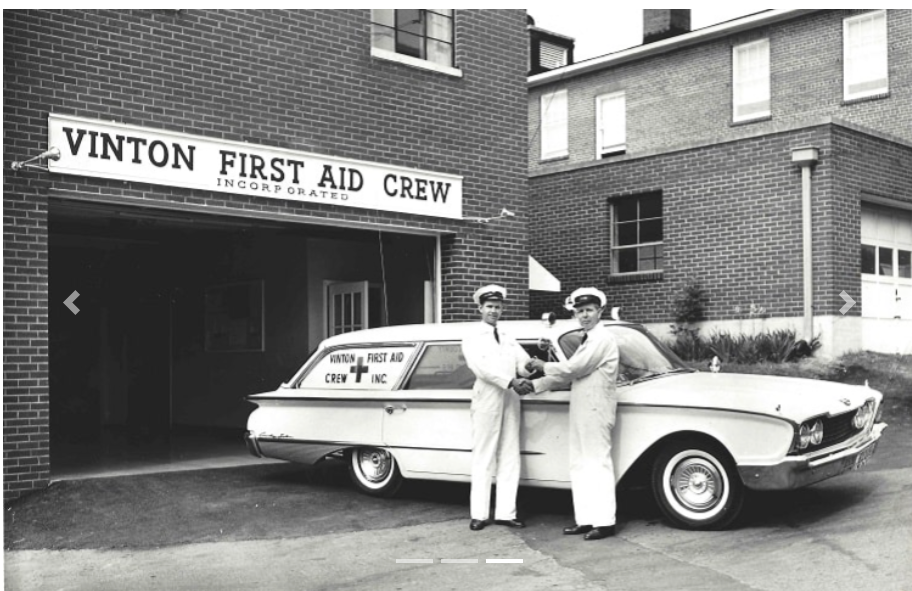 Nowadays, Vaughan says the basic emergency vehicle used by the crew costs over $300,000,
and usually involves grant funding for purchase and equipping.
At one time, the VFAC had boats to rescue victims on the Roanoke River or at Smith Mountain
Lake. The boat trailer was built in the Norfolk & Western shops and could haul one boat.
Eventually it was modified to haul two.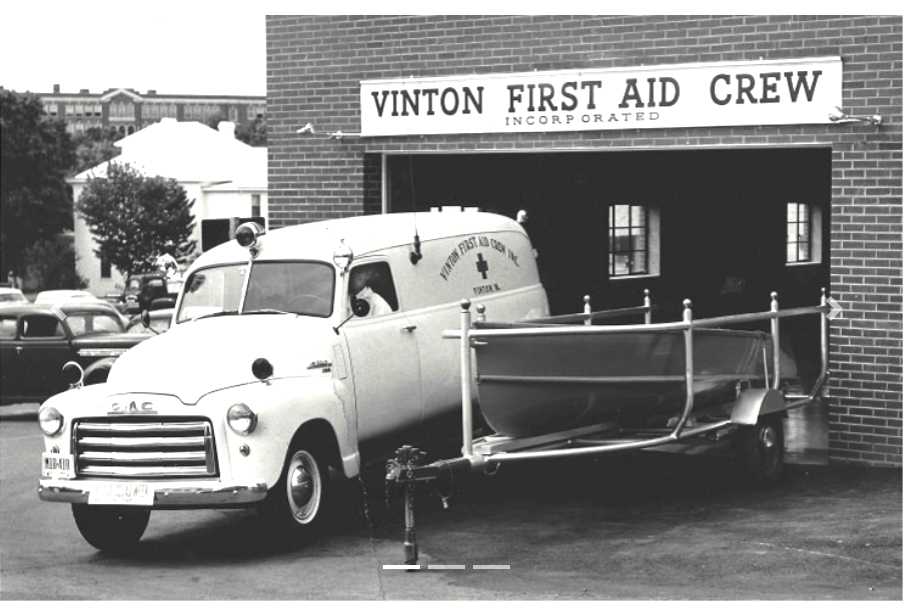 The citizens of Vinton and the surrounding communities are fortunate indeed to have their own
first aid crew. Mitch Vaughan says that only Vinton and Cave Spring have first aid crews in
Roanoke County now at a time when volunteerism is declining, and mainly because Vinton has
been willing to change with the times and offer flexible scheduling for the members.
Aubrey remembers when the crews used to meet regionally or on a state-wide basis and take part
in competitions. Each crew was given a problem/scenario. The Vinton crew won first place at a
state competition in Natural Bridge.
The Vinton First Aid Crew has occupied different spaces in downtown Vinton over the years. It
started out in a small two-story structure with vehicles on the lower level and meeting rooms and
kitchen above. The building was constructed completely by volunteers – along with professional
masons, plumbers, and electricians who donated their time.
The VFAC moved to the current building on Jackson Avenue in 2007, a source of pride for the
crew and the community.
The Vinton First Aid Crew assists with all types of calls ranging from assisting the fire
department with house fires to natural disasters, to car wrecks, to assisting someone who has
fallen or needs their vitals checked. The members also offer training and safety classes to the community. They are on hand for virtually every public event from William Byrd football games
to the Dogwood Festival.
Few in the community have not been touched in some way by the services of the Vinton First
Aid Crew since it was founded 84 years ago. Their motto has long been "Greater love hath no
man than this, that a man lay down his life for his friends," from John 15:13. Their simple
mission is "a Helping Hand for Our Fellow Man."
Vinton and East Roanoke County citizens especially are grateful to the organization and the
individuals like Vaughan who have donated their time and saved so many lives throughout the
years.
The VFAC now has over 45 members and is continually recruiting new members.
The organization depends on donations from the community to deliver services, and will soon be
mailing out the annual fundraising campaign letters seeking financial support. Be sure to give
generously.
More information is available on joining the crew and on making donations at
www.vintonems.com.