By Debbie Adams
The sentiment was that it would be hard to beat the spectacular fireworks show Vinton put on a year ago in 2021— but the Town of Vinton surpassed all expectations with the 4th of July extravaganza in 2022.
The fireworks themselves lasted several minutes longer than in the past and were even more breathtaking and thunderous. The most frequently heard comment from spectators making their way down Washington Avenue after the show was "awesome." One person said, "I thought last year's show was the best I had ever seen in the Roanoke Valley, but this topped it."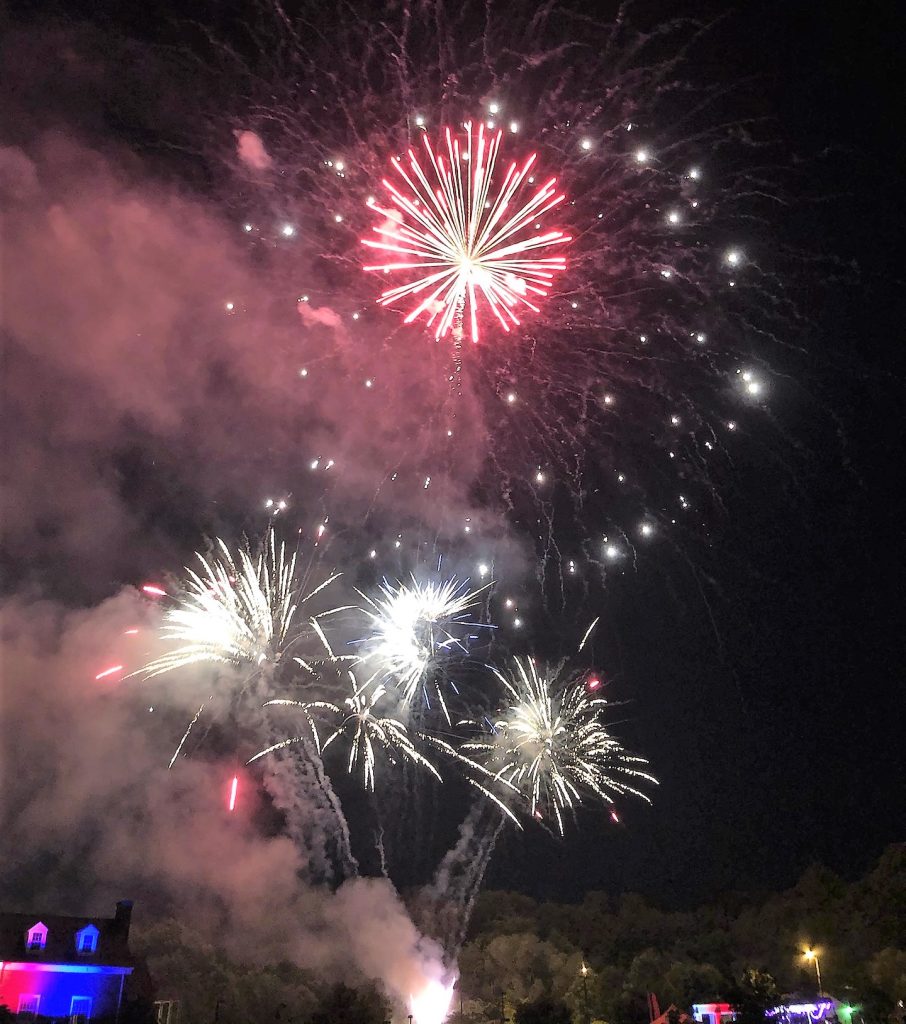 The crowd spread out blankets and chairs on the front lawn of the Vinton War Memorial. The celebration began at 7 p.m. with a prayer and remarks from Vinton Mayor Brad Grose.
"We are here to celebrate the birthday of the greatest nation on earth—the United States of America," Grose said. "First, I want to thank God that we are all here as free Americans. We all know that our freedoms have cost us an enormous price. For nearly two and a half centuries, many devoted patriots have paid the ultimate price by sacrificing their lives for our freedoms. We will never forget those brave Americans. Here in Vinton, our citizens have constructed the beautiful High Ground monument to honor all our veterans."
He then asked the huge crowd, which completely filled the front lawn of the Vinton War Memorial, to show their appreciation as veterans and active military personnel were asked to stand or wave.
"Many Americans serve our nation and their local community throughout the year in various ways," Grose continued. "Some people volunteer to serve through their churches, clubs, civic, or service organizations. Some great Americans serve as first responders such as firefighters, rescue squad members, police and Public Works professionals."
Grose asked first responders to stand for recognition from the crowd, as well.
"The Fourth of July is the one day of the year that we can and should put aside our differences and come together in celebration and support of our nation and each other," Grose said. "Most people can agree to celebrate our togetherness on this one day. I'm here to tell you that Americans support and help each other on more occasions than just once a year. A great example of that happened here in Vinton just a few days ago. Due to a tragic fire, a historic building in our downtown that represented countless precious memories for many of our citizens was lost.
"Of course, our first responders did an awesome job as they worked most of one night and into the next day to contain the blaze. What might surprise some people is the immediate and heartfelt response of the citizens and businesses in our town. Several restaurants—McDonald's, Big Belly Pizza, Rosie's Gaming Emporium, and Deb's Lemonade— stepped up and provided food and drinks for everyone working on the scene.
"Thank God there was no loss of human life; regrettably some pets did perish in the tragedy and there was significant loss of property. Unfortunately, four apartments were destroyed, and the eight residents lost everything. Our citizens immediately responded by donating clothing and money to help some neighbors they did not even know.
"So that American spirit of caring for each other and supporting each other is still alive and well!" said Grose. "A few days ago, we saw that attitude on full display right here in Vinton. I'm convinced that same feeling, that same approach towards helping one another happens everyday throughout this great nation, typically in a more private matter.
"So, tonight, as we watch the fireworks fill the sky, let our hearts and minds be filled with appreciation for all those who have served our nation and those who are serving now," the mayor said. "Let us rededicate ourselves to pray for our nation and its leaders. Let's do our part to build strong local communities; let's continue to help our neighbors and always remain loyal American patriots. May God bless you and may God continue to bless America."
The mayor was followed by much-acclaimed vocalist Nefateria Hash performing "The Star-Spangled Banner."
Chasity Barbour, Director of Community Programs who coordinated the Fourth of July Celebration, introduced DJ Flex, who kept the crowd entertained until the fireworks began precisely at 9:30.
He had a playlist to please any taste, a huge Megatron screen, laser lights, a CO2 machine providing special smoke and fog effects, along with cannonball mini fireworks throughout the evening. He was assisted by Sound Dawg Productions on a stage constructed on the portico of the War Memorial.
There was a long line of food trucks feeding what appeared a very hungry crowd. Food trucks and vendors included Deb's Lemonade, Tinker Mountain Kettle Corn, Duck Donuts, Munsey's Smoke Shack, Salty's Lobster & Company, Wicked Lemon, and DG Ice. A little farther down Washington Avenue, you could find the Two Brothers Lemonade stand.
There were "InVinton" glow sticks to keep the children entertained and lots of dancing on the hillside in front of the War Memorial.
Vinton is not as small as it once was, except in remaining a tight-knit community, but it still defines Americana at its best.