By Debbie Adams
The Vinton Breakfast Lions Club and the Ryan Chambers family have awarded the first Ryan Chambers Memorial Scholarships to Jonathon Rivers and Avery Adkins, students at Staunton River High School. This will become an annual presentation.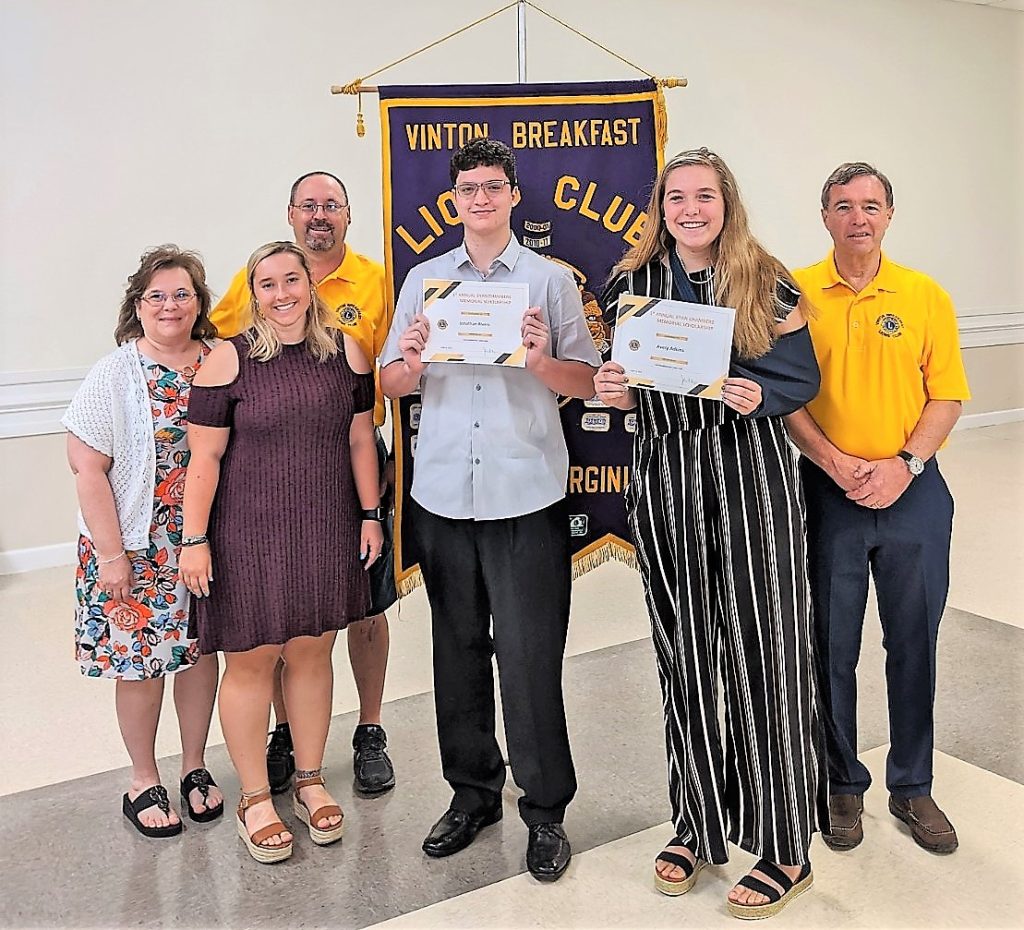 The $1,000 scholarships are designated for students who are active in church ministry or missions. Rivers plans to attend the University of Virginia for his undergraduate studies and then go on to seminary. Adkins will attend Emory and Henry University, where she will play softball. Both are involved in ministry work.
In addition, Ryan's parents, Michelle and Otis Chambers, are donating $200 to Staunton River High School and William Byrd High School to their respective YOVASO programs which support safe driving.
"I believe Ryan would be proud of the two individuals selected and their desire to continue to share the gospel of Jesus," said Ryan's father Otis Chambers.
Ryan Chambers passed away in December 2018 in an accident on an icy road in Bedford County at age 24. He was a graduate of Staunton River High School and Piedmont International University, with a degree in Church Ministries. He was a member of Goodview Baptist Church.
His family said, "His love for the Lord took him to Guatemala, Mexico, Uganda, Tokyo, and Spain to spread the gospel. Ryan had a desire to reach those who had never heard the name of Jesus and share the saving news of the gospel with as many as he could. He loved people wholeheartedly and passionately."
Chambers played soccer at SRHS and basketball at Piedmont International where he grew close to his basketball coach Josh Howard, who played at Wake Forest while majoring in religion, and then in the NBA for the Dallas Mavericks before becoming head coach at PIU.
Chambers volunteered at the Josh Howard Foundation, the Lions Club, and Straight Street.
Lions Club member Chris McCarty said that Ryan went to work for him at Grand Rental in Vinton when he got out of college. McCarty knew Otis Chambers from sandlot coaching days when Otis was a referee. McCarty and Ryan became close friends when they worked together. They both liked sports.
"Ryan was big into missions and just liked to serve people," so McCarty recruited him to join the Breakfast Lions Club. "The members really liked him, and he helped a lot with all of their projects."
After the accident, McCarty talked to Otis about raising money for a scholarship in Ryan's memory at a Staunton River basketball game, which turned out to be varsity boys and girls games back in February. The Lions Club sold tickets for a raffle and held a 50/50 raffle at the game, along with a silent auction with Virginia Tech and UVA memorabilia and other packages. Several individuals donated UVA and VT tickets, including Sam Cundiff, McCarty's wife Sabrina, and Otis's uncle.
"Ryan was a huge Virginia Tech fan and we all got a kick out of the UVA tickets bringing the biggest money in," said McCarty. "Ryan would have been fussing."
"Ryan was a special young man who touched many lives," said Sabrina McCarty.
"We decided to give the scholarships through the Breakfast Lions Club since Ryan was a member and the club helped so much in raising the funds," Chris McCarty said. "The club will continue to build on what we did this year and make the scholarship program bigger and better in the years to come."