By Debbie Adams
Twins Abby and Amber Palmieri are newly hired preschool teachers for Roanoke County Public Schools (RCPS). Abby will be teaching at Cave Spring Elementary in the fall; Amber, at Green Valley Elementary.
Dr. Richard Turner, formerly the principal at William Byrd High School, and now the Roanoke Area Program Coordinator for the James Madison University Educational Leadership Program, has been their supervisor during their student teaching in Vinton-area schools this spring.
The young women began student teaching in early March and finished up 11 weeks later on May 28, the last day of school in Roanoke County. Abby taught second grade at Bonsack Elementary working with Kim Riley, a veteran teacher with 27 years in county schools. Amber did her student teaching in first grade at Mount Pleasant Elementary with Tracy Broughman, who has been a teacher for 24 years.
Also in May, both graduated from JMU with Bachelor's Degrees in "Individualized Studies with a Concentration in Early Childhood Education." The following week, they both began work on their Master's Degrees in Early Childhood Special Education at Radford University, hoping to complete a three-year program in two years.
Abby and Amber grew up in Roanoke County, and attended Mountain View Elementary and Northside Middle, graduating from Northside High School in 2017.
Abby says she "always wanted to be a teacher, with lots of nurses and teachers in my family."
Amber "always knew I wanted to work with kids; I always wanted to be a teacher."
Dr. Turner notes that the Palmieris have had an "unusual path to student teaching and becoming teachers," thanks to policies and programs offered in Roanoke County Schools such as high school Teacher for Tomorrow programs and the Early Childhood Education program at the Burton Center for Arts and Technology (BCAT). The BCAT program allows students to intern in local schools, working hands-on in classrooms to find out if education is the field for them. Students have the opportunity to dual enroll and receive college credits toward an Associate Degree, as well.
Soon after they graduated from high school, the Palmieris found jobs as preschool instructional assistants with RCPS. (They continued as IAs until March 2021 when they resigned, as required, from their positions to complete their student teaching.)
The twins enrolled at Virginia Western Community College in 2018-2019 already ahead of the game in the Early Childhood Education program, which they completed in a year, "both working and attending school full-time," due in part to dual enrollment credits.
Sharon Sheppard, Supervisor of Special Education and also Preschool Supervisor in RCPS, was one of their instructors at VWCC for courses in "Guiding Behavior of Young Children" and "Introduction to Special Education."
She was also instrumental in helping them find those positions as IAs with the county schools when she was a Central Office administrator and will become their supervisor when they begin teaching preschool in the fall. Coincidentally, she had worked in special education at WBHS when Dr. Turner was principal. "It's a small world," she says.
"Everyone who ever had Abby and Amber in class or worked with them has enjoyed them and viewed them as extremely hardworking and driven," said Sheppard. "They had initiative and they had a goal and worked towards it. It has been great to see them go through the whole process and from different perspectives, as students and now as teachers."
During the time Abby and Amber were attending VWCC, Virginia broadened the definition of teacher preparation programs and instituted new programs and degrees allowing graduates to become teachers after earning four-year degrees in education, rather than the traditional five-year programs leading to Bachelor's Degrees in the arts and sciences.
"I am pleased to see comprehensive changes that will create new pathways to the classroom and help increase both the supply and the diversity of quality teachers in the Commonwealth," said Gov. Ralph Northam in June 2019 when state policy boards for elementary, secondary, and post-secondary education approved the programs.
New degree programs were set up at seven public and eight private colleges and universities across Virginia, including JMU.
Subsequently, JMU and VWCC signed a Memorandum of Understanding to "create an accessible professional pathway for individuals to earn teaching credentials," facilitating the transfer of course credits and smoothing the transition of students earning Associate of Applied Science Degrees in Early Childhood Education into the Bachelor of Individualized Study (BIS) Degree program with a Concentration in Early Childhood Education at JMU.
Abby and Amber were among the first cohort transferring from VWCC to JMU to complete their education with online courses.
"I applaud the General Assembly for taking this action," Turner said. "JMU is very happy with the program as well."
Sheppard says she is proud of the efforts of Roanoke County schools to contribute to "essentially growing our own teachers" through the high school programs established and with the dual credit opportunities for earning credits at VWCC. "This has benefitted our own students at all age levels. We have helped the big ones in order to help the little ones."
Supervising teachers Riley at Bonsack and Broughman at Mount Pleasant have nothing but praise for their student teachers, especially during this challenging pandemic year.
"Abby has been such an asset to our classroom this semester," Riley said. "I had many special needs students this school year with IEPs and 504s and she was able to jump right in to help the students in need. She didn't have to be asked to help. When she saw a need, she immediately helped the students. She began teaching with such maturity and knowledge about Roanoke County Schools and the methods we use to help students in need. She will be phenomenal next year."
Abby returned those sentiments, "Kim is amazing, and I couldn't have asked for a better mentor teacher. She is dedicated to the students and giving them the best education possible."
Broughman says she has enjoyed watching Amber grow. "She knows kids inside and out. She was already 'there' when she came in the door."
A highlight of Amber's student teaching days that Broughman will always remember is the "squeal of delight" from Amber when one of the baby chicks the class was incubating hatched.
When Abby and Amber begin teaching in the fall, they will enter the system as fifth year employees, with four years of VRS benefits "under their belts," at age 22, and debt-free thanks to dual enrollment credits, quite a few scholarships, their jobs as IAs, and the RCPS tuition assistance program.
Dr. Turner says this year's group of student teachers has been "one of the best groups of student teachers I have ever had." He almost missed the pleasure of working with them when COVID struck this past year. He was unable to do student teacher supervision last fall—not much student teaching was going on in the midst of the pandemic anyway. In January, JMU implored him to take on the task. Not yet vaccinated, he agreed to remote supervision. Once he heard he would be supervising the twins and he was fully vaccinated, Turner agreed to participate in person.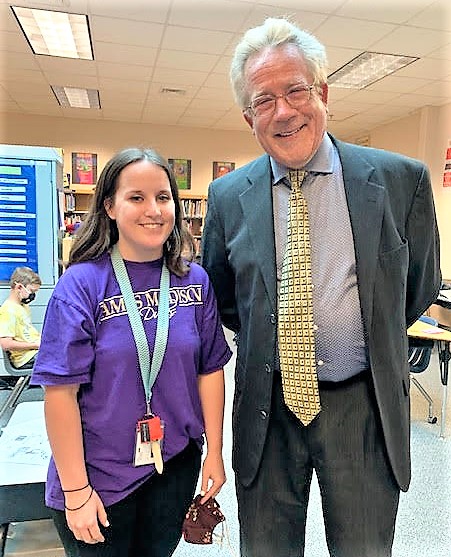 Abby and Amber are grateful to Dr. Turner for his feedback and encouragement. They are also grateful to their family for their continual support—the twins are two of nine very accomplished children.
All four teachers—new and veteran—commend Roanoke County Schools for the way handled the COVID restrictions were handled to keep as many children in school as possible this year. They discovered in the course of the year through the many modifications and adaptations to the educational program that were required that often children are more resilient and adaptable to change than adults.