By Debbie Adams
A new Tractor Supply store is coming soon to Vinton. It will be located at Lake Drive Plaza in the space formerly occupied by Big Lots, who moved just down the road to River Park Shopping Center in February. Big Lots had occupied the Lake Drive Plaza space for 26 years.
There are currently two other Tractor Supply stores in the Roanoke Valley—one in Salem and one on Gander Way off Plantation Road. Bedford and Rocky Mount also have Tractor Supply stores.
The Vinton Tractor Supply has started construction. Darias Collins, who represents Tractor Supply Company on a PR/Marketing level, says that the Vinton store "will be opening in late summer or early fall 2021."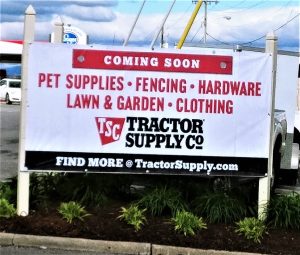 "The new store will provide about 15 new jobs to the area, with at least half of those being full time positions," Collins said.
"Each Tractor Supply store typically has about 15,500 square feet of selling space inside, with a similar amount of outside space," he said. "The Vinton store will be similar in size."
"Inside the space, Tractor Supply will be offering items typically sold at Tractor Supply stores along with pet grooming and wash area," said Annette Morgan, senior regional property manager for 1045 Real Estate.
"There will be an outdoor, fenced in display area by the dumpster corral," Morgan said.  "The outdoor display area is planned to hold pedal boats, trailers, motorized vehicles such as dirt bikes, scooters, UTVs and ATVs.  These items are subject to change based on demand, etc.
"There will no longer be parking available at the side of the building," she said.  "Traffic flow through this area will be limited to Truck Traffic only and we will be installing signs for such."
Plenty of parking remains available in front of the building in the Lake Drive parking lot.
Tractor Supply products include clothing, equine and pet supplies, tractor/trailer parts and accessories, lawn and garden supplies, sprinkler/irrigation parts, hardware, power tools, fencing, welding and pump supplies, and riding mowers.
Their website states that Tractor Supply Company (TSCO) is the largest rural lifestyle retailer in the United States, serving the needs of farmers, ranchers, and "all those who enjoy the rural lifestyle" for more than 80 years. They go on to identify their customers as "a niche market of farmers, horse owners, ranchers, part-time and hobby farmers, and suburban and rural homeowners, as well as contractors and tradesmen."
The first Tractor Supply store opened in 1938 in Minot, North Dakota.
According to the website, "Tractor Supply offers an extensive mix of products necessary to care for home, land, pets and animals with a focus on product localization, exclusive brands and legendary customer service. With more than 42,000 team members, the company's physical store assets, combined with its digital capabilities, offer customers the convenience of purchasing products they need anytime, anywhere and any way they choose at the everyday low prices they deserve."
As of March 2021, the company operated 1,944 Tractor Supply stores in 49 states and an e-commerce website at www.TractorSupply.com.
Tractor Supply Company also owns and operates Petsense, a small-box pet specialty supply retailer focused on meeting the needs of pet owners, primarily in small and mid-size communities, and offering a variety of pet products and services. In March 2021, the company operated 177 Petsense stores in 23 states.
"Tractor Supply appreciates the community's warm welcome and looks forward to serving the needed products to help care for residents' homes, farms, ranches, pets and animals," said Collins.
"We are excited for Tractor Supply to join the Lake Drive Plaza community and know they are going to be a welcome staple in the Town of Vinton," said Morgan.