By Debbie Adams
The Town of Vinton honored its employees who have served or are serving in the military with a
veterans' luncheon on November 8 at the new Town Annex.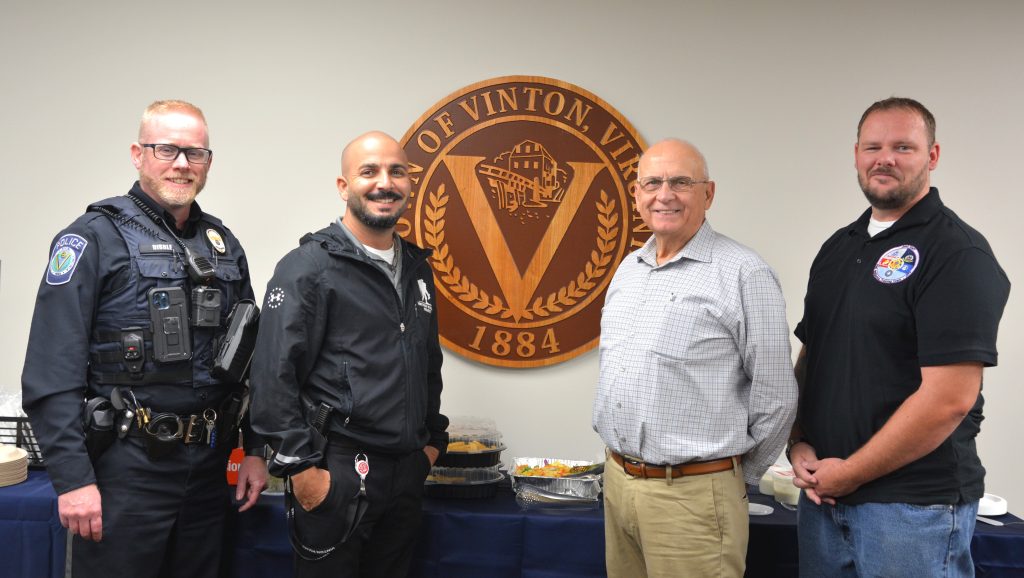 Town employees who have served in the Armed Services include Vinton Mayor Brad Grose,
Chief of Police Fabricio Drumond, Public Works employees Kevin Orange and Jimmy Brown,
Police Sgt. Brandon Alterio, Officer Jesse Dibble, Officer Douglas Aune, Jr., and Officer Sean
Patrick McKittrick.
Mayor Grose served in the U.S. Army from 1966 to 1968 during the Vietnam era, stationed in
Korea, achieving the rank of Sergeant E-5. He worked as an electronics technician and in
tech/supply. Grose was elected to Vinton Town Council in 2000 and has served the town as
mayor since 2004.
Jimmy Brown served stateside in the Marine Corps for three years. He has worked in the Vinton
Public Works Department since November 2, 2020, and holds the position of Chief Mechanic.
Kevin Orange served in the U.S. Army from 1982 through 1986 with the rank of E-4. He was in
light infantry and stationed in Georgia and Kentucky. He has worked in the Vinton Public Works
Department since July 11, 2005.
Police Chief Fabricio Drumond served in the United States Marine Corps from 2002 to 2006. He
earned the rank of Sergeant, E-5, and was stationed in Camp Lejeune, N.C., and trained as an
assault man. He was deployed to Africa, Cuba, Iraq, and Afghanistan. He has been employed by
the Town of Vinton since 2009 and was appointed chief of police in December 2020.
Sgt. Brandon Alterio served in the U.S. Air Force from 2008-2014 and reached the rank of Staff
Sergeant. He joined the Vinton Police Department in March 2019.
Officer Jesse Dibble served in the United States Navy from 1994-1996. He was sworn in as a
member of the Vinton Police Department in May 2022. He is the founder and director of the
Master Sergeant George A. Bannar Jr. Scholarship. Bannar was a high school friend killed in
action in 2013, as a Special Forces Medic. The $1,000 scholarship is awarded annually in his
memory to graduating JROTC cadets at Orange County High School.
Dibble is also co-founder and vice president of the "Queen City Rucking for 22," a veterans and
first responders-based non-profit designed to align veterans and first responders with outreach
programs to reduce veteran and first responder suicides.
Officer Aune enlisted in the United States Air Force in August 2003 and recently completed a
20-year career. He achieved the rank of E-7 and held the primary specialty of Cryptologic
Analyst and Reporter. In his career, Officer Aune was stationed in various capacities such as the
Surveillance and Warning Center Supervisor of the 324th Intelligence Squadron at Hickman Air
Force Base, Hawaii. He also served as the National Security Agency (NSA) representative to the
National Military Command Center, Pentagon. He served as the Planning, Exercise, and Training
manager of the Joint Special Operations Command for the Department of Defense, the
Department Chief for the 497th Operations Support Squadron, Langley Air Force Base, and the
training and tactics subject matter expert for the 480th Intelligence Surveillance and
Reconnaissance Wing, Langley Air Force Base. He finished his career as a Deputy Senior
Enlisted Advisor and Section Chief, Joint Staff, Pentagon. Aune joined the Vinton Police
Department in September 2023.
Officer McKittrick is a veteran of the United States Navy where he obtained the rank of Petty
Officer 3rd Class. He then served as a 9780-Service Supply Handler. He is the recipient of the
National Defense Service Medal, the Global War on Terrorism Service Medal, and the Global
War on Terrorism Expeditionary Medal, to name a few. He joined the Vinton Police Department
in September 2023.
The veterans' luncheon was organized by Human Resources and Risk Management Director
Donna Collins.