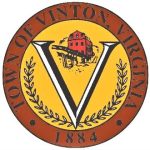 Vinton Town Council adopted the annual budget for fiscal year 2023-2024 at the June 6, 2023,
Vinton Town Council meeting.
The approved budget for this upcoming year totals $14.2 million which includes $1.3 million
allocated for a variety of new projects and over one million dollars dedicated to paving roads in
Vinton, which is an increase from the previous year's allocation.
The Town will see new projects in Fiscal Year 2023-2024 that focus on redeveloping
underutilized properties for the highest and best use. These projects will help serve community
needs and support local businesses.
Among these projects is the Walnut Avenue parking lot, which will create approximately 80 new
parking spaces behind the Vinton Farmers' Market in proximity to the heart of downtown
Vinton.
New projects also include planning for a new multi-generational park and public-private
partnerships such as the redevelopment of the former Cleveland Mart into a mixed-use space
with a commercial unit and seven new residential units.
"The Fiscal Year 2024 budget reflects the Town Council's vision for Vinton and aligns with our
strategic plan," said Town of Vinton Finance Director, Andrew Keen. "The adopted budget will
allow for the Town to engage in new economic development initiatives, procure new equipment
for our Public Works Department, develop restrooms along the greenway system, and much
more."
The strong operational budget allows the Town of Vinton to comprehensively plan projects in
the community, including investment in public facilities. This upcoming year will see further
development of the Glade Creek Greenway and completion of Phase 2b which will help connect
the path from W. Virginia Avenue to Gus Nicks Boulevard. The Vinton War Memorial will also
see renovations for its playground, which was recently updated to maintain usability while the
new playground is planned.
"The Town is in a strong financial position, and we do not take that for granted," said Vinton
Assistant Town Manager, Cody Sexton. "We work every day to ensure that we are balancing
today's goals with a financially sustainable future. Our citizens, businesses, and visitors are our
highest priority, and we are continuing the investment of public money into the community to
make Vinton better for many years to come.
Additional projects and initiatives included in the budget reflect flood mitigation, employee cost
of living adjustments, and public safety enhancements in the Vinton Police Department.
Submitted by Town of Vinton