By Debbie Adams
Vinton Town Council held its regular meeting on January 19 via Zoom. Police Chief Fabricio Drumond introduced new police officer Brandon Settles. Settles, 26, grew up in Bedford County and graduated from Staunton River High School in 2013. He has served as a volunteer firefighter in Roanoke County for about five years.
"I really enjoy serving and continuing to keep my community a great place to live," Settles said.
He lives in the Cave Spring area with his girlfriend Jacklynne and their three pets.
Settles is currently in his second week of training at Cardinal Criminal Justice Academy.
"I am honored to be part of such an outstanding police department in the Town of Vinton," Settles said.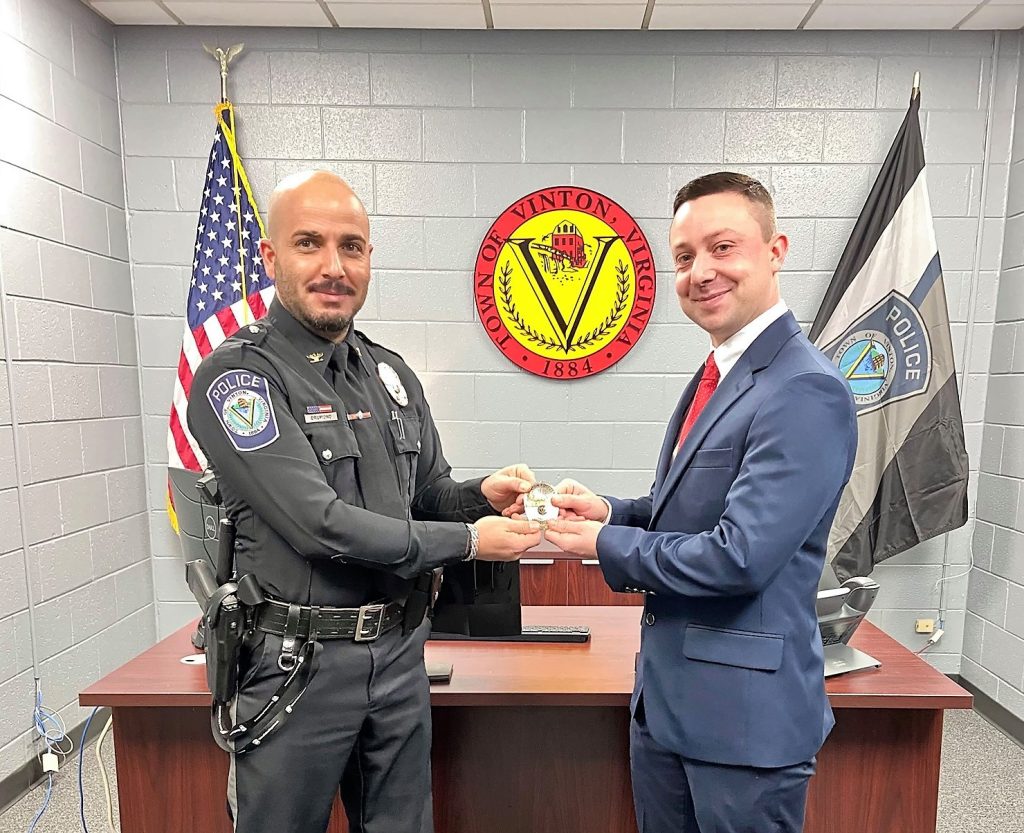 Chief Drumond recognized Officer Brandon Alterio for being named by The Roanoker Magazine as one of the "40 under 40" upcoming leaders in the Roanoke Valley for 2021. Alterio has always had a passion for community service. He was named by his peers in the police department as Officer of the Year for 2020. He is an Air Force veteran who served multiple tours in Iraq. Alterio will complete his Master's Degree in Criminal Justice from Liberty University this spring. On his days off, Alterio works as a substitute teacher in Roanoke County schools.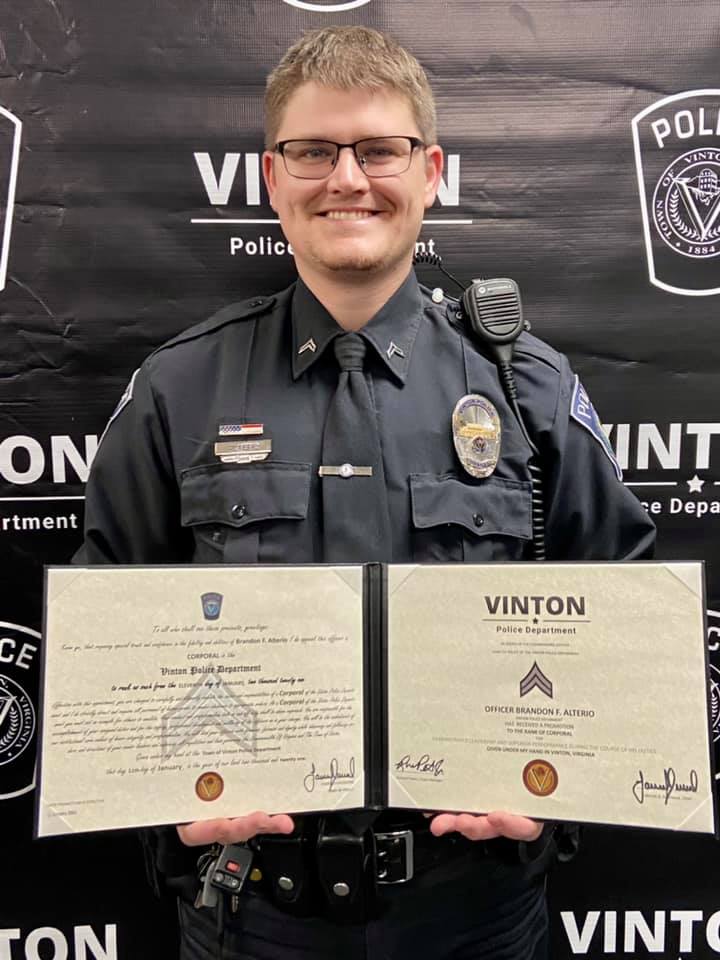 In addition, Drumond proudly announced that three members of the Vinton Police Department have been promoted to corporal: Brandon Alterio, Dustin Bray, and Andrew DiCarlo. Their promotions "are a reflection of their strong character and passion for public service as members of the Vinton Police Department," Drumond said.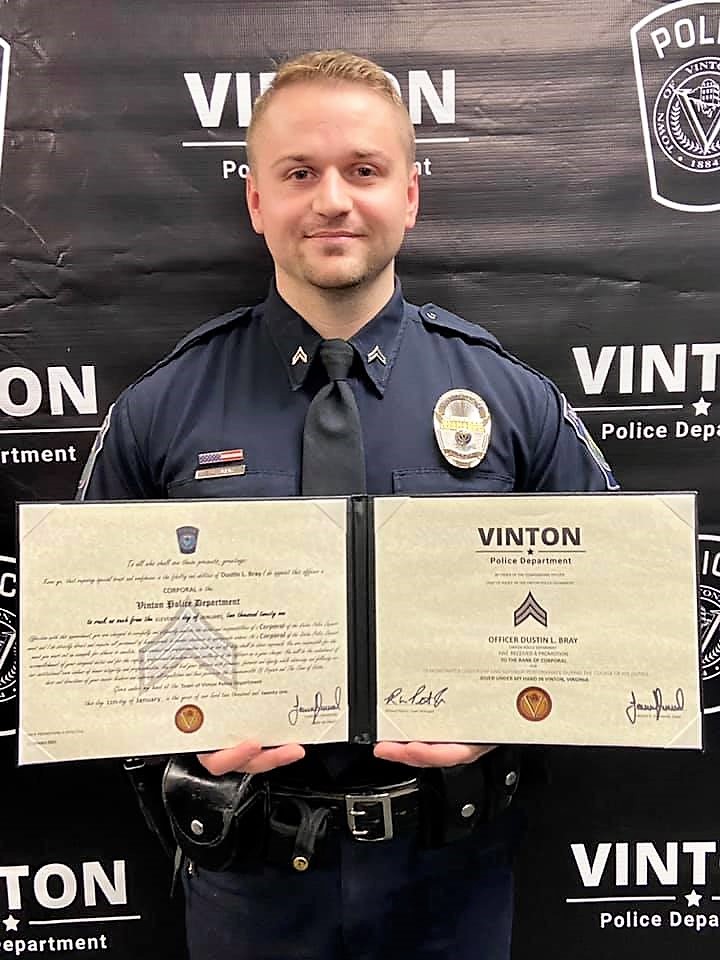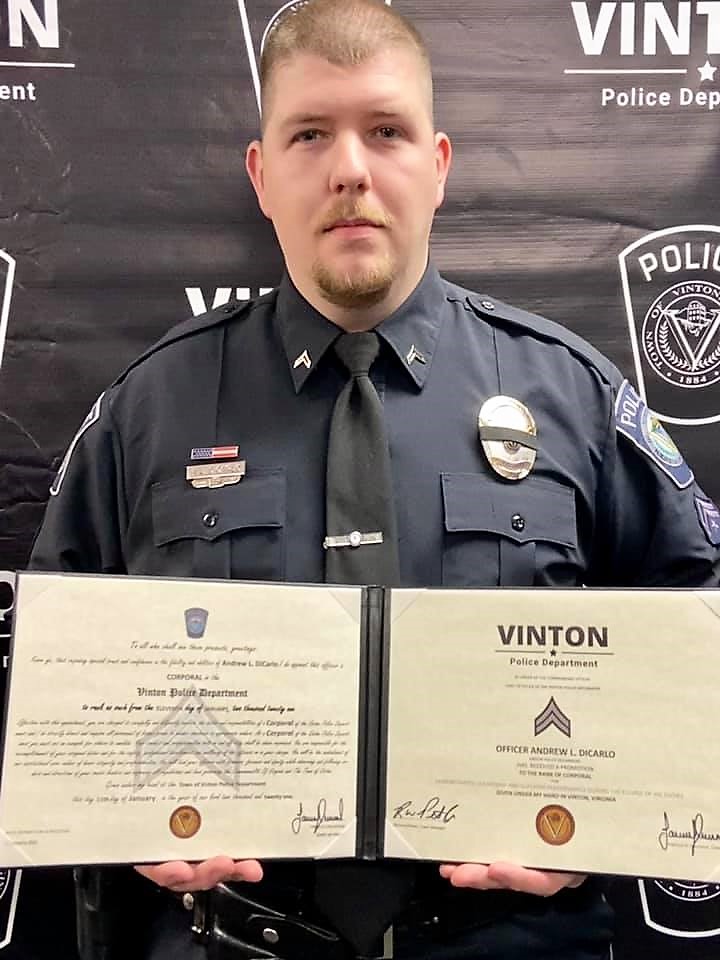 Finance Director Anne Cantrell announced that the town has received the Government Finance Officers Association's (GFOA) Distinguished Budget Presentation Award for the Fiscal Year 2020-2021—the fifth year to apply for and receive this prestigious award.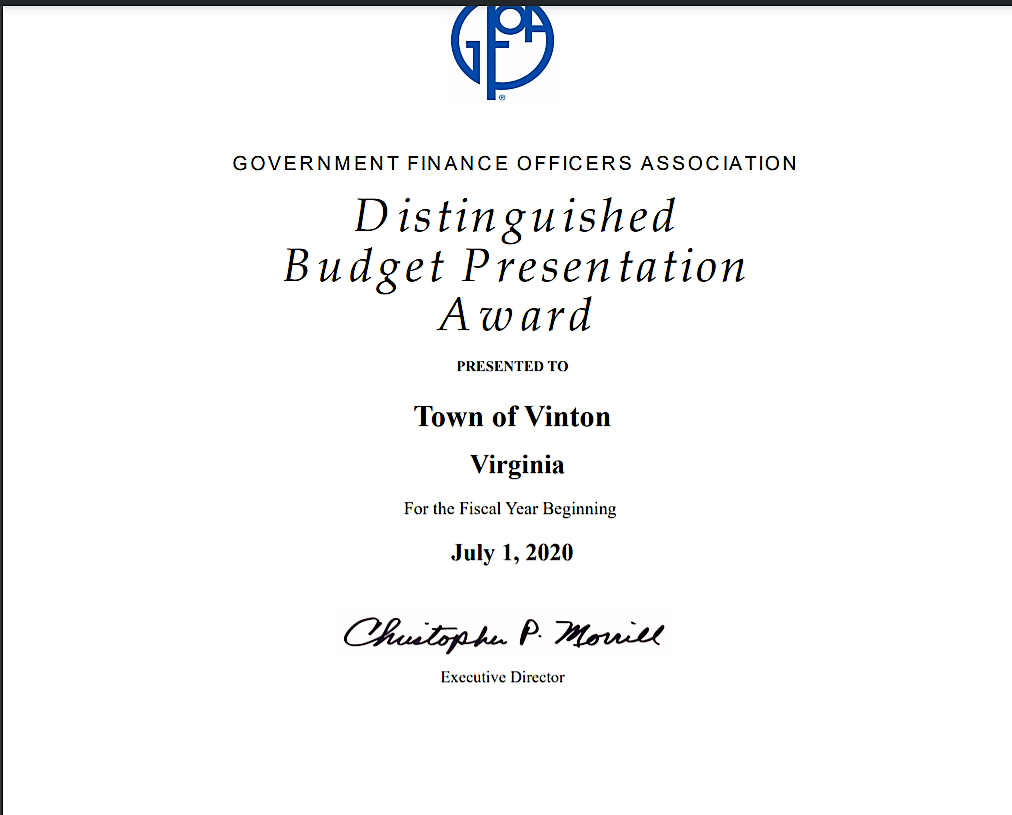 Cantrell and Dave Miller with Core & Main briefed council on Phases I and II of the meter and software upgrade project. In 2019, Davenport and Company presented a rate study to council to identify needed rate increases to address capital and operating needs in the Utility Fund. Council adopted the five-year rate increase in November 2019.
In January 2020, Core & Main was selected during an RFP for the meter upgrade project. The process was slowed somewhat by the pandemic; however, town officials determined that they need to move forward with the meter upgrades to reduce employee exposure during fieldwork and to improve the teleworking abilities of the town staff.
CARES funding will cover approximately $365,000 of the costs of meter replacement. Davenport and Company will report to council at the meeting on February 2 on the best approach to financing the remainder of the project. The project is anticipated to "go live" in January 2022.
Principal Planner Nathan McClung briefed council on a proposed ordinance to amend the Offenses and Miscellaneous Provisions section of Vinton Town Code. This ordinance deals with accumulation of trash and growth of weeds (grass over 12 inches high is considered a weed). To promote a more efficient and effective code enforcement process the amendment would allow for a civil penalty system to be instituted if a citizen is found to be in violation of the code, eliminating court hearings as part of the process. McClung noted that civil penalties provide a better alternative allowing town staff the ability to issue direct economic penalties to property owners or occupants who violate provisions of the code. The change in code would also allow "occupants" as well as property owners to be cited.
Currently, the code only allows property owners to be cited for violations, which causes a major hurdle for enforcement when there are negative landlord/tenant relationships, the property owner lives out of state, or there are absentee landlords or property management groups involved.
Civil penalties will be in the amount of $50 for the first offense and $200 for subsequent violations.
Council took action on amending an ordinance on solid waste in the Town Code. This amendment also added a civil penalty for non-compliance with solid waste disposal regulations. Upon the first and second violations, citizens will receive a notification tag. A third violation will result in a tag and visit from the Code Enforcement officer. A fourth violation will result in a $50 civil penalty with 14 days to pay.
Council adopted a resolution opposing the newly instituted Boat Landing Access fees enacted by the Virginia General Assembly meeting in Special Session.
The Virginia Department of Wildlife Resources (formerly the Department of Game and Inland Fisheries) proposed a new boating access permit and fee effective January 1, 2021, for anyone using department-owned or maintained boat access sites. While this does not affect the Town of Vinton public access site, council noted the difficulties this would cause for the public, especially recreational paddlers, seeking to "enjoy the waterways in the state." The request for council to oppose the new fees came from the Friends of the Rivers of Virginia. The public had little notification that the fees were in the works.
At the request of Cantrell, council adopted resolutions allowing her to remove outstanding personal property delinquent taxes and vehicle license fees and delinquent water and sewer bills over five years old from active records to a permanent file after "all efforts were made by the Treasurer's Office to collect the delinquent taxes, including reporting them to the State Debt Set-Off Program." The collection rate for the water and sewer bills by the Finance Department was 99.59 percent. Council noted that the vast majority of citizens in Vinton pay their taxes and utility bills in a timely manner.
Town Manager Pete Peters updated council on several items of interest. He noted that the Our Daily Bread restaurant on Lee Avenue held its grand opening with a ribbon cutting on January 19. Joe Goodpies restaurant at Vinyard Station has announced plans to open on January 28.
Council members will hold their annual strategic planning retreat on February 19, lasting half a day.
Peters updated council on the Public Works fleet of vehicles, which are to be replaced every 12-15 months in a leasing agreement with Enterprise. In the next three to four months, 13 crew vehicles will be replaced: seven GMCs, four RAMs, and one Ford F150. The town has learned from its police department leasing policy that frequent replacement of vehicles is more cost efficient as relates to maintenance. The town is well represented with the appearance of newer vehicles, and the policy also boosts staff morale.
Peters also updated council on improvements to the Vinton Municipal Building using CARES Act funding as well as other revenue sources (police forfeiture funds and reallocated budget funds).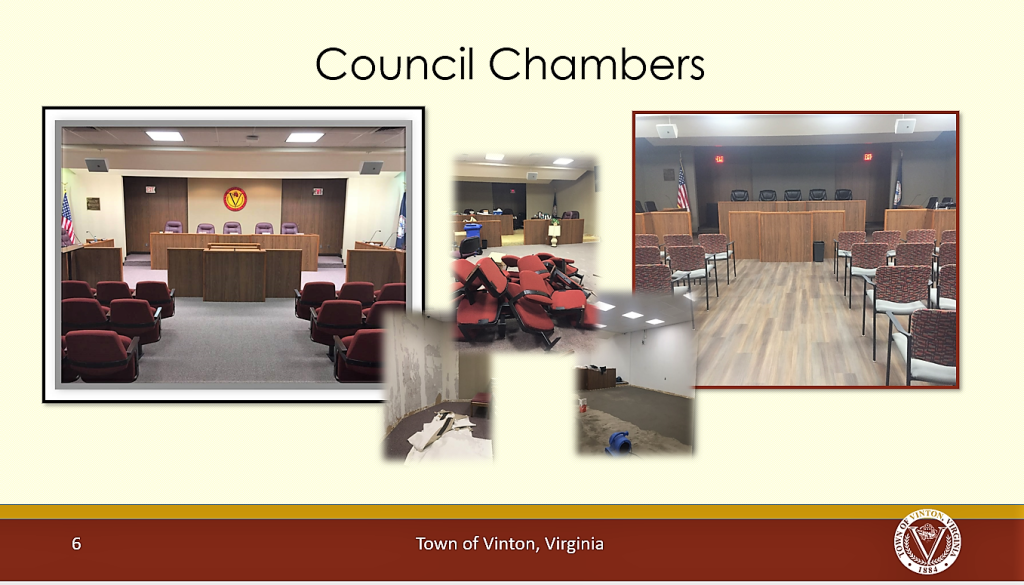 Improvements have been made to the lobby/information center, the employee break room, the outside seating area, council chambers, flooring and accessibility, and the police department. Improvements throughout have provided a safer work environment for employees and citizens as they are easier to clean, disinfect, and maintain with touchless equipment and non-porous surfaces. Carpet has been replaced with laminate flooring.
Improvements to the Finance Department, including the drive-through window, have been especially notable to citizens, who have commented positively upon the changes.
Mayor Brad Grose remarked that he has been most impressed with the CARES Act funding program, which he says has stimulated the local economy by not just the purchase of materials, but putting contractors to work and funds back into the economy—that's in addition to the safety benefits.
In the Finance Report for November 2020, Cantrell noted that revenues are up, expenditures are down, and cash and investments on hand amount to $6.9 million.
Peters reported from the Public Works Committee that cost estimates are being gathered to replace traffic lights at all 11 signalized intersections in Vinton—all of which are at least 50 years old.