By Debbie Adams
Pastor Seong Jae Jo, who has served as Associate Pastor and youth minister at Thrasher
Memorial United Methodist Church in Vinton for four years, was ordained as an Elder during the
Virginia Annual United Methodist Conference in Roanoke on June 17. He has also served as
pastor for the Thrasher Roanoke Korean Church which meets at Thrasher on Sunday afternoons.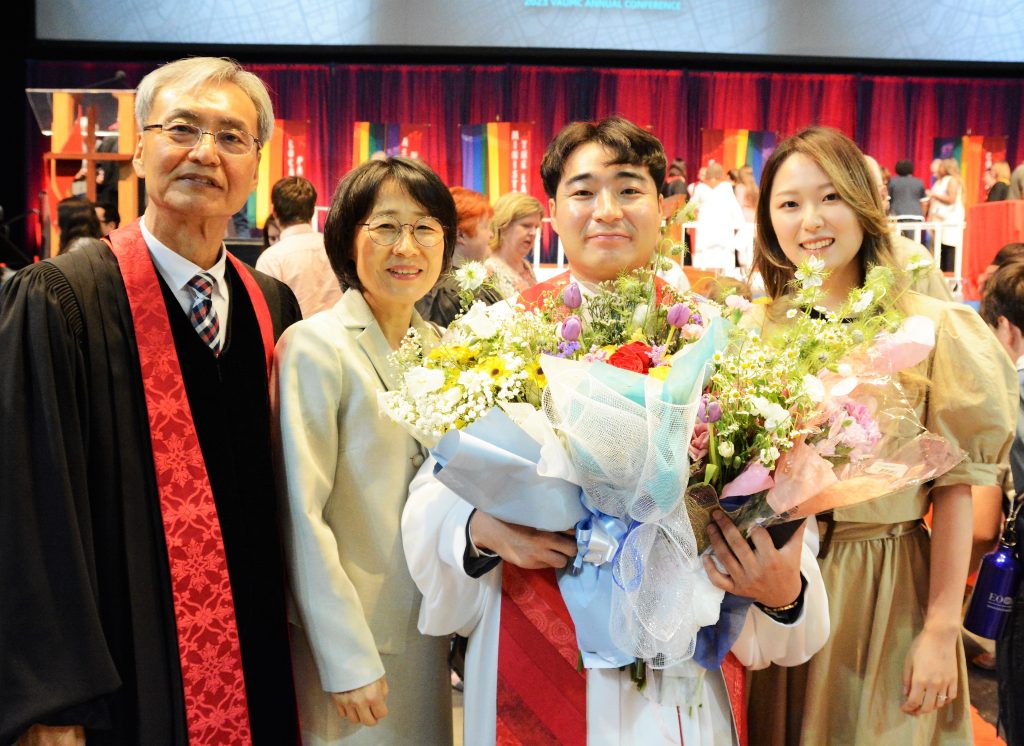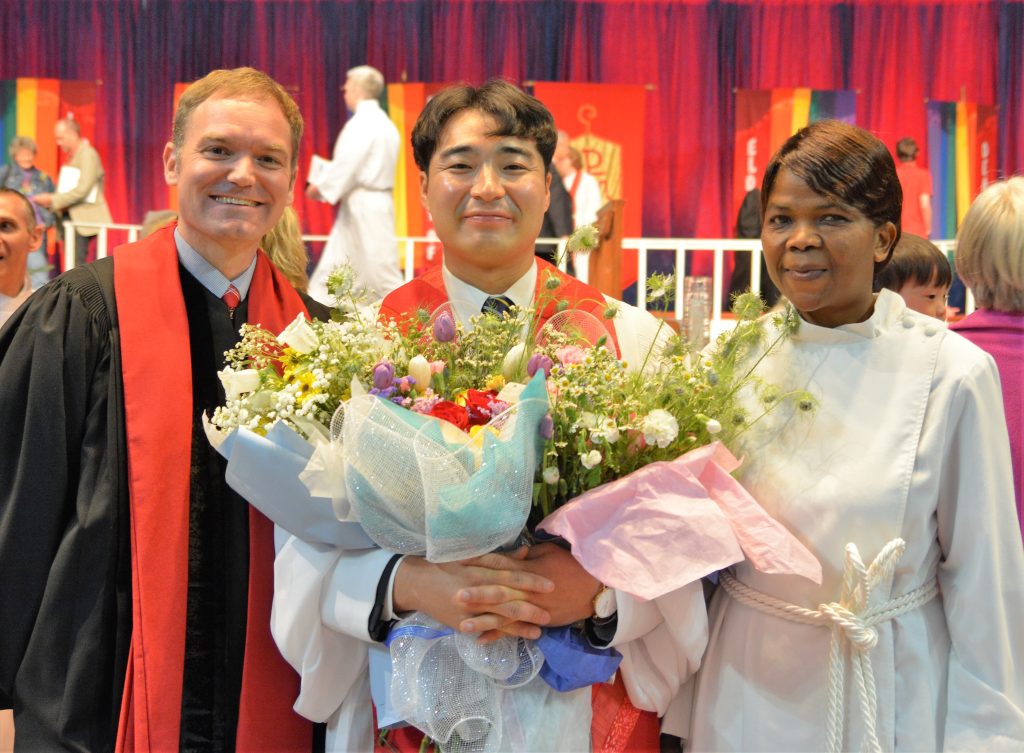 The Virginia Conference represents over 1,000 churches, 308,490 members, and 1,895 clergy.
Pastor Jo, as he is known, was appointed to Thrasher Memorial in 2019. Now that he has been
ordained as an Elder, he will be moving to Herndon United Methodist Church to assume the
position of Senior Pastor for that congregation. That's not the only big change coming in his
life– he is newly engaged to Ella Son.
His ordination took place during a "Service of Call and the Ordering of the Ministry" at the
annual conference held at the Berglund Center in a ceremony led by Bishop Sue Haupert-
Johnson.
"Ministry is the work of God, done by the people of God," Haupert-Johnson said. "Today we
recognize that God calls all of us, clergy and laity, to spread the good news of Jesus Christ to the
world.
"An elder is called to share in the ministry of Christ and the whole church: to preach and teach
the Word of God and faithfully administer the sacraments of Holy Baptism and Holy
Communion; to lead the people of God in worship and prayer; to lead persons to faith in Jesus
Christ; to exercise pastoral supervision; to order the life of the congregation and the connection;
to counsel the troubled and declare forgiveness of sin; to lead the people of God in obedience to
Christ's mission in the world; to seek justice, peace, and freedom for all people; and to take a
responsible place in the government of the Church and in service in and to the community," the
Bishop said. "This is the rule of life and work of an Elder."
Pastor Jo's welcoming church, Herndon UMC, introduced him to his new congregation saying,
"Pastor Seong Jae Jo has a heart for loving and serving God and God's people and is excited to
serve amid Northern Virginia's diverse community. As a third culture kid, he knows how
important and essential diversity is in today's society and in Christianity. He hopes to see 'oneness that is not sameness, but an embracement of diversity and differences in Jesus Christ, who makes us one body.' He firmly believes God has called us to ministry regardless of race, ethnicity, culture, generation, and age. His trilingual skill, diverse cultural background, and experience in different countries brings unique opportunities to serve and share God's love through ministry and mission with Herndon UMC."
Pastor Jo is a native of South Korea; however, he has lived all over the world as the child of
missionary parents. His parents were pastors in South Korea, serving for several years before the
opportunity arose for them to become missionaries with the Korean Methodist Church in
Paraguay, when he was 12 years old.
The transition was challenging– a different language, different foods, a different culture, a
different environment– a totally new and awkward experience for someone his age.
The predominant language in Paraguay is Spanish, which his family did not speak. Since his
parents were serving a Korean population, it was not imperative for them to learn Spanish
immediately, but he and his younger brother had to learn quickly as they were attending public
schools. He now speaks three languages: Korean, Spanish, and English.
As missionaries, his parents generally worked to establish new churches in Paraguay and
assumed regular pastoral care duties. The family spent three years in Paraguay, before another
opportunity presented itself, and they moved to Kenya to partner with other missionaries in a
Masai village. Jo describes it as a "unique experience." There was no school to attend. Kenyans
spoke Swahili, some English, and tribal languages. It was a difficult year with little water, no
electricity, and little civilization. He does have special memories of the wild animals nearby and
trying to "run with the giraffes."
Pastor Jo had first felt the call to serve God when he was 13 through a vision; God showed him
an image of himself as a worship leader. His relationship with God intensified during the year in
Kenya. It was a lonely year which allowed him to find God as he asked for strength to get
through the experience.
His family returned to South America after a year to serve one of the Korean Methodist churches
in Argentina. To a 16-year-old, it felt like God was making up for the difficult year in Kenya
with the blessing of moving to the capital city of Argentina.
After researching colleges in the United States, he elected to attend John Brown University, a
Christian college in Arkansas, where "God had opened the door." He chose a Christian school
because of his experiences in Argentina which put attending a Christian college "in my heart."
He majored in Worship Arts at JBU and served as worship leader in a small Baptist church.
After he completed his undergraduate degree, Jo didn't feel ready for the ministry or attending
seminary. He thought he just wanted to be a worship leader, not a full-fledged pastor. He applied
to different churches and had the opportunity to serve as a worship pastor in Los Angeles for a
year. He made friends, liked the "LA experience," and liked his church.
However, while serving the church, he found it necessary to work a regular job to "survive." He
found himself feeling guilty for his focus on his day job rather than spending more time serving
God directly. Through prayer, he determined the path he was on was not what God had in mind
for him.
"God gave me the heart to go seminary," he says. He considered seminaries in the Los Angeles
area, which were numerous, but "somehow God led me to see Wesley all the way on the East
Coast in Washington, D. C."
He applied and received a scholarship, with everything falling into place in a two-week time
frame"–like it was meant to be." He had really never even thought of an East Coast college, but
"God is sending me there now; okay, I'll go."
While in seminary, Jo served as Youth Minister with the Korean United Methodist Church of
Greater Washington in McLean, Va. He discovered how much he liked working with teens and
young college students, an opportunity which he hadn't had before. He says his heart "got bigger
for them," and he began to love the work.
He graduated from Wesley Theological Seminary in May 2019 with his Master's in Divinity.
When he was appointed to serve as Associate Pastor at Thrasher, he had no idea where Roanoke
was located. In fact, he had never heard of it, and he had no idea what to expect, but said, "God
and the Virginia Conference sent me here."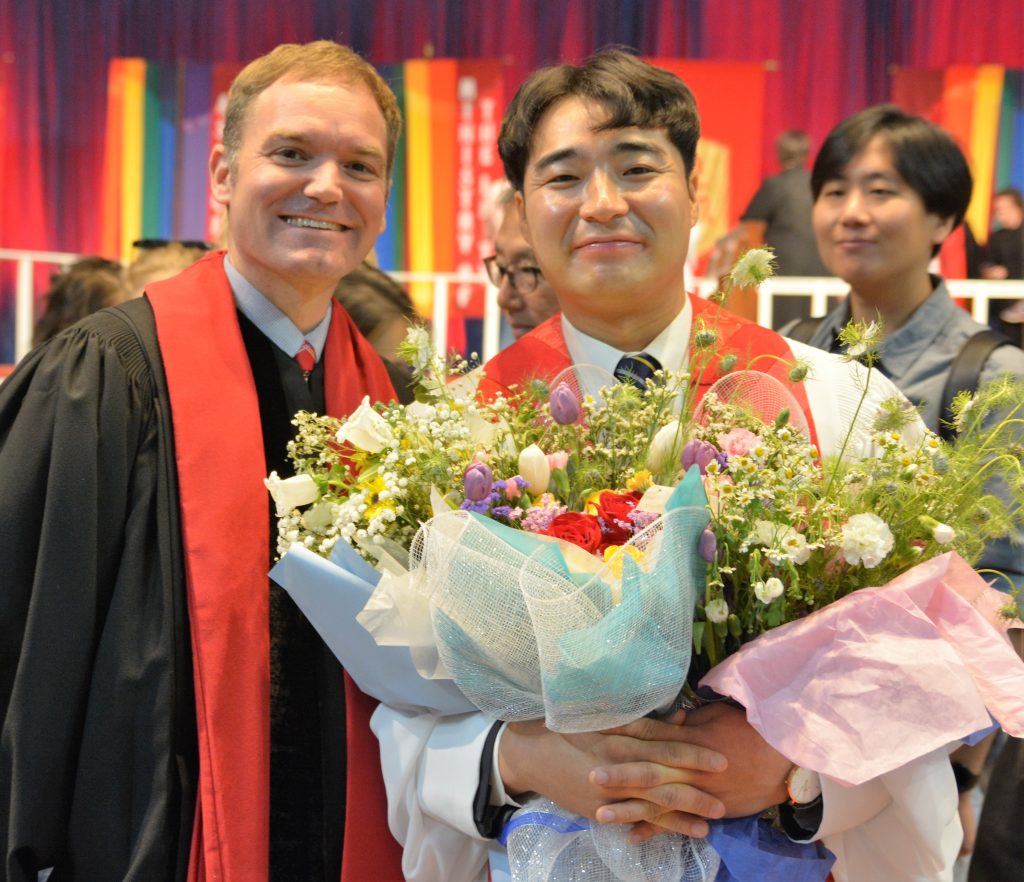 In his farewell to Thrasher Memorial (June 18 was his last day), Pastor Jo said, "As I write this, I
am filled with mixed emotions and feelings– grief, gratitude, and excitement. It is with a heavy
heart that I am leaving you all, but I am also filled with gratitude for the time which we have
shared. I am blessed that God put us together for God's ministry and mission through which we
made so many memories, even during the COVID pandemic. I am grateful for the ways my
existence and identity have been accepted, welcomed, and embraced."
He has always believed a big part of his ministry is to answer the call to be a bridge to unite
those of different backgrounds, generations, cultures, languages, and ethnicities as one church,
one body, and one community in Christ. His calling is not about him but about God calling him
to serve others.
"While I am sad to be leaving, I know that God has a plan for you and me and I trust that He will
guide us. I will keep all of you in my prayers and I ask that you keep me and my new ministry in
yours as well. Thank you for being a part of my life, ministry, and this faith journey, and for
making my time here so special, unique, and incomparable. I will miss you all dearly, but I am
grateful for the ministry in which we have served together, the life we have shared, and the
family hood that we have built together."