By Debbie Adams
Thrasher Memorial United Methodist Church in Vinton partnered with Virginia Children's Theatre to present Thrasher Church Theatre Camp for children in grades three through six the week of June 28 through July 2.
Thirteen children participated in the half-day camp (8:30 to noon) learning to "sing, dance and shine on stage while making friends and memories." Some were members of the church and others were from throughout the area.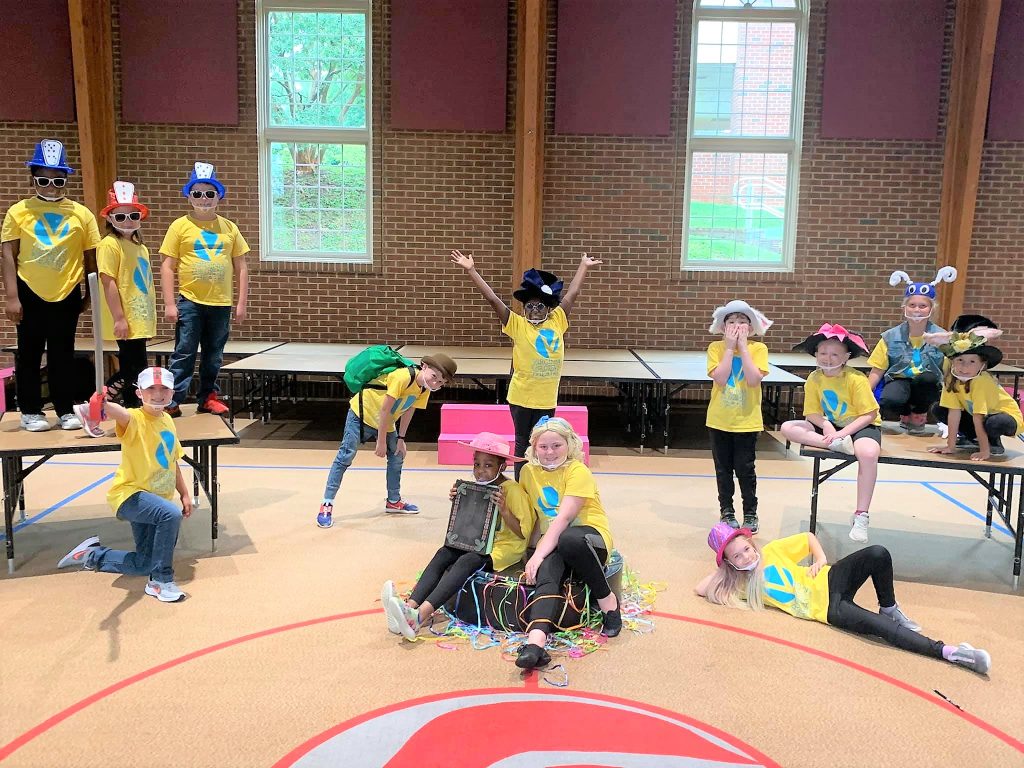 "We had a blast at Thrasher this past week," said Brett Roden, Producing Artistic Director of Virginia Children's Theatre (VCT).
"Thrasher is no stranger to VCT, as their community has always been huge supporters of my work and VCT as a whole," Roden said. "We were thrilled to branch a new partnership this year and offer their young people high-quality music, theatre and dance instruction! Over one short week, I saw these young people blossom and gain new life skills that are irreplaceable."
The idea for hosting the camp at Thrasher originated with Tina Yates, Christian Formation Director at Thrasher. She says that the area offers "lots of sports camps, but not all kids are interested in sports." She wanted another option for them—but all children were welcome, not just those who had shown an interest in performing. The camp was also another way to invite children to visit Thrasher and become acquainted with the church.
The church connected with VCT and hoped to hold the camp last summer in 2020 but had to postpone due to COVID restrictions that went into effect.
Restrictions were lifted just in time to proceed with the camp this year and last-minute changes allowed for the camp to be held indoors in the church fellowship hall, rather than outside in the heat. The main health guideline still in place was the use of face coverings.
"Tina Yates took care of registration and we met and cast the students on Monday of camp," Roden explained. "Some were familiar faces from our in-house theatre academy programming at VCT, but most were new to VCT!"
The students spent the week preparing a performance of "Rock N' Wonderland," a rock and roll musical version of the classic tale of "Alice in Wonderland."
"The musical features songs from jukebox musicals such as 'ABC' from Motown and the Jackson 5, 'All Shook Up' from Elvis Presley, 'Dancing Queen' from Abba in 'Mamma Mia," and even Katy Perry's 'Roar," all told through the zany whimsical nature of Wonderland," VCT noted in describing the performance.
The script of "Rock N' Wonderland" was written by Ian Felker, VCT professional artist.
Roden thanked Thrasher for "hosting and offering this program to the youth in the community and Tina Yates and Thrasher Administrative Assistant Michele Richardson for all their support and hospitality. VCT appreciates your collaboration and support for Professional Theatre Education."
Roden was assisted during the week by Emma Sala, Education Associate at VCT who choreographed the show, and student intern Bella Turner, a youth actor/academy student at VCT.
Children auditioned for parts the first day of camp, having never seen the script before. Roden and Sala discussed which parts best fit each student and cast the show. The children took home scripts that night to study. Sala says that many had their lines mastered by the next morning. They rehearsed each day in preparation for a costumed performance for friends and family the last day of camp on July 2.
The cast of characters included:
Aniya Grace Smith as Edith and the Eight of Hearts
Sarah Clubb as Alice
Karlee Smith as the Mad-Hatter and Queen
Anne Ely as the March Hare and Six of Hearts
KJasmine McGuire as Dormouse
Mia Domingus as Caterpillar
Robert Helms as Mock Turtle and Red Knight
Walker Henry as White Rabbit
Claire Draper as the Cheshire Cat and Four of Hearts
Ace Adkins as White Knight
Holden White as the Five of Diamonds
Hannah Clubb as the Three of Diamonds
Maddie Smith as the Seven of Diamonds
Kimmy Chittum as the Knave of Hearts and Caterpillar understudy
Prior to the performance, Roden told the families it had been "an absolute pleasure working with your kiddos this week."
He also talked about the various programs offered throughout the year for all ages by Virginia Children's Theatre located in downtown Roanoke.
The mission of VCT is "to inspire, empower, and transform," because "theatre skills are life skills."
"We inspire our youth and audiences to be critical thinkers, use their imagination, build confidence and come together as a community," VCT states on their website. "We empower them and provide them with the tools to be successful. Through inspiration and empowerment, we then seek to transform our community through the magic of live theatre."
As an independently owned and operated 501c3 non-profit organization, VCT is the professional theatre in the commonwealth solely dedicated to youth, schools, and their families. It was originally founded as the Roanoke Children's Theatre in 2008.
In 2017, Roden joined RCT as Director of Education and later took over leadership of the Company, becoming the Producing Artistic Director in 2019. He moved to Roanoke in 2017 from upstate New York. He is an experienced Musical Theatre professional (Music Director, Pianist, Vocal Coach, Teaching Artist and Performer), administrator, business person and inspirer.
VCT produces a variety of high caliber professional broadway-style musicals, concerts, and issue driven plays each season. These productions are produced here in the Roanoke Valley and toured throughout the commonwealth of Virginia. The VCT Theatre Academy provides year-round high-quality music, theatre and dance education for students in Pre-K through 12th grade through in-school residencies, in-house classes and camps and outreach across the commonwealth.
Summer camps for 2021 have included The Lion King, Jr., Remember Me, Shiver Me Timbers, Musical Revue, Shake Up Shakespeare, and Kaleidoscope. Those remaining in July and August include Frozen, Too, In the Hundred Acre Wood, and Cirque du VCT.
Tickets are on sale for VCT's "Oz: a Staged Concert" to be performed on the mainstage at Elmwood Park from July 30 to August 1.
Auditions are scheduled on August 14 from 10 a.m. to 2 p.m. at Greene Memorial UMC for those who would like to join the cast of The Addams Family or Cinderella, the first two shows of the 2021-2022 season.
Tickets are now on sale for the 2021-2022 season for performances of The Addams Family, Cinderella, VCT4TEENS' Just Like I Wanted, Peter Pan, Jr., Madagascar Musical Review, and a VCT concert Brand New Day.
Visit their website at http://virginiachildrenstheatre.org/ for more information on classes, camps, and tickets.