By Debbie Adams
The Vinton Host Lions Club has disbanded after 88 years of service to the community. The Host Lions were originally the Vinton Lions Club, chartered on February 22, 1932 to "bring business-people together in a service atmosphere."
According to their club history, in the years since they have done their best to "make Vinton vibrant and strong and to serve those who are not."
"We're a service club, helping in the best way we can," said charter member Albert Harris.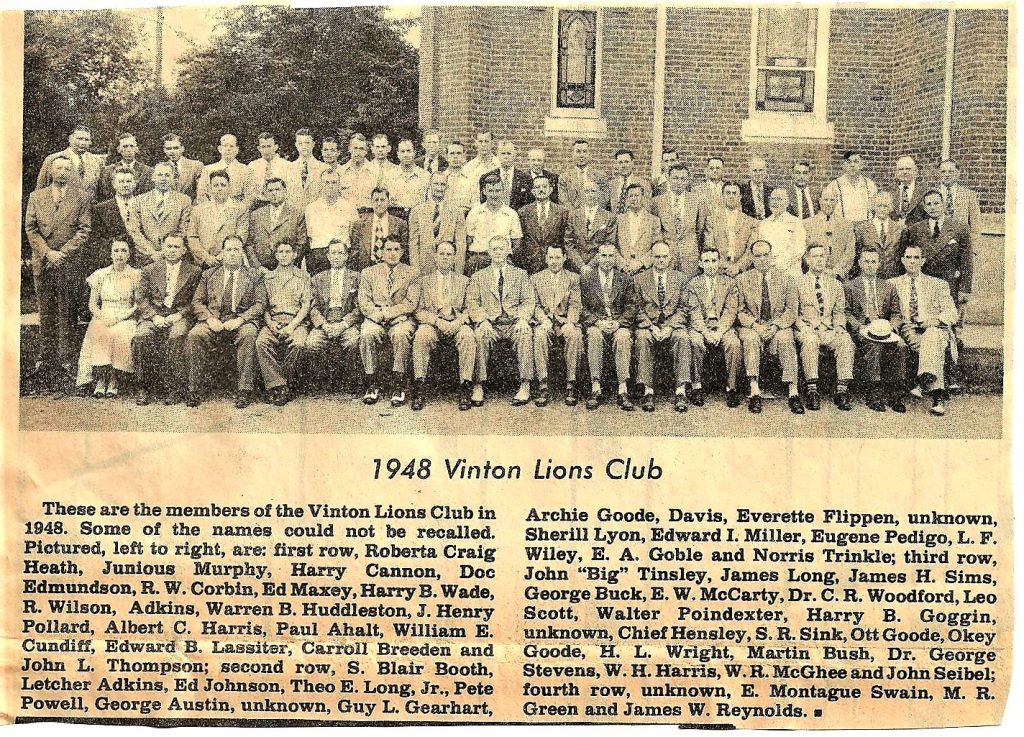 When they formed in the 1930s, it wasn't easy to find the 21 men necessary for a charter, especially with an entrance fee for joining in those Depression years.
The charter members included "movers and shakers" in the town – two school principals, a pharmacist, a banker, a pastor, two doctors, a miller, several railroad employees, a service station owner, the mayor, a grocer, a car dealer, and a "car doctor."
Some of their presidents since 1932 include immediately recognizable names such as Roanoke County School Superintendent Herman L. Horn, Supervisor W.E. Cundiff, William Byrd Principal Bob Patterson, Mayors Joe Pedigo, James Reynolds, and Nelson Thurman, businessmen W.P Vinyard, Warren Huddleston, Ali Kahn, Henry Brabham, and Otto Goode, Town Manager Guy Gearhart, School Board representative Tim Greenway, Roanoke County Treasurer Fred Anderson, and Coach Paul Ahalt.
The Vinton Lions grew to a membership of about 130 members at their peak. They eventually renamed themselves as the Vinton Host Lions as they sponsored and spun off members into two more Vinton clubs – the Vinton Breakfast Lions in 1985, and the Vinton Luncheon Lions in 2003.
The Host Lions have gone on to sponsor numerous other Lions chapters in the region: the Williamson Road, Troutville, Radford, Boones Mill, Hollins, Mount Pleasant, Christiansburg, Floyd, and Stewartsville-Chamblissburg groups, and the William Byrd High School Leo Club –  the largest student organization at the high school. They also sponsored Leo Clubs at Roanoke College and Virginia Tech.
In September 2020, Vinton Host Lions Club President Denny Dickens announced that sadly, with membership waning, the club would be "closing out." Several of their most dedicated members have passed away in recent months including Hildrey Pollard, Henry Brabham, Willie Leffell, Fred Anderson, Paul Ribelin, Elbert Meeks, Al Croy, and Bobby Altice.
When the Vinton Lions Club was chartered, Lions Club International was only 15 years old. The very first Lions Club was formed in Chicago in 1917 when Melvin Jones, owner of an insurance agency, decided that his local business circle could better use their talents serving the community rather than just serving their own business interests. They decided to call the new organizations the Lions, because the Lion stood for strength, courage, fidelity, and vital action.
From that vision, Lions Club International has grown in 103 years into a service organization with 48,000 clubs in over 200 countries, with 1.4 million members worldwide.
Early on in International Lions history, Helen Keller led the Lions Club to the cause that they are most recognized for–preventing blindness and saving sight for millions of people around the world. The organization supports the Lions Eye Banks that provide eye tissue for sight-saving surgeries and provide treatment to those at risk of losing their vision.  Roanoke has one of only 17 Lions Club eyeglass recycling centers in the world. Vinton Host Lions have been faithful in collecting and recycling eyeglasses, along with sorting and distributing them from the recycling center.
For several years, Lion Denny Dickens, accompanied by other Lion volunteers, has provided vision screenings using state of the art equipment in private preschools and public schools in the area. That service to the community has now been transferred to the Breakfast Lions.
Thus far this fall, Dickens has screened 546 local students making 56 referrals for professional evaluations – 216 students at William Byrd Middle School (with 17 referrals for formal vision checks), 180 students at William Byrd High School (with 22 referrals), and 150 students at W.E. Cundiff Elementary (with 17 referrals).
Over the years the Vinton Lions have raised and donated many thousands of dollars to countless worthwhile projects in the Vinton area and throughout Virginia. Their first major project was sponsoring a homecoming football game for the high school in 1934.
The school was at the point of discontinuing football due to a lack of funds when Lion Paul Ahalt, coach of the team, asked the club to sponsor a game for the school. As a result of the enthusiastic support and hard work of the members, the game was a great financial success.
Homecoming Day for William Byrd High School started out with a parade, an assembly at the athletic field, and the homecoming football game with an awards ceremony at half-time. (The oldest man present won three pounds of coffee, while the oldest woman won a bushel of potatoes. The oldest car received a free oil change. The prettiest elementary school girl got a box of candy from White Front Pharmacy; the best-looking boy got a knife.)
The Lions continued to sponsor a football game each year for the school throughout the Depression years.
The Vinton Lions have served the community from scrap metal drives during World War II to their role in building and operating the Vinton War Memorial to honor veterans after the war ended. They brought lighting and Friday night football to the old William Byrd High School field. They played a major role in construction of the Vinton Pool and contributed funds for renovations of the Vinton War Memorial in 2007. They once donated a piano to the facility.
Their fundraisers included performances of "Womanless Weddings" and Amateur Hours in the '30s and, beginning in 1936, their annual variety shows which continued until 1985. They have sold fruit cakes, light bulbs, and brooms.
Over the years, 27 Vinton Host Lions have been awarded the Melvin Jones Fellowship Award recognizing their outstanding contributions to the club and the community, their highest form of recognition. Vinton Host Lions receiving the award include: Charles Jennings, Fred Swisher, Hubert Beckner, George Jones, Jerry DeGraff, Hildrey Pollard, Alvin Croy, Henry Brabham, Elbert Meeks, Don Davis, Willie Leffell, Joe Gwinn, Joe Stovall, Larry Kilgore, Carl Mann, Steve Lonker, Curtis Cooper, James Reynolds, Bill Sheaff, Fred Anderson, Michael Bowles, Richard Routt, Russell Wise, Staley Pennington, Paul Ribelin, Dave Jones, and Denny Dickens.
Several other Vinton Host Lions members have plans to join the Breakfast Lions, in addition to Dickens. They have asked the Breakfast Lions to take over administration of an account which funds the annual $1,500 Leo Scholarship to a senior at William Byrd and presents the "Best All Around Male Student" at WBHS with a check for $250 each year.
"The top priority of the Vinton Host Lions Club, is, in the words of our founders, sight preservation and civic betterment, whether it's our Boy Scouts, making a safe place for our teens after prom, providing opportunities for our children, being a helping hand to those in need, being a Salvation Army bell ringer, providing Toys for Tots, remembering the words of Helen Keller to be a Knight of the Blind, or just standing in the gap; our motto still is 'we serve,'" said Lions President Fred Anderson on the occasion of their 80th anniversary.
The Vinton Host Lions have certainly fulfilled their objective to "aid my fellow man by giving my sympathy to those in distress, my aid to the weak, and my substance to the needy." They will be missed.