The William Byrd girls have high hopes for the high school volleyball season, which opens next
week. The Terriers will be at Cave Spring to begin the season on Tuesday, August 22.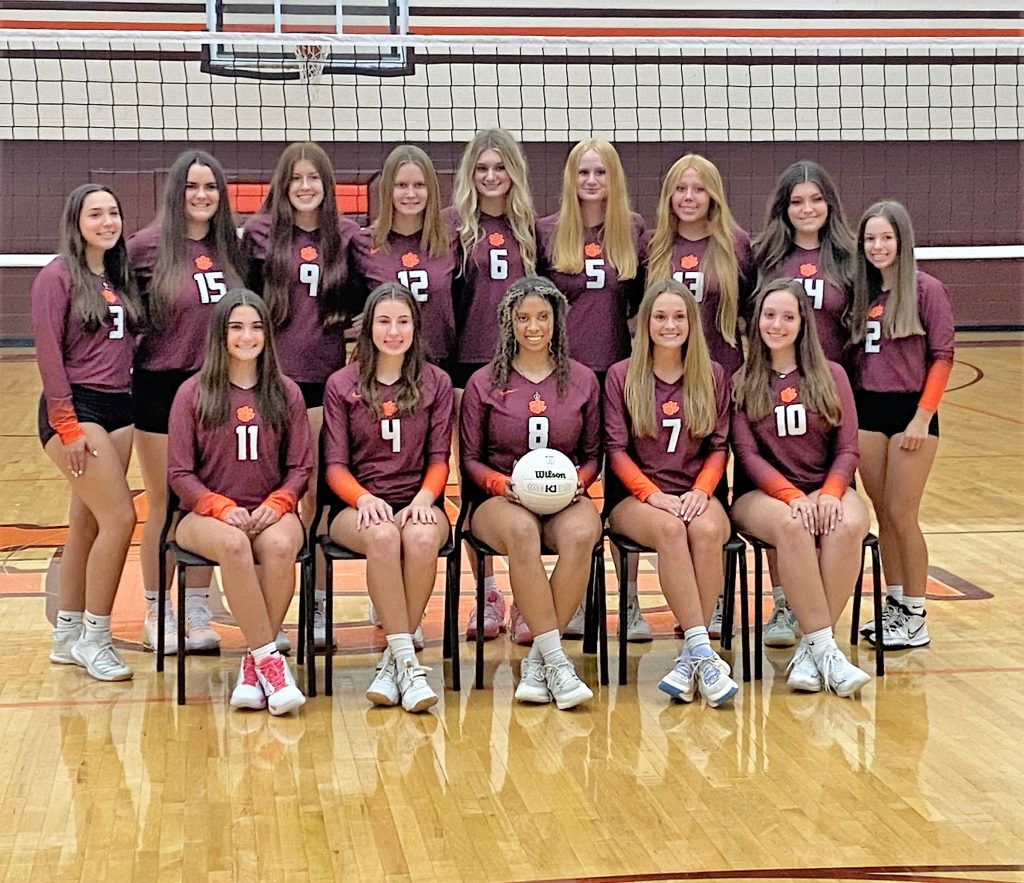 Byrd will open the '23 campaign with the same team that ended their season last year. Cave Spring
eliminated Byrd from the Region 3D tournament in Vinton as the Terriers finished at 16-8.
It was a good season for the Byrd girls. They finished second in the Blue Ridge District and won
their annual "Diggin at the Dog Pound" tournament.
Graduated setter Carsyn Kotz was named BRD Player of the Year after compiling over 1,000 career assists and three others joined her on the All-BRD first team. Two first teamers, Terran Brown and Emily Tuck, return to this year's team as well as Raelyn Lancaster, who was a second team all-district selection in 2022.
Kate Bryant, Madelyn Ward and Eva Brown are also returning seniors and juniors with varsity experience include Ava Ashworth, Maddie Pittman and Payton Hall. Bryant and Ward will be counted on to replace Kotz as setter.
"They have big shoes to fill behind Carsyn but they've been working hard and continue to do big
things in running our offense," said Byrd coach Allison Thornton. "Eva Brown and Maddie Pittman will be
pin hitters for us this season and we look to them to score several points for us."
Brown was an all-region selection last fall.
"We will be looking to continue leaning on her for leadership on the court," said Thornton. "Terran
is our returning offensive leader from last season."
Tuck, Hall and Ashworth will be working as defensive specialists on the floor. Lancaster, who is a
junior, is a middle hitter.
"She did a fantastic job for us last year and look to lean on her more offensively," said Thornton.
Newcomers to the varsity include Annika Hylton, who played jayvee last year and is working well in
the setter rotations.  Bella Dudley has also brought some big kills to the offense as one of Byrd's middle
hitters. Graysen Divers has also contributed quite a bit to the offense and blocking.
"Graysen joined the varsity team for a few games last season and has done a great job from day one
this year," said Thornton.
Hannah Janney and Kaylee Makuch are juniors who are working hard to fill roles needed as a right
side hitter and defensive specialist.
Thornton will be assisted by Briona Hurt, Kat Stanley and Harrison Lionberger. Jordan Persinger
will be the head junior varsity coach. The team has working hard in the off-season.
"We have been busy this summer," said Thornton. "We had our Tiny Terrier Camp with over 45
campers (rising 3rd -6th  grade) and Middle School camp with 43 campers (rising 6th -8th  graders).  We traveled to JMU this summer for a three-day overnight camp and came back with enthusiasm and excitement for our season. We all got better at camp, both the players and coaches. It's great to get out there and learn new ways to teach the skills and new drills to keep things competitive and inclusive. We want our players to
continue to learn, and it's important that we as coaches do as well."
The Blue Ridge District should be strong again with Lord Botetourt, Franklin County and Northside
all expecting to have good seasons. The Terriers have a strong Hidden Valley team on the schedule as well
as two-time defending Class 2 champion Glenvar.
"As with any season, we want success," said Thornton. "Success means getting better every day and
coming in to the gym to compete. I am confident with the work ethic and team chemistry the girls bring into
the gym we will see success.
"I am very excited for this season.  I have a wonderful group of student athletes who work hard,
respect each other and are just simply a pleasure to be around."