The Roanoke College track team put on an invitational at the Kerr-Cregger Center in Salem last week and William Byrd was one of 16 teams attending. The Terriers had some strong performances in the meet as they gear up for the post-season.
Sydney Blewett started the day off on a high note for the girls with a second place finish in the shot put, heaving the ball 35'10". Virginia Yonce finished tied for seventh in the high jump, clearing 4'2".
In the running events Byrd's 4×200 relay team of Blewett, Grace Onwi, Olivia Bustamante and Emma Matthews finished third with a time of 1:56.75, and the 4×400 team was second in 4:42.25 with Onwi, Emma Gordon, Alexandra Bonilla and Jayden Niday.
Matthews also place 10th in the 55 meters with a time of 7.99, and Yonce was 12th in the 55 hurdles at 11.56. Byrd took 11th through 13th in the 500 dash with Bonilla, Riley Roth and Liz Dixon.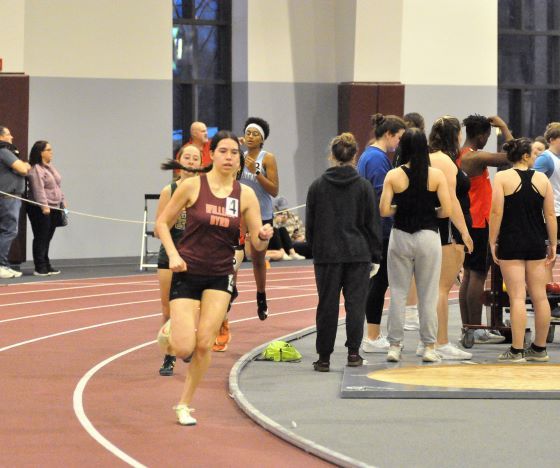 For the boys, Jordan Johnson took fifth in the long jump with a leap of 19'7.75", DeShannon Reed was sixth at 19 feet even and Alex Dunn was 10th at 18'5.5". Reed was fifth in the triple jump at 39'2" and Dunn was ninth at 38'5". Kyle Holdaway cleared 5'4" in the high jump to take seventh.
On the track DeShawn Austin was runnerup in the 55 hurdles with a time of 8.63 and Noah Thompson was 12th in the 55 dash in 6.96. The team of Thompson, Dunn, Cooper Minnix and Reed was fifth in the 4×200 relay at 1:39.34.
In the 500 meters Donald Mullins took fourth at 1:13.75 and Braden Crossan was 11th in 1:19.26. The 4×400 team of Mullins, Dunn, Crossan and Jhaquin Johnson took third at 3:59.75.
Byrd also took some select athletes to the Virginia Showcase event at the Virginia Beach Sports Center last weekend and the team of Dylan Hughes, Wyatte Bailey, Brady Reachy and Austin bettered their season's best in the 4×200 relay with a time of 1:35.12. Bailey also ran a time of 1:09.22 in the 500 dash and Olivia Hurd posted a time of 1:24.49 in the 500 meters.
This week the Terriers will be at VMI in Lexington for the annual Walt Cormack Memorial meet.