By Sports editor Brian Hoffman
The William Byrd football team played a "plus one" football game last Friday and the Terriers took a win over Wilson Memorial to end the pandemic-shortened season with a winning record. The Terriers won 39-12 in Fishersville.
"Our staff is very proud of how our players played Friday," said Byrd coach Brad Lutz. "Wilson Memorial has a good football team, and our players had to make a long trip to Fishersville to play in a very physical game. Led by our seniors, our team was able to earn big plays in all three phases of the game and sent our seniors out with a huge win."
Wilson Memorial scored first, but Byrd rallied with 20 second quarter points to take a 14 point lead at the half. Israel Hairston threw touchdown passes to Ethan Tinsley for 72 yards and Tyler Dean for 29 yards, then El-amin Shareef scored on a one yard run.
Byrd broke it open in the second half, as Hairston threw his third TD pass, a nine yarder to Tinsley, and Shareef ran in from 14 yards for a 33-6 lead. Shareef's third score followed a long Green Hornet run to finish out the scoring.
Shareef finished with 90 yards on 17 carries while Hairston, a freshman, was 11 for 16 passing for 231 yards and three touchdowns. Tinsley had four catches for 102 yards and Dean had two for 45.
On defense, Hunter Richards had a big night with 10 tackles, a fumble recovery and a blocked kick. Bryson Lutz had seven tackles, including a big tackle for a loss on fourth down to stop a drive right before the half. Dustin Richards had 13 tackles, Dean had 10, Shareef had nine and Jeff Williams had seven.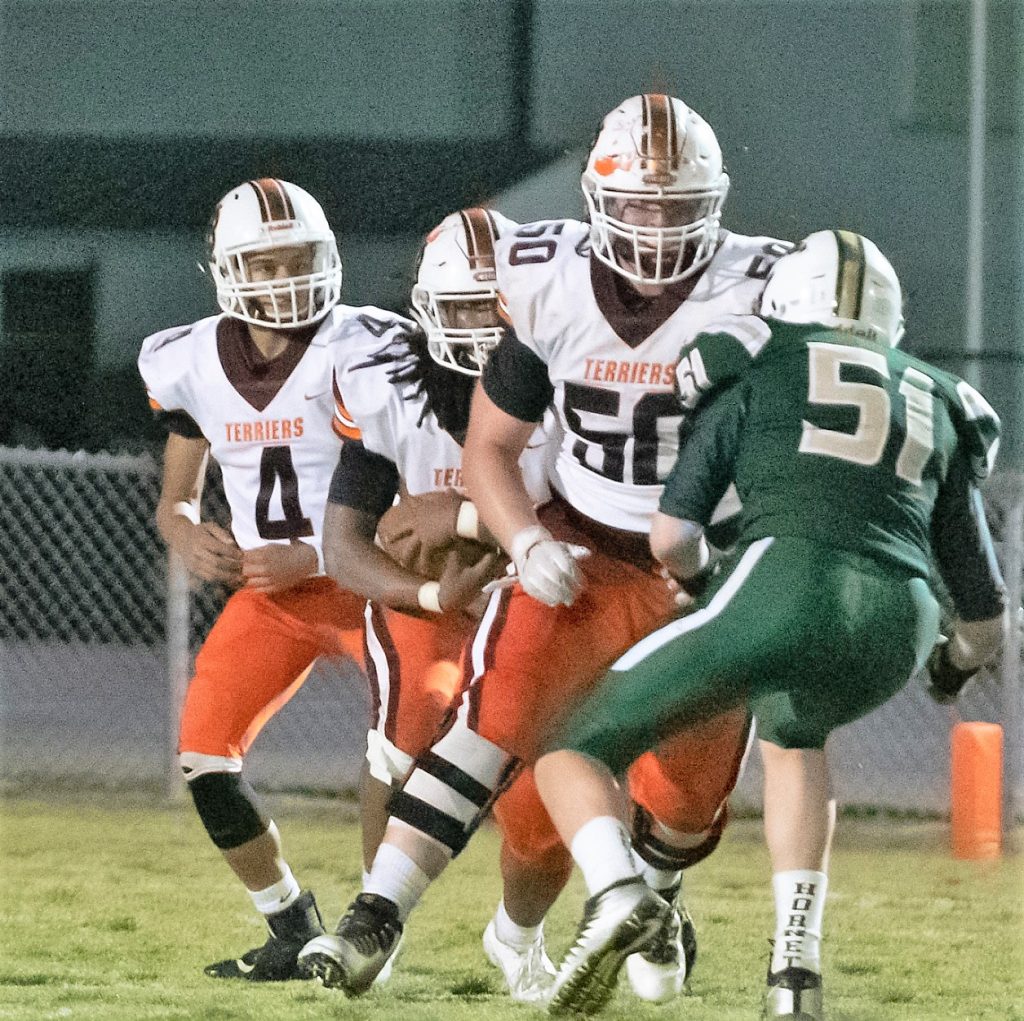 With the win Byrd finished the season at 4-3. Both Byrd and Wilson Memorial would have made the playoffs this year under a normal season, but with the pandemic only four teams advanced instead of eight and the two hooked up for one more game.
"We were thankful to get a plus one game and end our season with an important win over a strong, physical Wilson Memorial team, who would have been in the playoffs in a normal season," said Lutz. "Our junior varsity and varsity program made huge improvements from our first season and our players saw the product of their commitment to getting stronger in the weight room."
The Terriers are already looking forward to next year and a normal fall season.
"We will have a very young team next season," said Lutz. "It might be the youngest team that I have coached, but they are a great group of players who are invested in the program. Most of them are multiple sport athletes who are currently playing spring sports, but they will also lift to prepare for the season. The shortened off-season will actually help our young team, because there will not be a lot of down time between seasons."