By the Administrative team at William Byrd High School
Each week the administration at William Byrd High School recognizes faculty and staff members for their wonderful contributions to our students and community with the Terrier Spotlight of the Week.
The first spotlight of the week is Ms. Alex Gunn. Ms. Gunn is on a roll this week, fresh off winning the school-wide NCAA Men's Bracket Challenge, and now being recognized as a Terrific Terrier! You simply cannot stop her from shining at the moment.
Ms. Gunn serves as our Life Counselor here at WBHS. The counseling, guidance, support, and services she provides to our students are essential. A favorite among students, Ms. Gunn's office is rarely empty. If being our Life Counselor wasn't enough, she also serves as our PBIS coach, Forensics coach (along with Ms. Arrieta), Team Terrier Mentors sponsor, and she even finds time to host a weekly podcast with, you guessed it, Ms. Arrieta.
We'd like to specifically recognize the work of Ms. Gunn and the Team Terrier Mentors over Spring Break. They helped create Easter Egg scavenger hunts for their mentees at W.E. Cundiff. We are all proud of the work that they do for our community. Outside of school, the Chicago native enjoys playing tennis, making crafts, and spending most of her paycheck on shopping sprees at Target. Thanks again Ms. Gunn for being a great counselor and mentor for our students!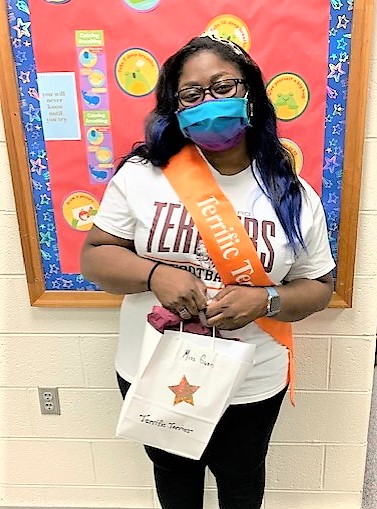 Our next spotlight of the week recognizes someone new to the Byrd community, and to the art of teaching, it's Mr. Spike Geffert. A recent graduate of Virginia Tech, he has brought some of that acclaimed Hokie engineering and design knowledge to the students of Byrd. Mr. Geffert teaches digital photography, CAD design, woods technology, and electrical engineering. Students in his class can be seen regularly engaging in hands-on activities and using cutting-edge technology. It's also worth highlighting that in his short time here at WBHS, Mr. Geffert has quickly become a favorite among the students.
Outside of teaching, Mr. Geffert enjoys gaming in all its forms. Whether it's tabletop, sports, or video games, Mr. Geffert stays gaming. In fact, he has even built a human sized Foosball court. Thanks again Mr. Geffert for all that you have done this year. Keep up the great work!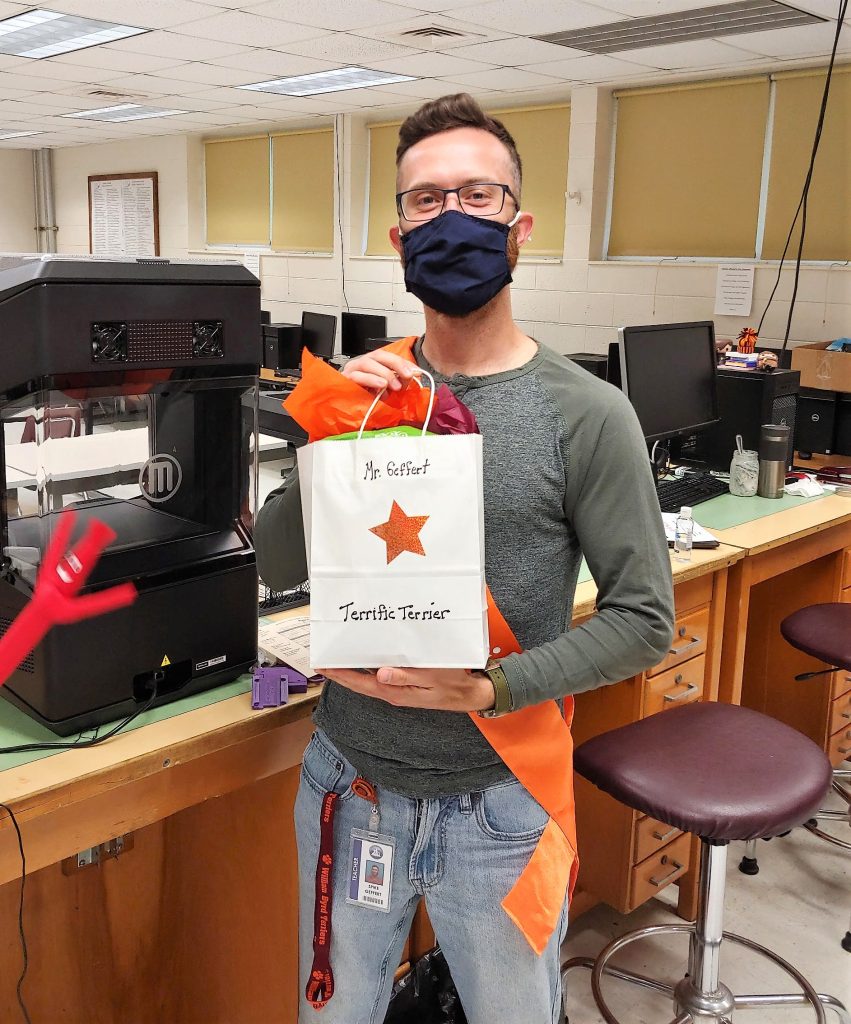 It only seems right that our next two spotlights be done together. You could call them a "perfect pair," a "dynamic duo," or perhaps, "double trouble." What's certain is that these two are as close and in-sync of a co-teacher partnership as you'll ever find–Ms. Amanda Sabin and Ms. Alicia Spangler. These two English 11 teachers have been producing wonderful lessons and results for our students over the past eight years. They both care deeply and work tirelessly for their students. They also each perfectly balanced and complement one another. Ms. Sabin provides what you might call the parental oversight and structure that Ms. Spangler needs. And Ms. Spangler provides the energy, creativity, and amusement that keeps Ms. Sabin on her toes and at the top of her game.
Outside of school, Ms. Spangler enjoys being creative and making things, which often make their way into school, much to everyone's joy and amusement. She also enjoys sleeping in any situation and location. She believes this is one of her greatest talents, but the jury is still out.
For Ms. Sabin, outside of school, she enjoys reading, camping, and kayaking, when not serving as her daughter, Lily's, personal chauffer. Thank you again to "double trouble" for being great teachers and for always keeping things interesting!