By the administrative team at William Byrd High School
Each week the administrative team at William Byrd High School recognizes faculty and staff members for their wonderful contributions to our students and community.
The first Spotlight of the Week announced on March 5 is Ms. Dionne Nichols. This is a special spotlight not only because she's an excellent English teacher and department chair, but she also happens to be our first "royal spotlight." That's right, Ms. Nichols is connected to the Tudor bloodline, as her ancestors were part of King Henry VIII's royal court. Despite her royal roots, Ms. Nichols has taken up the noble art of teaching, which we couldn't be more thankful for. Her passion for literature and love for her students is invaluable. Outside of teaching the literary arts, she enjoys baking, drinking a cup of coffee or tea, going for a hike, and of course, reading. Thank you, Ms. Nichols, for all of your hard work and kindness this school year.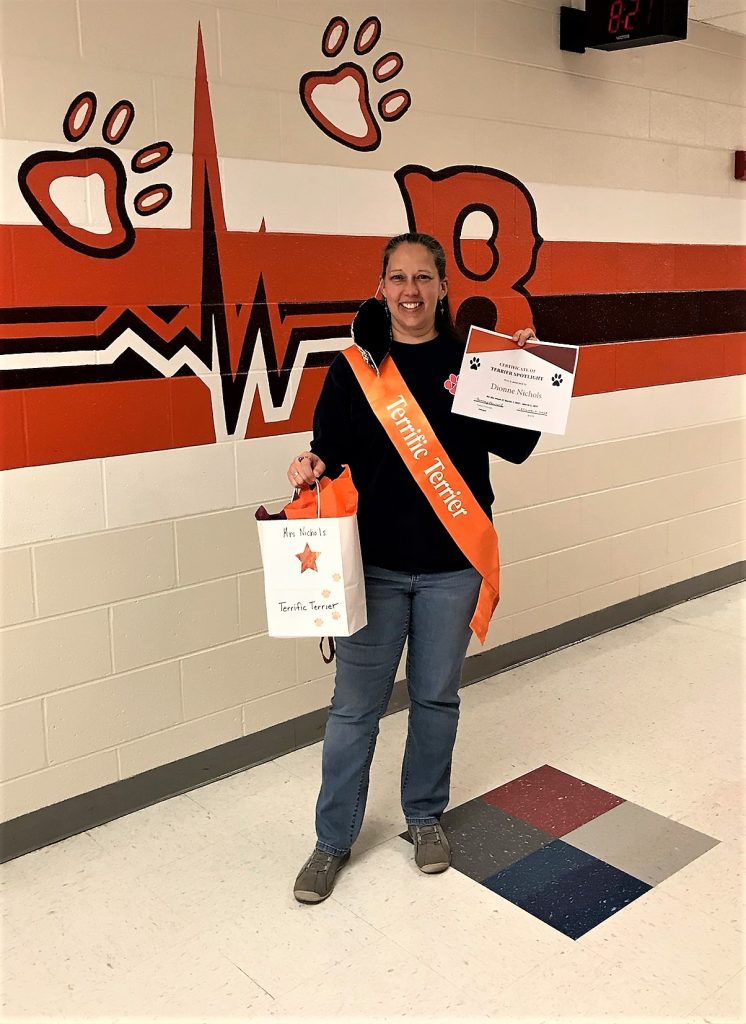 Our next Spotlight of the Week is Ms. Laurie Dunn. Ms. Dunn is a veteran teacher of 19 years who teaches culinary arts as well as fashion and interior design. This West Virginia University grad cuts a popular figure among students in grades 9-12. If you've ever seen the food projects they do in class, then this should come as no surprise. Whether it's houses made of pop tarts, quinoa, or the fruit pizzas witnessed this week, students love the hands-on activities and tasty treats they whip up in class. When not teaching students the finer points of high society, Ms. Dunn enjoys kayaking or traveling to experience new cultures and places. We'd like to say thank you again for all of the fun and exciting things you do for our students in the classroom.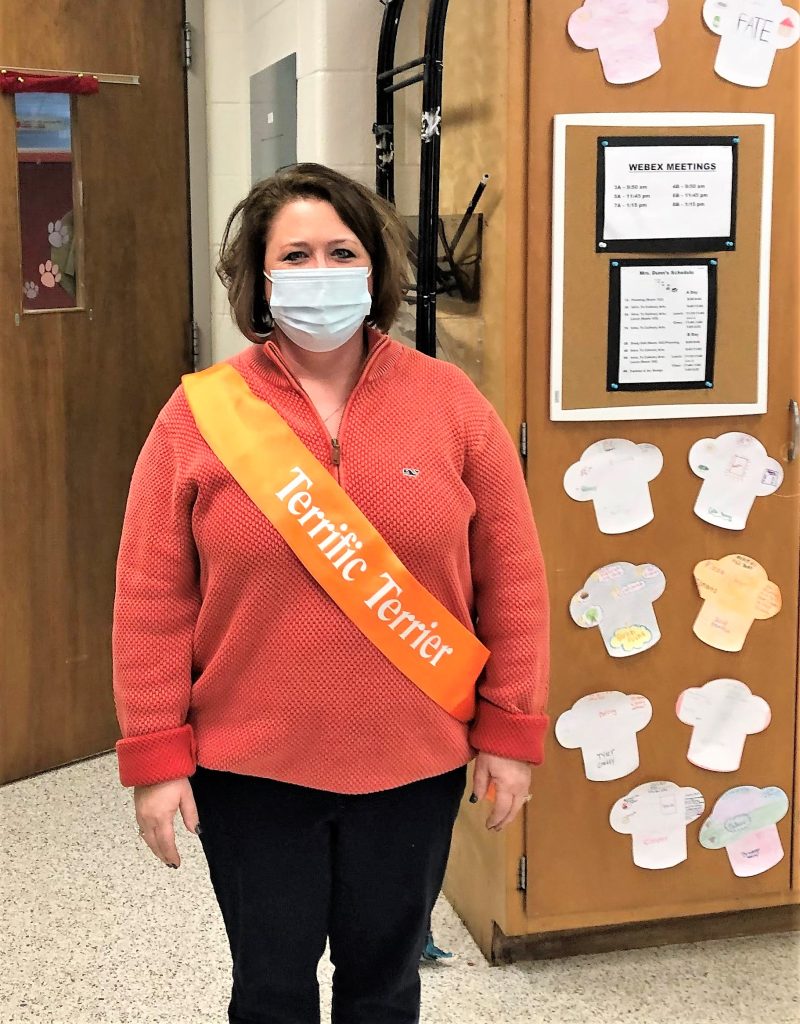 Next up is the most interesting man at Byrd: Mr. Andrew DeCoster. He is affectionately known by the students and his understudy Coach Kessler, as "Big Money." This mysterious math teacher and track coach lives up to the name. Whether it's snorkeling with the dolphins, running with the bulls, or summiting Mount Everest, Coach DeCoster is a man of many feats and talents. Fortunately for us, this jack-of-all-trades has decided to devote his time and energy to mastering the art of teaching. Coach DeCoster, along with his trusty sidekick Coach Kessler, are producing phenomenal results for our Algebra I students. From lesson planning and instructional delivery to student rapport, these two are rock stars in the classroom. So, one last time, thanks again Coach for all that you're doing both in the classroom and on the track.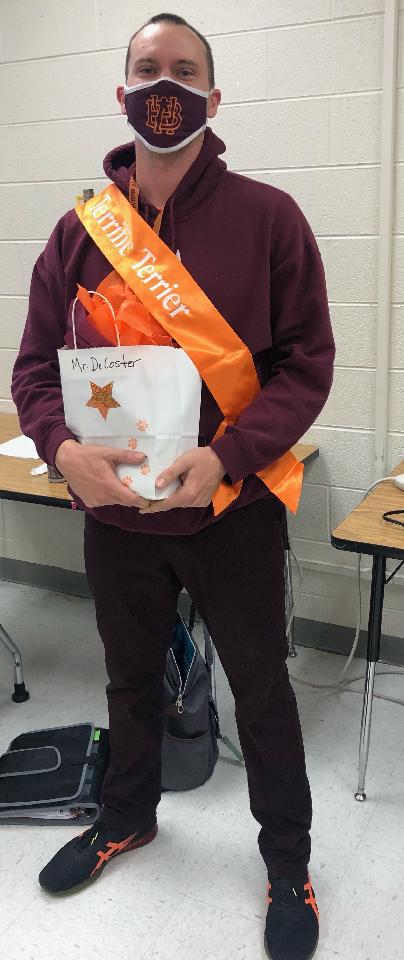 Our last spotlight of the week is for the one and only, Ms. Marisa Arrieta. The former William Byrd grad has served as a guidance counselor here for the past four school years. During this time, she's done a fantastic job providing academic, social, and emotional support for her students. Her talent, work ethic, and the positive relationships she has with her students have not gone unnoticed.
It's also worth mentioning that Ms. Arrieta is just a lot of fun to have around. Her sense of humor and playful spirit are a constant source of entertainment in the guidance department. Unless, however, it's a competitive game or event, and I use the word competitive here lightly. In such cases, Ms. Arrieta turns into M.J. and she will win at all costs. Outside of school, she enjoys playing tennis with her adorable son, Josiah. Thanks again Ms. Arrieta, for being a phenomenal guidance counselor and a Terrific Terrier.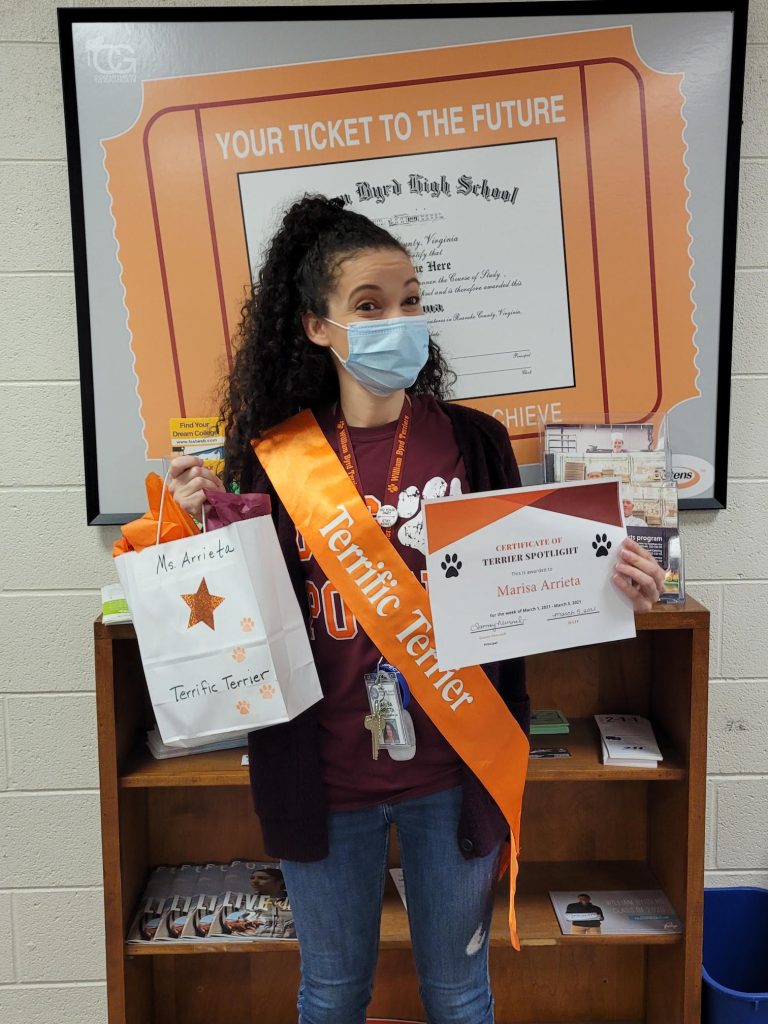 Finally, we'd like to recognize Mr. Jason Taylor as we host our first home varsity football game. Safely returning to athletics has been a significant challenge this school year. Mr. Taylor has had to react and adapt to constant change. Through it all he has done a magnificent job and he deserves a big round of applause. So again, to our awesome athletic director, we say thank you!