By Debbie Adams
Carilion Clinic and the Taubman Museum of Art have partnered to support healing through art by enlisting groups from the community to participate in the "Healing Ceilings: Community Tile Project."
Over 250 ceiling tiles have been painted during the project for installation at Carilion Hospital and other Carilion Clinic facilities "for the enjoyment of patients." About 100 of those tiles have been painted by Roanoke County Public Schools art teachers and art students at the Burton Center for Arts and Technology in the Center for Visual Arts.
For the BCAT students, art instructor Pam Rose says, "The project was part of the requirements for the museum studies part of our program which is partnered with the Taubman Museum of Art. The tiles were well painted, with child-friendly images for the pediatric area of the hospital."
The tiles painted by Roanoke County teachers and students were on display from March 26-28 and April 2-4 at the Taubman Art Museum in downtown Roanoke. Tiles painted by other organizations such as Roanoke City Schools, local homeschool groups, the Community Youth Program, Total Action for Progress, the Science Museum of Western Virginia LAB, and local artist groups have also been, or soon will be, on display.
Sara Cubberly, RCPS Art Supervisor, says the tiles are meant to "bring healing and comfort to those who are there."
"Best in Show" winners have been selected from each group. William Byrd High School art teacher Allyson Goin won second place among teachers in the RCPS group for her painting of a whimsical giraffe entitled "Howdy, Neighbor."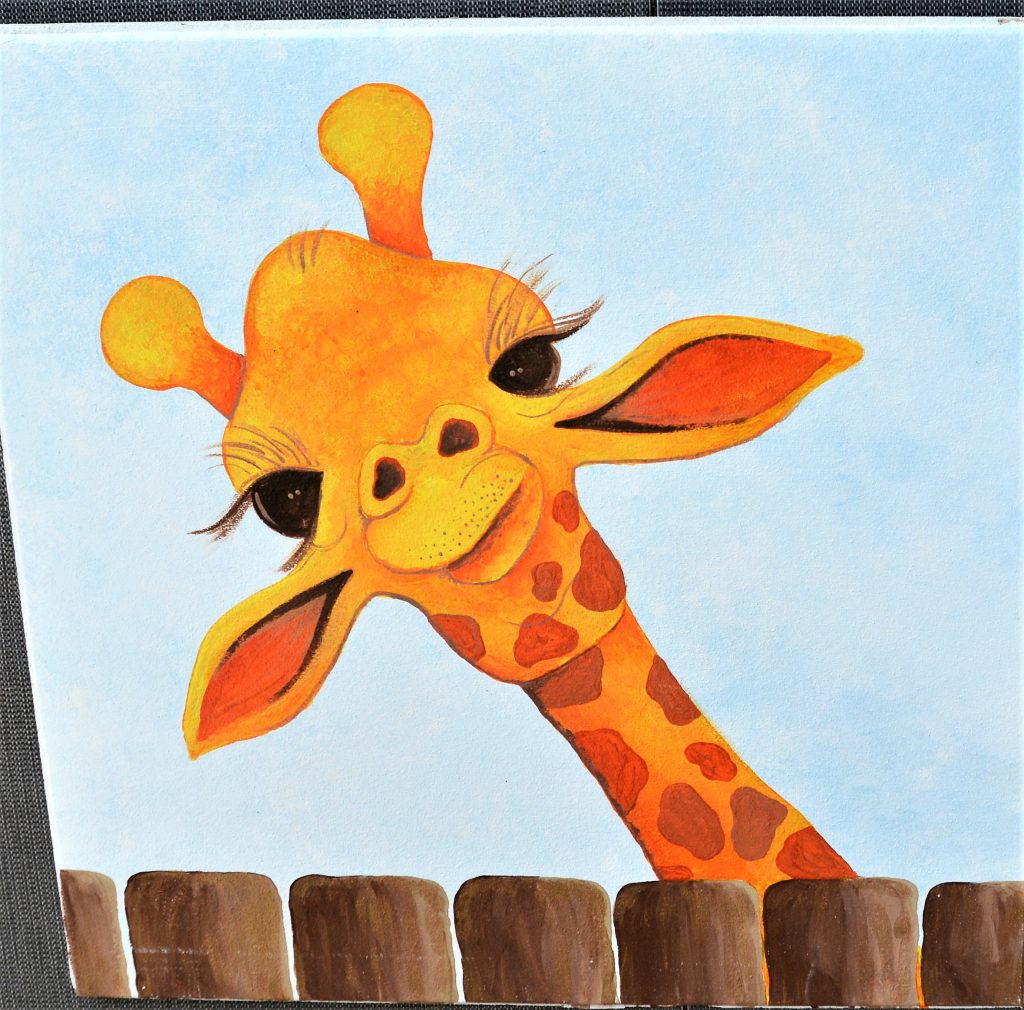 William Byrd High School art teacher Allyson Goin won second place among Roanoke County art teachers for her ""Howdy Neighbor" ceiling tile painting recently on display at the Taubman Museum of Art. The ceiling tiles will be installed to cheer up patients at Carilion Hospital and other Carilion facilities.
Vinton area art teachers participating in the project include Ciara Carr, Allyson Goin, and Denise Sartell from William Byrd High School, Rob Mitchell from William Byrd Middle School, Wendy Pease from W. E. Cundiff Elementary, Kathleen Lunsford from Bonsack Elementary, Ginny Patrick from Mount Pleasant Elementary, and Aimee Oesterreich from Herman L. Horn Elementary.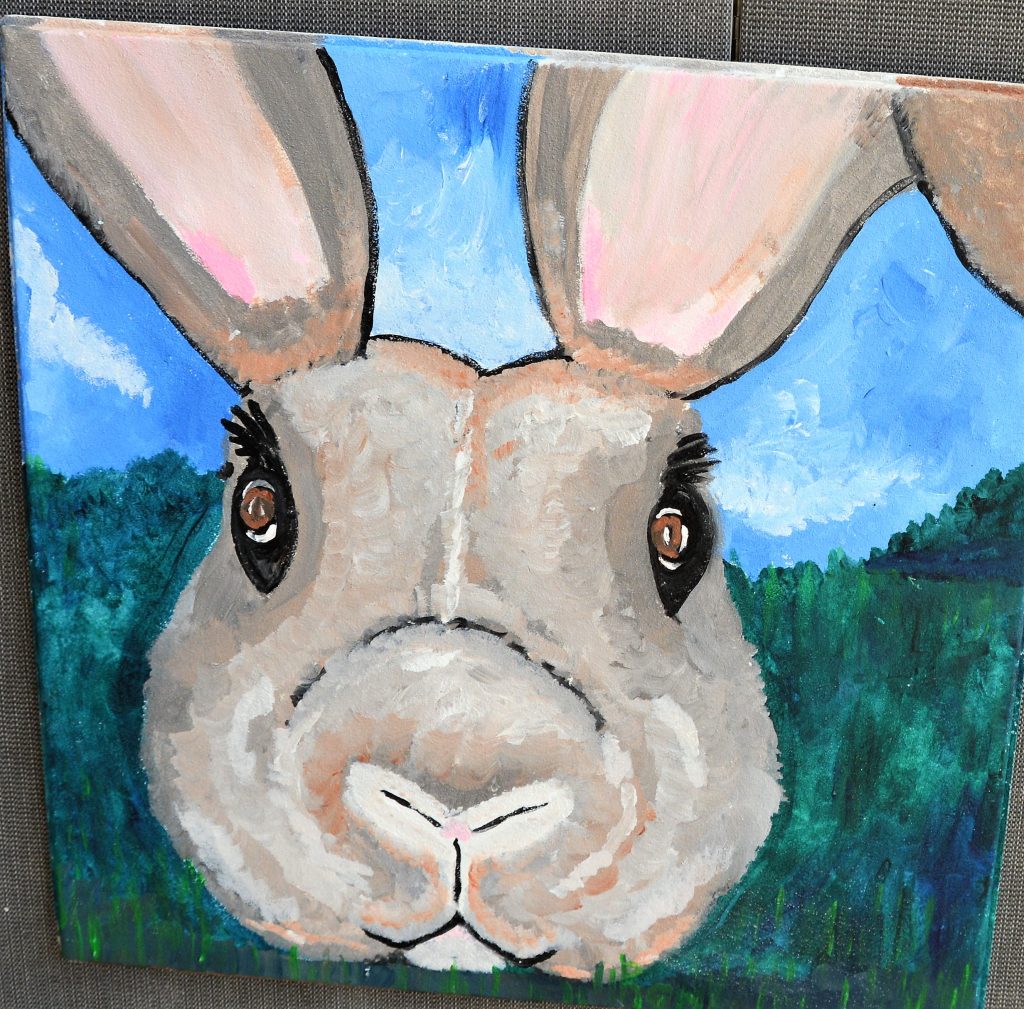 WBHS/BCAT seniors Andrea Gonzalez, Urunna Anyanwu, and Nick Boksa also created tiles for the project. Gonzalez won second place in the student category for her endearing ceiling tile painting, "Dog." Their instructor is Natalie Strum.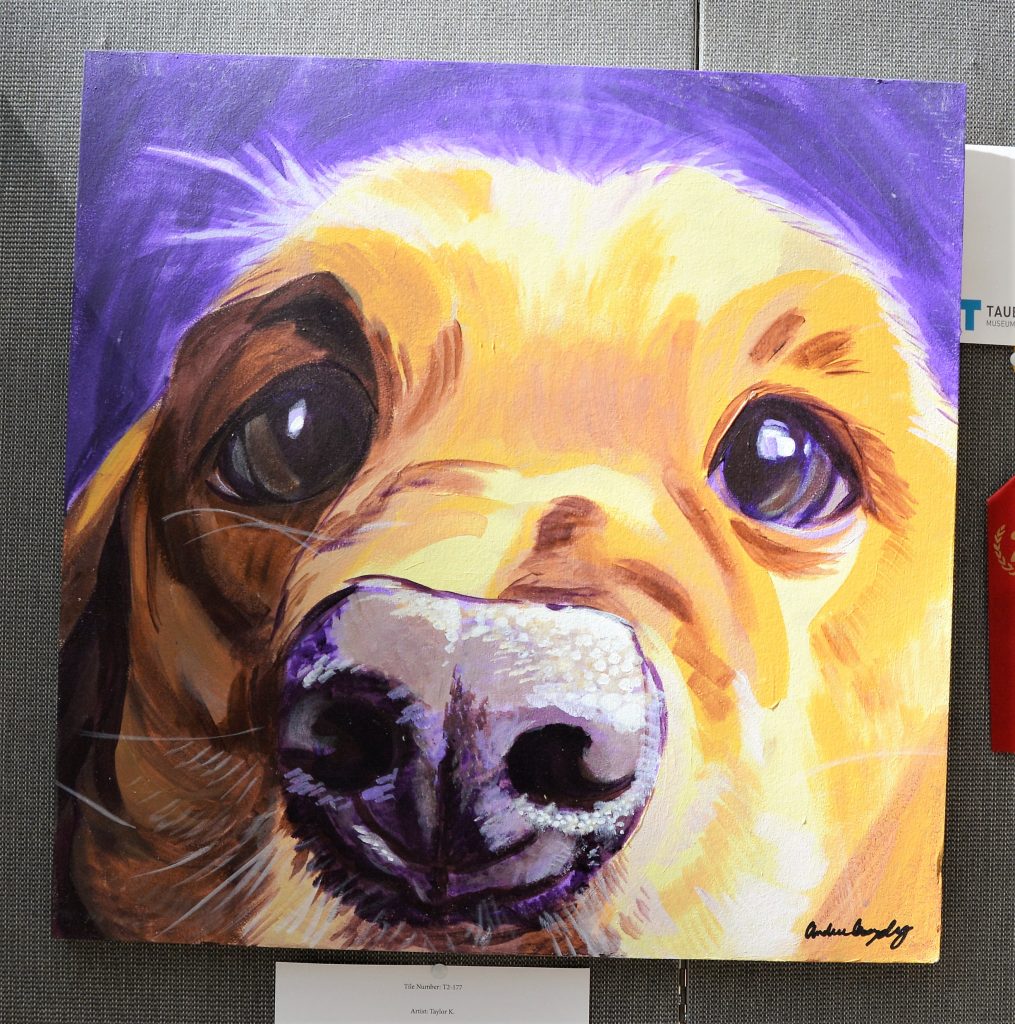 WBHS freshman Alice Crowder entered her work "Alice's Last Supper." Her art teacher at BCAT is Cathy Watson-Bloch.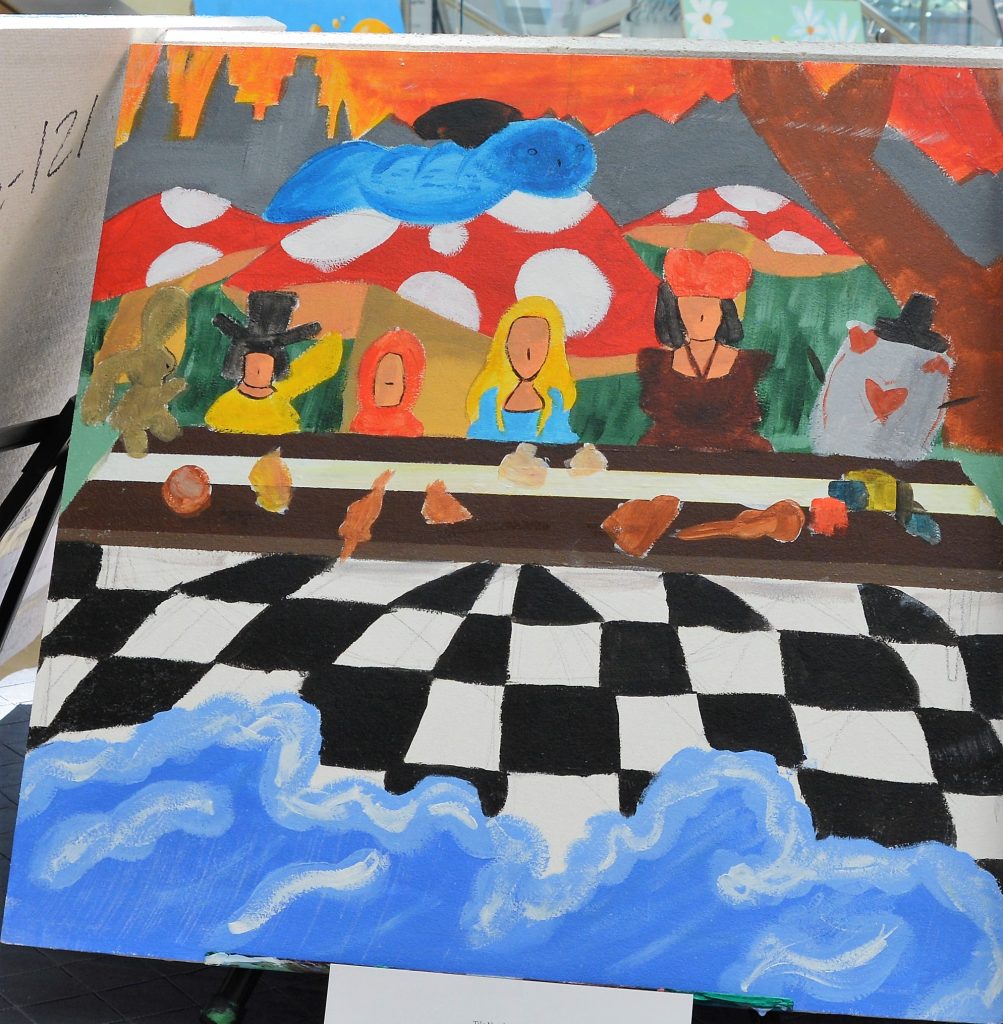 William Byrd sophomores with ceiling tiles in the exhibit included Addisyn Ackley with "Distracted Cat," Cadence Fralin with "Blue Berry Punch," and Alejandro Lopez with "The Crazy Old G." Their BCAT instructor in the Center for Visual Arts is Pam Rose.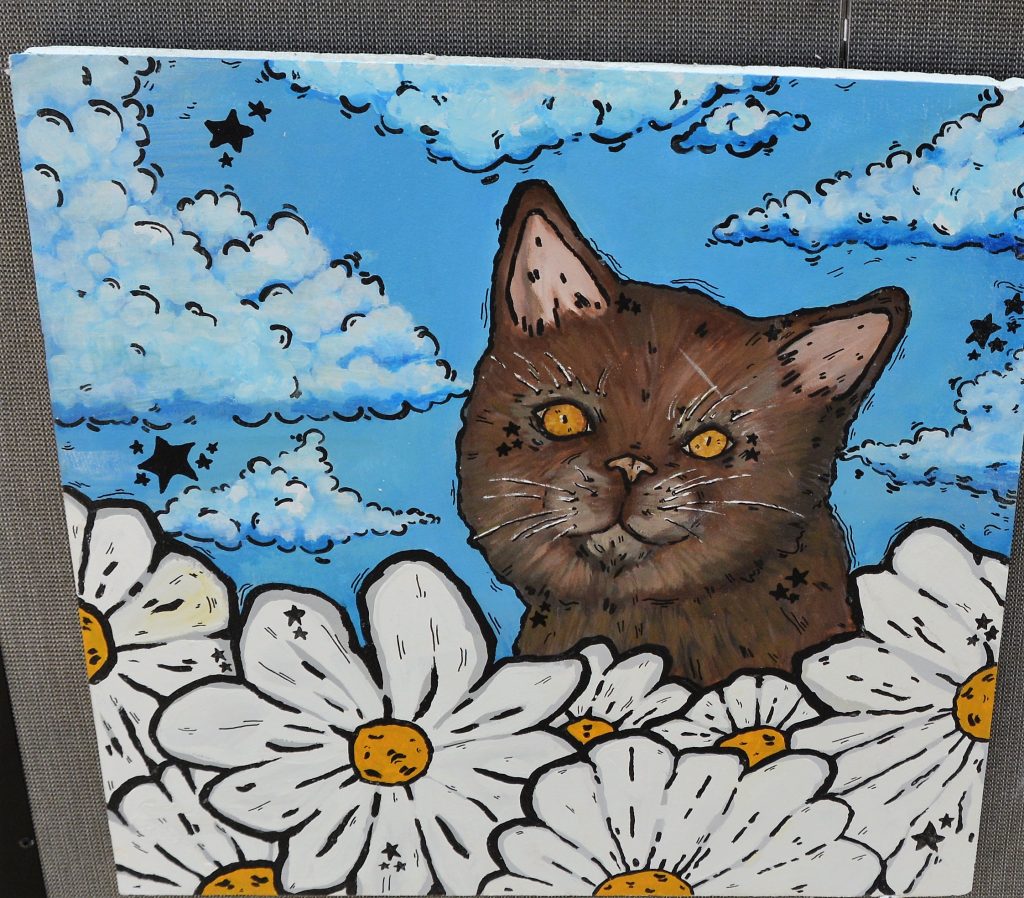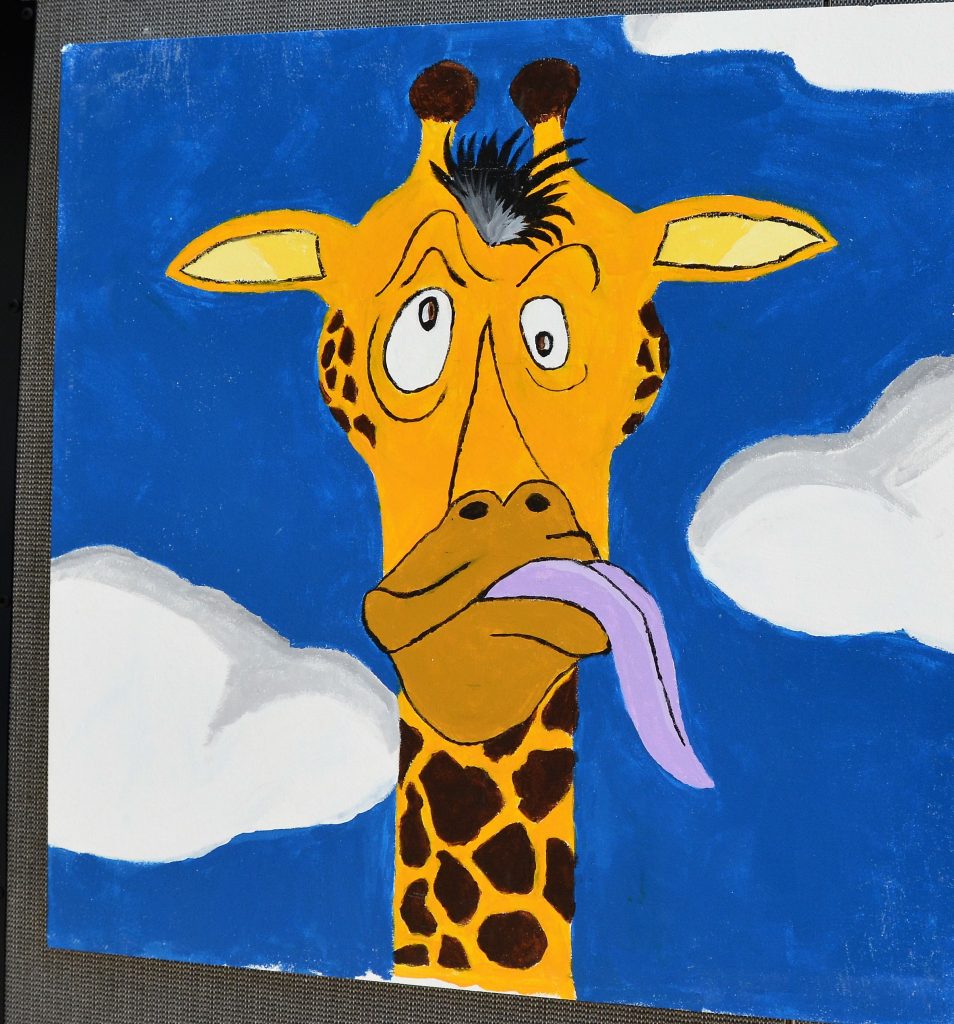 A final exhibition featuring the "Best in Show" for all participating groups is scheduled for June 4-6 and 11-13 at the Taubman before the tiles are installed at Carilion.
The "Healing Ceilings" project got underway during the 2019-2020 school year but was delayed when schools closed for COVID-19.