By Debbie Adams
"Spotlight on Vinton-All Things East Roanoke County" is a new, fun, and informative Facebook Page started by Brad Greenway and Jason Boothe with the Greenway Boothe Real Estate Team, Matt Crizer with Alcova Mortgage, and Tim Greenway (owner/broker at Mountain View Real Estate) with the "hopes of showing off our community."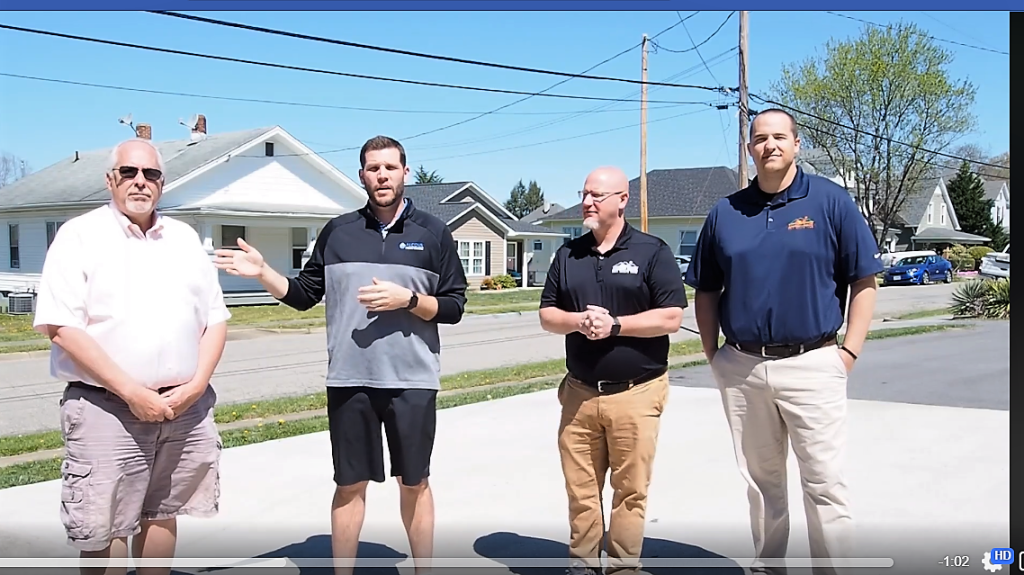 The four have also teamed up to "provide a little bit of help to our small businesses here in the community and at the same time are hoping to give them a little boost by giving away gift cards in the coming days and weeks!"
"The Facebook page has been created to help support local businesses, restaurants, organizations, and all people during these trying times," they say. "We'll also try to keep everyone updated on what's going on in our community, with announcements, events, and any/all things Vinton/East Roanoke County!"
The group has asked anyone who runs a small/local business in Vinton or East County to send a comment and "tell us how we can all support you during this time."
"We want to help get the word out about YOUR local/small business– the mom and pops, the run-from-your-home businesses, the true heart and soul of our community businesses, especially the ones we don't always hear about.
"This idea was something I've been kicking around for a while now and this seemed like the right time to put it into motion," said Brad Greenway. "I think we have a special thing going in our community. You know, the William Byrd district just has a community feel to it that I'm not sure every other area or high school around the valley has."
"We have several businesses–big and small–in our community and we try to help each other, we look out for each other and we try to lift each other up, not just in these tougher times but all the time," Greenway said. "It's the same reason why I began my business career here when I got out of teaching–it's the people here that make it special.  And so I wanted to create something that focused on highlighting all the good in our community–the businesses, the people running those businesses, people doing good things in our community, young people that are accomplishing great things within our schools, teachers who are changing lives, youth sports, happenings, events, etc., etc.
"When COVID-19 put the clamps on everything, we felt like those of us that are able to, just need to step up and show our support as much as we can," Greenway added.  "What better time to bring out the good in our community than now, when things seem a little tougher… that's all we are trying to do with this.
"Right now, that's in the form of trying to support our local businesses driving a little more business their way, if possible, and buying gift cards to be given away to put money in their pocket. Myself and my business partner Jason Boothe, along with Tim Greenway and Matt Crizer, we came together to purchase as many gift cards and free services to give away as possible, to help those businesses in a small way financially but also to give them some free publicity to remind people to support their local businesses."
So far those have included gift certificates, which Greenway has called "mini-stimulus packages," to Bob's Restaurant, Wood's Service Center, Sal's, Macado's, Famous Anthony's, Farmburguesa, Dr. Pepper Park, New York Pizza, the Landscape Store, the Dogwood Restaurant, and more.
In addition, the "Spotlight" Facebook group has put the focus on police, fire, and EMS first responders, doctors, nurses, truck drivers, veterans, active military, school personnel, and others in the front lines of the COVID-19 battle. In the contests, they have asked for comments on "favorite" teachers, doctors, nurses, truck drivers, and so forth.
There are contests for the gift cards/certificates that involve "Tag/Share/Like/Comment" on their Facebook page and recognizing selected essential worker groups. The four announce the winner of each contest through a video produced somewhere in the Vinton/East County community.
"That's kind of 'what we've been doing,' but once things return back to some kind of normal, we definitely plan on continuing our support in different ways," Greenway continued. "Whether that's by creating promotions, publicity, videos, or articles, I'm not exactly sure where all we will go with this, but the main thing is we are excited to put the spotlight on all the great people, businesses, churches, groups, etc., in our community.  We just want to help get the word out and we enjoy helping those around us so we will try to get creative with it."
Notice their focus is not just on Vinton, but East Roanoke County as well.
"When we came up with the name 'Spotlight on Vinton,' we didn't want anyone to feel like we were leaving them out, so we added 'All Things East Roanoke Co' to include those that don't actually live in the Town of Vinton, but are very much a part of what makes it special."
Be sure to check out their Facebook page at https://www.facebook.com/Spotlight-on-Vinton-All-Things-East-Roanoke-County-396622074463963/.