By Debbie Adams
Vinton Police Sgt. Silas Chapman has been named Officer of the Year for 2021.He was recognized by Town Council at its meeting on April 19. Chief Fabricio Drumond commented that this coveted and prestigious award comes with "high value" as it is voted on by Chapman's peers, his fellow officers in the police department.
In addition, Chapman received the 2021 Leadership Award; Drumond said that receiving both awards in the same year is something that has never happened before.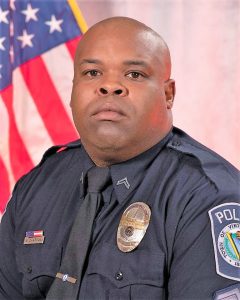 "Sgt. Chapman is an exemplary officer who demonstrates the distinct pattern of a community servant, coupled with professional development," Drumond said. Each year "we highlight one individual for high esteem, Esprit de Corp, and the dedication of their own time for the betterment of humanity."
Drumond shared comments from other officers about Chapman's value to the department and why they chose him for the award:
"He is known for his reliable work ethic and reports to work, day-in-day-out, without absence. He is a sure leader and serves as an example for every officer. Whether on-duty or off-duty, he always portrays a positive attitude and gives high respect to all his peers."
"Sgt. Chapman is well-rounded and exceeds the requirements of his duties. He approaches all with fairness, dignity, and exceeds expectations by always being available to assist. He has sacrificed and forfeited his time with his family to ensure the overall success of the department. What is most important is that this officer does everything with no expectation of reciprocity."
"He is known to step up to any role the department requests of him. During his duties, he maintains a composed demeanor that always resonates with the officers he serves with. This trait is a great example for those officers who are early in their careers. He possesses all the qualities one would want from their immediate supervisor."
"During an individual career, you will work with all different types of people. If you're lucky enough, some distinct individuals manage to leave you with a lifelong impression and sometimes pave the way to the leader or role model you may want to be, or at least the qualities you would want to emulate. Attributes such as kindness, compassion, and supportive attitudes are the needed examples we seek and are generally inspired by. His passion is contagious. Undoubtedly, Sgt. Chapman will leave a lasting legacy with the Vinton Police Department of not only his professional successes, but, most importantly, of how he made us feel. He will leave a legacy that endures beyond his time."
Officer Brandon Settles was the recipient of the Life Saving Award for 2021.
"On December 22, 2021, Officer Settles responded to an emergency call for a report of an unresponsive female," said Deputy Chief Tim Lawless. "Initial information revealed that the patient was presently not breathing. Officer Settles arrived on the scene and immediately took action. He recognized the patient had a faint pulse and shallow breathing. While assessing, the patient stopped breathing and a pulse could no longer be found. With the deterioration of the patient's health, Officer Settles initiated CPR. While performing CPR, the patient was successfully resuscitated and her care was turned over to medical personnel, who arrived and transported her to a local hospital in stable condition.
"Officer Settles' decisive actions unquestionably changed the outcome of a service call and gave a community member another chance at life. Often law enforcement officers are called upon to deal with critical life-altering decisions. In this case, Officer Settles provided extraordinary care in a critical situation."
Officer Andrew O'Connor was awarded the Certificate of Excellence for 2021. The story of his actions left council members speechless.
"On January 28, 2022, Officer O'Connor investigated a report of grand larceny of tools from a work vehicle," said Deputy Chief Lawless. "During the investigation, he forwarded critical information, descriptions of the stolen items, and images obtained during his investigation to department personnel. The information he disseminated quickly produced additional information that the vehicle used in the larceny was reported stolen from a neighboring jurisdiction.
"On that same date, Officer O'Connor responded to a motor vehicle crash and while investigating this unrelated event, he observed the stolen vehicle leaving Lake Drive Plaza. He notified the available units of his observations. The vehicle in question attempted evasive maneuvers to hide from responding officers but was ultimately stopped by a Vinton officer.
"Despite all the variables, Officer O'Connor completed his motor vehicle accident investigation and responded to the traffic stop. During his investigation, O'Connor located most of the stolen tools from the previous grand larceny and the remaining stolen items were located in a private residence. In addition to the recovered stolen property, the vehicle was able to be returned to the victim of the motor vehicle theft.
"Through Officer O'Connor's investigation, he was able to determine that the suspect had just shoplifted items from a business at Lake Drive Plaza, in addition to the passenger being wanted for active felony warrants from two outside jurisdictions.
"Officer O'Connor's swift actions while investigating a grand larceny and keen observation skills solved multiple crimes in several jurisdictions including two grand larcenies, two felony warrants, and an unreported shoplifting. In addition, a Town of Vinton resident was able to continue earning a living by having his work tools returned, a victim was able to have their vehicle returned, and a Town of Vinton business was not the victim of shoplifting.
"Officer O'Connor's actions were so exemplary that both drivers involved in the unrelated motor vehicle accident expressed how impressed they were with Officer O'Connor and how he was able to identify a stolen vehicle while investigating their accident."
Officer Chris Shively was the recipient of the Traffic Safety and Enforcement Award for 2021.
"Two fundamental objectives of traffic safety and enforcement are to promote sustained compliance with traffic laws though deterrence and to prevent hazardous traffic conditions from occurring and therefore reduce the number of traffic accidents," Chief Drumond said in announcing the award and its importance.
Recent studies on traffic safety indicate that the "perception of police presence alone reduces crime." Aggressive traffic enforcement decreases motor vehicle collisions, crash fatalities, and fatalities related to speed and decreased injury severity. The traffic stop is possibly one of the most valuable self-initiated actions that a police officer can perform. It is an easily implemented injury prevention program with an immediate benefit. It is a clear and measurable action that high-visibility traffic enforcement is a necessity, has value, and does make our community safer."
Acting Sgt. Jeremy Shrewsbury was awarded both the DUI and Drug Safety Awards for 2021, awards which he also won in 2020 and 2019. It was pointed out that every day almost 30 people in the United States die in drunk-driving crashes– one person every 50 minutes.
According to the CDC, in 2016, more than 1 million people were arrested for driving under the influence of alcohol or narcotics. The CDC says that a drunk driver will drive 80 times under the influence before their first arrest. It further reported that marijuana users are 25% more likely to be involved in a crash than drivers with no evidence of marijuana use.
Drumond stated, "Tough enforcement of our drunk driving laws is a major contributor to reducing unnecessary and preventable deaths. One of the main goals of drunk driving enforcement is to raise the perception among drivers that if they choose to drive drunk, they will be stopped, investigated, and arrested.
"As for drug safety, criminal organizations exploit far too many lives creating debilitating addictions that continue to introduce illegal substances into our communities– at the expense of human lives. No matter how large the odds, how bad the crisis, law enforcement will continue to combat these poisonous substances that hurt so many and influence so much of our crime today."