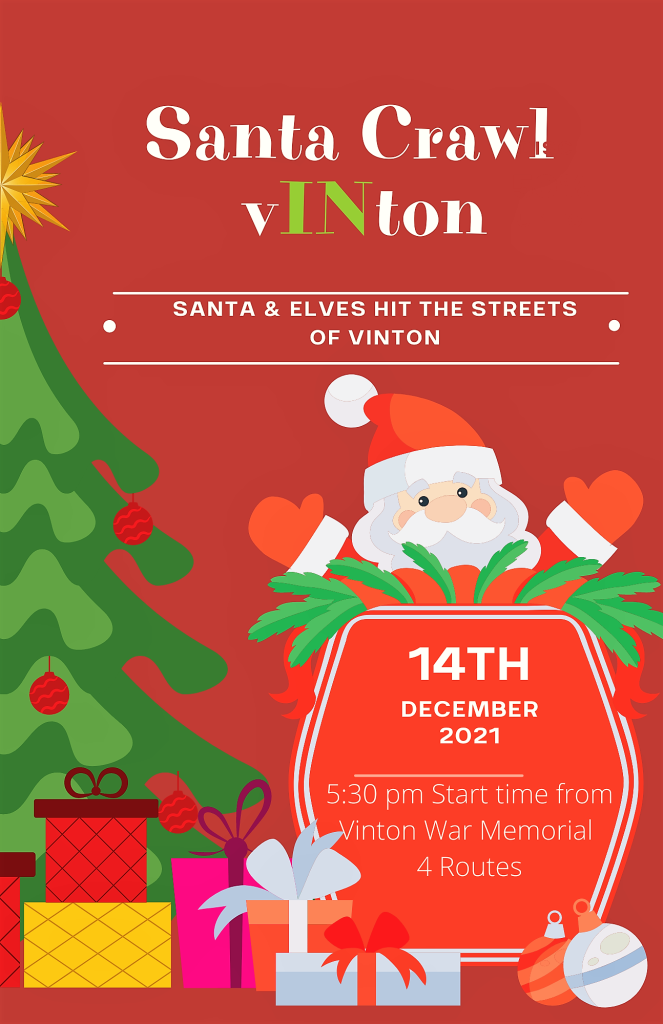 In 2020, the annual Vinton Christmas Parade had to be cancelled due to the pandemic, but creative souls with the Town of Vinton, the Vinton Area Chamber of Commerce, the Vinton Police Department, the Vinton Public Works Department, the Vinton Moose Lodge, and the Sassy Sisters of the Moose came up with a substitute that turned out to be wildly popular—the Santa Claus Crawl.
They were motivated solely by the desire to brighten the spirits of town residents, especially the children who had experienced a disheartening year.
This year there was a traditional Vinton Christmas Parade on December 2, but the town and Chamber decided that the Santa Crawl was so exciting they would add it to the list of Special Events in the Town of Vinton for the holiday season.
They have renamed it the Santa Crawl vINton, sponsored this year by the Town of Vinton, its Police and Public Works Departments, and the Vinton Area Chamber of Commerce.
So, if you are home on the evening of Tuesday, December 14, and glance out the window, you may see Santa and some of his elves coming through your neighborhood to leave candy, Vinton coloring books, and doggie treats for the children and pets. Run on out and greet them at the edge of your yard or sidewalk.
The Santa's (four of them), their wives, and many helpers (including the Vinton Town Council elves) will be boarding Public Works Department holiday trucks and trailers and leaving the Vinton War Memorial at 5:30 to travel through the different neighborhoods in Vinton–divided into four routes. Director of Special Programs Director Chasity Barbour says most likely it will take until 8 or 8:30 to cover all the territory in Vinton.
Here are the designated routes for this year's Santa Crawl vINton:
Route 1
Bush Farms to Warner
Meadows subdivision—take a right
Olney
Holiday to Mountain View
Shalon Circle
Right onto Kenyon, circle back to Ramada
Right onto Olney to South Pacific
Left onto Bali Hai—right onto Olney
Olney back to Mountain View
View to left onto Ruddell
Ruddell to Lynn Haven Circle
Washington to North Mitchell
Jeanette to Halliahurst
Right onto Mountain View
Route 2:
Bush Drive to McDonald
McDonald to Duke
Duke to Fairmount
Fairmount to Tobias/Mini Bell
Fairmount to South Preston
Bedford to Cottage
Cottage/Wood left onto East Cleveland
Turn around at Dogwood Manor
East Cleveland to Manson Square
Pine Street up to Jackson, right onto Jackson
Jackson to Maple
Left on Maple
Left onto East Cleveland to Bedford
Right on Old Va.
On Pine Street, follow down Jefferson
Route 3:
Dillon Drive to Arcadia Drive
Arcadia Drive to Mason/Bexhill
Dillon Drive to Aragona
Right onto Aragona to Cul de sac
Cross over to Dillon Dr-Aragona
Aragona Drive to Allison Drive
Aragona to Broadhill (left)
Right onto Broadhill to Dillon to left at Almond
Almond back to Broadhill to Clearview
Left on Clearview to Colbourne
Colbourne to Norbourne
Clearview to Lauderdale
Left onto Wyndham
Right on Niagara and stop at Woodland Place, upper lot for kids to come down
Niagara to Emerald/Shelborne
Shelborne to Maywood
Left onto Clearview to Blandford
Left onto Blandford
Right onto Claiborne back to Clearview
Lauderdale to Wyndham to South Hampton
Stop at South Hampton
Stop at Cambridge Square
North Hampton Apts.
Wyndham to Franklin
Franklin to Chestnut
Left onto Craig
Craig to South Pollard
Right onto Raleigh back down Chestnut to Franklin
Franklin to 3rd Street
3rd Street to West Augusta
All of Augusta and Augusta to Timberidge
Route 4:
Left on Ruddell
Left on Morrison
Right on Davidson
Right on Ruddell
Right on Peake back to Meadow Street
Meadow Street to Monroe Street
Left on Bowman
Right on East Madison
Right onto North Maple
Foxland to North Blair
Right onto North Blair
East Madison to Stop In
Down South Pollard to Cedar
Cedar to 5th Street
Left onto 5th Street around mobile home park
West Cleveland and left onto 2nd
2nd to Walnut
Walnut to Longwood Apts.
8th Street onto Vale Ave.
Vale to Clyde to Dale
Left onto Dale to 7th Street, loop around to 9th Street
9th Street to Hill