By Debbie Adams
William Byrd High School senior Olivia Robertson has been chosen as the DAR Good Citizen of the Year for 2020 by the Roanoke Valley National Society of the Daughters of the American Revolution (RVNSDAR). The DAR plans to recognize her at a future meeting.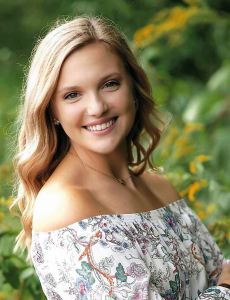 The DAR Good Citizen program is intended to encourage and reward the qualities of good citizenship. It is open to all senior class students.
Each year the DAR Good Citizen is nominated by senior classmates. Only one student is chosen for this honor.
The award recognizes individuals who possess qualities of dependability, service, leadership, and patriotism to an outstanding degree in their homes, schools, and communities.
Once a student is chosen as the DAR Good Citizen, they are then invited to participate in the scholarship portion of the program and write a timed essay (no longer than 550 words) on a topic involving "Our American Heritage and Our Responsibility for Preserving It."
Students are given one hour to write their essay answering a question they receive sight unseen. This year's prompt was "You and your peers are our nation's leaders of tomorrow. How would you energize America's youth to fully engage as effective citizens? Why is that important?"
Robertson is the daughter of Matt and Denise Robertson of Vinton. She plans to attend Virginia Tech in the fall to earn her Master's Degree in Childhood Pre-education and return home to teach elementary school in her community.
She is the captain of the varsity cheerleading squad at William Byrd, serving as team captain during her junior and senior years. She received the "Most Coachable" and "Golden Megaphone" awards. She is also a member of the competition cheerleading team that placed first in region and second in state in 2017 and second in region, fourth in state in 2018.
Robertson has been a member of the Symphonic Band since her sophomore year. She is a member of the Prevention Club, Fellowship of Christian Athletes, Leo Club, Help Save the Next Girl, Red Cross, Byrd Buddies, and Student Voice (PBIS) organizations.
She was inducted into the BETA Club, is on the A Honor Roll, and was selected as a Junior Marshal last year. She was also selected for the Team Terrier Mentor Program working with elementary school students at W.E. Cundiff to develop future leaders.
Robertson has volunteered with the Vinton Dogwood 5K for many years and has worked at the Battle at Byrd Cheer 4 a Cure fundraiser since sixth grade.
She is an active member of Vinton Baptist Church and the youth choir. She is a member of the Student Leadership Team at VBC and recently led worship and delivered the sermon.
"I have known Olivia as a student for seven years and as a person for her entire life," said WBHS Principal Tammy Newcomb. "Her enthusiasm for life is contagious and she leads by example. This determination has spilled over in her academics as well. She is an excellent student who has pushed herself to succeed.
"Olivia is an accomplished competitive cheerleader and a talented musician," Newcomb added. "She is a member of our award-winning Symphonic Band and Olivia can sing beautifully. She has always been involved in community service and mission work through the youth at Vinton Baptist Church, and she sees the opportunities at college where she can continue her efforts to make the world a better place."
The following is her DAR Good Citizen Award essay on the assigned topic: "You and your peers are our nation's leaders of tomorrow. How would you energize America's youth to fully engage as effective citizens? Why is that important?"
The teens of America are the future of our country. They will be in charge of what is to come in the future. Since I am a leader of the nation's tomorrow, my goal is to energize America's youth to become fully engaged effective citizens, doing this in many different ways.
The first way I would energize America's youth to become fully engaged effective citizens would be simply to tell my friends and try to get them excited. Making sure that they know that we determine the future of America is the most important part! This is important because teens need to know that what they are doing will soon reflect in the future. If teens know that their actions are effective, then that should create a spark for them to be more motivated and excited to become an effective citizen.
Another way I would energize America's youth would be to post on all social media platforms– that way it will be seen by more teens. Almost every teenager in America is on some sort of social media, so when they come across the post, it is likely that they will take a second to consider what they are reading—"Get excited!!! You are the future of America, your actions matter!" This is important because the strategy used will reach out to more teens and create a buzz in the air about becoming a fully engaged effective citizen.
A great way to gain the support of teens would be to show the positive effects of being an effective citizen. When people are shown the positives of something, then they are more attracted to it. By doing this, the teenagers can become more excited and are more likely to become fully engaged.
A more personal approach to energizing America's youth would be to visit schools and communities. I would create fliers and have a presentation of what I have to offer about being an effective citizen. Being that I am taking time to personally visit places, teenagers may be more encouraged to feed in on what I am telling them.
A very impactful approach would be to tell not just teens, but also younger kids. By telling pre-teens about becoming effective citizens then by the time they do become teenagers, they are more likely to be more effective. By doing this, the younger kids have something to look forward to and will be significantly motivated to become effective citizens.
Overall being an effective citizen is important because all citizens deserve to have a voice. If a teen does not like something, then this is their opportunity to do something about it. If all we do as teenagers is post about what we do not like and physically do not do something about it, then nothing is going to be done. Many teens do not think that their voice is going to be heard, but with my ways of energizing America's youth they will quickly find out that they have a huge impact on the future of our country.