By Debbie Adams
The Roanoke County School Board spent most of its May 12 session recognizing students for a variety of achievements. The meeting room and hallways at Central Office were filled with students preparing to accept their awards, and parents eager to snap their photos.
Up first were seniors on the Student Advisory Council (SAC) who represent all five county high schools:
Verity Watkins and Kassidy Wrye from William Byrd High School
Rachel Baffoe-Bonnie and Taylor Hilovsky from Cave Spring High School
Clay Caldwell and Bailey Conner from Glenvar High School
Thomas Rogers and Sophie Saunders from Hidden Valley High School
Tse'Lani Carter, Ethan Klepper, and Sanii Nash-Fuell from Northside High School
The purpose of the Student Advisory Council to the School Board is to act on behalf of all students of the Roanoke County Public Schools. SAC representatives work cooperatively to improve the education and environment in all Roanoke County Public Schools and aid in the communication among the students, the school administration, the School Board, and the community.
Next to be recognized were state winners in Career and Technical Student Organizations, who competed at the state level in April. Christian Kish, who is the principal of the Burton Center for Arts and Technology (BCAT), "celebrated the first-place winners" in presenting these awards:
SkillsUSA State first place winners included:
Joel Hetherington (Northside High School) in Related Technical Math
Staceyjo Cook (William Byrd High School) in Plumbing
Nathaniel Heavener (Glenvar), Bricklayer
John Gagnon (CSHS), Tanner Montgomery (WBHS), and Charles Slusher (NHS) for Occupational Display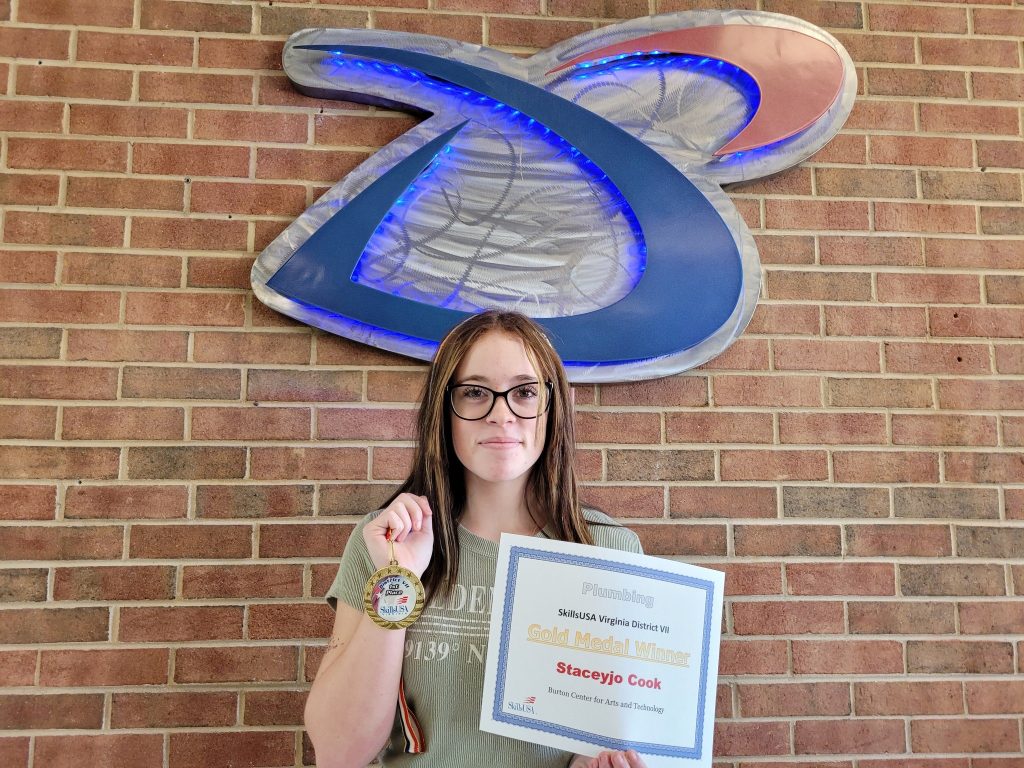 Future Business Leaders of America (FBLA) state winners are:
Ashley Tatum (HVHS) and Kenna Sarver (WBHS), Public Service Announcement
Neil Shah (CSHS), Holt Konstance (HVHS), and Noah Tillman (HVHS), Computer Game and Simulation Programming
Alice Crowder (WBHS) and Aimee Leong (HVHS), 3-D Animation
Family, Career and Community Leaders of America (FCCLA) State Competition winners are:
Skylar Fitzgerald (WBHS), Olivia Bott (GHS), and Dakota Vaughan (WBHS), Professional Presentation
State SkillsUSA winners will be able to compete in nationals in Atlanta next month. State FBLA winners will compete at the national level in Chicago in June. State FCCLA winners will compete at the national level in San Diego, also in June.
Joel Hetherington will also be competing in the DECA International Career Development Conference (Business Finance Services) this summer.
Kish thanked the parents of BCAT students for their support, commenting that they had done a "good job raising" their children and now have some "extra bragging rights" for their accomplishments.
School Board Vice Chairman Brent Hudson noted the importance of the BCAT program, as shown by the many awards the students have received.
National Scholastic Art Competition winners were introduced by RCPS Art Supervisor Sara Cubberly:
Mary Wissinger, an 8th grader at Cave Spring Middle School won the National Gold Medal for "Feline Contemplation." Her teacher is Brooks Bousquet. Cubberly believes Wissinger may be the first RCPS middle school student to win a national award.
Emalyn Sylvester-Johnson, a senior at BCAT/CSHS, won the National Gold Medal and American Visions Medal for "Beach Trip from a Distance." The American Visions Medal is the highest honor in the competition. Her teacher is Natalie Strum.
The National Scholastic Art Competition winners will be honored at Carnegie Hall in June.
Music and Performing Arts Supervisor Rick Elliott informed the School Board that the NAMM Foundation has again recognized Roanoke County Public Schools for its outstanding commitment to music education with a "Best Communities for Music Education" (BCME) designation for the 18th year. This designation is awarded to districts that demonstrate outstanding achievement in efforts to provide music access and education to all students.
Elliott introduced two of the county's top music instructors to present the next awards. Members of the All-Virginia Middle School and All-Virginia High School Choirs were honored. Students were introduced by Choral Director Andrew Miller from Hidden Valley Middle and High Schools and Matt Bartley, the Choir Director at William Byrd Middle and High Schools.
In order to be chosen for the All-Virginia High School Choir, held in Richmond, students auditioned against other choir members in the district in the fall of 2021 for both the All-District Choir and All-Virginia Choir. The local district includes 34 high schools so the competition was challenging. Miller said you "must be a top singer" to make All-Virginia Choir.
Members of the All-Virginia High School Choir included:
Maggie Rusinak – WBHS
Olaedo Anyanwu – WBHS
Mariah Eakin – HVHS
Leah Tillman – HVHS
Bethany Munsey – HVHS
Simon Sealey – HVHS
There are some subtle differences in the selection process for All-Virginia Middle School Choir. Bartley remarked that the state middle school choir is an "elite opportunity and a very select choir."
Students who made All Virginia Middle School Choir included:
Aubrey Booze – WBMS
Olivia Hypes – Cave Spring Middle School
Randall Landes – CSMS
School Board member Tim Greenway (Vinton) commended Bartley for being recognized in the community as "one of the most passionate teachers in the county, always going above and beyond for his students."
Elliott also recognized the All-Virginia Band student from Roanoke County, Nicholas Louvet, who was named "14th clarinet out of the 118 who auditioned and made the top band."
State Science Fair Award winners were recognized by Science Supervisor Erin Barnett and Mark Levy from the Roanoke Valley Governor's School:
Rebecca Qui from the RVGS/WBHS received Honorable Mention in Computational Biology, Bioinformatics, and Translational Medicine (She was attending the International Competition at the time of the School Board meeting). Qiu worked with Fralin Bio-Medical Research Institute on her project.
Sophia Schumaecker from the Roanoke Valley Governor's School/CSHS won 2nd Place in Plant Sciences
Abhi Karri from the RVGS/HVHS, received Honorable Mention in Animal Sciences
Ella Bryant and Christina Okenquist – RVGS/NHS received Honorable Mention in Biomedical & Health Sciences
Dhruvi Patel from the RVGS/GHS received a Special Award from the American Water Works Association Special Award, second place in Environmental Engineering
(Several students were unable to attend the School Board meeting to accept their certificates in person due to spring sports, national competitions, or other end-of-year extracurricular commitments.)
Principal Beth Grim presented the Spotlight on Schools on Burlington Elementary, focusing  especially on the Boys and Girls Program.
Edie York was elected as Deputy Clerk of the Roanoke County School Board.
Tim Greenway, who represents Vinton on the School Board, expressed his concerns about the deteriorating condition of the baseball fields at William Byrd High School – a continuing issue – and the need for renovations to the existing field.