William Byrd High School senior Dustin Richards has committed to Division II Emory & Henry to play college football. At E&H Dustin will be joining his brother Hunter, a former Byrd standout who was a freshman for the Wasps last fall.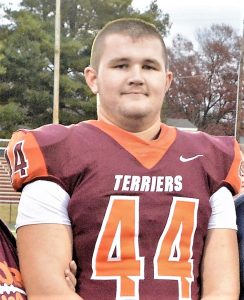 The younger Richards had an outstanding year at Byrd. He was named to three spots on the All-Blue Ridge District team as a tight end, defensive end and punter. He shared Most Valuable Offensive Lineman honors with DJ Toliver of Lord Botetourt.
Richards was first team All-Region 3D at defensive end and punter and second team at tight end. He was Honorable Mention at defensive end on the All-State Class 3 team.
Dustin is currently wrestling for the Terriers, where he's one of the top 285 pounders in the area. He was planning to officially sign his letter of intent to play at Emory & Henry on Wednesday of this week.