By Debbie Adams
Recycling is a simple contribution most anyone can make toward preserving the environment – collecting and processing materials that would otherwise be thrown away and turning them into new products.
Roanoke County says it is committed to recycling and has encouraged that effort by installing recycling trailers across the county. William Byrd Middle School is one of those recycling drop-off locations.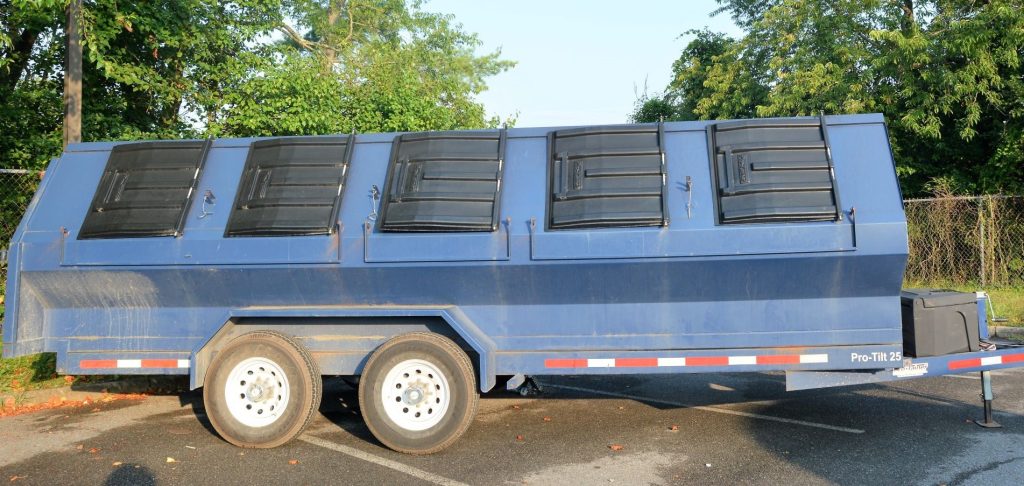 One Vinton resident who uses the WBHS site is concerned that "with these tough times it would be very easy for Roanoke County to help balance their budget by discontinuing their support of the recycling trailers at William Byrd Middle School and Hollins University and other strategic places in the county. What I am finding is people are abusing this site by dropping off materials that are not recyclable by Roanoke County standards. You will find garbage in bags mixed with a few good plastic containers or metal cans. Too many people bring their good recyclables in trash bags and leave it in them. Lots of Styrofoam egg cartons, plastic grocery bags, car tires, fluorescent light bulbs, bags of insulation, lots of plastic other than #1 and #2. These recycling trailers are such a godsend, and we need to do all we can to keep them in place."
Todd Kageals, principal at William Byrd Middle School, says, "There have been some occasions where people have just placed their trash on the ground near the trailer. For example, someone recently left a mattress out there! Generally speaking, it's pretty rare that there is an issue.
"I'd encourage everyone to be sure to dispose of all items responsibly. If it can't be recycled and/or it won't fit in the trailer, it should not be left on school grounds.  Leaving trash, such as a mattress, on school grounds is illegal dumping! Having said all of that, our problems have been few and far between!"
"At this point there are no plans to discontinue recycling," said Nancy Duval, Director of Solid Waste Management for Roanoke County. "During every budget development, there are many programs that are discussed, but there has never been any serious thought given to discontinuing our current recycling program."
Jason Peters, Roanoke County's representative on the Board of Supervisors, said, "The board is committed to continuing the service. Personally, I would like to see an expansion of the service as the budget would allow."
Other Roanoke County recycling trailers open to the public include those at Glenvar Middle School, in the Brambleton area, at Cox Communications, and Hollins University (which has two trailers almost never overfilled).
All the Roanoke County trailers accept the following materials: mixed paper, plastics #1 and #2, and aluminum, steel, and tin cans. Mixed paper includes newsprint, office paper, magazines, and cardboard. (Shredded paper contained in boxes or paper bags is also accepted at the trailers, but not really welcomed. Shredded paper loose in the trailer makes a huge mess during transport, and also at the recycling center.) Garbage bags and plastic grocery bags are not allowed. No glass is accepted.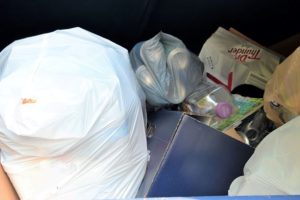 The county has a recycling staff of one employee per day responsible for hauling the trailers and maintaining the sites. The WBMS trailer is emptied on Mondays, Wednesdays, and Fridays and checked on other days.
Duval says for the most part, the recycling program has been very effective and very well used. While she doesn't have exact data about the utilization rate, "anecdotally we believe usage is up because we are hauling the trailers more often."
"We have never really had much issue with the William Byrd trailers," said Duval.  "A couple of years around the holidays, it has gotten messy. Education is definitely one of the issues."
The county has a contract with Recycling & Disposal Solutions (RDS), a materials recovery facility, which processes the recyclables collected in the county.
"The trailers go to RDS for processing and the trash on the ground may go to the landfill," said Duval. "If there is recycling on the ground – we do our best to recycle what we can – but some may ultimately go to the landfill.  We have to get it off the ground."
Roanoke County Treasurer Laurie Gearhart says that the county spends approximately $145,000 annually to provide recycling services for its citizens, including direct costs for employees, equipment, processing costs at RDS ($53/ton) and the like.
On three recent trips to the recycling trailer at Byrd for this article, there was little litter outside of the trailer. The education problem was apparent though when opening the trailer doors with numerous garbage bags filled with both recyclables and non-recyclables inside the compartments.  Citizens may think they are being helpful by sorting their items in plastic bags – but the bags are not recyclable – even if they are biodegradable.
The main difficulty most any recycling program has is contaminants entering the recycling stream.
RDS Roanoke-Korte Street Plant Manager Gary Pierce says their "biggest scourge" is garbage bags and grocery bags. The plastic bags can get tangled up in the machinery and require manpower to handpick the trash. Twice a day, the plant stops for maintenance and removal of plastic bags.
Materials they receive that can't be recycled (like plastic bags) go to the landfill. RDS attempts to keep those numbers as low as possible because they must pay for that disposal, not Roanoke County.
Laurie Cutlip, Business Development and Outreach Manager for RDS Roanoke-Korte Street, repeats the adage, "When in doubt, throw it out. Often customers will place something in the recycling containers 'just in case' it can be recycled, but that leads to problems during the recycling process."
RDS opened its Enon Drive facility (mainly commercial recycling) in 2009 and the one on Korte Street in 2015.
The Korte Street plant (dealing mainly with residential recycling) uses an almost completely automated process for what it known as "single stream materials recovery," with nothing sorted beforehand.
Collection trucks empty all the unsorted materials onto the tipping floor where a front-end loader pushes it onto a conveyor belt into a rotating drum system which moves the materials through the plant.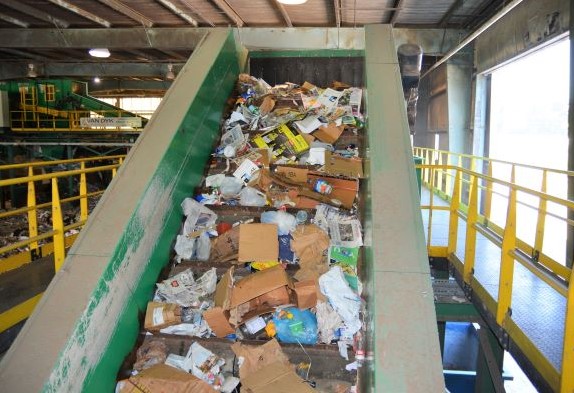 First stop on the line is a manual pre-sorting station where workers remove non-recyclable material that is hazardous, or "just doesn't belong."
Recyclables (HDPE and PET plastics, mixed paper, cardboard, and aluminum and magnetic ferrous metals) move along the conveyor and are separated out, either being flung over the top, dropped down through openings, or advanced forward. The process involves turning drums, screens, magnets to remove steel and tin; cameras to identify types of recyclables, and robotic arms to snatch identified items out of the stream, along with blasts of air and fans to elevate selected items.
Less than a year ago, in an effort to improve quality control, RDS incorporated the robotic technology. Robots use the guidance of cameras and computer systems in sorting. The robots are programmed to recognize specific objects and move their arms over the moving conveyor belt until they reach their target and remove objects that they place into the appropriate bins.
A camera scans the incoming stream and sends a computer message to the robotic arms, telling them what needs to be picked out as either trash or recyclables.
Pierce says the entire facility can be operated by one operator using one Tablet.
Once items are sorted, they are baled and placed in a shipping area for transportation to buyers.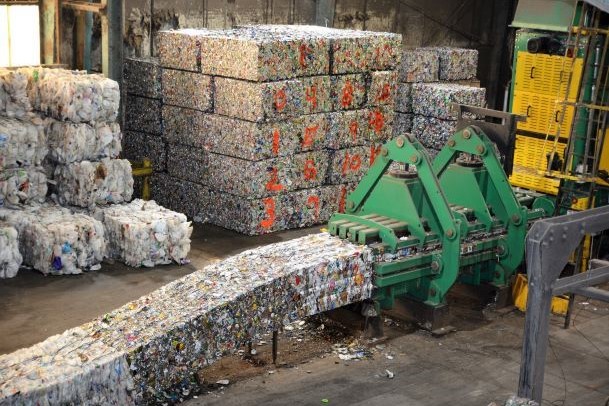 Each of us can make a difference by recycling materials and encouraging our neighbors to do the same. The benefits seem obvious. Roanoke County has provided the means. Treat the privilege with respect.
Recycling Trailer Etiquette Tips
Roanoke County provides its citizens with recycling services through trailers in strategic locations throughout the county, including one in the rear parking lot of William Byrd Middle School.
The trailers accept mixed paper, plastics #1 and #2, and aluminum, steel and tin cans. Mixed paper includes newsprint, office paper, magazines, and cardboard. Shredded paper is accepted at the trailers; however, please be sure to contain the shredded paper in a box or paper bag. Shredded paper loose in the trailer will make a huge mess during transport and also at the recycling center.
Here are some tips on proper etiquette for citizens using the Roanoke County recycling trailers:
Please do not place plastic shopping bags in the trailer. These can be returned to many retail locations.
Do not place garbage bags (even biodegradable ones) in the trailer. If you have filled them with recyclables, empty them out into the trailer and take the bags themselves back home with you.
Please break down any boxes before placing them in the containers. Formed boxes take up a lot of room and fill the containers quickly, wasting usable space.
Only plastics Number 1 and Number 2 are accepted (check the labels) and all types of cans (aluminum, steel, and tin).
Please do not place items where food residue cannot be removed, such as pizza boxes, Styrofoam containers, or aluminum foil (with food embedded on it), in the containers. Pizza boxes are acceptable—just not with chunks of food left inside.
Rinsing food container items, while not required, helps maintain the overall cleanliness of the area and helps the person who sorts through the recyclables at the facility.
Please do not place regular trash in or around the recycling trailers.
If the recycling trailer that you normally use is full, please do not place recycling items on the ground outside of the trailer. Loose material will blow around the site into neighborhoods and/or school grounds.
Also, large amounts of recycling material and/or trash outside the containers limits the driver's ability to empty all of the containers assigned to that collection day as he/she spends a large amount of time cleaning up the mess.
If the recycling trailer is full or not at its usual site, please visit another recycling trailer in another area of the county. If the container is not at the usual site, it is usually being emptied and will return shortly (especially during the week).
Glass is not accepted in Roanoke County recycling trailers. Hollins University has its own bin for recycling glass (open to the public) near the Roanoke County trailer on the campus. Please do not place the glass in bags and if the bin is full, please come back later—don't leave it on the ground.
Do not place PPE in the recycling trailers. PPE (masks, gloves, etc.) should be doubled bagged and placed in with your regular trash.
The main point to remember is that the recycling trailers are located in neighborhoods and/or schools to make them as accessible as possible. Please use the trailers properly so that the neighborhood residents and/or school personnel will not request that the trailers be removed due to excessive littering and trash dumping.
Roanoke County Solid Waste Director, Nancy Duval, says "We are encouraged by the utilization rate of the trailers and hope to increase the drop-off sites as our budget allows. We need your help to show prospective neighborhood sites that trailers are a worthwhile project for the community as a whole and not a nuisance."
Note: the Town of Vinton offers bi-weekly curbside recycling in bins for residents with the same set of rules and accepting the same materials.
For more information on the Roanoke County recycling program, visit https://www.roanokecountyva.gov/112/Recycling. To see a fascinating video of the automated recycling process at RDS, go to https://rds-virginia.com/locations/roanoke-locations/.