By Debbie Adams
This year's Roanoke County Public Schools 2023 Golden Apple Teacher of the Year Awards Ceremony was held at the Vinton War Memorial on April 19.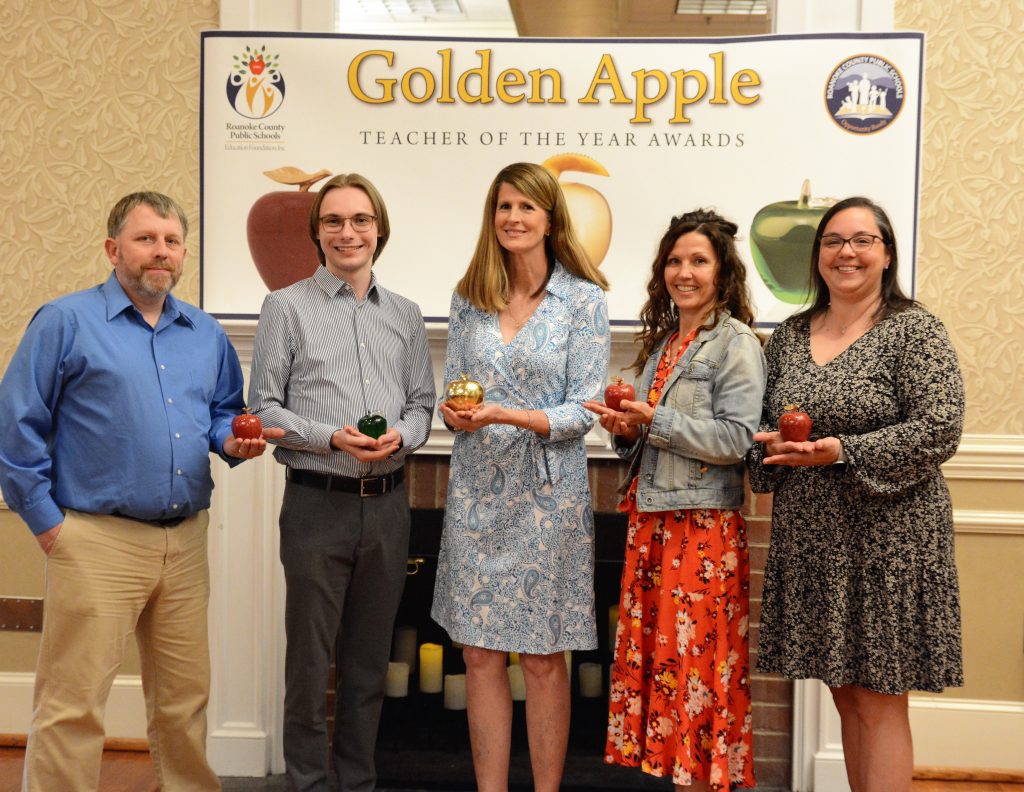 According to RCPS Director of Community Relations (and emcee for the evening) Chuck Lionberger, "The Golden Apple Teacher of the Year Awards were established in 2001 to recognize outstanding instruction in Roanoke County Public Schools.  The Golden Apple Teacher of the Year Award is the highest award presented each year to a teacher in Roanoke County Public Schools.  With the support of donors and corporate partners," the awards program has expanded to include the Red Apple and Green Apple Awards.  The Golden Apple Awards are presented by the Roanoke County Public Schools Education Foundation."
Over 60 RCPS teachers were nominated for the prestigious honor this year. Seventeen were named as finalists, including 10 from Vinton area schools.
Roanoke County Education Foundation President Joseph Higginbotham welcomed nominees and their guests to the annual event and then introduced RCPS School Superintendent Dr. Ken Nicely, who said the teachers recognized "show us what excellence looks like; these teachers care about WHAT they teach and even more about WHO they teach."
Teachers are nominated for the award by students, parents, co-workers, and administrators. Once nominated, they are invited to fill out an application. Those chosen as finalists are asked to submit a short video and a narrative to the Education Foundation. A panel of Education Foundation board members then reviews the applications and videos and narrows down the entries to four winners.
"Several Foundation Board members served on the selection committee and watched every video from our finalists," Lionberger noted. "I can tell you that the selection process was extremely difficult, and the committee was very impressed with every one of our finalists."
 Mary Alcoke, a first grade teacher at Penn Forest Elementary, won the highest honor—the Golden Apple Award. She has been teaching for 30 years. As winner of the Golden Apple, Alcoke becomes the Roanoke County Educator of the Year for the Salem-Roanoke County Chamber of Commerce and Roanoke County Public Schools' nominee for the 2025 Virginia Teacher of the Year.
Other finalists for the Golden Apple Award on the elementary school level were Kristen Witt from Herman L. Horn, Emily Woolridge from Penn Forest, and Heather Wray from W.E. Cundiff.
Golden Apple finalists at the middle school level included Jeremy Baldwin from William Byrd Middle School, Karen Perry from Northside Middle, and Bonnie Reedy from WBMS.
Golden Apple finalists at the high school level included Melissa Carr, Eric Royal, Barbara McGrath and Allison Thornton from WBHS, Chris Overfelt from BCAT, and Alan Strecker from Northside High School.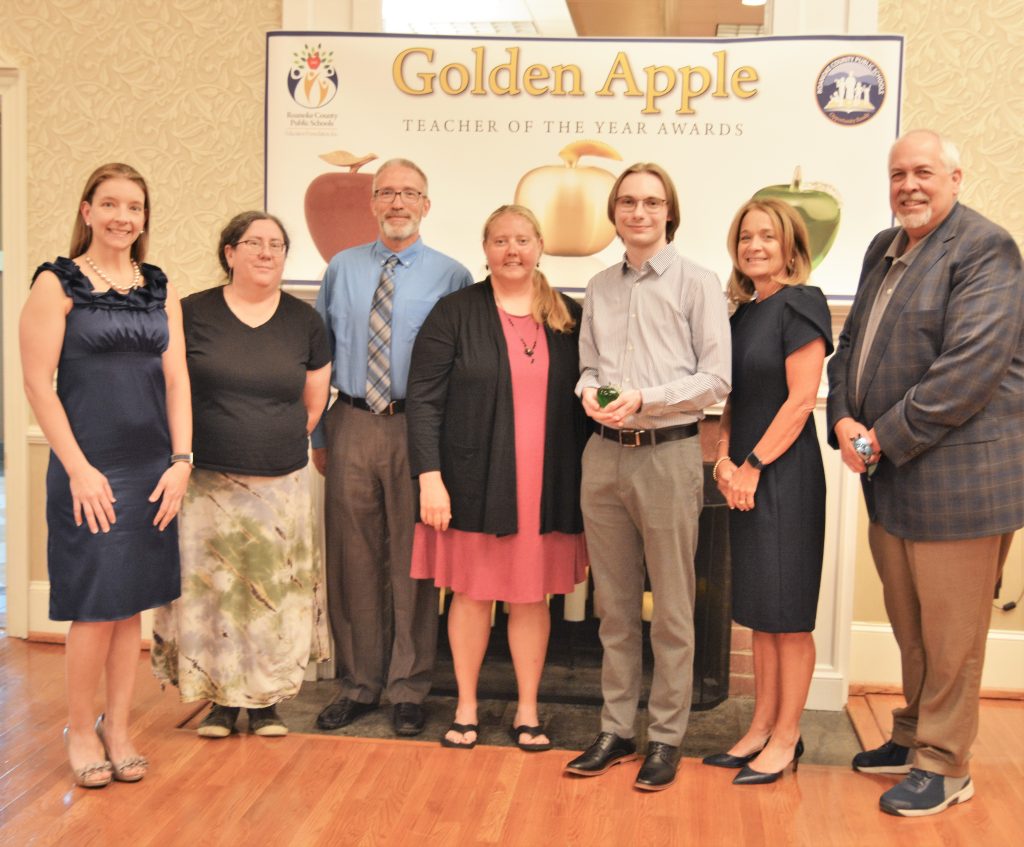 Heather Wray, a kindergarten teacher at W.E. Cundiff in Vinton, was announced as the winner of the Red Apple Award for top teachers at the elementary school level.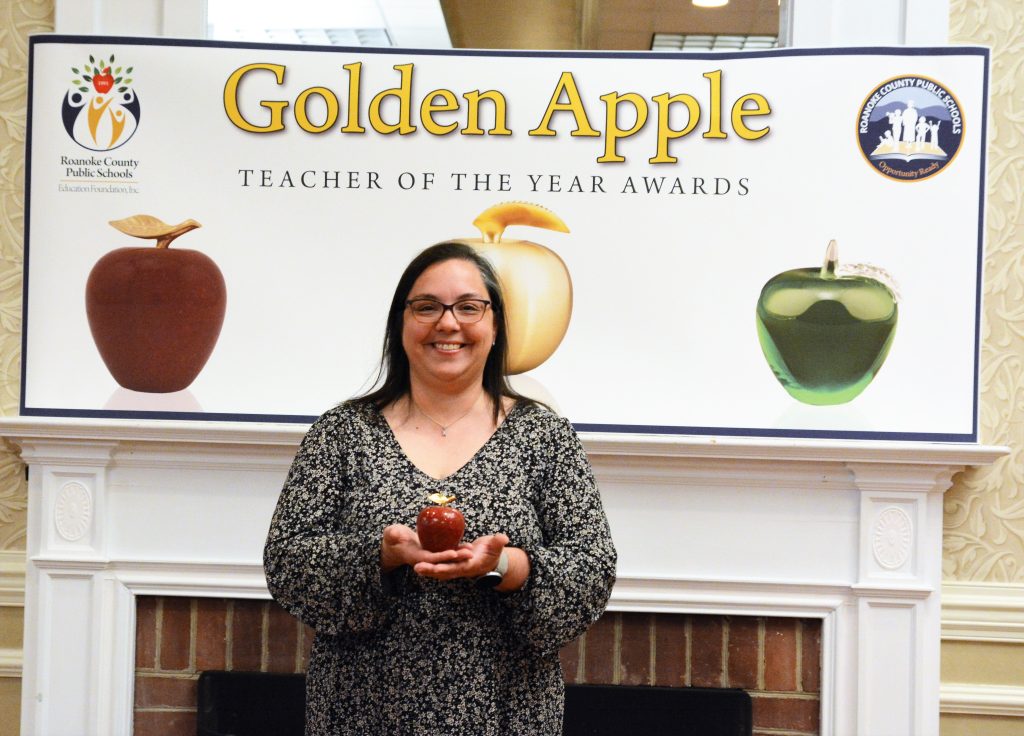 "This winner says relationships are a key component in her classroom.  She does her best each day to teach her students key skills, but also to make sure every student knows the classroom is a safe place with love and support," Lionberger said in announcing Wray's award.
Karen Perry, who teaches science at Northside Middle School, received the Red Apple Award at the middle school level.
Chris Overfelt, sports and welding instructor at the Burton Center for Arts and Technology, won the Red Apple Award at the high school level. He has taught many WBHS students over the years, who are also enrolled at BCAT.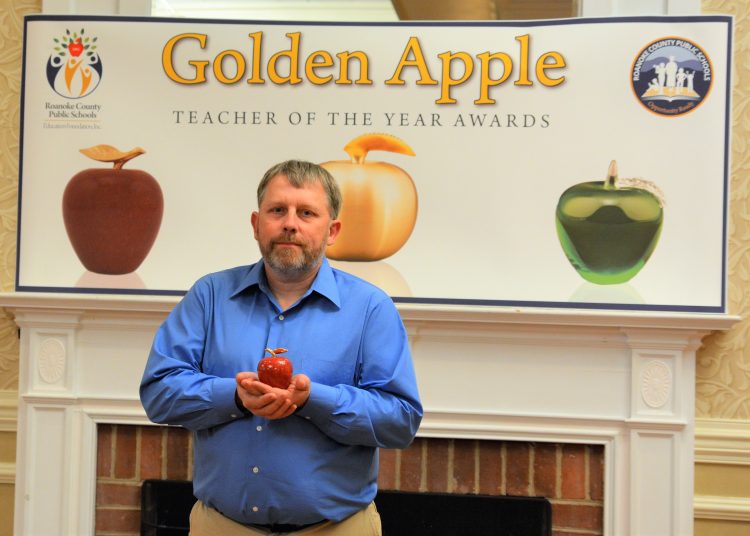 "This winner feels strongly that for someone to truly learn, they have to buy into the instruction and understand why learning is important," Lionberger said.  "Sometimes his classes can be a drag–literally. That's because he and his students built a drag racer.  As he says it, career and technical education is so much more than just 'shop class,' everything all around us is due to the hard work of talented individuals working in the trades."
Ryan Adams, who teaches science at William Byrd High School, won the Green Apple Award for teachers who have taught for three years or less.  Other nominees for the Green Apple Award were Victoria Buck from BCAT, Callie Ivanov from Bonsack Elementary, and Ana Lopez Muguiro from Mountain View Elementary.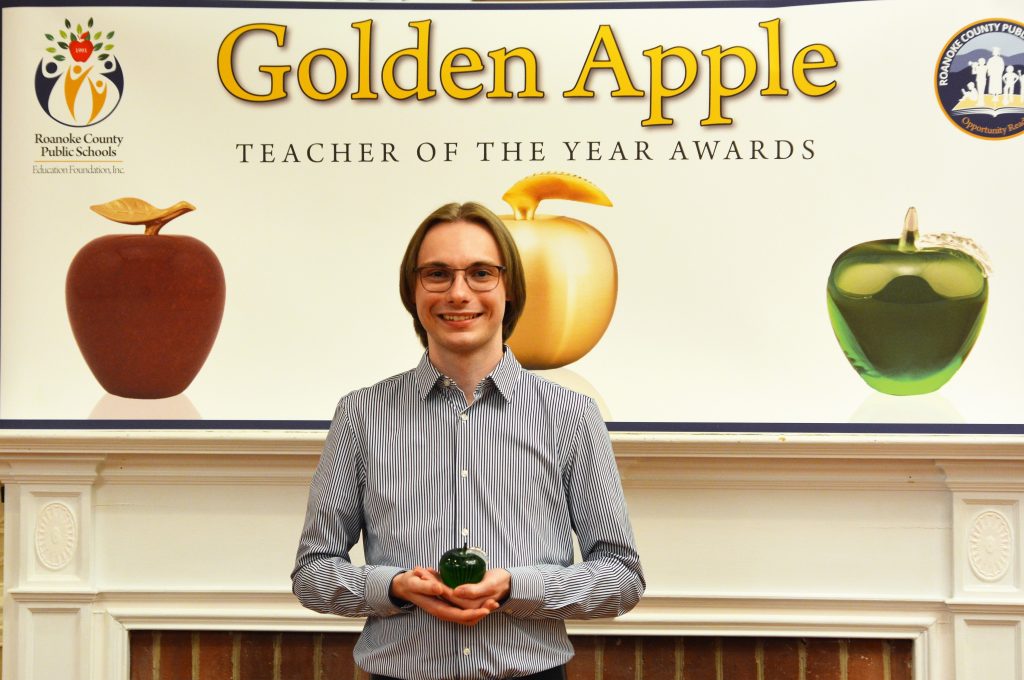 All members of the Roanoke County School Board were present for the awards ceremony, including Chairman Brent Hudson from the Catawba District, Vice Chair Tim Greenway from the Vinton District, David Linden (Hollins District), Mike Wray (Cave Spring) and Cheryl Facciani (Windsor Hills).
"I want to express my thanks to the Education Foundation board–this is a group of individuals who work throughout the year to support our teachers," Lionberger said.  "From selecting classroom grants and the annual golf tournament in the fall, to selecting student scholarships, the Golden Apple Teacher of the Year and our Red and Green Apple winners, and the annual Backpack Run in the spring, these board members are working hard for you and for our students."
"We are thankful to the Education Foundation for their continued support of our students and teachers," said Dr. Nicely. "We have so many amazing and inspirational people at Roanoke County Public Schools and we're grateful to all our teachers for their continued dedication."
The Golden Apple Awards are sponsored by Southern Team Auto, who gave $100 to each finalist. The Golden Apple winner received $1000 and the Red and Green Apple winners, $500.
"Southern Team has been a long-time supporter of the Golden Apple Awards and the Education Foundation," Lionberger said. "We are very grateful for their continued support.  I'd like to especially thank David Dillon and Mike Munsey.  Dave is a former Education Foundation board member and Mike is a current board member.  Through the generous support of Southern Team, we have been able to present financial prizes for our Golden Apple, Red Apple and Green Apple winners for many years."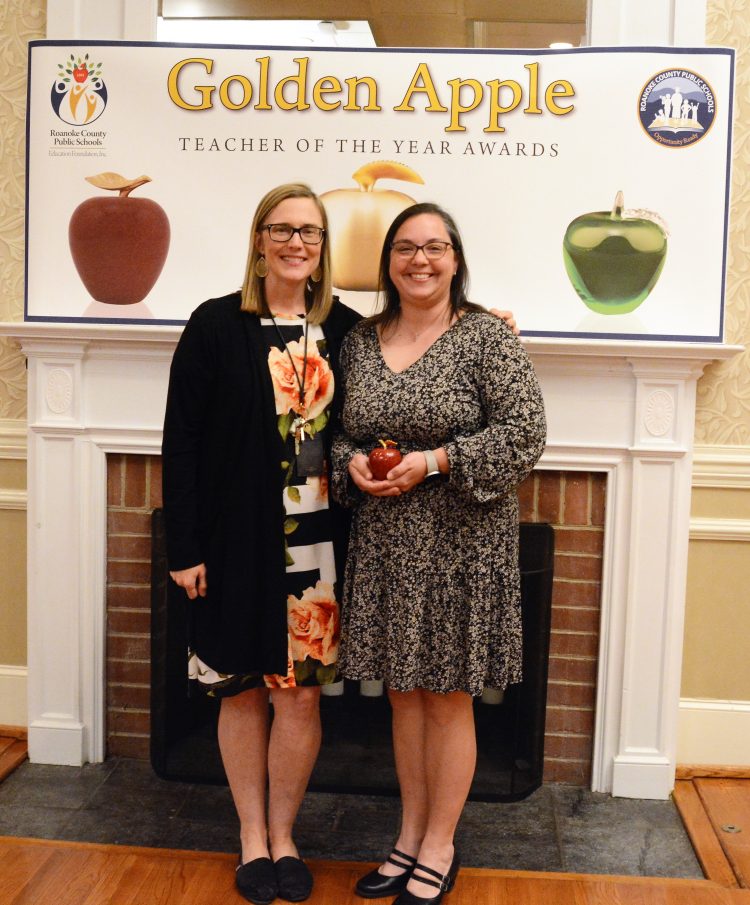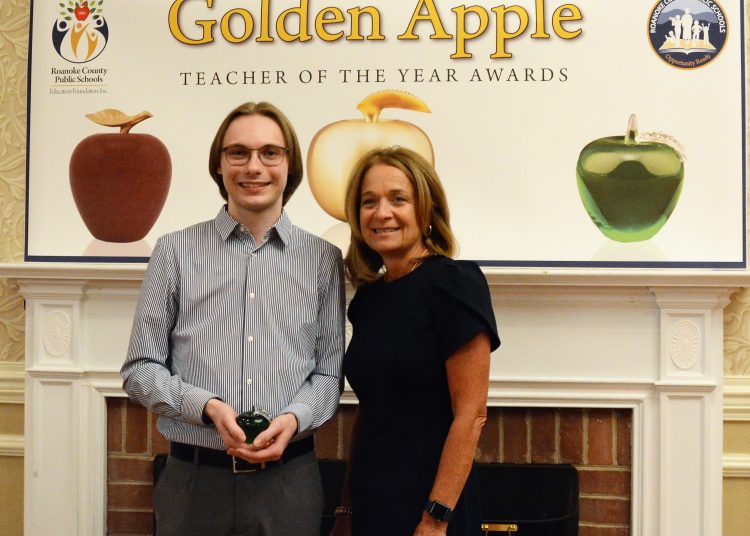 The annual ceremony was held in the ballroom at the Vinton War Memorial and catered by Chanticleer Catering.