Congratulations to Ginger Quinn, of Roanoke, who has received the 2021 National Safety Award, given by the American Traffic Safety Services Association (ATSSA) to a public official, recognizing their contributions to highway safety.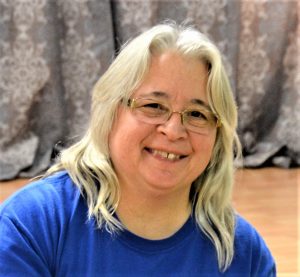 Winners of four national awards (the Chairman's Award, the National Safety Award, the National Media Award, and the Mark of Excellence Award) were announced at the 52nd Annual Convention and Traffic Expo in Tampa, Florida, held from February 11-15.
Quinn is the Work Zone Safety Coordinator for the Virginia Department of Transportation (VDOT).
According to the ATSSA, Quinn has spent four decades in roadway safety, beginning at the Blue Ridge Parkway as a flagger, restoring trails and making temporary and permanent signs.
She joined VDOT's Salem District Office in 1987 where she expanded her work to include designing temporary traffic control (TTC) plans, reviewing work zones, teaching work zone traffic control districtwide and developing safety improvement projects for the Route 220 corridor that included guardrail, signs, and pavement markings.
Two decades later, she transferred to VDOT's Richmond office and helped develop work zone safety policies, worked with manufacturers to test TTC devices, revised work zone training materials and procedures, and wrote and produced a flagger training video.
Quinn returned to VDOT's Salem District Office in 2018 and oversees work zone safety, guardrail and work zone training in addition to assisting designers, manufacturers, researchers, traffic engineers, utility companies and state and federal transportation officials.
In addition, she has worked closely with ATSSA in reviewing training materials and coordinated the adoption of VDOT's flagger training video by ATSSA for nationwide use.
Quinn also has worked with researchers at the Virginia Tech Transportation Institute (VTTI) and the Virginia Transportation Council—a partnership between VDOT and the University of Virginia—on the design, implementation and evaluation of several roadway safety projects including a work zone builder app and queue management systems.
She has been a member of the Virginia ATSSA Chapter since its inception, serving on subcommittees and playing a key role in developing policies used throughout Virginia.
"As a manufacturers' rep of multiple traffic products, I have reached out to Ginger on numerous occasions for her input on the product, testing and advice," Virginia ATSSA Chapter President Jennifer Miles of Sales Solutions Inc. wrote in nominating Quinn. "She has always made herself available to me and to any member of the Virginia ATSSA Chapter."
"Quinn is considered an expert in Virginia in all things dealing with work zone signage, flagging, pavement marking and work zone traffic control training, and her opinion, advice and counsel are sought throughout the industry," VDOT Work Zone Safety Program Manager David Rush said in nominating Quinn for the award that recognizes an employee or recent retiree of a government agency who made a significant contribution to the safety of our nation's highways.
"Ginger has always advocated for the highest standard in work zone safety and has been the driving force in many of our advanced work zone safety requirements in Virginia due to her passion for safety for all," Rush wrote.
Paul Kelley, retired assistant work zone safety coordinator for VDOT and the 2019 recipient of the National Safety Award, also nominated Quinn and noted that she has always advocated for work zone safety standards and that "many of the typical standards in Virginia's Part 6 of the Manual on Uniform Traffic Control Devices (MUTCD) have been shared and adopted by other state DOTs as well as the Federal Highway Administration (FHWA).
In 2011 she developed Temporary Traffic Control for roundabouts for VDOT's Part 6 that will be published in the next revision to the MUTCD."
Quinn is familiar to Vinton residents as an instructor at the Lancerlot Sports Complex in swimming and health and fitness.