By Debbie Adams
Paul Harvey is in the process of opening a new business, Polychrome Studios LLC, in Vinton. He describes it as "a new digital printing and design business that offers high resolution photo printing as well as canvases, signs, posters, banners, wedding, graduation, and special occasion invitations, holiday photo cards, custom holiday ornaments,  business stationary (business cards and printed forms, including carbons), brochures, and promotional items like shirts, keychains, and coffee mugs, just to name a few." He offers laser and inkjet technology to provide a wide range of products on many different types of media.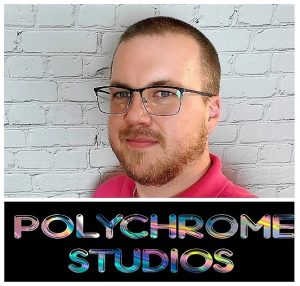 His business is not a franchise but independently owned. All printing is done in-house.
His plan is to serve Vinton and the broader Roanoke Valley. The new store is opening in a prime location at 519 Hardy Road in the Hardy Road Plaza next door to Gregg Lee's State Farm Insurance Agency.
Harvey has just moved here from Peterstown, W.Va., which is just across the state line near Rich Creek and Narrows in Southwest Virginia. He says he wanted to move to a larger area to grow his business, while still remaining relatively close to his hometown. Harvey says he once spent about four months living in Salem while he worked as an electrician replacing lights at the VA Medical Center there and really liked this area.
His business hours will be from 8:30 a.m. to 5 p.m. Monday through Friday, and possibly on Saturday mornings–once he gets settled in.
He said he is set up to meet a variety of demands for customers, both individual and commercial. Harvey says that if customers have what they think is a great photo, say even from a cell phone, he can improve the quality so that it truly becomes a great photo in print.
Canvases will be one of his specialties—better quality, at higher resolution, than almost anywhere else—and without the shipping expense. Harvey said that unlike framed photos which can seem flat, photos transferred to canvas take on dimension and become conversation pieces.
Harvey has a varied background. He got his first business license at age 14 working as a DJ. His grandfather bought him some speakers, and he became the go-to DJ for parties and dances in his town while in middle and high school.
He attended New River Community College, which was close to home, studied to become an electrician, and then earned his Associate of Arts and Sciences, his Information Technology Associate of Arts and Sciences, and Information Technology degrees.
While he was in college, he got some experience as an automotive service technician at Walmart and then, as a Park Attendant for the West Virginia Division of Natural Resources. Over the course of time, he gained experience in inventory management, installation of electronics, as a call center supervisor, and a printer technician trainer for Xerox. He traveled the country training printer technicians for Xerox. Along the way he decided to set up his own printing business on the side in his home, garage, and print/photo studio, operating that way for about seven years.
Harvey decided he would rather work for himself. His entrepreneurial spirit took over, and he made the leap to open his own business full-time, and in the Roanoke area. When he began looking for a location in the Roanoke Valley, he discovered Vinton with its reasonable rents, good traffic flow, business-friendly government, and welcoming community.
In his research, he discovered limited competition for his business in the area. Most comparable printers are sign shops or affiliated with franchises. He believes he adds the creative touch to the printing business others don't. If you don't know exactly what you want, he will help design the graphics.
He would also like to establish relationships with local photographers, offering his printing services to them and their clients online. He is a photographer himself.
He foresees expanding his business to include photo booths at local events. He has come up with a long list of other options to explore, depending upon Vinton's zoning regulations at this point.
"This is something I've been working towards for over a year and now it will finally become reality!" Harvey says. "I'm looking forward to forming new relationships and providing the Roanoke area with high quality products and customer service."
To contact Harvey call 888-909-0901, email him at support@polychromestudiosllc.com or visit his website at https://polychromestudiosllc.com/.