By Debbie Adams
United States Navy Captain Craig Mattingly, Commander, Naval Service Training Command, visited the William Byrd High School Navy National Defense Cadet Corps program on Sept. 27.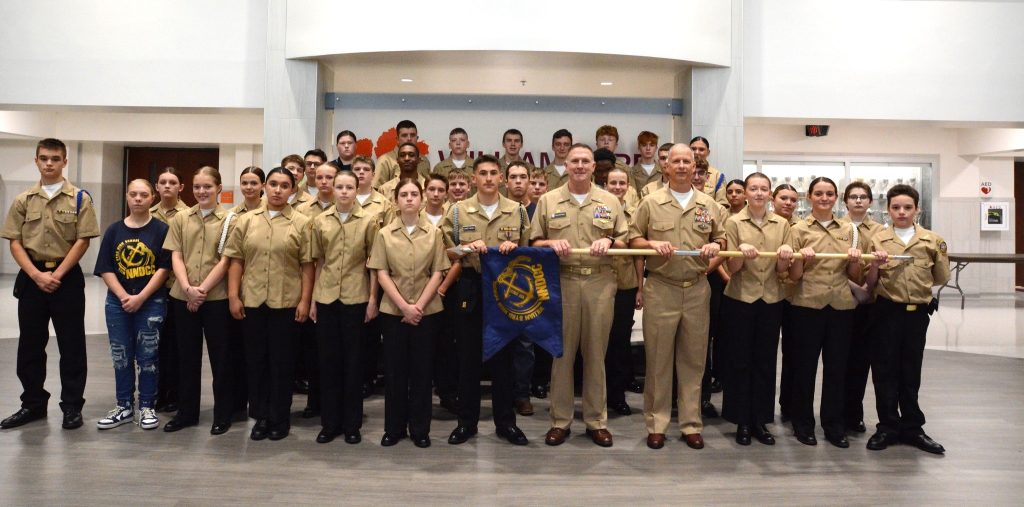 He is the Commander for Naval Training Center Great Lakes, Recruit Training, along with all ROTC units at universities and colleges and NJROTC units in the United States and in overseas locations.
During the week he visited the Navy ROTC programs at Virginia Tech and VMI and asked to stop by the program at WBHS as well.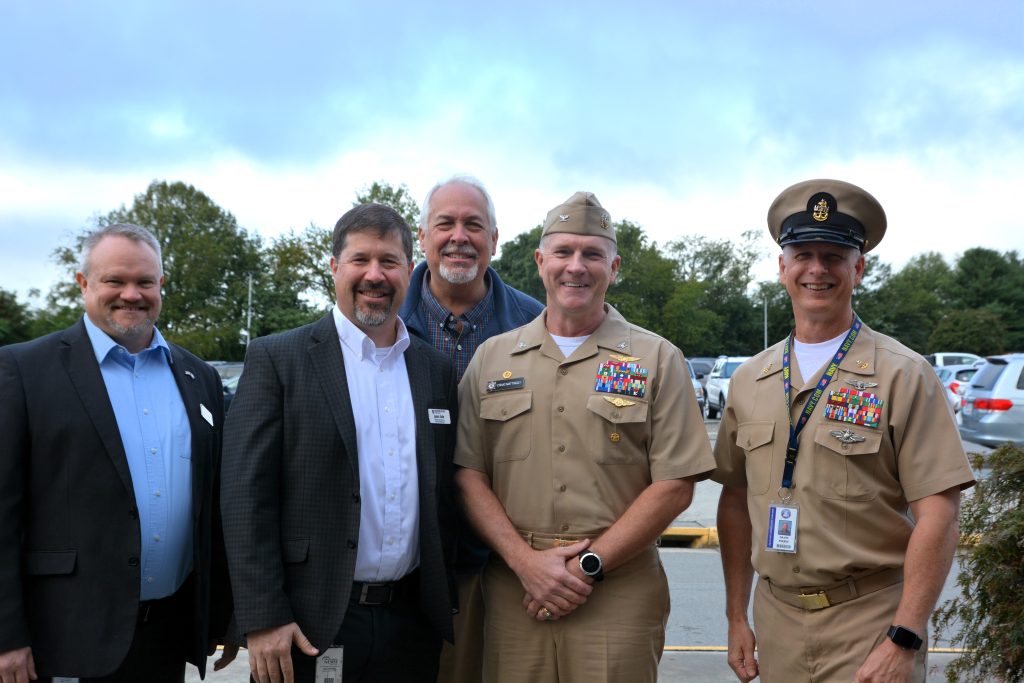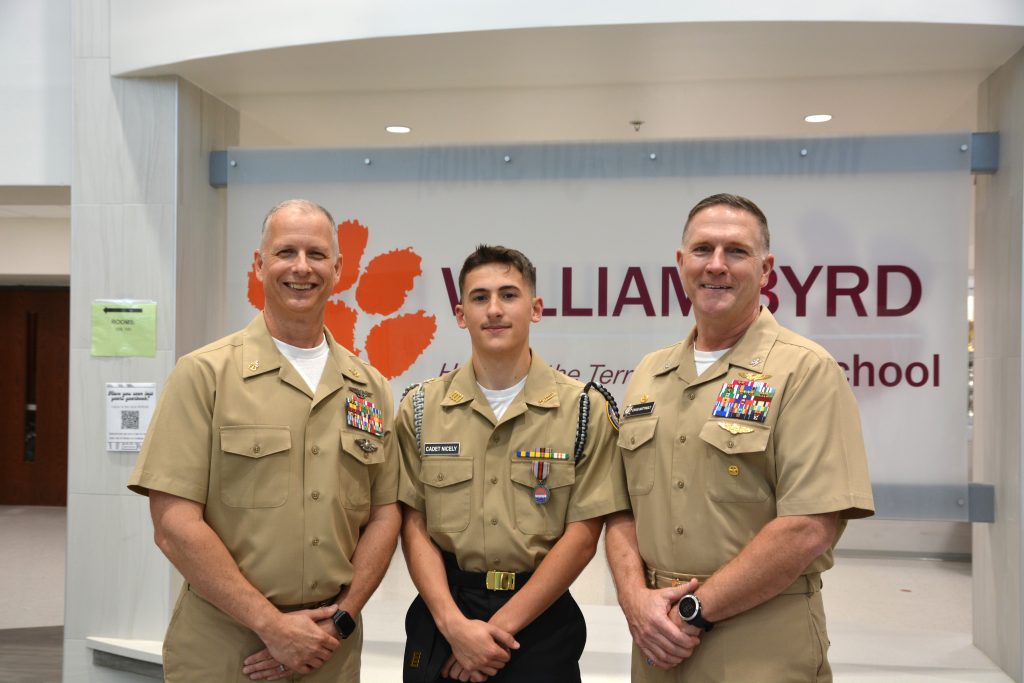 He was greeted by William Byrd's Naval Science Instructor David Perrin, AGCS (Ret), Cadet Company Commander Noah Nicely, Company Executive Officer Mason Perdue, and Company Senior Chief Petty Officer Jamey Umberger.
Once they made their way to the NNDCC classroom, other cadet leadership was introduced including Company Operations Officer Andrew Bartley, Company Administrative Officer Alexis Cook, Company Supply Officer Lenorah Garcia, Company 1st Lieutenant Charles West, and Jayden Hedrick, who is in charge of Company Public Affairs.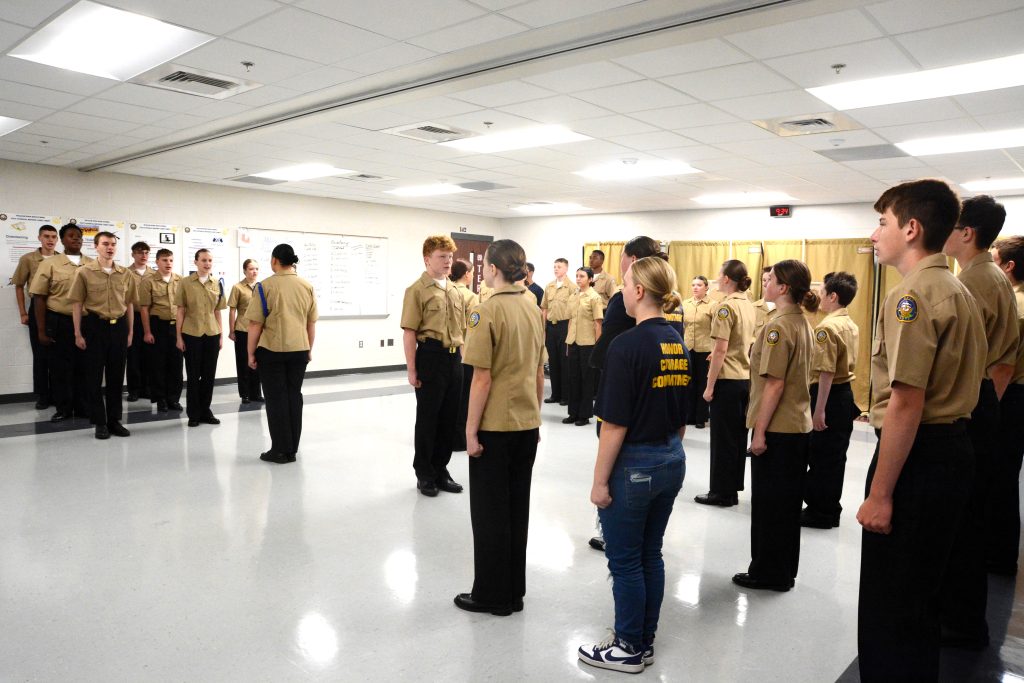 Capt. Mattingly asked each cadet to stand and introduce themselves in a 10-second "elevator speech" with name, school, grade level, and a "cool" fact about themselves. About half of the 39 cadets currently enrolled in the NNDCC program are William Byrd students, along with several from Northside, Cave Spring, Glenvar, and Hidden Valley. There are quite a few sophomores and freshmen as this is just the second year for the Roanoke County program. (The NNDCC was established in a formal ceremony last February.)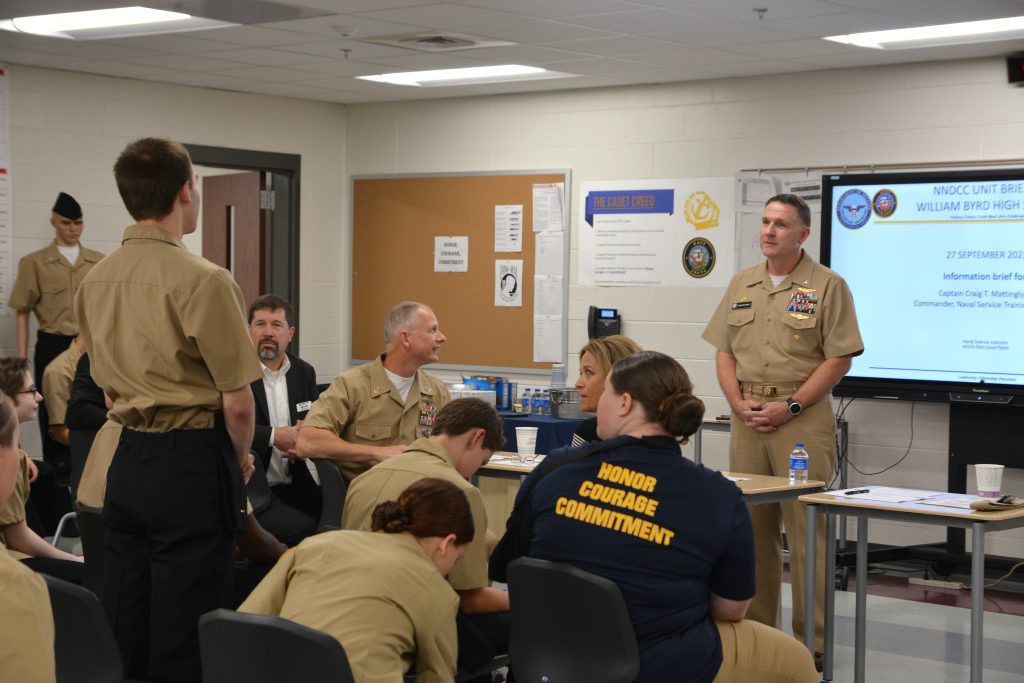 Many of the cadets come from military families. One is a volunteer firefighter. Another has already enlisted in the Army and will report for duty next June after graduation. One cadet already runs his own business (vending machines); another plays five instruments. One is a blacksmith. Quite a few have traveled extensively in the United States and even abroad.
Capt. Mattingly told the cadets that he was excited to see such a young, prosperous unit at Byrd, sensing a "great vibe" at the school.
The captain talked about how he came to join the Navy at age 17, after humble beginnings in Kentucky, where he was raised on a dairy farm with a wake-up time of 4 a.m. He was inspired by photographs sent to him by his cousin who was in the Navy. He talked to recruiters and enlisted. His first-ever flight was to boot camp.
Joining the Navy as an Aviation Anti-Submarine Warfare Operator changed his trajectory in life, leading a young man with low self-esteem to a stellar career, eventually stationed in Hawaii, Japan, Italy (twice), and the Pentagon.
He graduated from the U.S. Naval Academy in 1995 and designated as a Naval Flight Officer in 1997. He holds a Master of Science degree in National Security Strategy from the National War College, Executive Leadership and Management Certifications from the University of Notre Dame and is Joint Qualified and an alumnus of the Massachusetts Institute of Technology Seminar XXI.
His most recent assignment was serving as Senior Military Advisor to the Secretary of the Navy. He has accumulated more than 3,900 flight hours in the P-3C Orion and P-8A Poseidon aircraft.
The cadets presented an Information Brief to Capt. Mattingly about the program housed at WBHS, which serves all Roanoke County high schools. In attendance were Director of Career and Technical Education Jason Suhr, Supervisor of Career & Technical Education Mark Jones, and WBHS Principal Tammy Newcomb.
In its inaugural year the WBHS NNDCC began with an enrollment of 26 cadets. Forty-eight signed up for the 2023-2024 school year; however, nine dropped out due to various issues such as scheduling conflicts and standards issues. Fourteen are freshmen. The unit includes Caucasians, African Americans, and Latin Americans, both male and female.
Four county schools feed into the program at William Byrd. Cadets are bused from home schools to the Burton Center, then to WBHS. The process is reversed going home after classes.
Chief Perrin noted that transportation and commuting time has had an effect on numbers in the NNDCC program. The commute to Glenvar is 35-45 minutes; Hidden Valley, 25-35 minutes; Cave Spring, 20-30 minutes; and Northside, 15-25 minutes. The plan is for the program to move to a more central location at the new career center on Peters Creek Road once it is built.
The presentation covered unit goals for the coming school year: for each cadet to maintain a minimum 2.0 GPA; for 50% of the unit to achieve "outstanding"; for participation in at least two Area 5 sanctioned meets;  establishment of a Big Brother/Big Sister mentorship with the Virginia Tech NROTC unit; for 100 % of the cadets to earn 10 hours of community service; sending two cadets to Leadership & Sail Academy in the summer of 2024; and establishing Freshman Orientation/Team Camps next summer, also.
Mattingly challenged each cadet to "bring in one more cadet" for the program.
Chief Perrin commented on the strengths and challenges the program faces. There is support from the county financially; the NNDCC space meets requirements; and he finds the level of county support is "phenomenal."
Challenges to be resolved include the transportation issue within the county; there is currently limited opportunity for extracurricular practice that cadets have expressed interest in such as marksmanship, a drone-racing team, and orienteering; and being the farthest unit west in Area 5, it is difficult for the unit to travel for competition without overnight stays.
The cadets shared with Capt. Mattingly some of their most memorable moments from the 2022-23 school year, including trips to the naval base in Norfolk, visiting the USS Wisconsin, and the D-Day Memorial in Bedford. Cadets also participated in Veterans Day and Pearl Harbor Day ceremonies and visited veterans at Brandon Oaks. They were an integral part of the local Toys for Tots campaign.
The unit planted 2,977 flags on the front lawn of the school on 9/11 of 2022 "as a tribute to those who lost their lives on that tragic day."
This school year they hope to travel to Washington, D.C. to visit the U.S. Navy Memorial, the Marine Corps War Memorial, and the National Museum of the U.S. Navy. Capt. Mattingly encouraged them to visit the Pentagon and offered to facilitate a visit.
The WBHS Cadet Color Guard presented the Colors at all home varsity football and basketball games last year, and at the NCAA Division III Wrestling Championships in March and the Martinsville Speedway for the NOCO 400 in April. They will be returning to Martinsville for the Xfinity 500 race on October 29.
Chief Perrin praised his cadets for End of Year Awards last year for achievement, fitness, exemplary conduct, exemplary appearance, community service, unit service, and participation.
Two cadets in the Class of 2023 now attend VMI. Two joined the Navy, two the Army, and one the Marine Corps.
In speaking to the cadets, Mattingly emphasized two things above all others—caring and competence.  He encouraged the students to care enough about one another to get to know each other, to make connections, and "be the best version of yourself every day. Build authenticity and trust. Respect each other."
As for competence, he urged them to "compete against yourself and become competent in whatever job you choose.  Your number one job now is being a student. Strive to be the best student in this high school; make yourself and others proud."
After the presentation, the Color Guard paraded the Colors and two squads performed Armed Drills in the auxiliary gym.
(Capt. Mattingly is an Admiral Select awaiting congressional confirmation.)