By Lion Michael Ferguson
At its last meeting the Mount Pleasant Lions Club handed the highest honor a club can give to a member, the Melvin Jones Fellowship from Lions Clubs International Foundation, to long-time member Steve Wilkinson.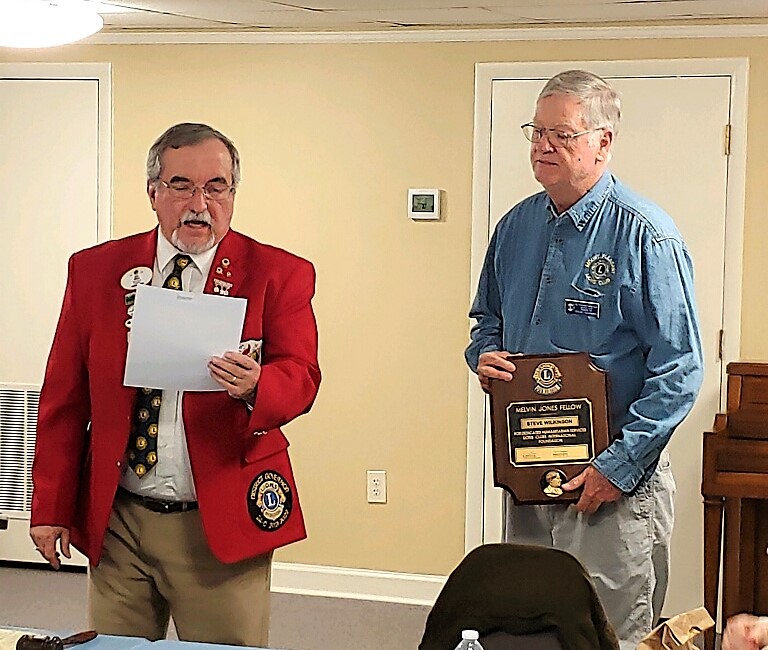 Lions District 24-C Governor, Eric Mills, who is a member of the Vinton Breakfast Lions Club, was on hand to present the award.  District 24-C encompasses all of Southwest Virginia stretching from Forest in Bedford County, all the way to Jonesville out in the western tip of the state and includes 59 different Lions Clubs.
Lion Steve has been a member of the Mount Pleasant Club since 1991 and has served in many capacities including a term as President and acting as Treasurer for about 10 years.
He currently is the music director for the club as well as a member of the Board of Directors.  He is an astute musician playing several string instruments, particularly the 5-string banjo. He grew up in the Meadowview Community out in Washington County, and as a youngster often played on local radio stations with area bluegrass bands.
After graduating from Virginia Tech, he went on to become a Captain with U.S. Air, now American Airlines, flying Boeing 737s.
Upon retirement he found enough time to become a Lion and scratch his civic itch by living up to the Lions' motto "WE SERVE".
He is a founding member of the Mount Pleasant Lions String and Wind Ensemble, which has played at a number of Lions functions such as the State Convention, Fall Conference and club picnics.
Steve and his long-suffering wife, Terry, have three children and seven grandchildren.  Two of those children and five of the grandchildren live out on the left coast in California which requires frequent trips there.  That fact, along with the general shut down of Lions Club activities during the worst of the COVID pandemic caused the presentation of the Melvin Jones Fellowship to be delayed for over 2 years.
Melvin Jones was the founder of Lions Clubs International back in 1917.  The award named after him commemorates the recipients' dedication to serving the less fortunate, as well as the deserving, in the local community and in doing so helping humanity as a whole.