Vinton Mayor Brad Grose delivered the annual State of the Town address on March 25. This year's address was online, produced and broadcast by RVTV.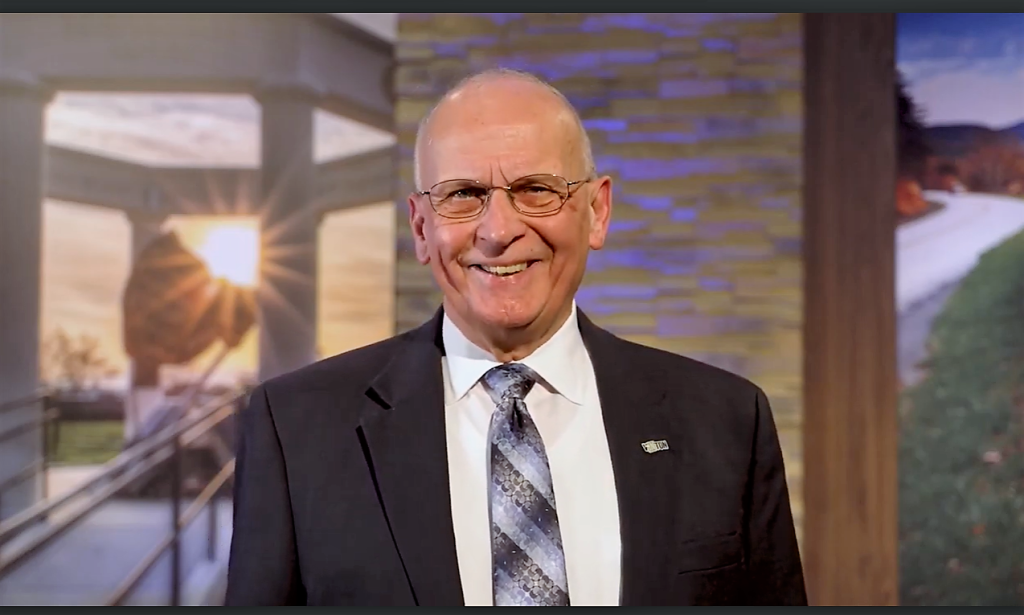 His remarks were preceded by a welcome from Vinton Area Chamber of Commerce Executive Director Angie Chewning.
"The Vinton Chamber has hosted the State of the Town for many years, but it is my pleasure to welcome you to our first virtual State of the Town address 2021," Chewning said. "This year's State of the Town will allow us to share in the Chamber's mission to promote our community as a great place to live, shop, play, work and do business. This has been especially important during this COVID-19 pandemic.
"The Chamber recognizes the importance of supporting economic development as well as the needs of our community. The growth in our town is a product of the efforts put forth by our town and area community leaders. We would like to thank them for their collaborations in making so many new and wonderful things happen in our town and are excited for the many developments to come.
"We will emerge from these uncertain times stronger and with even more determination to continue along the paths we have forged to a brighter future," Chewning said.
Chewning introduced Grose, who is in his fifth term as mayor.  He has been a resident of Vinton for 36 years and owns Dominion Electronics. He currently serves as chairman of the Roanoke Valley-Alleghany Regional Commission.
The mayor's theme throughout the presentation was one of thanks to the many who were steadfast and determined during a challenging year. He asked citizens to "reflect on 2020 and how we have been blessed in our town, even though the year was filled with many obstacles and challenges.
"Angie, Katherine Sowers, Justin Davison and the entire Chamber board work tirelessly to create family-friendly programs and events throughout the year, as well as representing the Vinton businesses community on a daily basis by generating positive awareness and value-added services for the chamber members," said Grose. "Thanks for all you do for Vinton, particularly during such a difficult year for our business community."
Grose thanked members of Town Council – Vice Mayor Sabrina McCarty, and council members Keith Liles, Laurie Mullins, and Mike Stovall for "their vision, leadership and friendship. I thank each of you for your dedication to our community. You are shaping Vinton for the better and I am extremely fortunate to serve alongside each of you. You are doing a great job for the citizens of Vinton."
He expressed his appreciation to his family – his wife of 42 years, Debby, and his daughters Mandy and Melissa – for their support, patience, love, and understanding.
He recognized the town's leadership team: Town Manager Pete Peters, Police Chief Fabricio Drummond, Town Treasurer and Finance Director Anne Cantrell, Town Clerk and Executive Assistant to the Town Manager Susan Johnson, Human Resources and Risk Management Director Donna Collins, Planning and Zoning Director Anita McMillian, Community Programs and Facilities Director Chasity Barbour, and Public Works Director Bo Herndon.
Grose also thanked former Town Manager Barry Thompson, who retired in 2020, and former Police Chief Tom Foster, who was appointed last year as the U.S. Marshal serving the Western District of Virginia, for their contributions to Vinton's successes.
Grose recognized local and regional partners, including Roanoke County, Roanoke County Public Schools,  the Roanoke Valley Greenway Commission, the Roanoke River Blueway Committee, the Roanoke Valley Alleghany Regional Commission, the Roanoke Regional Partnership, Visit Virginia's Blue Ridge, the Regional Center for Animal Care and Protection, the Roanoke Valley Resource Authority, the Western Virginia Regional Water Authority, the Salem District Office of the Virginia Department of Transportation (VDOT), Roanoke Valley Television, the Roanoke Regional Chamber of Commerce, Valley Metro, the Vinton Area Chamber of Commerce, the Vinton Volunteer Fire Department, the Vinton First Aid Crew, the cities of Roanoke and Salem, and Botetourt County.
The mayor praised "all of our dedicated staff for their tireless efforts in serving the citizens of Vinton, particularly during 2020 with all of its challenges. It would have been easy to say, 'we can't,' but the team pulled together at every level of the organization to make the best of the circumstances to get the job done, whatever that might have been, with a smile and a great attitude time after time under the pressures of the pandemic.
"While things weren't ideal in 2020 and we certainly missed many of our special events, festivals and personal interactions that make Vinton such a special place, Vinton was able to endure in many ways to become even stronger," Grose remarked. "I know that I can say on behalf of my fellow council members that no stone was left unturned, and the effort never wavered when it would have been easy to just give in. I can say with all my heart, we are blessed to have a wonderful staff at the Town of Vinton. Our team is awesome!
"To our business owners, we say 'thank you' for your devotion to this community, your perseverance to do whatever it took to overcome your personal challenges of the pandemic and your ingenuity to continue to find ways to meets the needs of your customers or provide your services.
"To the schoolteachers, public safety, emergency service employees and health care providers, you have been a true inspiration to us all by running towards the danger to protect and serve your community. You are a special group of people in the best of times and an absolute Godsend during the most difficult of times such as those we experienced over the past 12 months.
"The town has worked to continue to solidify our partnership with the Vinton Historical Society," Grose noted. "The leadership of the society is energetic, passionate, and more engaged than ever as they grow and expand programs and do a wonderful job in operating the Vinton History Museum.
"The Vinton Breakfast Lions Club is the very definition of a community service organization," Grose said. "This year's projects included a partnership to provide new Valley Metro bus shelters for the busy intersection of Vinyard Road near Kroger, the Lancelot and Rosie's, as well as one at the entrance of town near PFG on Virginia Avenue.
"Annette Patterson and her team at The Advancement Foundation are based here in Vinton, although they continue to grow throughout the region as they support entrepreneurial growth through the Innovation Mill (now in its second year of operation) and the Gauntlet Competition, now celebrating its seventh year."
His presentation included examples of "how the pandemic impacted the way we do business in all walks of our daily lives and how 'out of the box thinking' and 'can do attitudes' made the very best out of a very difficult time for our country and this community.
"Our largest single department and perhaps the most visible is Public Works. These professional men and women do an amazing job in providing many services that our citizens sincerely appreciate and rely on almost daily. This includes refuse and recycling, street sweeping, snow plowing, water and wastewater utility, maintenance of our town facilities, as well as public right of way and grounds maintenance to include roads, alleys, traffic signalization and sidewalks.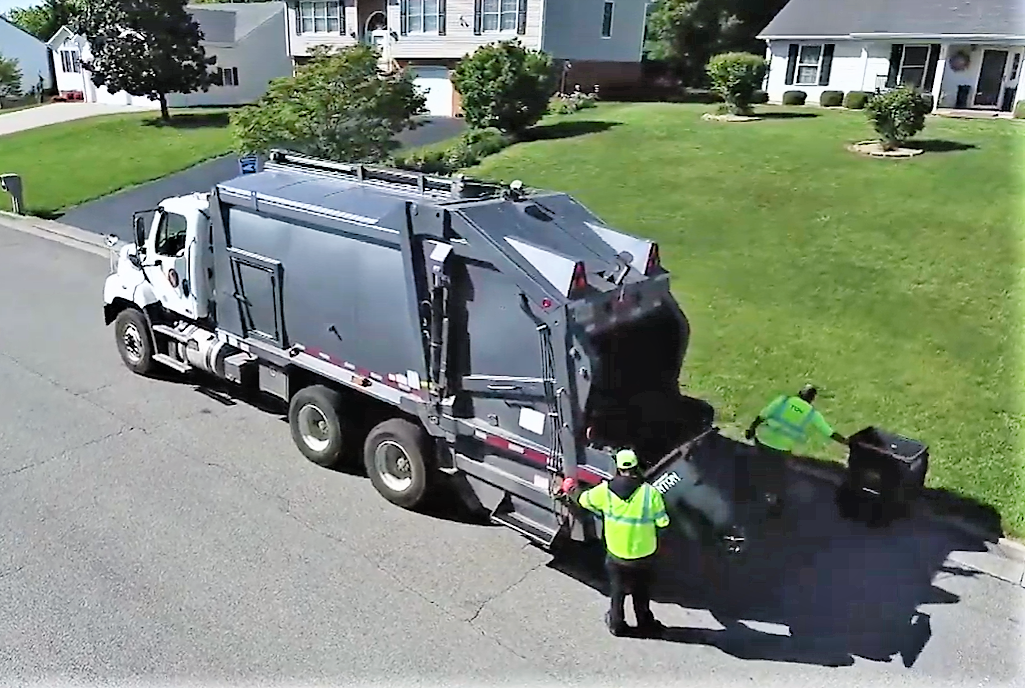 "Just as an example of the volume of work being done on an annual basis, this year the street sweeper covered a total of 2,100 miles, staff completed approximately 936 work orders, collected nearly 4,000 tons of refuse, handled over 50 waterline breaks and performed over 2,000 Miss Utility markings.
"To complement the recent large equipment replacements such as our refuse truck and street sweeper, the Public Works Department will be changing out its fleet of pickup trucks in 2021.  Through a creative leasing arrangement this will serve to modernize our aging fleet while also reducing the town's overall outlay for vehicle repairs.
"Through the availability of CARES Act funding in 2020, the Public Works facility received much needed renovations including an updated locker-room and breakroom, new paint, lighting, flooring and office reconfiguration to allow for socially distanced workspaces and safe working areas for interacting with the general public.
"We are very proud of our Police Department that continues to represent the town positively on all fronts and continues to attract some of the very best in talented officers. Our officers continue to engage with the citizens through their Community Policing Programs, school outreach and neighborhood programs.   Some of the highlights from 2020 include:
a Modified Social Distancing Movie Night for National Night Out
Participation in the Angel Tree Program
Facilitating a downtown parade for William Byrd's 2020 graduating class who did not get to have a normal graduation ceremony due to the pandemic.
Birthday drive-thru parades for several Vinton residents that could not have parties due to the pandemic
Color Guard for Herman L. Horn and W.E. Cundiff students to teach flag etiquette.
Assisting Herman L. Horn and W.E. Cundiff with modified school drop-off/pickup procedures
Assisting with keeping the public safe during festivals and concerts.
"The Police Department also underwent extensive renovations to include updates to flooring and lighting, office reconfiguration to better accommodate socially distant workspaces, an updated breakroom, updated storage for evidence handling and physical exterior improvements.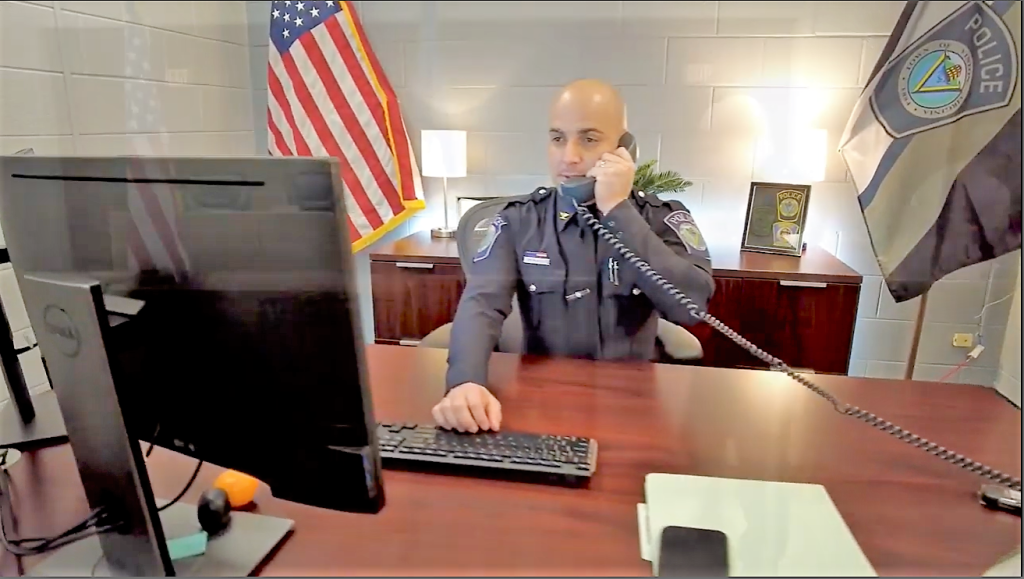 "Thanks to the Planning and Zoning Staff for their tireless work behind the scenes on so many aspects of the town's community development efforts. In 2020, the department continued to oversee the building and construction permitting responsibilities with the county, worked with the Planning Commission and engaged citizen feedback to update zoning and subdivision ordinances and continues to oversee the town's Stormwater Utility.
"Staff also managed the planning and construction of the newest addition to the Glade Creek Greenway and planned for multiple transportation enhancement projects to include bike and pedestrian improvements and signalized crosswalks at two of the town's most heavily traveled intersections, which will provide for safe connection from Vinton's perimeter neighborhoods to its blossoming downtown and public amenities. The P&Z staff also assisted in working with Valley Metro to provide for various public transportation adjustments for bus stops and worked with the Lions Club on two new bus shelters to enhance the users' experience at two of the most heavily utilized stops.
"Thanks to the Finance/Treasurer's Office for their diligent efforts on the financial oversight, daily payment collection responsibilities, attending to customer utility accounts and business accounts, management of employee payroll and handling the town's accounts payable and receivables. This office perhaps has the largest and most consistent customer interactions of all our departments.  They have been very creative in establishing and providing their customers with new efficiencies and conveniences to include automated payments, pay-by-phone, an improved drive-thru window and the utilization of a drop box for 24-hour service. These were proven timely, as staff was able to maintain these important services throughout the pandemic, despite reduced lobby hours, increased limits on personal interactions due to social distancing requirements and rotating teleworking requirements to address operational protocols. The Finance/Treasurer's Office also received office improvements with social distant workspaces and an improved counter and a new drive-thru window to better serve customers.
"In addition to these annual operational tasks, this year the department facilitated a radio-read water meter replacement program and began a software conversion to modernize office operations, applied and managed a utility forgiveness grant program to assist customers that had fallen in default, assisted Roanoke County with a $100,000 CARES Act Grant contribution to small businesses and managed the accounting responsibility of the CARES Act projects across all departments. We are very pleased to announce that the department was also recognized once again by GFOA for the 2019 CAFR and for the FY2020 Budget Document.
"Thanks to our Human Resources and Risk Management staff this year, who oversaw the physical building renovations for all departments and successfully integrated socially distant guidance and safety protocols across all work areas. Staff also effectively implemented numerous policy and procedural adjustments within the town's various operational documents and manuals to account for new workplace guidance as a result of the pandemic.
"We also want to thank the Community Programs Department for their great work and for the creative efforts in 2020. In a typical year, the staff plans and oversees the town's public facilities, which provide wonderful spaces to host meetings, weddings, and pay respects to our veterans.  The locations include the Vinton War Memorial, the High Ground Monument, the Farmer's Market, and the Charles R. Hill Community Center. As with all other aspects of our community, this department quickly responded to the pandemic by rescheduling and modifying activities, as well as providing invaluable leadership to the community and to our local businesses on the numerous and ever-changing operational guidelines being offered by the CDC and operational restrictions that were put in place by the governor.
"Working with the Chamber of Commerce and the Roanoke Small Business Development Center, the Community Programs staff quickly adopted the role of community conveyor to communicate COVID-19 operational guidelines, post links to resources and grant opportunities, and helped businesses quickly adapt to remain open and serve their customers with new innovative approaches such as outdoor dining and curb-side pickup.
"In addition, the Community Programs staff worked with the Chamber to establish virtual celebrations and modified events such as the Mingle at the Market and Fall Festival to allow the activities to continue in a social distant and safe manner. Their diligence resulted in activities that worked within the governor's restrictions to offer several outdoor social gatherings to maintain some semblance of normalcy to socialize with friends and neighbors in a responsible manner.  We look forward to restoring many of our treasured celebrations in this coming year that were unfortunately canceled due to the pandemic, such as the Dogwood Festival, Independence Day fireworks and the Christmas Parade.
"As with many other town departments, the Community Facilities also received updated workspaces and office reconfigurations, renovated public restrooms at the Community Center and Farmer's Market to address COVID best practices, and a very important designated generator was installed at the War Memorial to provide for future public shelter needs should they arise.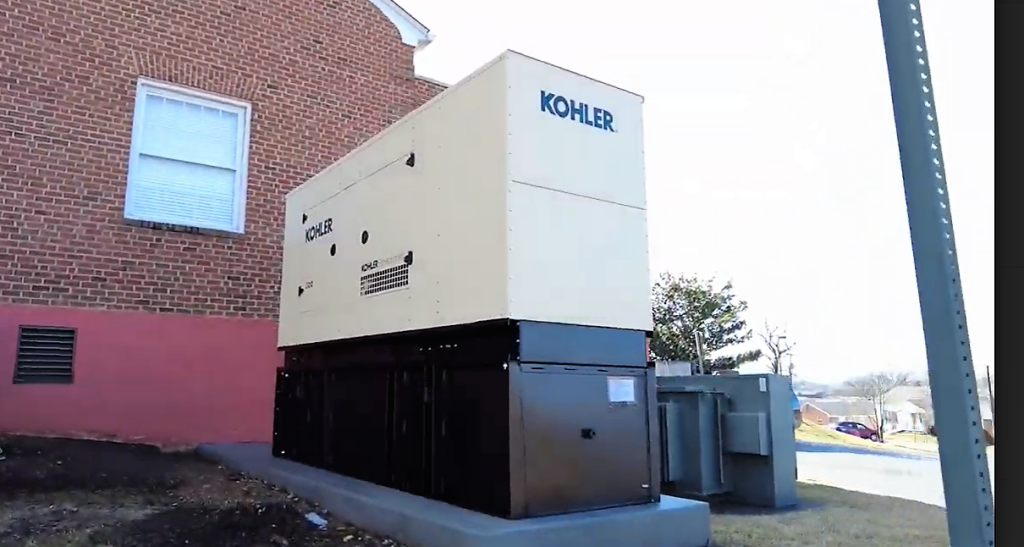 "Along with the renovations mentioned previously, the Municipal Building also received additional building updates in the administrative suite, public restrooms, front and rear entrances to the building and conference rooms. The Council Chambers was upgraded to make it a multi-functional space to accommodate meetings and training for staff. All these renovations will allow better social distancing and safer working environments for our staff and citizens to interact.
"The town continues to develop and improve its walkability with the next phase of the Glade Creek Greenway that is anticipated to be opened by late April and will help connect Vinton with the rest of the Roanoke Valley Greenway System. The town completed the Washington Avenue/South Pollard and Hardy/Vinyard Roads pedestrian signalized intersection improvements to include pedestrian signals, high-visibility crosswalk markings, improved signage, and sidewalk improvements to meet ADA compliance. Both the projects were realized through several years of planning and the use of transportation funding provided by VDOT.
"In 2021, we will be looking forward to construction beginning on the first of three phases of the Walnut Avenue bike and pedestrian improvement project, which will establish an important third gateway corridor into the attractive and functional town. The initial phase has been designed from the town limits to Fifth Street and will incorporate much-needed bike lanes, sidewalks, a shared use pathway and landscaping to improve this vital entrance into our downtown. In total, the town has been awarded almost $10 million in VDOT funding over the next five years to complete all three phases of this project.
"The town announced in the spring of 2020, the redevelopment plans for Gish Mill.  An agreement was reached to sell the property to two local business owners to rehabilitate and convert the structure into a mix-used project to include a restaurant, speakeasy, seasonal market, and a small hospitality component to include up to five suites available for rent through an Airbnb format. The town has since acquired nearly $750,000 in grant funding to assist with the renovations and construction is expected to get underway in spring of 2021.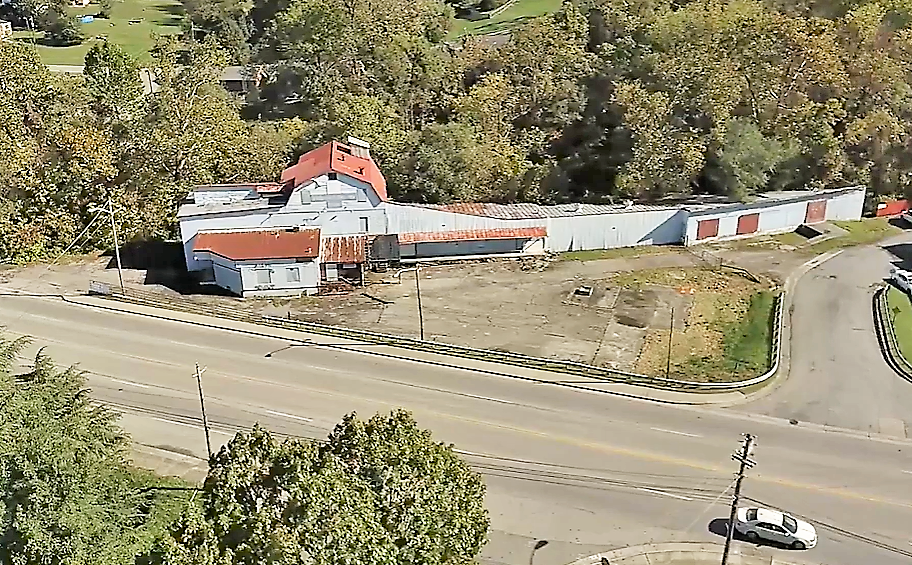 "River Park Shopping Center announced its plans for renovations in preparation for the new and larger Big Lots, which had a grand opening on March 13. A new Bank of Botetourt broke ground in fall of the year in our downtown. Rosie's Gaming Emporium announced t plans for expansion and broke ground in early 2021 on an 18,000 square-foot addition to include a three-story parking deck structure, an additional 350 Historic Racing terminals for a total of 500, and an expanded concert venue equipped with a larger full-service bar and restaurant.
"Several new dining options opened for business in downtown – Big Belly's Pizza & Subs and Our Daily Bread, offering two new freshly renovated spaces with expansive menu options to complement the many existing restaurant options within the Town of Vinton.
"Two existing and beloved restaurants also announced plans to expand in the coming year, as the town reached agreements with both the Dogwood Restaurant and Farmburguesa to lease space for each to establish outdoor dining patios to allow them to serve more customers and create much desired outside dining options within downtown Vinton.
"In 2020, the town also watched the successful renovation of Vinyard Station. This redeveloped project was a partnership with Roanoke County, the development team of Dale Wilkinson and Greg Rhodes and the Vinyard family. The project's first tenant, Joe Goodpies, recently opened to great crowds, providing another full-service and family-friendly dining option for residents and visitors alike.
"2020 was a year like no other, but as it came to a close, it was a year worth remembering for all of the good that has happened in the Town of Vinton," Grose said in conclusion. "Vinton Town Council and the town staff made a commitment to work hard and not give up as we faced the challenges brought on by the pandemic. With faith in God and confidence in each other, we made the necessary sacrifices and pressed forward. We did not give up and it paid off! We have truly been blessed in the Town of Vinton.
"We know that we are stronger and better suited to face the future before us and that 2021 will be a great year to be IN VINTON.  Thank you and may God continue to bless our country," Grose said.
The State of the Town Address may be viewed online at https://youtu.be/xlAMorta2h0, as well as on the town's website and social media pages.