By Debbie Adams
Lynn Haven Baptist Church in Vinton has called Bryan Crouch to serve as their new lead pastor. He and his wife, Lori, will be moving to Vinton from Forest, Va. Bob Hetherington has served as interim pastor at Lynn Haven for about two years as the search for a new pastor was underway.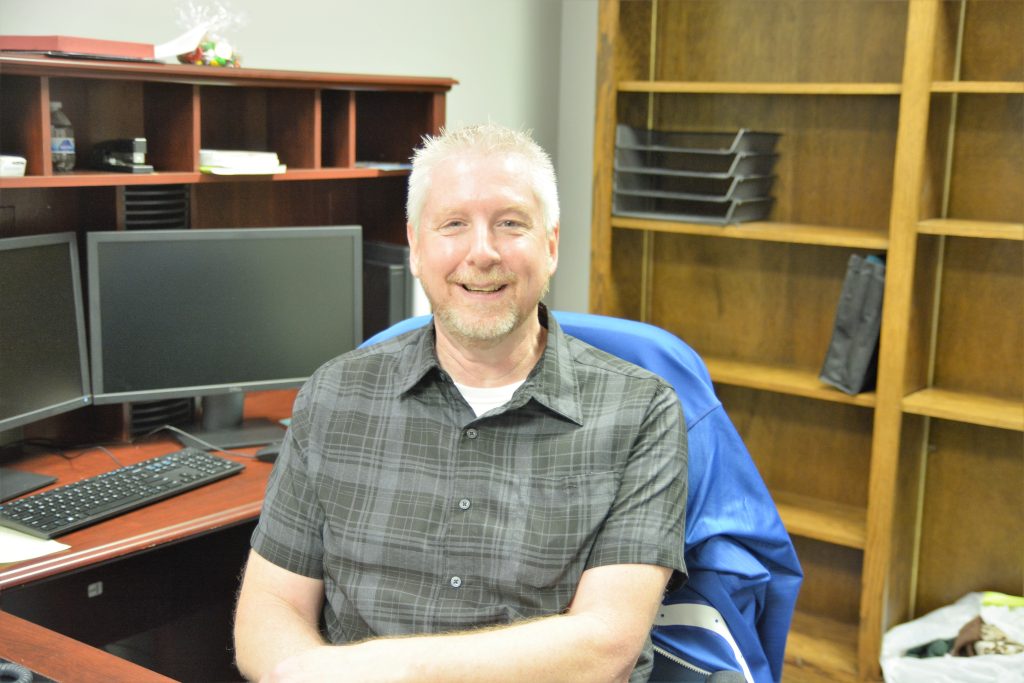 Crouch has been involved in full-time ministry for 20 years, serving churches in Florida, South Carolina, Richmond, and locally in Boones Mill, in the roles of children's pastor, youth pastor, family pastor, and lead pastor.
He is originally from Indiana, and says when he graduated from high school, the ministry was not in his plans. In fact, he started off installing HVAC units. One day he was working in a basement in subzero temperatures installing sheet metal and came to the conclusion that he would be better suited to returning to school and learning how to draw the blueprints for someone else to use to install equipment. That led him to a Bachelor of Applied Science degree in Computer Visualization Technology from ITT Technical Institute.
While he loves technology, he continued to feel that he "wasn't doing exactly what he was called to do" and considered teaching elementary school because he had always liked working with children. Friends suggested instead a career as a youth pastor or in children's ministry. He went on to earn his Master of Theology degree from Liberty University.
About a year ago, Crouch and his wife, who then lived in Florida, decided that with a grandson on the way, it was time to move closer to family. His son and daughter-in-law live in Lynchburg; the Crouches found a house in nearby Forest.
Both the Crouches took jobs with Runk & Pratt Senior Living Communities in Lynchburg, which provides a variety of options from independent living to assisted living to specialized memory care for seniors. Lori will continue to work remotely with the healthcare enterprise after they move to the Vinton area.
Pastor Crouch continued to look for a church. Fortunately, he and Lynn Haven found each other. He says it has "been an incredible fit so far. I am so grateful our paths crossed. They were looking for a pastor; I was looking for a church."
He interviewed with the pastor search team at Lynn Haven earlier this year and then came for a "meet and greet" with the congregation one weekend and preached his first sermon there. Members of the congregation gave him a 97% "Yes" vote and the church invited him to become the lead pastor, immediately.
Lynn Haven Baptist is located at 1501 East Washington Avenue. The church is part of the Southern Baptist Convention and a member of the Roanoke Valley Baptist Association but operates independently. Lynn Haven was established in 1960.  Construction on the building began in 1962 and members have continued to renovate and add space in the 60 years since.
Crouch commends Pastor Hetherington for preparing Lynn Haven for the transition to a new pastor over his two years serving as interim. "He did an incredible job."
Crouch says church members have not been sitting idle over the past two years.
"This congregation is so forward thinking, so ready for the future and so excited about the future– that's what drew us here, in part," Crouch commented.
The church is highly focused on children and youth and plans to reopen their preschool in August (open to everyone, not just church members) and begin the search for both a student pastor and worship pastor, who "will help us grow and reach out to different demographics."
Lynn Haven is already heavily involved in missions– both local and beyond– and plans to branch out even more to enhance the programs they already have in place. For several years they have served as a collection station for Operation Shoebox; they have an enthusiastic Blanket Ministry to comfort those going through difficult times; right now, they are making chocolate Easter eggs for the community. They do Trunk or Treat activities at Halloween and Vacation Bible School each summer.
They plan more community outreach, especially with the schools, their students, and teachers, possibly "adopting" a local school or two in time.
The Crouches also plan to spend plenty of quality time with their new grandson who will only be an hour away. The pastor, who loves to draw, write, and paint. even has some creative plans in place for three children's books featuring the baby, centered on some "Tall Tales." He is already an established author on Amazon.
Lynn Haven introduced Pastor Crouch to the church and community on the website this week, saying "Pastor Bryan focuses on preaching the Word of God in a simple and easy to understand manner focusing on life application each and every Sunday. He enjoys meeting new people and encouraging others to be the best ambassadors for Christ that they can possibly be."