By Monica McCullough and Debbie Adams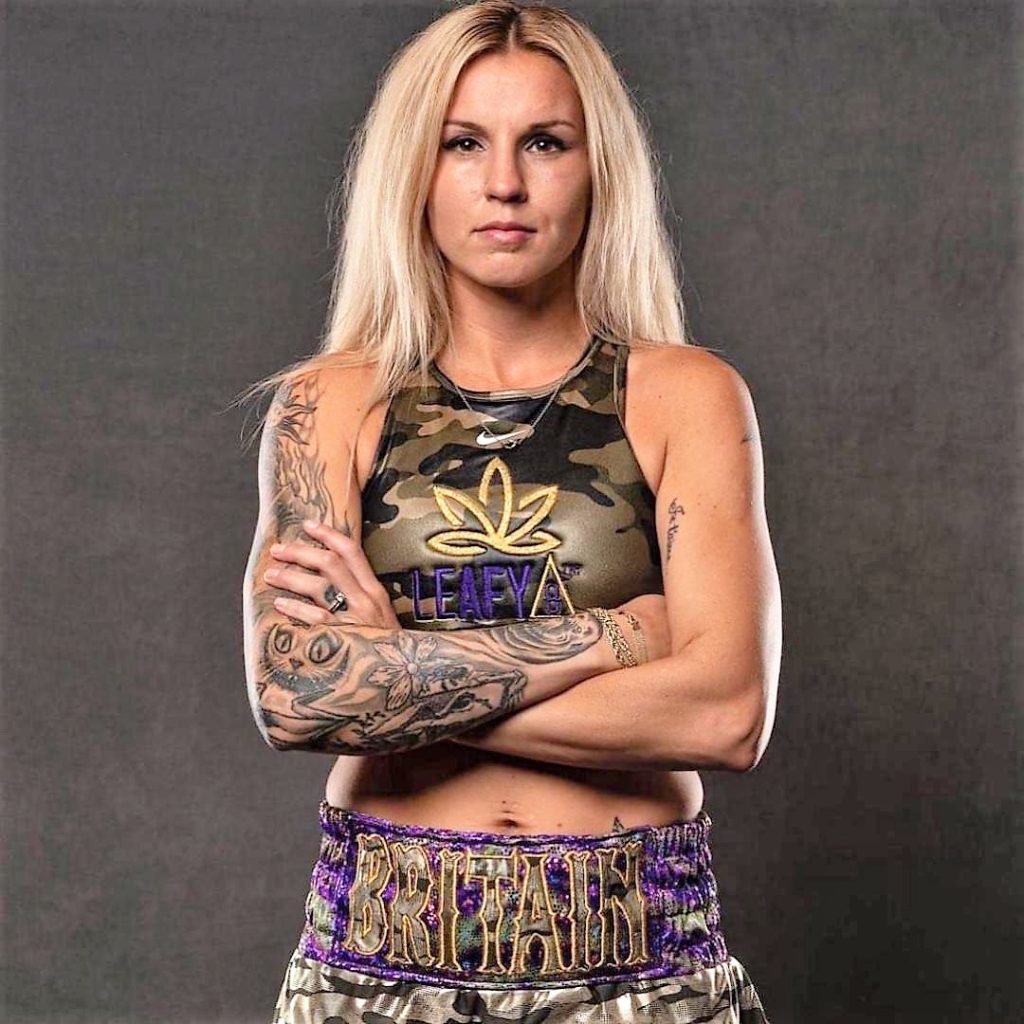 Britain McCullough Beltran graduated from Staunton River High School in 2008, where she was an exceptional honor roll student, as well as a stand-out soccer player. She was on the varsity team all four years, and played in a travel league, as well. Britain was also on the SRHS cross-country team.
"After graduating with honors, Britain was awarded a full scholarship to Central Virginia Community College, studying Business Administration," says her mother, Monica McCullough, a former patrol officer and investigator with the Vinton Police Department. "Britain continued her education on multiple scholarships at Lynchburg College. She graduated from LC (with honors) with a Bachelor of Science in Sports Management in 2013.
"Britain then participated in an internship program at Charlotte Motor Speedway," McCullough says. "Britain was later hired by the Carolina Panthers organization in Charlotte where she worked for several years. She continued her education while working for Bob Evans Restaurant in Lynchburg, commuting to Charlotte for her Panthers job, all while raising two children. Britain completed her master's degree with honors at Old Dominion University in 2016, earning a Master of Education with a concentration in Athletics."
So, how did she end up as a bare knuckle fighter?
After completing her master's degree, Britain decided to take some boxing lessons at a local gym. Her mother says the goal was simply "to stay in shape and have a healthy outlet for stress management," but "given Britain's natural athleticism, it became apparent to her trainers very quickly that she had the makings of becoming a 'great' boxer.
"At the time, Britain was going through some tough personal battles, and needed to set her sights on something greater," McCullough says. "She was encouraged by others to get her professional boxing certification so she could earn extra money and provide a better life for herself and her children."
Britain never fought at the amateur level but went straight into her first professional boxing match in October 2016. Her first two pro fights were won by technical knock outs within the first two rounds. She began taking on more experienced fighters and her pro-boxing record now stands at four wins, four losses and three draws. Britain has fought for Boxing Promoters Evander Holyfield in Atlantic City and Roy Jones, Jr. in Las Vegas, as well as for a notable women's boxing trailblazer, Christy Martin, out of Charlotte.
"In 2016, Britain caught the eye of the newly formed Bare Knuckle Fighting Championship (BKFC)," said McCullough. "BKFC had been working for several years to legalize bare knuckle fighting here in the United States. The very first legal and fully sanctioned bare knuckle fight (since 1889) was held in June 2018 in Cheyenne, Wyoming. It was a huge success and the promotion is now the fastest growing combat sport in the world."
That first fight in 2018 also featured the first American-sanctioned women's bare knuckle fight in modern history.
Bare knuckle fighting is, basically, closed-fist boxing with no gloves. Fighters are permitted to wrap and tape the wrist, thumb, and mid-hand, but no gauze or tape can be within one inch of the knuckles.
According to its website, the BKFC holds its bouts in a unique circular four-rope ring, designed to encourage fast-paced and exciting bouts. The BKFC "Squared Circle" contains scratch lines, based on rules which governed bare knuckle fighting in the 19th century, and which requires fighters to "Toe the Line," starting every round face to face, just inches apart. "Knuckle Up" signals the beginning of the round. Fighters are allowed to "dirty box" or fight in the clinch, as long as they are actively striking, with no hits behind the head. There are five two-minute rounds, for both male and female bouts.
"BKFC was seeking other professional level fighters from MMA, boxing, kickboxing and Muay Thai to join their promotion," McCullough says. "BKFC matchmakers had seen Britain's "scrappy style," and reached out to Britain to see if she'd like to fight on their second event, scheduled for August 25, 2018, in Biloxi, Mississippi."
The scheduled opponent would be a highly accomplished former UFC stand out, Bec Rawlings, from Australia. She had won the very first female bare knuckle fight at the Cheyenne event.
"Britain declined, at first, but after a second request, she decided to just go for it," McCullough said. "She needed the money and figured it would at least be a good experience for herself. Given that Britain had only just began her boxing career at age 26, she was the clear underdog against the highly experienced Rawlings, with over a decade more ring experience.
"Through great adversity and some very challenging circumstances, Britain prepared herself as best she could for what would become a turning point in her career," her mother says. "She showed up in Biloxi and shocked the world by not only holding her own against a long-standing combat sports veteran, but by going the distance and ending the match with a 'split decision' win for Bec Rawlings. That very closely scored fight has been viewed by over 14 million people and is still the highest viewed fight in BKFC's history. Britain earned the respect of fans the world over for her sheer heart and determination that she exhibited throughout that fight."
McCullough says Britain's career in BKFC has been nothing short of remarkable. "After a bad cut to her eye which ended her second fight due to a 'doctor stoppage,' Britain went on to win four fights in a row, all within a 12-month period. She was selected as the BKFC's Female Fighter of the Year for 2021 with notable wins over popular UFC Fighters Paige Van Zant and Pearl Gonzalez.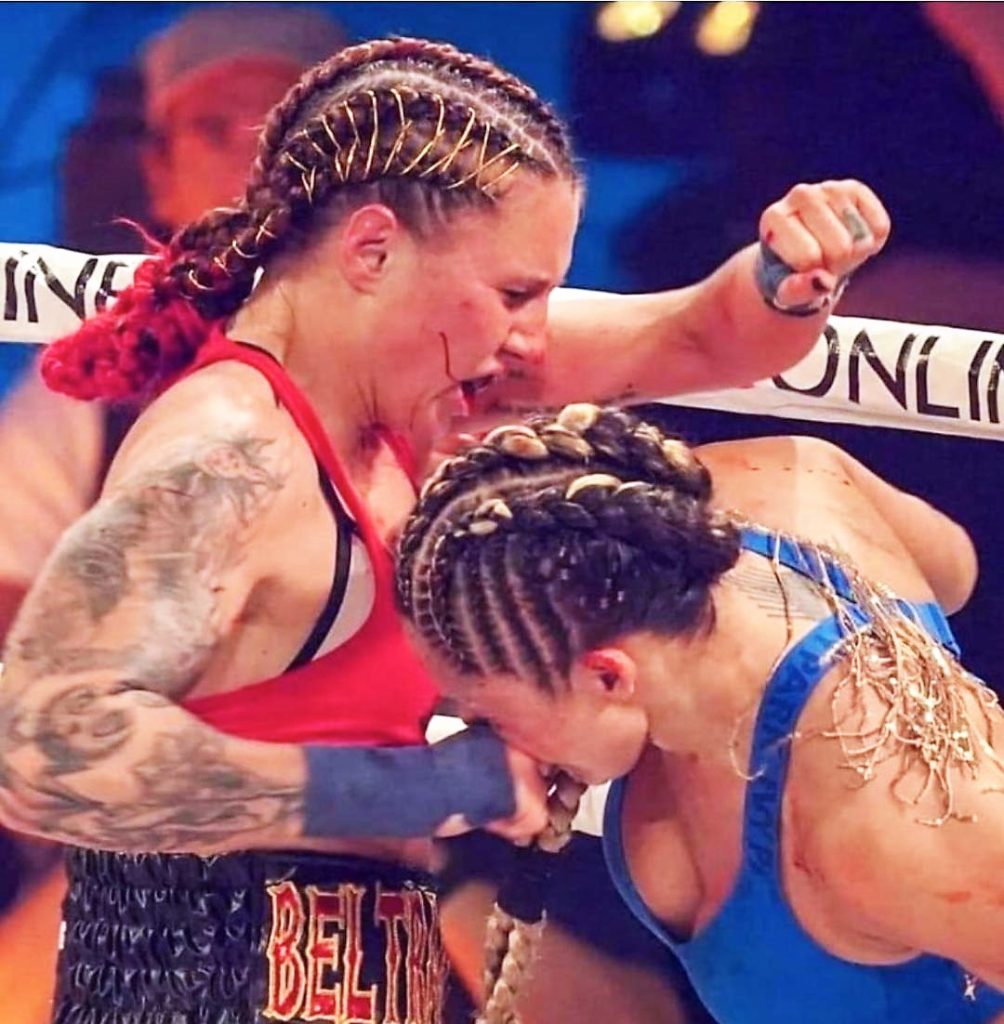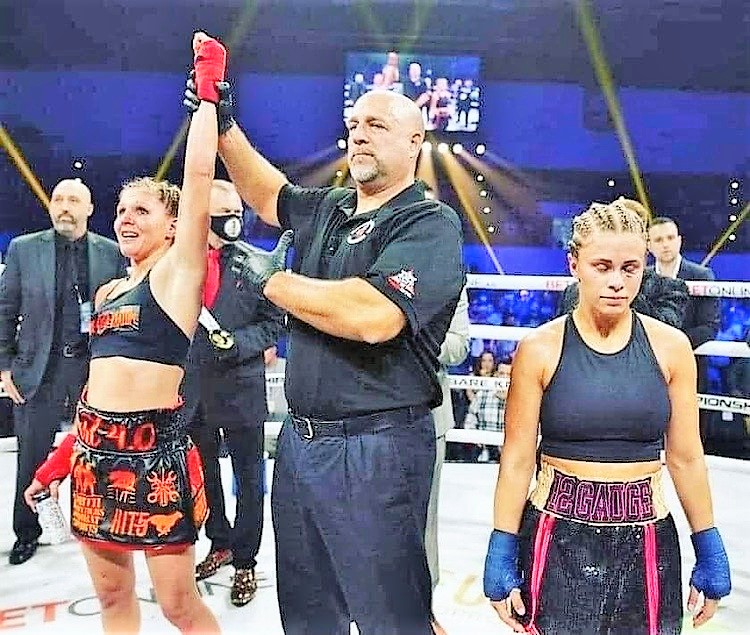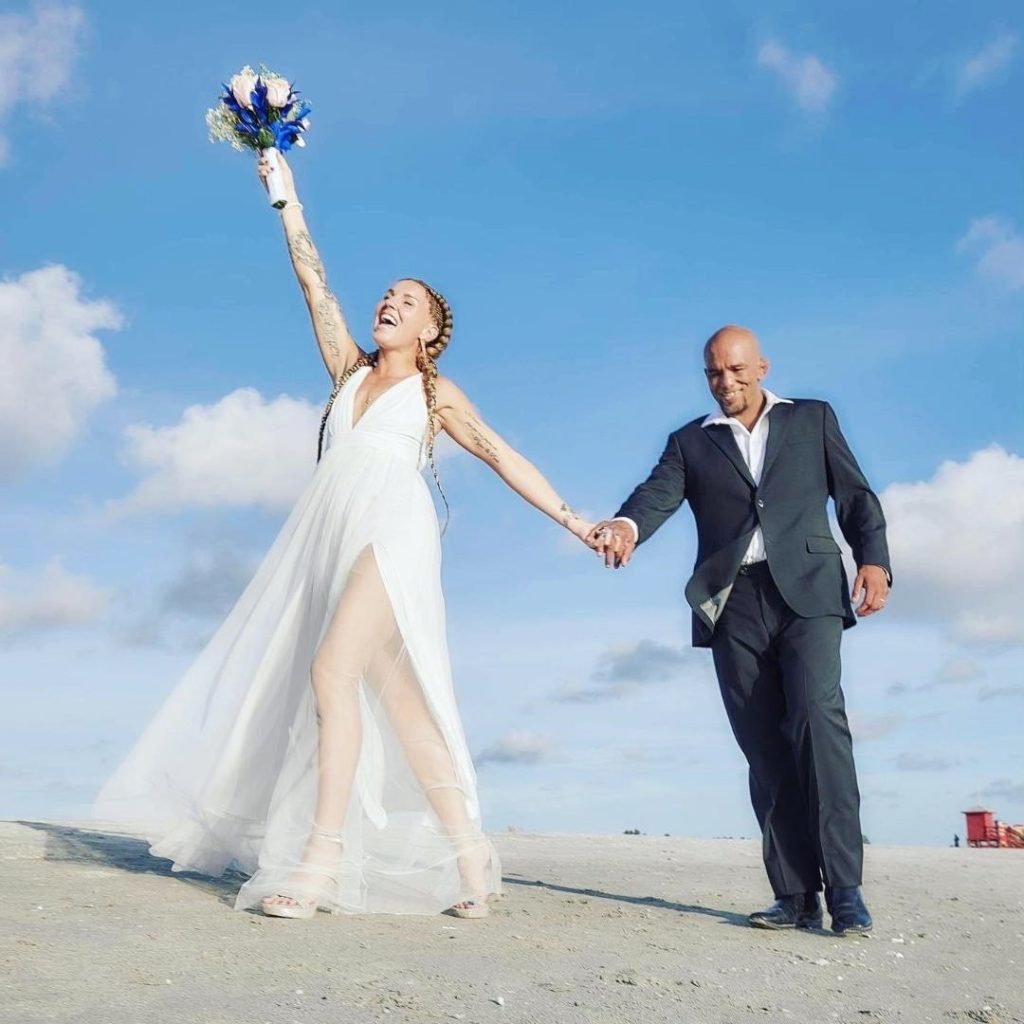 Britain's mother says bare knuckle fighting is as rough a sport as it sounds. Over her career, Britain has had dozens of facial stitches and even some extensive dental work. Her nose has been broken several times, but fortunately, "Britain is a fast healer and most of her facial lacerations healed really quickly with a little extra TLC." Early studies have found that bare knuckle fighting, while visually bloodier, due to cuts, is actually safer for the fighter than gloved boxing and MMA. Bare knuckle fighters must be very strategic in their strikes, and do not cause the high level of head trauma as other combat sports with padded gloves, elbows, knees and feet. In bare knuckle fighting, the fighter's only tool is the hands, taking the sport back to its historic roots.
Since her 2018 debut, Britain advanced to the very top of the 125-pound Women's Division and earned a title shot to become the World Champion. Her opponent was Christine Ferea, who Britain had faced in that second BKFC fight which ended with the "doctor stoppage."
McCullough says that in the Ferea rematch, "Britain fought a very tough five-round battle, leaving it all in the ring to the very last bell. Unfortunately, the judges gave the win to Ferea. However, Britain remained the No. 1 contender, as she still has the best record of all the female fighters in the organization. The only other loss on her record she hadn't had the opportunity to avenge was her debut loss against Bec Rawlings, back in 2018."
Rawlings had previously opted to leave the BKFC in 2019 with a 3-0 perfect record. She had been signed to the Bellator promotion. After two fights and then two years of inactivity due to the pandemic, Rawlings asked to return to BKFC as it had remained active in states with less restrictive guidelines during COVID.
Due to strict lockdowns, Rawlings was unable to leave her home in Australia to return to the states and reclaim her place on the BKFC roster. However, when restrictions were finally lifted, the long-awaited rematch of that first battle with Britain was scheduled. Britain was "more than happy to be the one to welcome Bec Rawlings back to BKFC."
The long-awaited rematch with Rawlings took place on June 24, at the Hard Rock Hotel & Casino, in Hollywood, Florida. Britain surprised many by switching up her normal "brawler" style and showcased her much-improved skillset with an impressive performance. She out-boxed Rawlings with a very technically sound match, winning the nod of all three judges in a unanimous decision. This was a significant win for Britain as it reaffirmed her rightful place at the top of the roster, proving to all that she is the true No. 1 contender, her mother said.
McCullough says she has been fortunate enough to see Britain fight each of her bare knuckle bouts, to date, with a standing record of five wins and three losses. Britain currently remains the most active female fighter in the organization. She had four fights/four wins in 2021 and two fights so far this year—in February and June.
What's next for Britain? David Feldman, the owner of BKFC, has stated in a recent interview that he intends to keep Britain active, and his matchmakers will be working on obtaining a new opponent for her in the months ahead.
Britain, now 32, is the mother of two children, ages 12 and 9. In July 2021, (during fight week and two days before her scheduled bout with Jenny Savage) she married Joey Beltran while in Tampa for her fight, surrounded by her team.
Joey is also an accomplished pro-fighter, was the two-time former BKFC Heavyweight World Champion and also a previous MMA stand-out with nearly two decades of elite combat sports experience. In an interview, Beltran says it was basically "love at first sight" when he met Britain while both were sitting VIP at another BKFC event.
They have been living and training in Miami for the past year, but have just recently relocated to Bedford, where they will both continue their fighting careers from Virginia. They will continue to spend much of their time training out of Luck's Boxing Gym in Danville, with owner Marcus Luck having coached and trained both Beltrans in previous fights.
To follow Britain, go to her Facebook page: Britain Beltran or follow her on Instagram: @TeamBritainBeltran. For sponsorship opportunities, reach out to Britain directly. For upcoming fight information, visit Bkfc.com.