The William Byrd cross country team was among over 100 schools competing in the Knights
Crossing event last Saturday. The meet, held at Green Hill Park in west Roanoke County, started
with sunny skies but ended with a thunderstorm.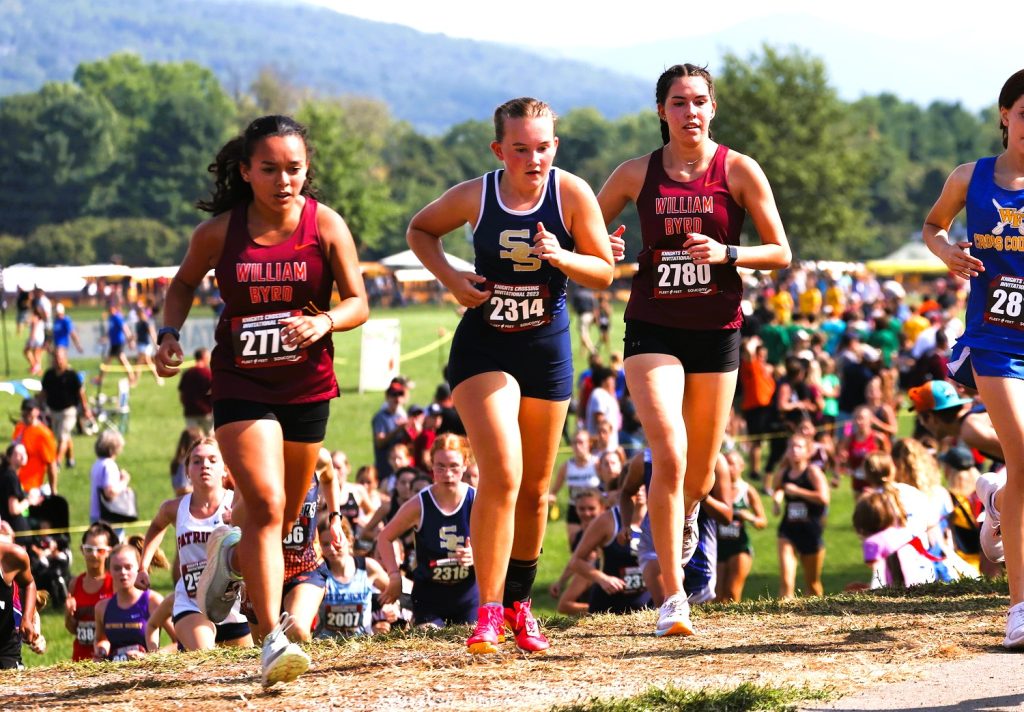 William Byrd competed in the "Red" division for Virginia public schools and out of state
teams. The girls finished 23rd among 44 schools while the boys were 50th among 56. Cardinal
Gibbons won the girls' team title and Blacksburg was first for the boys.
The girls' Red race included 368 runners and the winner was Hannah Rae Shaffer of Cardinal
Gibbons with a time of 17:45.9. The boys' race had 454 runners and Monticello's Bazil Mathes was
the winner at 15:04.3 over the 5,000 meter Green Hill course.
Byrd's best finish was a 63rd place by Claire Glover in the girls' race with a time of 21:24.
Heidi Wienke was 139th at 23:14 and other Terriers who scored included Lucy Whitenack in 166th ,
Elena Mullen in 223rd and Alexandra Bonilla in 256th .
For the boys, Reagan Lilley led the Terriers with a time of 18:31, good for 142 nd place. Also
scoring were Colton Sotherden at 355, Drew Bartley at 357 and Vincent Liu at 381. Riley Slusher
and Jonah Schofield ran in the "White" race, for public school runners not in the "Red". Slusher ran
a time of 21:10 for 115th and Schofield was 129th in 21:17 among 271 runners in the White race.
Byrd also entered boys' and girls' teams in the 4,000 meter middle school races. Alanna
Fitzgerald was 136th to lead the Terriers in the girls' race while Carston Dibenedetto was 14th and
Grant Bartley was 63rd in in the boys' middle school race.
The Terriers are now off until September 23rd when run at Alleghany.