By Monica McCullough and Debbie Adams
Many people in the local area have likely seen the advertisements for a major professional
combat sporting event coming to the Salem Civic Center on September 29.
What people may not realize is that one-half of the headliner "Main Event" fight is none other
than local Bedford County former stand-out athlete-turned professional fighter Britain
(McCullough) Hart, who will be defending the Bare Knuckle Fighting Championship's (BKFC)
Strawweight World Title for the second time.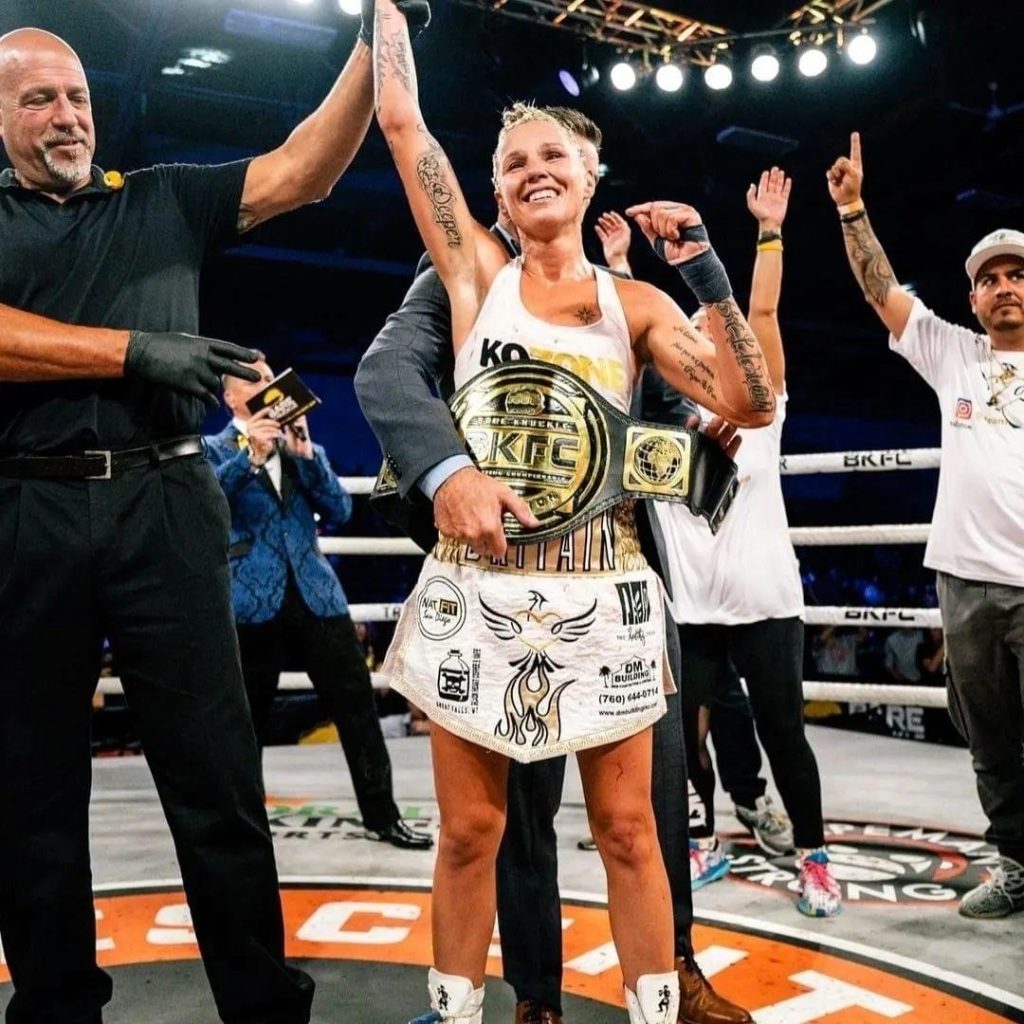 Hart is a graduate of Staunton River High School in the Class of 2008, an honor roll student,
cross-country runner, and stand-out soccer player. She was awarded a full scholarship to Central
Virginia Community College studying Business Administration and then earned her bachelor's
degree in Sports Management from Lynchburg College in 2013. She received her Master's of
Education degree from Old Dominion University in 2016 with a concentration in athletics.
After completing her master's degree, Hart decided to take some boxing lessons at a local gym.
Her mother, Monica McCullough, says the goal was simply "to stay in shape and have a healthy
outlet for stress management," but "given Britain's natural athleticism, it became apparent to her
trainers very quickly that she had the makings of becoming a 'great' boxer."
"She was encouraged by others to get her professional boxing certification so she could earn
extra money and provide a better life for herself and her two children."
Hart never fought at the amateur level but went straight into her first professional boxing match
in October 2016.  Her first two pro fights were won by technical knockouts within the first two
rounds.
"In 2016, Britain caught the eye of the newly formed Bare Knuckle Fighting Championship
(BKFC)," said McCullough. "BKFC had been working for several years to legalize bare knuckle
fighting here in the United States. The very first legal and fully sanctioned bareknuckle fight
(since 1889) was held in June 2018 in Cheyenne, Wyo.  It was a huge success, and the promotion
is now the fastest growing combat sport in the world. That first fight in 2018 also featured the
first American sanctioned women's bare knuckle fight in modern history.
Bare knuckle fighting is basically closed-fist boxing with no gloves. Fighters are permitted to
wrap and tape the wrist, thumb, and mid-hand, but no gauze or tape can be within one inch of the
knuckles.
The event in Salem on Sept. 29 will be Hart's first time fighting in front of a hometown
audience.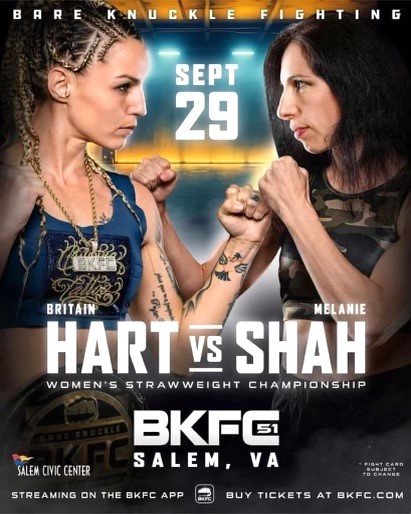 Hart was previously fighting in the Flyweight (125 lb.) division but was asked by BKFC to drop
down a weight class to fight at Strawweight (115 lb.). This move allowed her to fight at her
natural "walking" weight and help build up a new woman's division within the company.
With the move to Strawweight, Hart was offered a hard-to-refuse shot at becoming the very first
BKFC World Champion in that division. That history-making event was held in Great Falls,
Montana, on Sept. 10, 2022, where she fought Charisa Sigala from California, for the inaugural
title.
Hart rose to the occasion and solidified her name in the history books when she dominated Sigala
in all five rounds and won the Strawweight World Title bout by unanimous decision.
While her career in this new-era of boxing has placed her in the forefront of the sport, Hart is
also considered to be one of the irrefutable trailblazers for other female professional fighters
brave enough to take off the gloves and come on board.
Virginia has recently officially joined the ranks of the dozens of states across the country whose
Athletic Commissions have fully legalized and sanctioned bareknuckle fighting.
In March 2023, the BKFC held their very first event in Virginia at The Scope Arena in Norfolk.
Being a Virginia native, and a new World Champion in need of defending her title, Hart was
immediately signed to be the co-main event at the top of the Norfolk card.  She went on to
defend her newly acquired title against the Strawweight contender, Jenny (Savage) Clausius,
from Tennessee. Hart put on an exceptional performance and kept her title by another unanimous
decision from all three ringside judges.
The fans in Norfolk sold out the arena and showed incredible support for one of their own.
Britain did not disappoint. She, once again, put on an exceptional performance and retained her
belt by a unanimous decision scored by those three ringside judges.
Now, six months later, Hart is being challenged by Melanie Shah from England at the Salem
event next week. Shah recently defeated another Virginia fighter from Augusta County, Sydney
Smith. Shah, considered the underdog in this upcoming match against Hart, is currently
undefeated in bareknuckle and will be looking for a major upset.
Hart is determined to put on a great performance for family, friends, past classmates, co-workers
and fans – new and old – and maintain her title as World Champion of the Strawweight Division.
This will be her 11th bareknuckle fight.
She invites local fans, and those who aren't fans yet, to come out to the Salem Civic Center on
Sept. 29 to show their support. Visit BKFC.com, Ticketmaster, or the Salem Civic Center (enter
purchase code HART) for information and tickets. They are expecting a sell-out crowd. The fight
can also be viewed online on FITE.TV, other Pay Per View platforms and the BKFC app.