William Byrd junior Drew Lindsay's big night lifted the William Byrd boys to a big win over Franklin County last Friday. Lindsay hit eight three-pointers and scored 26 points to lead the Terriers to a 55-49 win over the Eagles in Vinton.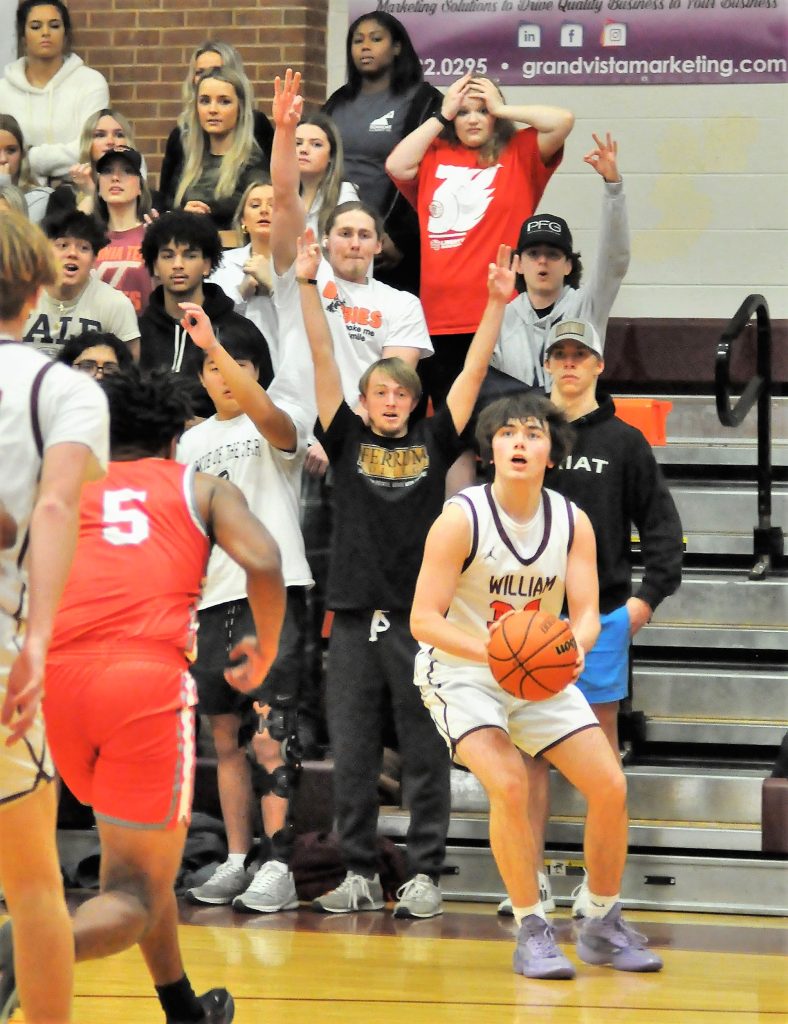 Franklin County came to town with a 9-4 overall record and just one loss in the Blue Ridge District. Byrd was 6-7 before pulling off what was surely considered an upset, but Terrier coach Brad Greenway has been trying to convince his team that they can play with anyone.
"That was a big win for us," said Greenway. "I was trying to get these guys to believe and sometimes you need some evidence before you do. It was good for them to see some success and realize what we can accomplish."
Lindsay, who is Byrd's designated "zone buster," hit eight of 12 shots from behind the arc to frustrate the taller Eagles, who dominated the paint area. Lindsay's bombs from the perimeter negated Franklin's height advantage and fueled the victory. For his efforts, Greenway gave Drew the game ball after the win.
"It was the first one I've ever given out," said Greenway. "I just never give a game ball, but on this night I felt like it was the right thing to do."
Isaiah Board was the next high scorer for Byrd with eight pints and Jaiden Childress and Hayden Eads had six each. The Terriers rallied from seven points down, 28-21, at the half to win the game.
Byrd's win was sandwiched between two losses to strong teams. Last Wednesday in Vinton the Byrdmen dropped a 60-44 game to a much taller Bassett team. Lindsay nailed three three-pointers in this one, hitting three of seven attempts, but the rest of the team shot just 28 percent behind the arc, hitting nine of 32. The mid-thirties is considered acceptable as far as three-point shooting percentage and anything better is good.
"We're smaller and shooting is our go-to option," said Greenway. "We live by the three and die by the three."
Jahdai English and Eads had nine points each as Byrd dropped the non-district game.
On Tuesday of this week the Terriers took on undefeated Northside, the consensus top team in the Roanoke Valley and beyond. The Terriers hung tough, trailing by just five points at the half, but the Vikings went on one of their characteristic runs midway through the third quarter and ran away for a 76-43 win.
"The final score doesn't tell the story," said Greenway. "That's tough to say when you lose by 30, but we stayed right with them for two and a half quarters. Then things snowballed in a hurry. I think they hit six three-pointers in the fourth quarter alone."
Childress had 11 points to lead Byrd as the Terriers fell to 7-8 overall and 2-2 in the district. They'll have their hands full again Friday when William Fleming comes to town for the second game of a girls-boys doubleheader in Vinton. The girls' varsity game will start at 5:30 pm with the boys to follow at approximately 7 pm. Fleming was 9-4 overall before taking on Patrick Henry in a cross-town battle on Wednesday of this week.
Next Tuesday the Terriers continue to play a strong district schedule when they host 9-5 Lord Botetourt.