By Debbie Adams
William Byrd High School has welcomed several new Terrier teachers and staff members for the 2021-2022 school year.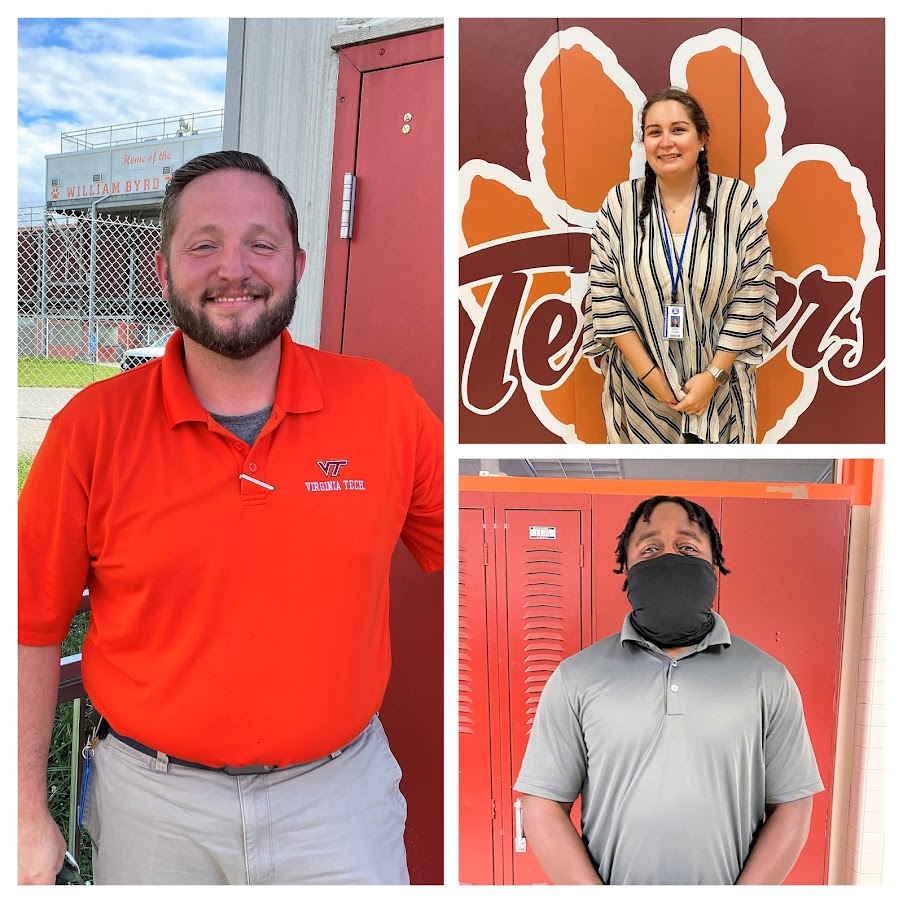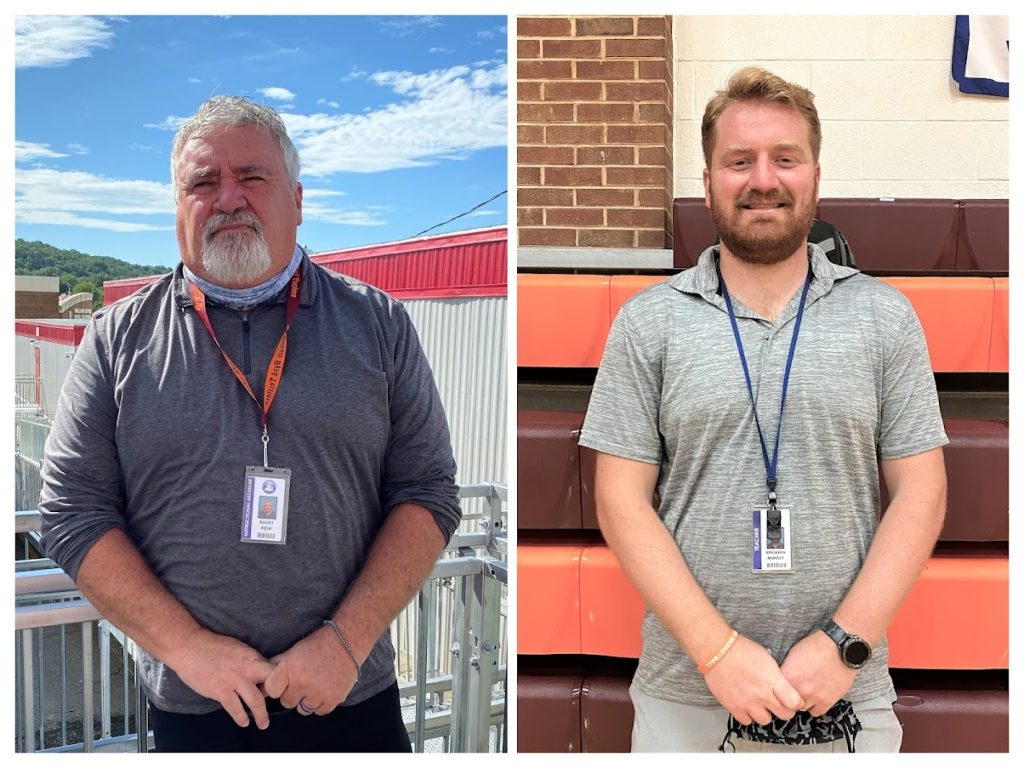 Randy Bush is an Instructional Assistant in the P.E./Health Department and assisting in Driver's Ed. for the first nine weeks. He has been involved in the field of education for four years. He is from Bent Mountain, and a graduate of Cave Spring High School, but now lives in Vinton. He served in the United States Navy.
"I assisted Coach Brad Greenway last year in Ladies Basketball and with him moving over to coach the guys I am lucky and blessed to get to replace him," Bush said.
"I love the close-knit feel of Vinton," Bush said. "Before we moved away for a few years (Harrisonburg area), I lived in Vinton while coaching at Hidden Valley. I was always drawn to how hard the kids worked at Byrd. It was never fun to game plan against them.  I am also looking forward to establishing lifelong relationships here. I feel very blessed to be here."
Bush says his grandmother and his step (bonus) kids graduated from Byrd. Former football coach Don Oakes is a family member. His bonus daughter's boyfriend's sixth great grandfather was William Byrd.
Sumner Dempsey is a special education teacher/collaborative teacher in English 9 and English 12. She is from Salem and a graduate of Salem High School and Radford University.
She has over 20 years of experience in education including a position as a paraprofessional, teaching at the elementary level, and teaching at a private alternative day treatment school.
"WBHS staff and students have been very welcoming," said Dempsey. "They have made my transition smooth and enjoyable. I look forward to doing more with and for WBHS and the community. I have a strong desire to work in a high school that has strong community ties and support. I have several friends who work or have worked at WBMS and WBHS."
Outside of school, she enjoys spending time with friends and family and in outdoor activities—especially around the water.
Megan Herndon is teaching World History II (11th grade) at WBHS and Civics at William Byrd Middle. She is also teaching at Cave Spring Middle. She is from Salem and a graduate of Salem High School. She earned her undergraduate degree from the University of Virginia's College at Wise and her graduate degree from Arizona State University. This is her sixth year of classroom teaching.
"I'm looking forward to working with a spirited and hardworking staff in a wonderful school district," Herndon said. "I am passionate about history from all angles. I am also passionate that a well-rounded education including social/emotional education provides students with the tools to be active in their communities and to bring much needed change."
Ashley Huff will be co-teaching Algebra I with Hannah Blais and Geometry with Lauren Keesling.
"They are both fantastic and I couldn't be happier with this team!" said Huff.
Huff grew up in Lynchburg and is a proud Brookville Bee. She earned her undergraduate and first Master's degrees from the University of Mary Washington, and her second Master's from the University of Lynchburg.
"This is year 14 working in a school for me," Huff said. "I worked the last couple of years in another local school system, then applied for a job with Roanoke County and was lucky enough to interview and be offered a job here."
She is hoping to get into coaching at some point.
"I am excited to be part of such a supportive and close knit family/community," she said. "I can already feel the support from other staff and the community for this school!
Huff lives in Vinton with her husband and daughter and has other family members in Vinton as well.
"Throughout my years in education, I have held many different positions! I have been a teacher, a coach, an athletic director, an assistant principal, and a school counselor," Huff says.
Stephen Janoschka is teaching Technology Education, split between William Byrd High School on A days and Hidden Valley on B days. He is from Fauquier County near Washington, D.C. He earned his Associates Degree in Agriculture Business, his Bachelor's in Agriculture Education, and his Master's in Career and Technical Education  from Virginia Tech. His Master's in Educational Leadership is from Radford University. He has been teaching agriculture education for the past 15 years between Craig and Franklin Counties.
Janoschka says he is teaching at WBHS because of "their need and my desire to teach Technology Education. I am ecstatic to be in the county and at William Byrd."
Lauren Keesling is teaching Geometry at WBHS, working mainly with sophomores. She is from Berryville, a small town in northern Virginia, and graduated from Clarke County High School. She currently lives at Smith Mountain Lake
"I attended James Madison University for my Undergrad and Graduate degrees. GO DUKES!" said Keesling.  "I received my Bachelors of Science degree in Mathematics in May 2020, and my Masters of Arts in Teaching degree in Secondary Education in May 2021. I loved and cherished my time at JMU and look forward to teaching the future dukes here at WBHS."
Keesling student taught at WBHS under Hannah Blais during the last semester of her graduate program.
"I loved the atmosphere, school spirit, and friendships I made within the WBHS community, and I knew it was where I wanted to teach," Keesling said. "Thankfully, a math position opened up and I got the job! I can't imagine starting my teaching career anywhere other than Byrd."
"While I don't have any professional experience with teaching post-graduation, I have known that I wanted to be a teacher for as long as I can remember," she said. "Growing up, my mom turned my playroom into a classroom so that I could play school with my dolls (and friends, when I could force them to be my students). I am so excited to begin my career living out my dream!"
"I want to focus on building relationships with my students throughout my first year," Keesling said, "but I cheered in high school, and would consider assistant coaching for the cheer team if help was needed next year."
"I am happy to be working at WBHS because of the culture that surrounds this school. The Vinton community rallies around Byrd and that's something extremely important to me. This school reminds me of the high school I went to and how supported we were by the community. I know how it feels to be cheered on by complete strangers while you rode by on a parade float, and these kids will never forget that feeling either! I am so excited to build personal relationships with each student and coworker as my career takes off."
"I was a gymnast from age 3 until 16 and I love watching gymnastics meets," she said. "Whether at the high school, collegiate, or Olympic level, gymnastics is an extreme passion of mine that I can't wait to share with students!"
Shannon Lewis will be teaching Biology to sophomores this year at WBHS. She is from Chesapeake, Virginia and graduated from Virginia Tech, majoring in Biology and minoring in Chemistry. She has taught school for 18 years, 10 in Roanoke City and eight in Roanoke County before coming to Byrd.
"I am thrilled to meet and get to know the students," Lewis said.  "I have some amazing coworkers, some of which I have worked with in previous schools."
As for other interests, "My family and I love to go to Virginia Tech Basketball games!  Go Hokies!"
Sara Miller is a special education teacher at William Byrd this year. She has lived in Roanoke her entire life and graduated from Northside High School. She received her BBA in Marketing from Roanoke College. She completed part of her graduate Education degree at Hollins University and is now attending Radford University to complete her graduate degree in Special Education. This is her second year in teaching, but her first year with  Roanoke County and WBHS.
"My four children all attend WBHS; my oldest graduated in 2017; and the three youngest still attend (my twins graduate this year and I have a sophomore)," Miller said. "When Mrs. Newcomb offered me a position, I was absolutely thrilled to have the opportunity to teach at the high school we have been involved with through academics, sports and activities for years."
"I coach a local summer swim team and assist with a local year-round swim team. It's exciting to see so many familiar faces in the hallways and classrooms."
Ben Munsey will be teaching a couple of 9th grade health and physical education classes at WBHS. He is from Roanoke and a 2013 graduate of Hidden Valley High School. This is his third year of teaching.
"I graduated from James Madison University with a major in Kinesiology and minor in coaching in 2018," Munsey said. "I also finished my masters at JMU in health and physical education in 2019. They were in need of a health and PE teacher for a couple of classes at WBHS, WBMS, and HVHS, so I am here to fill those classes."
"I am excited to get to know another part of the community in Roanoke County and see what influence I can have for these students' overall health," Munsey said.
"I am a huge basketball person so, growing up, I always looked for good places to play pick up and it seemed to always be the Vinton area where I got the best games and have ended up making a lot of lifelong friends from here by doing that," Munsey said. "I am strongly into basketball, but I have also gotten into road biking, swimming, and running. My wife and I will be competing in our first sprint triathlon in October."
Dustin Phelps is co-teaching mathematics in 10th-12th grades. He is from Roanoke, a graduate of Northside High School, and a member of their state championship football team in 2009.
He graduated from the University of Charleston (where he played football) with a major in Communication Broadcasting. He was hired this year as a football coach and Instructional Assistant. He is also a track and field coach at Byrd. This is his second year in education.
Sarah Poore is working as a one-on-one special education Instructional Assistant at WBHS this year. She is from Bristol, Virginia, and graduated from Virginia High School. She majored in Interdisciplinary Studies at Radford University, completing her degree in December 2019.
She has 5+ years in professional teaching environments including childcare facilities/preschools, an internship with Radford City Schools, and substituting for Montgomery County Public Schools. She will be assisting with the Byrd Buddies program at William Byrd.
Poore says she would like to work with sporting events and color guard—the activities she participated in when she was in high school and "where some of my favorite memories came from." She is currently taking a Braille class to expand her SPED skills and "to be able to provide accurate knowledge to my one-on-one." She has plans to tackle sign language next.
"I have always had interest in teaching and after changing my major a few times while at Radford, I was exposed to both working with SPED students and taking a few SPED classes," Poore said. "I fell in love with it right away. After moving to Roanoke earlier this year, I applied to Roanoke County Public Schools for an Instructional Assistant position. Mrs. Newcomb reached out shortly after, and we scheduled an interview. She immediately made me feel confident and comfortable. I can honestly say that was the first job interview I have experienced where I really felt my worth. Before even leaving, I knew I was going to accept the job. My next step is to pursue my Provisional License to teach Special Education. I am very happy to be at WBHS and am looking forward to the rest of the school year.
Tim Robers is a Special Education Teacher and will be working with students in 11th and 12th grade English. He grew up in Roanoke and graduated from Cave Spring High School. He received his Bachelor of Arts degree in English from Roanoke College in 1999 and his Master of Science in Educational Leadership from Radford University in 2016. He has 22 years of teaching experience.
"I have been working in a private day school setting for most of my career and I made the decision to try something new in 2021 and I was afforded the opportunity to join the team at William Byrd," Robers said.
"Before coming to WBHS, I worked in an alternative education setting where I worked with students to help them grow academically, socially, and emotionally with the goal of helping them access and utilize the resources needed to help them make positive transitions whether it be back home, back to their home schools, post-secondary training, college, or the workforce."
"I am excited to be a part of a community-based school," Robers said. "I have heard nothing but good things about the staff and students at William Byrd High School, and I am excited to be a part of the team."
As for his outside interests, "A hobby of mine is digital art and I enjoy tinkering with 3D printers, CNC laser engravers. I also enjoy hiking and mountain biking with my wife Shannon and my daughter Reese."
Marsha Taylor will be teaching French 1, 2, and 3 at WBHS. She will also be teaching French 1 at William Byrd Middle school and Northside Middle. She grew up in northern New Jersey, graduated from Langley High School in Fairfax County, spent most of her adult life in the Richmond area, and now makes her home in Blacksburg.
She graduated from UVA with a BA in French and Communication Studies and has been teaching for 22 years.
"After spending six years in Salem City Schools, I sought out a larger school district with more professional growth and collaboration opportunities," Taylor says.  "Also, I look forward to my role in the revitalization of the French-American school exchange program in the near future."
Jordan Thayer will be teaching Biology and Ecology this year, seeing 10th, 11th, and 12th grade students in her classroom. She will also be teaching a study hall class.
Thayer moved to Roanoke when she was in elementary school and "I wholeheartedly call Roanoke my hometown." She is a graduate of Hidden Valley High School.
"I'm happy to have moved back to my family and friends here."
Thayer earned her Bachelor of Arts is Biology and later graduated from Hollins University with a Master of Arts in Teaching.
"I did my student teaching at Northside High School and found that I loved working with Roanoke County schools," Thayer said. "When there was an opening for a science teacher I jumped at the opportunity!"
This is her first year as a full-time classroom teacher. She spent four years as an informal educator with the Science Museum of Western Virginia doing short science lessons and activities with local schools and running summer camps.
"Every time I mention that I'm starting this year at WBHS, people tell me something new that they love about this school," Thayer said. "From clubs and classes to teachers and sports, everyone seems to have something they love about their time here. I'm so excited to join this community!"
"My favorite way of keeping in contact with friends are game nights," she says. "Board games, video games, Dungeons & Dragons? All great excuses to keep up with my far-flung friends and family, and I'm looking forward to learning about my students' own favorite games this year!"
Ryan Tilgner is teaching mathematics—Algebra Functions and AP Computer Science this year at WBHS.
Hannah Triplett is the new school counseling secretary at WBHS. Her job is to provide transcripts and other documents to students as well as aid the counselors in setting up appointment and getting students enrolled. She also orders the diplomas for graduation each year and sends the transcripts for seniors to their colleges of choice.
She is from Haysi in Dickenson County on the Virginia-Kentucky border, a couple of hours outside of Bristol. She graduated from Ridgeview High School in Clintwood, Virginia.
"My husband went to Lord Botetourt High School and got a job working for the Lewis Gale IT department, which is what led me to become a Roanoke County resident," Triplett said. This is her fifth year living in Roanoke County.
"I am current student with Old Dominion University. I am majoring in Psychology and my aspiration is to become a school Guidance Counselor. I graduate on December the 18th with my Bachelor of Science in Psychology. I then plan on applying for a Masters of School Counseling from Liberty University."
She has worked as an Instructional Assistant in Roanoke County Schools and applied for the guidance position to "gain more experience in my field." She has been working in an educational setting for almost three years.
"I am happy to be here in this position," Triplett said. "The administrative staff at WBHS are professional and kind; they have been welcoming to me as I have transitioned to this position. I am proud to work with all them."
Her hobbies are painting, walking their two dogs, and reading.
Sally Wice is teaching one 8th grade English class at Northside Middle School and then traveling to WBHS for the rest of the day to teach 9th grade English. She is originally from Roanoke and graduated from Lord Botetourt High School. She received her Bachelor and Master's degrees from James Madison University. She has taught in Roanoke County for two years at Northside Middle.
"I am excited to begin working at William Byrd High School; the staff has been very welcoming and supportive," Wice said.
She recently became an EMT and will be working in the community part-time.