By Sports Editor Brian Hoffman
The William Byrd cross country team had a busy time last week as the Terriers competed in two meets. Byrd ran in the East Mont Invitational on Wednesday, then traveled to Daleville for the Blue Ridge Invitational on Saturday.
The East Mont race was held at scenic Camp Alta Mons in Shawsville and Byrd senior Olivia Hurd won the individual title in the girls' race. Olivia finished with a time of 21:15 to outrun runnerup Leah Altizer of Floyd County by 20 seconds. Olivia took the lead just before the one mile mark and stretched the lead over the next 2.1 miles of the 5,000 meter race.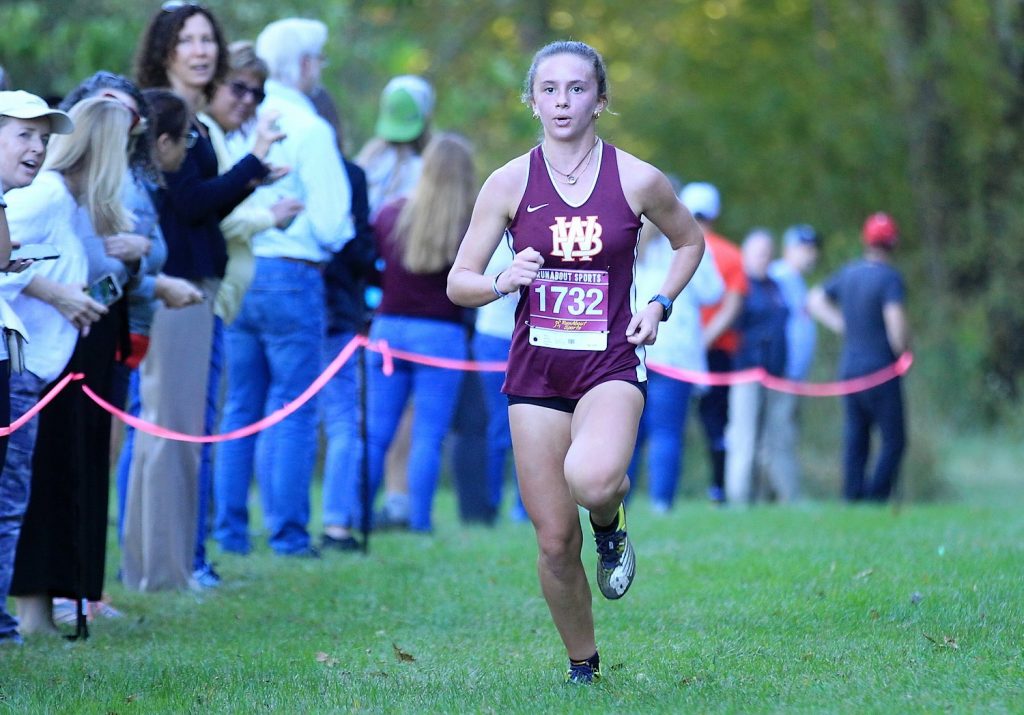 "It was almost perfect conditions and being an out and back course at the turn she could gauge where the competition was," said Byrd coach Eric Royal. "I saw her use race strategies we have talked about for years. Her dedication to cross country has been great to see and it is all coming together for her to finish up her high school career running fast and leaving goals for future runners."
Byrd finished seventh as a team with Floyd County winning the girls race. Also scoring for the Terriers were Claire Glover in 20th place, Lucy Whitenack in 37th, Riley Roth in 38th and Alexandra Bonilla in 45th. There were 63 girls in the race.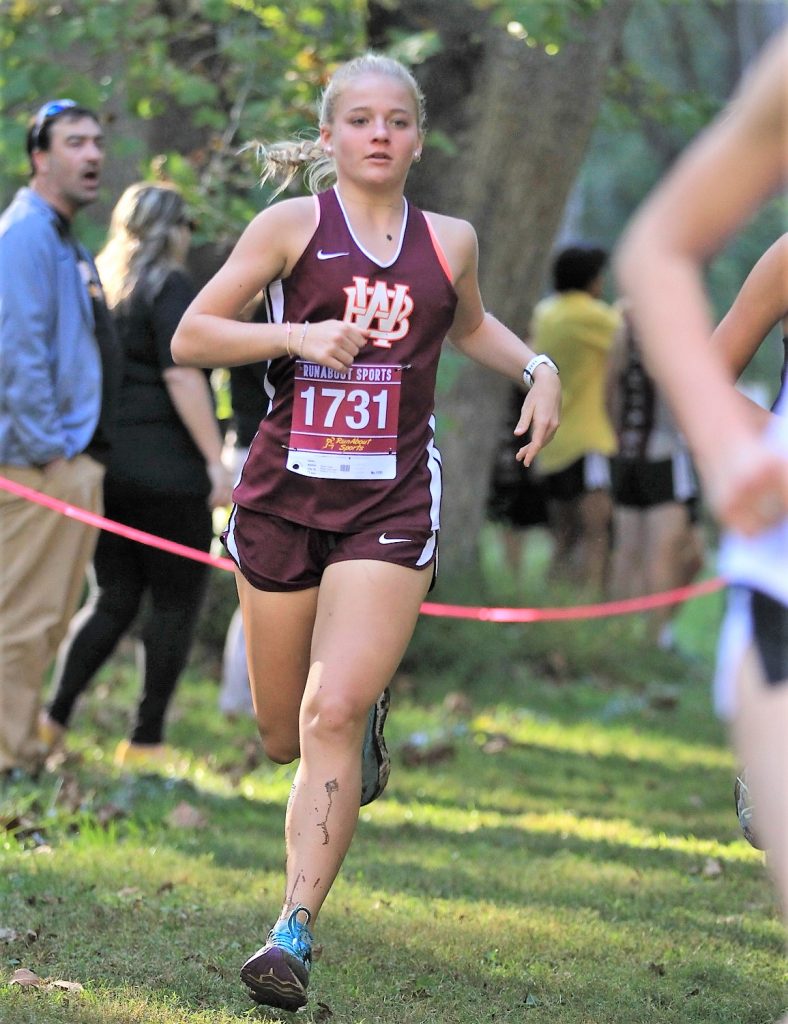 The Byrd boys finished sixth at Alta Mons as Salem took the team title. The individual winner was Mason Erchull of Floyd with a time of 18:01 and Byrd's best run was 18:45 by sophomore DeShawn Austin. DeShawn started out strong in the top five through the first half of the race but fell back a bit as the second mile came and went. Then, in the last 800 meters with the finish line in sight, he changed gears and went to passing several runners to take seventh.
"DeShawn Austin ran a very good race," said Royal. "He continues to learn how to race and when it comes together with his raw talent, he for sure will be a runner the competition will not want in the races."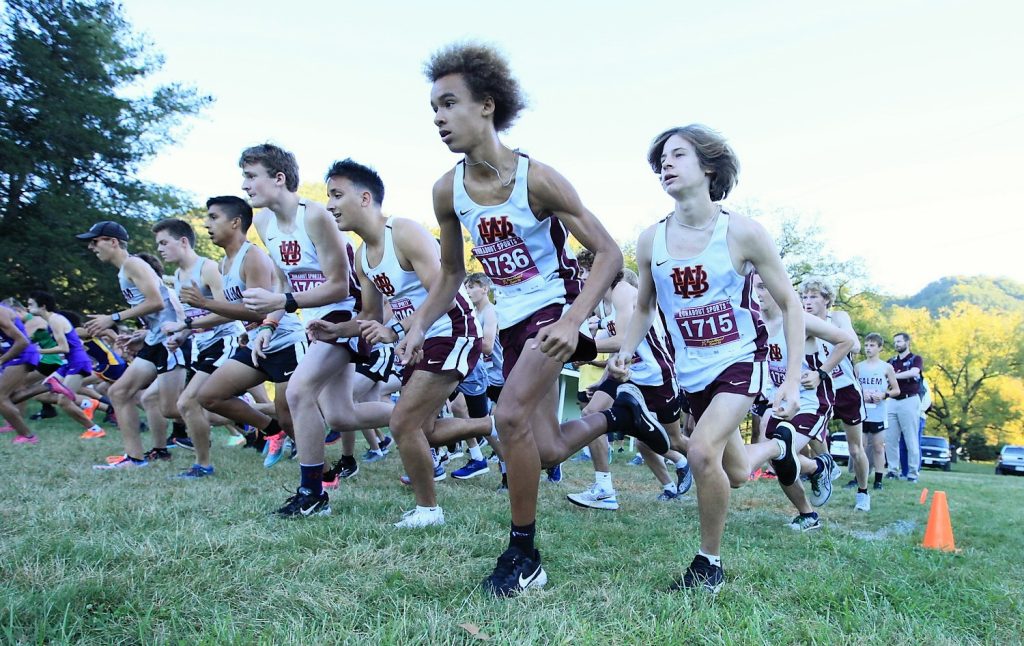 Other scorers for Byrd were Stephen Underwood in 17th, Shaun Gower in 27th, Brayden McCulloch in 44th and Drew Bartley in 47th. There were 64 runners in the boys' race.
Byrd's Elena Mullen, an eighth grader, won the jayvee race in 24:35. Byrd took the top four spots with Mullen, Payton Ramsey, Heidi Wienke and Arianna Krista with Liz Dixon and Megan Higgins finishing seventh and eighth.
"Elena once again has shown she means business," said Royal. "This was her first 5,000 meter race and it was mixed, and she ran faster than most of the boys in the race. She is a gritty runner and loves to compete."
On Saturday the Terriers ran in the Blue Ridge Invitational at the Greenfield Recreation Park in Daleville and it was a big day for the Christiansburg team. The Blue Demons swept the boys' and girls' 5K varsity races as well as the boys' and girls' middle school two mile races.
Byrd's girls took fourth among nine teams and again Hurd led the way. Olivia finished fourth overall with a time of 21:27, a minute and 27 seconds behind the winner, Kerrigan Chaney of North Cross School. Also scoring for Byrd were Glover in 18th place, Bonilla in 40th, Whitenack in 42nd and Bethany Beecher in 50th place. There were 71 girls in the race.
"Claire Glover has been a consistent finisher for us and she also ran a very good race," said Royal. "Alex Bonilla and Lucy Whitenack have been improving all season and we are looking for them to go to the next level of racing."
The boys finished 11th with 92 runners competing. Austin led Byrd with a time of 19:43 for 23rd place. Lawson Mecom of Christiansburg was the individual winner in 17:20 as the Blue Demons had three of the top four finishers.
Gower was next for Byrd in 30th place, and also scoring were Underwood at 43, Reagan Lilley at 63 and Bartley at 73.
"Shaun Gower is starting to understand how to race, just in time for the post season," said Royal. "Stephan Underwood has also been a reliable runner."
The Terriers are off this week as they prepare for the annual Metro Cross Country race in Blacksburg next Wednesday, October 19.
"As the regular season winds down and we prepare for the post season our runners are looking good to go to Metro, BRD and Region meets with confidence of running fast and knowing they have run their best races," said Royal. "Our motto for this year is keep moving forward and it is showing in our performances."