By Sports editor Brian Hoffman
After last year's winless season there's nowhere to go but up for the William Byrd football team, and the Terriers are planning to take the first step in that direction Friday night. Byrd will open the 2022 season with high hopes as they travel to Bedford to take on Liberty High.
It's a perfect opener for the Byrdmen, as the Minutemen find themselves in much the same situation. Liberty opened with three wins last year, including a 33-28 win over Byrd in Vinton in the season opener, but then proceeded to lose their final seven games in a row, getting shut out three times. Chris Watts, who had been Liberty's coach for the past 20 years, left the program and was replaced by Daryl Robertson. He'll try to revitalize a program that was 5-21 over the past three seasons.
In Vinton, coach Brad Lutz is hoping to energize a Byrd program that has a 7-20 record in his three years. Despite the struggles Byrd had an excellent turnout for the team this year and the team has high hopes for a turnaround season. The Terriers have talent and there's nothing that can't be fixed with a couple wins.
"We need some success to show the kids the benefit of their hard work," said Lutz. "It would be helpful to get off to a good start."
The Terriers had a scrimmage with a strong Glenvar team on August 12 and held their own. Last week in their final tuneup for the regular season Byrd played a Benefit Game at Rockbridge County and beat the Wildcats like a rented mule. Byrd won in a game situation, 41-6, against a team that was 20-10 the past three seasons and made the playoffs last year.
"The kids played well," said Lutz. "It was just a benefit game, but it was an opportunity to have some success and build confidence. That team won the Valley District two years ago."
The Terriers come into the season as a young team, with just eight seniors on the roster, but they have some experience as well. Starting quarterback Israel Hairston is a junior but he saw time behind center as a freshman and started all of last year. He's fast, smart and has a good arm and he'll be a threat to take it to the house every time he touches the ball, be it through the air or on land.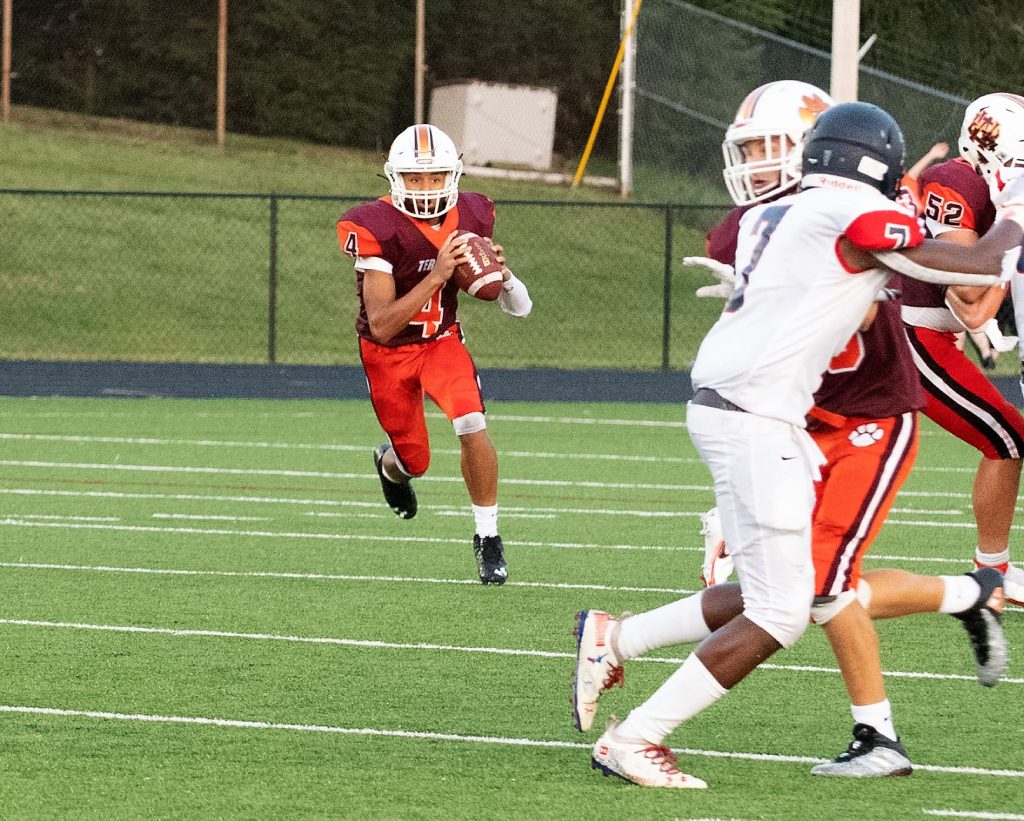 "We want to be a 50-50 team as far as the run and pass," said Lutz. "Israel is a great runner and he's worked hard on his passing game. He'll keep you honest with his arm and his legs."
While Hairston is a dynamic player he's far from the only weapon in Byrd's arsenal.
"We're not a one man show," said Lutz. "We'll use multiple formations and run a balanced offense, and we want to get as many kids involved in the offense as we can. With different formations we'll use different personnel."
Byrd has a wealth of riches at quarterback. Lane Shoemaker, who is also a junior, is a capable backup while sophomore Jahdai English saw some snaps last year and freshman Cannin Lutz is an up-and-comer after a good year on the middle school team. He'll be the starting quarterback for the jayvees.
"Our quarterback situation is fantastic," said coach Lutz. "We have four who we have a lot of confidence in."
The running backs will be a three-headed monster of senior Davian Hopkins, junior Brayden Andrews and a promising freshman, DeShannon Reed. Junior John Kiker returns as the "H Back," which is similar to a fullback but he'll also line up on the wing on occasion.
The Terriers have a stable of receivers that includes seniors Jacob Dickerson and Dillon Anderson and juniors Cooper Minnix, Dominic Dulak and Dexter Gaines.
"Who's on the field depends on the formation," said Lutz. "We're trying to get as many kids involved as possible. In our benefit game our kids were fresh in the fourth quarter."
Senior Dustin Richards has moved from guard to tight end and he's changed his number from 53 to 44. He's a big strong kid who has good hands and he'll be an added weapon in the attack.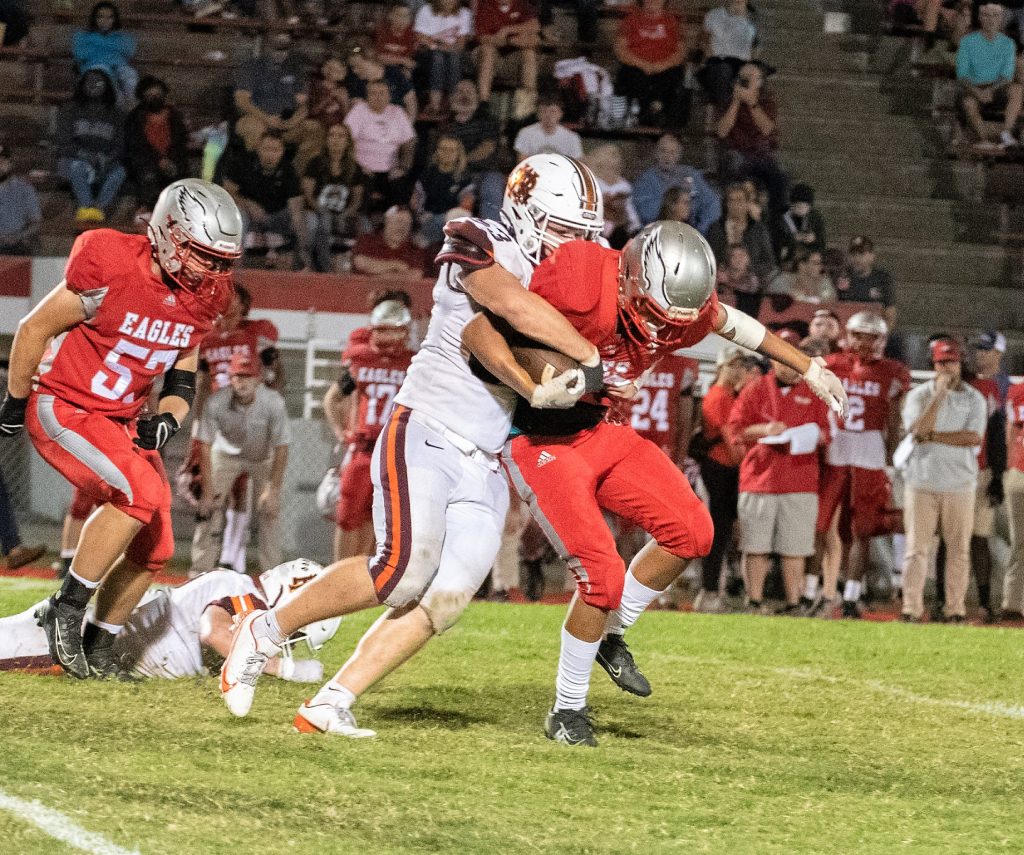 Byrd has some experience on the line with senior Caleb Thompson and sophomores BJ Cheatwood and Nick Bustamante at tackle. Soph Cyrus Adams will be a center or guard and senior Luis Hernandez can also play center. Nate Williamson is a senior guard with experience.
On defense Byrd has changed to a four man front with Richards and Thompson at the ends. Other linemen come from a group that includes Williamson, senior Alex Reamey, juniors Ian Vest and Doniven Davis and sophomore Maurice Burnette.
Kiker and English give Byrd toughness and speed at inside linebacker while junior Wyatt Bailey will man an outside spot with junior Elliott Gaines.
Sophomore Ethan Haston returns at cornerback after starting as a freshman with Braeden Young and Dexter Gaines also in the mix.
"We have three solid corners," said Lutz.
Shoemaker will be the free safety and Andrews will be the strong safety.
Lancaster has been doing the kicking and he's looked good in preseason practice. He's been drilling them from close to 50 yards this summer and last week he put two kickoffs in the end zone at Rockbridge.
"That's something we haven't had, and that's a real weapon," said Lutz.
Richards is the punter and Dulak is a dangerous return man. Several others could also see time returning kicks.
The coaching staff includes Brad's brother, Adam Lutz, who is the defensive coordinator and also works with runningbacks and linebackers. Their dad, Charlie, is the "nuts and bolts" guy of the team, handling paperwork, etc.
Long-time assistant Kim Colls returns to help on both jayvee and varsity while Andrew Mitchell moves into the head jayvee spot. He was the middle school coach last year, and he'll also coach corners and receivers.
"He's a great pickup," said Lutz.
Will Satterfield returns to handle the defensive line and special teams. Andrew Close is new to the staff and he works with tight ends, safeties and special teams. Josh Camden has defensive ends and he's the jayvee defensive coordinator.
Ron Hicks, another newcomer to the staff, will handle the quarterbacks. He was a teammate of Lutz at UVA-Wise when Ron was the quarterback and Brad made sure his uniform stayed clean as an offensive lineman.
Byrd will have five non-district games to open the season against Liberty, Hidden Valley, Christiansburg, Bassett and Cave Spring before opening the five game Blue Ridge District schedule on October 7 at Lord Botetourt. It's a challenging non-district schedule but not overwhelming, and if the Terriers can pick up some wins and build some momentum going into the district half of the schedule anything can happen this year.