The streets of downtown Vinton will be filled with the HeRow Expo 2 benefit car/truck/powersports show on Saturday, April 9, from 5 to 9 p.m.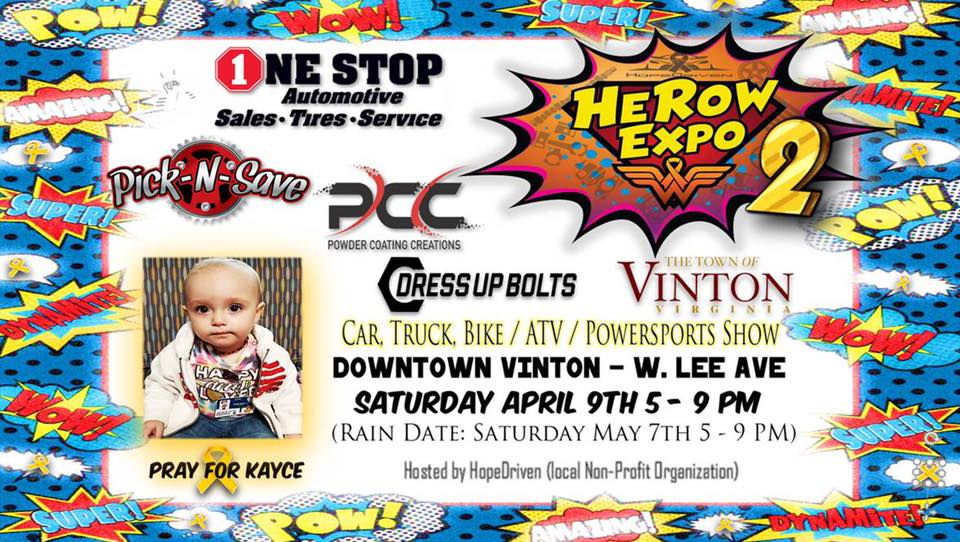 The event is sponsored by HopeDriven, a local non-profit organization which raises funds for the medical expenses of seriously ill children throughout the Roanoke Valley and Lynchburg areas of Southwest Virginia. The organizers have taken their love for motorsports and turned it into an opportunity to impact the lives of local children.
The event was named after Rowan Price, a young girl who battled leukemia. Rowan passed away in 2019, diagnosed just a year earlier in 2018 with a rare form of leukemia, AML M7, also known as AMKL. Rowan's mother said the nonprofit HopeDriven touched the whole family's life with the event's generosity.
"It really touched our hearts, and it raised over $10,000 for our family which went toward our living expenses, expenses for Emory, our medical expenses and then eventually, unfortunately, our funeral expenses," Mandy Price said. "So, it just really means a lot that there is help out there in this form."
This year, HopeDriven has selected Kayce Bradfield of Moneta to sponsor at the event in Vinton. She was diagnosed with high-risk Neuroblastoma with spots on her bones at just 14 months old. She underwent surgery to remove the main tumor and has been through several rounds of chemo with many rounds to come. All proceeds will be donated to Kayce and her family to put towards her medical bills and other various expenses that occur with her treatment.
The HeRow Expo was held last year at the Vinton War Memorial but has moved downtown to West Lee Avenue, Pollard and Maple Streets, and the Vinton Farmers' Market this year.
HeRow Expo 2 will feature a car, truck, bike/ATV/powersports show including Modern Muscle, Classic-Modified, Classic-Stock, Tuner, Euro, Street Truck/SUV, Off-Road Truck/SUV, Bike, Powersports/ATV, Sittin' Pretty, and Rowan's Choice.
One of the staples of every HopeDriven event is the Exhaust Competition at the end of every show. HeRow Expo 2 in Vinton on April 9 will be no different. They are expanding the competition this year by adding a new class.
Classes are:
6 & Below (any vehicle with 6 cylinders or less)
8 & Above (any vehicle with 8 or more cylinders)
* Biker/Powersports (any type of motorcycle or ATV, or anything similar)
The winner of each class will be crowned with each receiving a trophy; they will then have a grand finale competition between all three class winners that will determine the Grand Exhaust Champion.  There will also be a Light Up the Night Competition.
Other activities include a 50/50 drawing, raffled items, a Bounce House, Hot Wheel Racing, face painting, kids' activities, games, and more. There will also be a live DJ and band.
HeRow Expo 2 will host a St. Baldrick's Foundation Head Shaving fundraiser with proceeds going to help conquer childhood cancers.
Registration for HeRow Expo 2 is a $10 minimum donation. All spectators enter free. Business vendor registration, which includes two vehicle spaces, is $50 if paid in advance, $75 the week of the event. Food Trucks are $75 if paid in advance, $100 the week of the event. (Additional charges may apply due to size.)
To become a vendor or food truck for this event, email: hopedrivenhelpgiven@gmail.com.
Sponsors include the Town of Vinton, One Stop Automotive, Pick-N-Save, Powder Coating Creations, and Dress Up Bolts.
The public is urged to come out to support Kayce and her family, as HopeDriven continues to push for additional awareness of and funding for childhood cancer.
The rain date for the event is May 7 from 5 to 7 p.m.