By Debbie Adams
Public Works Director Bo Herndon updated Town Council on Feb. 7 on several projects his department is working on or has completed. He and Mayor Brad Grose emphasized that Public Works employees are able to work more efficiently since the water and wastewater utility systems were transferred to the Western Virginia Water Authority (WVWA), freeing up time previously spent on repairs to water and sewer lines.
Herndon briefed council on replacement of signal lights at all 11 intersections in the town. In the past one and a half years, six of the traffic signals have been replaced. He explained that Public Works is waiting for a control panel to be delivered and installed to have the intersection at PFG functioning again. General Manager Mike Maust has allowed employees to exit onto 3rd Street as the town awaits delivery of parts.
A contractor from Texas will begin work on synchronizing traffic signals throughout the town this week. Traffic signal pre-emptions which will allow emergency vehicles to control traffic signals safely in an emergency situation will be installed in March.
Herndon outlined the water line project undertaken on Cleveland Avenue by the WVWA where 1700 feet of waterline is to be replaced. So far, 450 ft. has been installed. They plan to complete the project in May. Public Works will be working on the storm drains on Cleveland at the same time so that the pavement does not have to be torn up and repaved twice.
He reported that 80% of the roadways in the town have been restriped.
Herndon discussed installation of lines by Glo-Fiber who plan to run 200,000 feet of the fiber above and below ground. This has caused some pavement issues in the Meadows neighborhood. The company is applying temporary patches to the roadway now; once the work is complete, asphalt patches will be applied. Herndon noted that Glo-Fiber is in high demand in Vinton and throughout the valley with some 30 different contractors working on the project.
The director then talked about winter preparedness and the diligent crews who keep the roadways clear. He explained that the town begins tracking winter storm systems 48 hours prior to their predicted arrival to pinpoint when the inclement weather will start. Two crews working 12 hour shifts go into action once the snowfall begins, clearing the main thoroughfares such as Washington Avenue, Hardy and Bypass Roads, and Clearview Drive, The town has four plow trucks and several pick-up trucks with plows. Once the snow ends, the crews get into the neighborhoods.
Herndon said that the CodeRed emergency alert system will soon not only alert citizens and businesses to bad weather but will remind them to park on the odd-numbered side of streets to help snow removal vehicles who are challenged by narrow streets throughout the town.
He then shared a Powerpoint presentation on three high profile projects: Garthright Bridge, replacement of the retaining wall and sidewalks at the Vinton History Museum, and Storm Drain improvements on East Cleveland Avenue.
The Garthright Bridge project got underway in November with road closures of one lane in each direction on the bridge, which went smoothly by all accounts. Most of the work has been underneath the bridge replacing rusted steel girders, plus expansion joints on the roadway. De-icing chemicals dripping through the expansion joints onto the girders caused the deterioration over time. The metalworks of the bridge are being sandblasted and then painted. Anticipated completion is in March.
Public Works undertook an extensive project at the history museum on Jackson Avenue, replacing a crumbling retaining wall and uneven cracked sidewalks, adding a set of steps, and making improvements to parking. Almost 35 yards of concrete was used during 400 man-hours of work.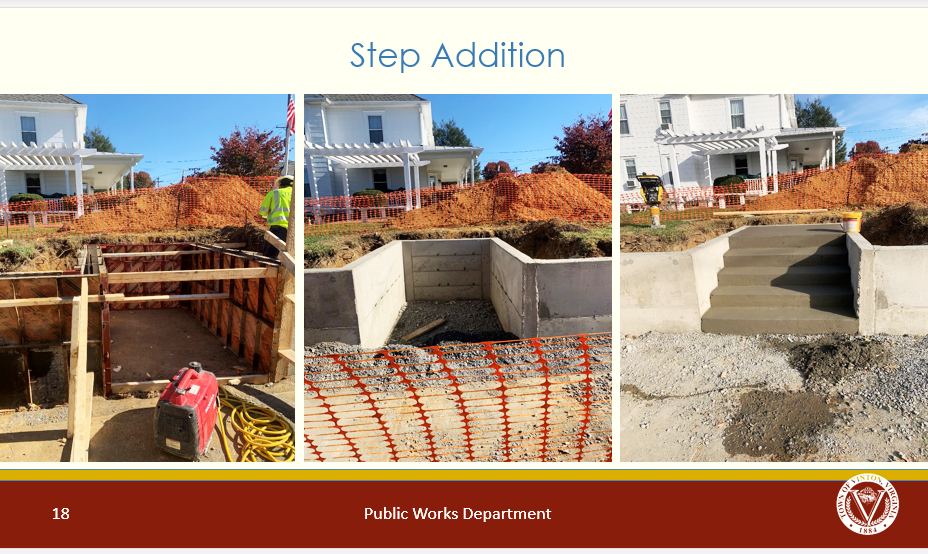 The department also resolved a storm drain problem on East Cleveland, eliminating frequent water on the roadway. A large drainage pipe was replaced, and the drainage ditch was stabilized with rip-rap.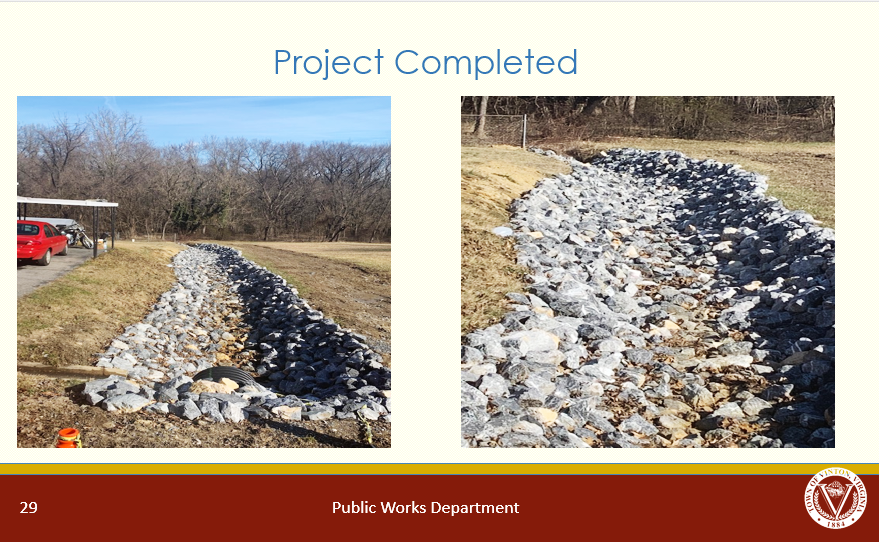 The Public Works Director's Report for December 2022 details work the department completed that month. On Dec. 23, three Public Works employees worked 13.5 man-hours, using seven tons of de-icer salt to clear the roads during that weather event.
During that month, Public Works employees completed work orders for two jobs involving storm drain work, and one for drainage. The streetsweeper cleaned 145 miles of roadway.
Public Works employees provided support for the town's annual Christmas Parade and Santa Christmas Crawl.
As for Fleet Maintenance, 11 police vehicles were serviced along with four public works light and medium duty vehicles, 17 heavy duty vehicles, six Public Works equipment and trailers, and six state inspections were completed.
In Refuse and Recycling, 284 tons of municipal waste were collected, along with 26.5 tons of residential waste. Curbside recycling collected 18.64 tons of recyclables.
Public Works completed six job orders involving dead animals, nine jobs of sign installation and signal repair, two work orders for tree/brush maintenance, one road closure, and three work orders for pot holes/sink holes. The department also addressed 42 work order tickets for utility markings (Miss Utility).
Council members commended Public Works employees for their continuing hard work and dedication to the citizens of the town. They also pointed out that the department is now able to catch up on projects, and take on new ones, thanks to the purchase of the utility system by the WVWA.
For a more detailed report on recent Public Works projects, visit https://www.vintonva.gov/civicalerts.aspx?AID=1020.