By Debbie Adams
Herman L. Horn Elementary Principal Julie Sandzimier sent out a message to her students and their families on what was to be the last day of school for the 2019-2020 school year.
"So, here we are on the official last day of school," she said. "Not at all how we imagined in August for the school year to end. And, as if a pandemic wasn't enough to alter our plans, the torrential rains also had to create havoc. With that being said, we have one more event planned for our students and teachers. We are going to reschedule the Teacher Parade. We hope our students and families can come out to greet us. If we are not passing by your house directly, we hope that you can come to the nearest street corner to wave and say hello. We look forward to seeing your smiling faces!"
Faculty and staff at Herman L. Horn had originally planned a parade through the school's neighborhood back in March when schools were put on hold temporarily to boost the spirits of students, parents, and teachers. However, when Governor Northam shut the state down and limited travel to "essential travel only" the parade was cancelled.
"We thought it would be best to postpone," said Sandzimier. "Thankfully, Phase One was initiated and we thought this would be a great way to culminate this crazy year. We could say goodbye to our students from afar and wish them a happy summer."
Sandzimier listed some basic parade rules:
All children must stay out of the streets.
Students must remain with their families to ensure social distancing from neighbors
All kiddos must have a smile on their face while waving and shouting to their favorite teachers!
About 34 vehicles carrying teachers and staff participated in the parade on May 26.
"Laurie Aylor and her husband mapped out the route, and we did our best to hit as many neighborhoods as possible," Sandzimier said.  "Sgt. Michael Caldwell led the parade and other members of the Vinton Police Department helped with traffic control along the parade route.  We posted the route on social media and sent emails to the families so they would know. There was a great turn out of both teachers and students and parents."
(Sgt. Caldwell is the Community Services Officer who works with students at both Herman L. Horn and W. E. Cundiff Elementary schools.)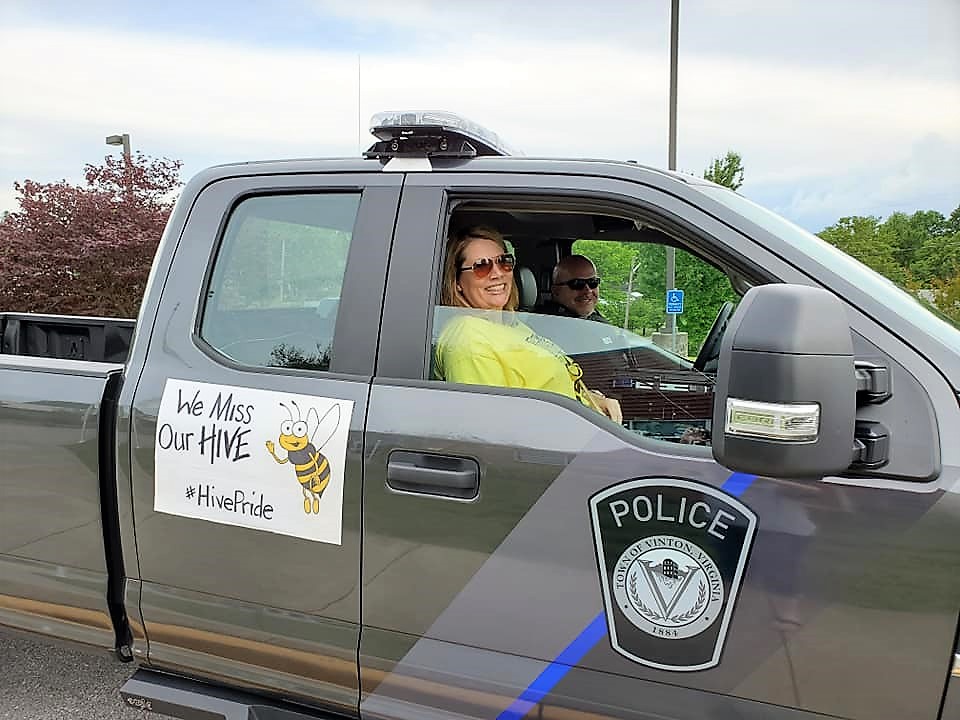 Almost 3-year-old Leona Garnett, niece of Neil Zimmerman who teaches fifth grade at Herman L. Horn (and coaches the William Byrd High School baseball team) was waiting at the end of the driveway to see the parade and her uncle pass by. Leona, a future Herman L. Horn student, is the daughter of Ashley and Tyler Garnett and granddaughter of Mike Zimmerman. She left a big chalk "Thank You" message for Zimmerman.