By Sports editor Brian Hoffman
William Byrd High School named basketball coaches for the boys' and girls' teams last week and there are no new names to report. There are new positions, however, as Brad Greenway has moved from head girls' coach to head boys' coach, and his assistant with the girls' last year, Randy Bush, has been moved to the head position.
"I'm super excited to have this position," said Greenway, a 2005 William Byrd graduate. "I played and coached at Byrd and grew up watching the games. This is a dream come true."
Greenway has fond memories of watching the Byrd team as a youth.
"Coach (Paul) Barnard was the coach and my heroes as a kid were players like Josh Wheeler and Curt Hetherington," he said. "I remember when they introduced the players they cut out the lights and put the spotlight on them, and I thought that was really cool when I was a kid."
Now, the spotlight is on Brad as he takes over a program that Josh Cunningham coached for the past four years. He didn't see many games because his girls usually played on the same night as the boys at the opposite location.
"I watched more of their games on 'Huddle' than I did in person," he said. "I did get to see some playoff games, and I got to watch them some in practice."
Brad played just one year, as a senior, for the Byrd basketball team under coach Dave Culicerto. He was a standout baseball player for the Terriers and went on to play at Roanoke College under Salem-Roanoke Valley Hall of Fame coach Larry Wood. Brad is currently an assistant to Neil Zimmerman on the Byrd baseball team and he'll stay in that role this spring, then evaluate  if it's feasible to continue with the baseball team after the season.
Greenway has an impressive coaching resume. After graduating from Roanoke College he got his Masters' in Education at Virginia Tech and hooked up with former Hokie star Shawn Goode with the Christiansburg program. He was a boys' basketball assistant to Goode when the Blue Demons won 20 straight games to start the season, then advanced to the state semifinals before losing to Potomac Falls.
He spent the next season as the jayvee coach for Northside, learning under legendary coach Billy Pope, who the Northside basketball floor is named for. The following year the girls' position at Byrd opened and he applied, and got the job.
"I came back to where it all started," he said. "I learned a lot from coach Culicerto and coach Goode, but the bulk of what I do I learned from coach Pope. I'm not shy about asking questions. When I stop learning from other coaches is when I stop growing as a coach."
Obviously, it's going to be a little different going back to the boys' program.
"I think the biggest difference is how you motivate them," he said. "As far as x's and o's the game is pretty much the same."
Brad and his wife Beth have three children, a daughter Carson(6), son Brantley(4) and son Brady(seven months). Beth teaches at Herman Horn.
"You have to have a wife that understands in this profession," he said. "There are a lot of late nights and she puts up with it."
It wasn't an easy decision to leave the girls' program.
"I grew up as a person and they became part of my life," he said. "I poured my heart and soul into that program and they taught me a lot."
Greenway is currently in the process of assembling his staff. He'll bring Brian Bartley, his varsity assistant for seven years, along with him. Randy Bush, who assisted the girls' team last year, will move over to the head coaching spot and Greenway is happy he's leaving the program in good hands.
"Randy will do a great job," said Greenway. "I think this is perfect timing for a new coach. He'll have some talent returning and some good players on the way."
Bush is no stranger to the coaching ranks, having been the head coach of the girls' team at Hidden Valley. He's excited for the opportunity to put his mark on the Byrd girls' program.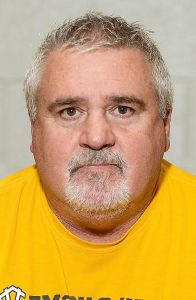 "I think being part of this team for a year prior to me taking over is huge," he said. "I know the girls and they know me. They know how I coach. We put in a new offense this past season, and even with a shortened season and COVID restrictions they really picked up the core of it .That is a testament to their talent and grit."
A 1983 graduate of Cave Spring High School, Bush ran cross country and track for the Knights. Basketball was his first love but he didn't play past his sophomore year at Cave Spring. Randy joined the Navy after high school and has just started the process of applying to continue his college education online at the University of Arizona  in Psychology.
Bush started coaching sandlot sports with a friend his senior year of high school. He had to get his dad to be the head coach because neither one of them were 18.
That led to boys' AAU basketball, then jayvee head coach for the Hidden Valley boys and boys' varsity assistant. He moved to the girls' side with Brenda King, and when King passed away from cancer he was elevated to varsity coach for the Titans.
Randy gives his father much of the credit for his success.
"He gave me my work ethic," he said. "The man is almost 80 years old and still doesn't sit for more than a few minutes a day. He taught me how to handle the tough times and how to enjoy and celebrate the great times."
Bush also mentioned the late Dennis McDaniel,  who he coached AAU and recreation sports with, as a big influence in his early coaching days.
"He was my mentor, my sounding board and the one I went to for advice up until he passed away," Randy said. "I try to emulate him with each team I coach."
He also credits King, former Hidden Valley coaches Chris Morris and Troy Wells, and Greenway for shaping his rise to Byrd girls' coach.
"Brenda and I became close friends when we each were coaching against each other in boys' AAU ," said Bush. "When she got hired late at Hidden Valley she asked if I would help. I told her I would help for one year, that way she would have time the following year to fill her staff. Unfortunately, she got sick and never got that chance. She was MY rock during the time SHE was battling cancer."
Bush got to know Greenway well when Brad left teaching to become a realtor.
"When I told him we were moving back we needed a realtor," said Bush. "I was going to take some time off and not coach, but he took a chance on me and brought me on his staff. He turned the offense over to me, found me a house in Vinton and the rest is history."
Having already been a part of the Byrd program, Bush knows exactly what he's inheriting. He thinks the girls' have a chance to be something special.
"I love the work ethic of the girls at William Byrd," he said. "They want to learn and improve.  I liken it to me coming in as a buyer of a house. The house is a strong Stately house, so no major remodeling or rebuilding needs to be done, but you want to put your own touches on it. That's the girls program here at Byrd. I will not have to start from scratch and rebuild and that's a testament to Coach Greenway and the girls. I am just excited to get going."