By Debbie Adams
On February 4, The Advancement Foundation (TAF) kicked off its 2020 Business Program and Competition never imagining what the spring would bring.
When Annette Patterson instituted the first Gauntlet in 2014 with 15 entrepreneurs competing for $12,000 in cash and prizes, she never dreamed that in six short years, the program would grow to include 170 entrepreneurs vying for $300,000 in awards—becoming Virginia's largest business program and competition.
When the 10-week class schedule began in February, Patterson also never envisaged COVID-19 taking over the world and subsequently the business competition. However, she and her team—Kathleen Carr, Kelly Turner, Missy Paxton, Debbie Custer, Simone Knowles, Kat Pascal, Becky Freemal, Rodney Purdue, and Judy Wood—put into effect their favorite term—for all years, not just this one—and "pivoted" to continue the program no matter what "stay at home" and "social distancing" requirements were in place.
At the awards ceremony, Patterson quoted from Babe Ruth who said, "It's hard to beat someone who never gives up," in commending this year's participants.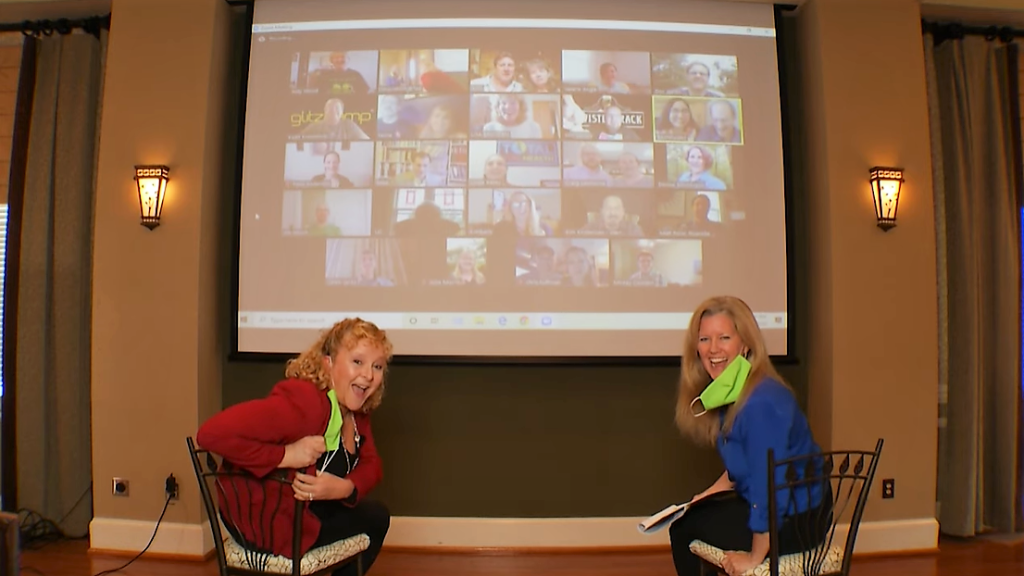 The Gauntlet is a community-focused, comprehensive business development program and competition catering to the needs of local entrepreneurs by providing innovative strategies and regional resources. One driving goal is to attract and retain local talent who will locate their new businesses in the region.
About 350 entrepreneurs have completed the business program over six years with a total of over $830,000 awarded in cash and prizes, along with $760,000 in grants and loans. The Gauntlet has served more than 13 cities, towns, and counties in the region and has grown to utilize the services of more than 35 resource agencies locally and throughout the state. Over 250 mentors throughout the region have donated 3,000+ hours of their time to assist new and existing entrepreneurs with their businesses.
This year the Gauntlet expanded to four locations: the Vinton War Memorial, Dabney Lancaster Community College in Clifton Forge, the Buchanan Community House, and the Rockbridge Community Center.
Under normal circumstances, entrepreneurs in the program participate in weekly business training sessions, meet and network with successful entrepreneurs, fellow Gauntlet participants, and mentors, and develop business strategies that provide a roadmap to success. This year, due to COVID-19, classes began meeting virtually on March 17.
"To be eligible for awards, participants had to complete the weekly classes and turn in a business plan for judging," said Kathleen Carr, Director of Small Business Development for TAF. "Finalists submitted their pitches by video this year. It was certainly a GAUNTLET like no other, but we couldn't be prouder of this year's cohort! If a business submitted a business plan, they received an award package regardless if they were a finalist or not."
The original plan was to hold the annual the Gauntlet Awards and Graduation Ceremony at the Vinton War Memorial on May 14. That evolved into a June 26 online event.
During the online ceremony, Patterson and Freemal reviewed the program, thanked the entrepreneurs who "outlasted the pandemic," and presented the awards.
The top award–worth $26,000 in cash and prizes–went to Jennifer Broyden, founder of GermZAPP, and her partners Thomas Weeks and Bob Broyden, who developed a handwashing app. Broyden had come up with the idea for her business before the pandemic, but it turned out to be quite timely: a real time hand wash compliance and tracking system for restaurants, businesses, homes, and hospitals.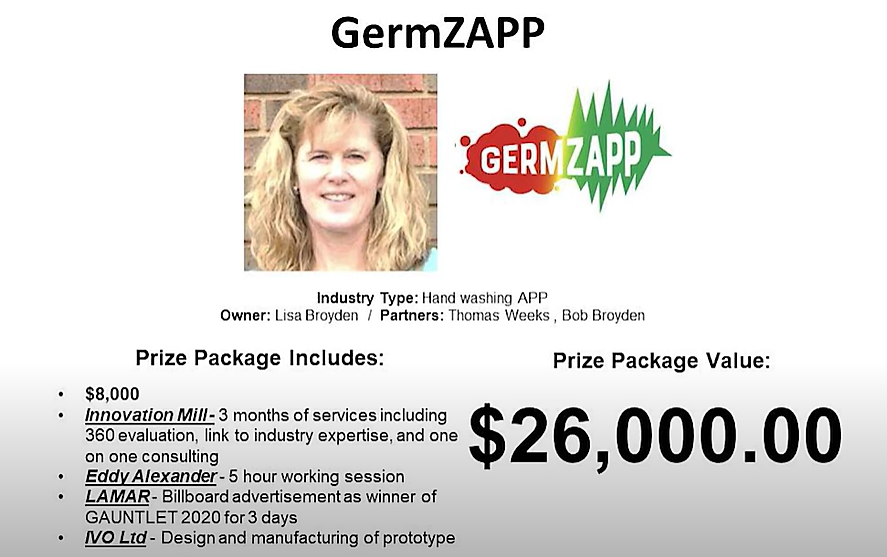 Other Platinum Level award winners included:
Horse Mountain Farm, a farm specializing in seed-raised Chestnut trees and green advocates of more sustainable food sources, owner Pat Harrison, prize package $13,750
Cowden Technology LLC, drone technology to enable management of remote environments without the need for human interaction, owner Mickey Cowden, $12,750
Patina Creek Silver, silver fingerprint jewelry, owner Anna Metheny, $19,750
Total You Health, health and wellness offering non-toxic solutions to address unique individual health needs, owner Linda Bailey, $15,595
The Anchorage House, bed and breakfast, owner Spring Witt, $10,500
Woodlore LLC, salvages trees, sawmill services to create and provide customers with organic furnishings and materials, owner Michael Shawn Lohr, $10,000
Twister Track Brew Pub, restaurant and brewery, owner William Landry, $7,000
Anderson Music Therapy Services, music therapy service, owner Noel Anderson, $7,400
Red Newt Bikes, full-service bike shop including concierge service and sales, owner Tasha Walsh, $7,050
Mimi's Meal LLC, homestyle fresh meals delivery and take out service, owner Rashminder Hargis, $9,150
Roanoke Disc Golf, non-profit providing a full spectrum of engagement opportunities related to disc golf, owner Matt Rose, $9,950
Auto Spa, professional auto detailing and ceramic coating paint protection services, owner Aaron Taylor, $5,084
Gold Level winners included:
James River Drip, coffee café and retail gifts, owner June Morris, $10,950
Mountain View Champions, Labrador Retriever breeding for service and companionship, owner Caleb Jacks, $2,465
Cultivate Craft Bar, DIY Craft Bar, owner Athena Mason, $4,600
New Moon Creative Media LLC, video production company and entertainment content provider, owner Denise Allen Membreno, $3,165
Warrior Mediator, conflict resolution solutions, training, coaching, and mediation, owner Kim Kristensen, $1,315
The WellNest Roanoke, hub for holistic entrepreneurs, service providers, and makers of wellness products, owner Valerie Angle, $2,280
Green Earth Naturally, environmental services and products, owner Jim Oyler, $4,750
The Flower Center LLC, full-service flower shop expanding to include a greenhouse, sustainable farming, and event venue, owner Erin Huffman, $3,249
Ribbon Me This, handcrafted ornaments and accessories now branching out to host art and craft events, owner Sarah Marshall Boblett, $6,700
Corethentic Enterprise Inc., self-help programs/systems for personal growth including a patented 30-day program, owner Michael McCormick, $8,850
Heirloom Food, cinnamon roll bakery, owner Paige Morgan, $3,600
Glitzcamp USA, wholesaler and retailer of glamping tents and domes to the glamping and camping industries, owner Keith Krzeminski, $6,900
Silver level winners were:
"Directions," Career/Life Transitions, career coaching for adults, owner Deb Squire, $2,815
TEBROC Campground, recreation, owner Jaylin Marseile Corbett, $1,315
Aunt Dude's Glamp Camp, recreation, owner Rena Lasch, $4,315
dee Creations, custom drinkware and resin furniture, owner deShawn Wooding, $1,250
WOW Organizing Service LLC, home organization service, owner Ann Custer, $1,615
PorchStory Realty, modern real estate boutique, owner Christine Whittaker, $1,850
New Beginnings Archery and More LLC, archery equipment sales and service, owner Adam Brown, $4,375
Gravista, oudoor athletic event company that plans bicycle rides, owner Cynthia Frazer, $2,275
Budget Couture, cosmetics, skin care, perfume retail and service, owner Julie McClellan, $3,285
Vinyl Cuts, cut vinyl decals and logos and everyday gifts, retail, owner Ruthie Lawhorne, $4,650
MiBr LLC, sober bar, owner Justin Yun, $4,400
Chilllin' Shaved Ice, Chilin' Shaved Ice from a concession trailer, owner Thomas "Andrew" Beltram, $5,400
Bronze Level winners were:
Vasie's, retail/service, owner Mary Ellen Weller, $2,100
Greenway Distributors, AMSOIL retail/wholesale, owner NaTasha Greenway, $6,050
110% Melody LLC, affordable social media content creation, in-house music production and live-streaming services, owner Kendra Hankins, $3,435
Blue Ridge Essentials Everyday, essential oils+ zero waste bath and body products, owner Stephanie John, $1,625
Be You, custom T-shirts and personalized gifts, owner Yitza Escobar, $2,200
On Your Way, vacation rental, owner Jeffrey Johnson, $1,725
The Caregiving Network LLC, caregiver training and services, owner Mary-Rosser Fur, $4,650
Her Perfect Day, boutique and design studio, owner Terrisa Vaughn, $2,300
Bob Donna Photography, drone photography, owner Bob Donnan, $4,450
Greens and Grubs, agriculture, food, beverage, owner Kandie Michelle McPeake, $8,235
The Cooking Momma's, food and beverage, owner Elizabeth Crowgey, $3,000
D&G's Wonderland, recreation/entertainment, owner Derrick Ruben, $5,150
The Music Circle, music education and therapy, owner Carla Nelson, $6,175
Highland's Home Inspections, service provider, owner Troy Barbour, $1,150
Zen My Brain, health and wellness through muscle testing and medical intuition to uncover and release underlying, harmful, and cellular memories, owner Maurie Sutton, $1,525
White Wolf Soul Alchemy, health and wellness alternative and holistic products and services, owner Krista Witt, $1,815
Star City Poop Scoop, pet waste management, owner Ellen Hartley, $1,110
Prevail Care Assisted Living, healthcare, owner Gregg Rutland, $4,215
The Gauntlet team is hoping to honor the 2020 entrepreneurs with a reception in the fall. Lead sponsor for the Gauntlet program is State Farm, media sponsor is WFXR.